How To Buy Spongebob ($SPONGE) UK 2023
Fact Checked
Everything you read on our site is provided by expert writers who have many years of experience in the financial markets and have written for other top financial publications. Every piece of information here is fact-checked.
Disclosure
Please note that we are not authorised to provide any investment advice. The information on this page should be construed for information purposes only. We may earn commissions from the products mentioned on this site.
Spongebob token is the newest meme coin to dominate the market. The token was created to recreated the recent price surge experienced by Pepe coin to offer investors a chance to make huge profits from their investments. Meme coin are known for their volatility and those who want to take advantage of the potential returns should aim to invest during the early stages of the project. In this article, we take a look at how to buy Spongebob token ($SPONGE) step by step.
How To Buy Spongebob Token ($SPONGE) 2023
Unlike other crypto projects, $SPONGE did not have a presale. Therefore, all tokens that are available can be bought directly through a DEX. At the moment, $SPONGE is listed on dextools.io. The easiest way to buy the token is to go through the projects website.
Before investing in meme coins, it is important to consider the risks involved. Meme tokens are very volatile and future price can never be guaranteed. Never invest more money than you can afford to lose and make sure that you have a solid risk management strategy in place.
Step 1: Go to official project website
As mentioned above, the easiest way to buy $SPONGE is to use the official project website. Here, you will find the exchange portal on the first page.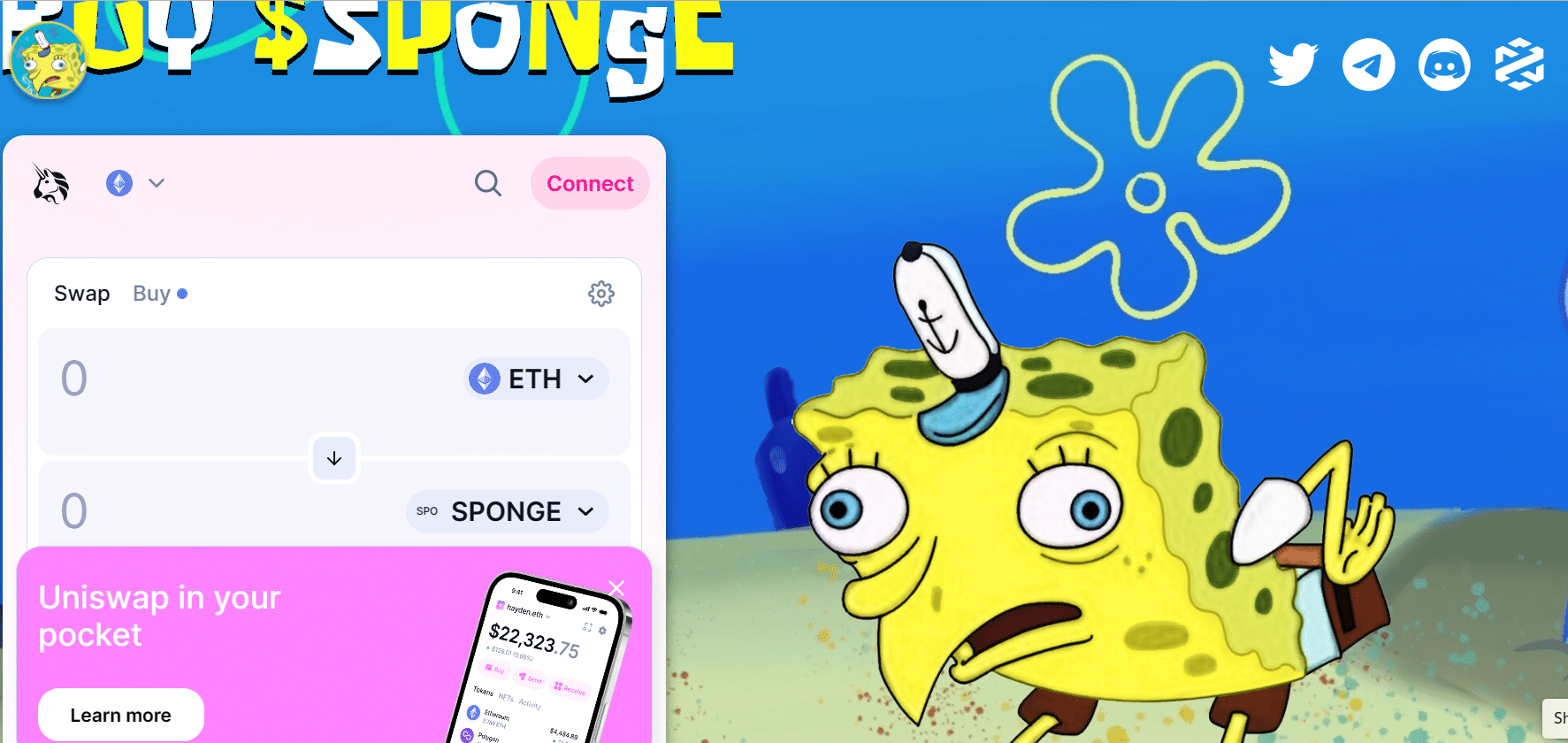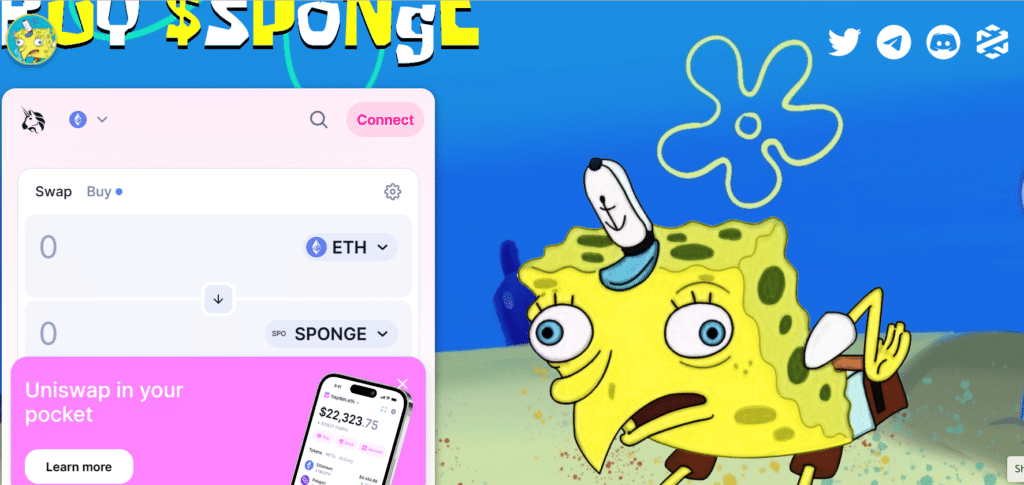 Step 2: Connect crypto wallet to Spongebob.io
Once you have found the website, you will need to connect your crypto wallet. Before doing this, make sure that your wallet is funded with tokens that can be swapped for $SPONGE. $SPONGE is an ERC20 asset so you will need to use other ERC20 tokens such as ETH for the exchange.
If you don't already own ETH, you can buy the tokens from our recommended broker eToro. You will then need to send the tokens to MetaMask or Wallet connect through the eToro Money wallet.
There are 4 wallets that can be connected to the Spongebob token website. These include MetaMask, Wallet Connect, Coinbase wallet and UniSwap wallet.
Step 3: Swap ETH for $SPONGE
The next step is to swap ETH for $SPONGE. To do this, simply enter the amount of ETH that you would like to swap for the meme coin and confirm the transaction. After doing this, it will take several minutes for the $SPONGE to appear in your crypto wallet. You can view the transaction on etherscan to confirm that it has been completed.
Your money is at risk.
What is Spongebob token?
Spongebob token is the next big meme coin to hit the market. At its core, Spongebob token is a shitcoin with no real use cases other than to generate profit for investors. However, meme tokens such as this have a history of experiencing huge price pumps and the team behind Spongebob hope to replicate this.
The token was created after the recent success of Pepe coin to offer investors a chance to multiply their investments. The project does not have a roadmap. Instead, value will be generate by community spirit and media hype. The aim of the project is to build a strong community of investors who will drive the price of the token and see returns on their initial investment.
$SPONGE tokenomics
$SPONGE is the ticker symbol of Spongebob token. The asset is an ERC20 coin with a supply of 4,400,000,000. The token did not go through a presale and is already available to buy through decentralized exchange dextools.io. The price of $SPONGE is expected to soar as hype around the project grows.
The main utility of the token is to provide returns to early investors. However, the project also hopes to support the creation of memes and build a community of like minded investors. Spongebob token Telegram and Discord channels have already gained attraction.
Will $SPONGE explode?
The main reason that investors may buy $SPONGE is because the token is predicted to explode in the next few weeks. The token has already risen significantly since it was launched on exchanges and this is expected to continue until it 100x its original listing price.
The main reason that sentiment around $SPONGE is so positive is that the community behind the project are considerably hopeful. Community members have played a big role in driving traffic to the token and have succeeded so far. Community is a big factor to consider before investing any crypto project. For Spongebob token, the impressive community outweighs the lack of utility or project roadmap.
We cannot say for sure that the token will explode however, it has already seen significant growth and social media hype is at an all time high. If the token does surge, now is certainly the best time to buy for returns. It is important to only invest money that you can afford to lose into new tokens.
How To Buy Spongebob Token- Conclusion
In this article we have taken a look at how to buy Spongebob- the best meme token to invest in 2023. The project has taken off to a great start and early investors will be rewarded with excellent returns. The easiest way to buy the token and take advantage of price gains is to head to the official Spongebob token website and swap ETH tokens for $SPONGE.
Your money is at risk.