Finding the right cryptocurrency exchange is one of the biggest challenges for investors that wish to trade the markets. You'll have to know your trading needs and the qualities of each exchange before you open an online trading account.
If you are based in the UK and looking to get access to the cryptocurrency markets, eToro and Coinbase are among the best options out there. Both are regulated and offer a wide range of digital assets. At the same time, there are a number of significant differences between the two platforms.
In this guide, we'll help you find the answers and choose the right cryptocurrency exchange platform for you. We'll compare the two platforms including the assets available, fees and commissions, user experience, account types, mobile app, regulation, safety, and more.
eToro v Coinbase – Instruments, Fees and Payments Compared
Before we get properly into our eToro vs Coinbase comparison, you can use this table to compare the key aspects of each crypto exchange.
| | | |
| --- | --- | --- |
| e-Money license from the FCA | Yes; CySEC, FCA, ASIC, FSAS | |
What are eToro & Coinbase?
eToro and Coinbase are both cryptocurrency exchanges that enable users to buy, sell and store digital assets on their desktop and mobile platforms. But while both platforms offer access to the crypto markets, each platform has its unique advantages and different uses.
eToro, for instance, allows users to buy digital assets through its online trading platform, which was designed for beginner and professional traders, as well as for individual active day traders. In that sense, the eToro platform is one of the most convenient and easy to use cryptocurrency exchanges in the market these days.  CFDs Cryptos are restricted for users registered under the FCA regulation, only real assets are available
Crucially, eToro is regulated by the Financial Conduct Authority (FCA) in the UK, under firm reference number 583263. The firm is also regulated by the Cyprus Securities & Exchange Commission (CySEC) under license number 109/10, and by the Australian Securities and Investments Commission (ASIC).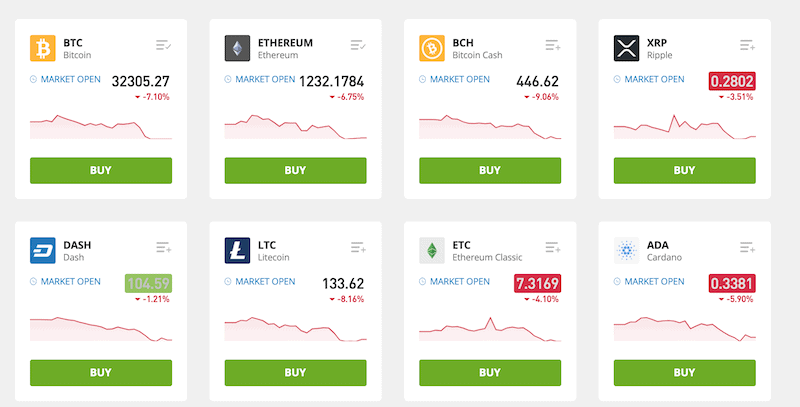 Coinbase, on the other hand, is suitable for buying digital assets directly and store the assets on its built-in Bitcoin wallet. It is a web-based platform and mobile application that allows users to purchase, sell, store, and transfer digital assets, you can see more in detail in our Coinbase wallet review.
In terms of regulation, Coinbase was the first-ever cryptocurrency exchange to receive an e-money license from the Financial Conduct Authority (FCA) in 2018. It is also registered with FinCEN and complies with the Bank Secrecy Act, which requires the firm to verify customer identities, maintain records of transactions for up to 5 years, and report vague transactions.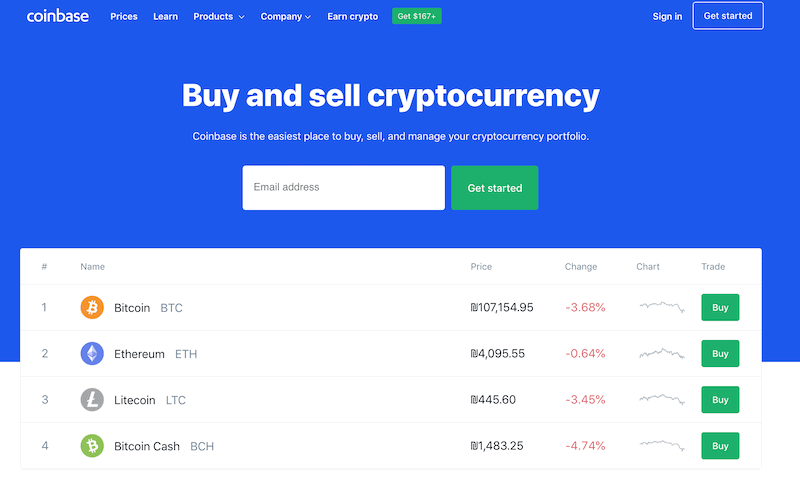 eToro vs Coinbase Tradable Cryptocurrencies
eToro's range of cryptocurrency assets it provides is limited compared to Coinbase. With that said, you'll be able to trade on both platforms on the most popular cryptocurrency pairs such as Bitcoin, Ethereum, Bitcoin Cash, Litecoin and.
Overall, while Coinbase offers a selection of 50 cryptocurrencies, eToro has a selection of 18 crypto coins. Let's take a closer look at the tradable cryptocurrencies at each one of the platforms.
eToro
Bitcoin
Ethereum
Bitcoin Cash
Ripple
Dash
Litecoin
Ethereum Classic
Cardano
IOTA
Stellar
EOS
NEO
TRON
Zcash
Binance Coin
Tezos
USDX
GRAM
Coinbase
AAVE
Algorand
Atom
Balancer
BAND Protocol
Basic Attention Token
Bitcoin Cash
Bancor
Bitcoin SV
Bitcoin
Celo
Compound
Civic
DAI
DASH
Distric0x
EOS
Ethereum Classic
Ethereum
Filecoin
Graph
Golem
Kyber
Chainlink
Loom Network
Loopring
Litecoin
Maker
Numeraire
NuCypher
OMG Network
OXT
REN
Angur
Synthetix
USDC
UMA – Universal Market Access
Uniswap
Wrapped Bitcoin (WBTC)
Stellar
Ripple
Tezos
yearn.finance (or YFI coin)
Zcash
 0x coin
eToro vs Coinbase Account Types
When we compare the account types offered by eToro and Coinbase, the first offers one account type for all levels of traders. This means that eToro makes things quite simple and equal for all clients and you won't have to find the ins and out of each account type.
Coinbase is very similar to eToro in the selection of account types. Essentially, it offers a basic account type with the same trading terms and fees for all types of users. However, it does offer the Coinbase Pro which is made for more active crypto traders. This is a more advanced trading platform with real-time quotes and order books, charting tools, a trading terminal, and a simple order process to utilize a large number of orders.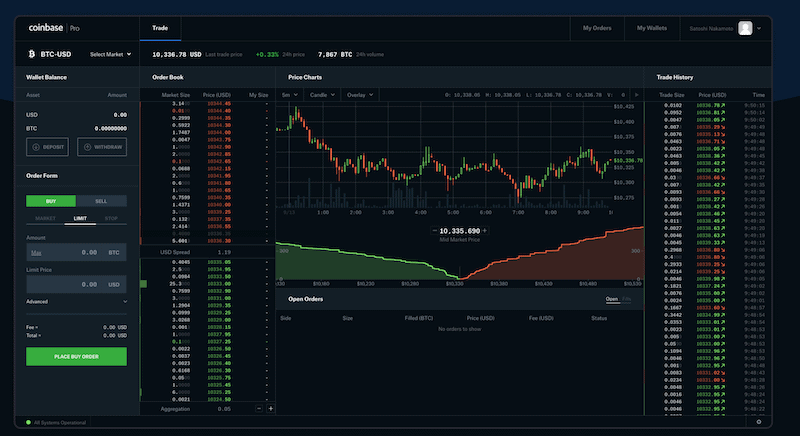 eToro vs Coinbase Fees & Commissions
As previously mentioned, eToro and Coinbase offer different type of trading services and as such, the pricing structure is not the same on each platform. In this section of our review, we'll analyze the fees and charges you'll be charged on eToro and Coinbase:
Here's a general comparison of the two platforms:
| | | | | | |
| --- | --- | --- | --- | --- | --- |
| | Crypto Dealing Fee | Deposit and Withdrawal fees | Inactivity Fee | Margin Fee | Stamp Duty Tax on UK Shares |
| eToro | Commission Free | 0% | $10 per month after 1 year | None | None |
| Coinbase | A spread of about 0.5% | Between 1.49%-3.99% | None | A flat fee of 2% of the total transaction | N/A |
eToro vs Coinbase Trading Fees
Overall, if you want to buy cryptocurrencies you are likely to find the eToro platform simpler to understand in terms of fees and charges. This is because eToro is a commission-free platform with no fixed fees. When you buy bitcoin and other digital assets via eToro, you simply have to pay the buy and sell spread of around 0.75%. Here's a list of the spread percentage on all digital assets you'll have to pay at eToro.
Cryptocurrencies
Spreads

0.75

 %

1.90

 %

1.90

 %

2.45

 %

2.90

 %

1.90

 %

1.90

 %

2.90

 %

4.5

 %

2.45

 %

2.90

 %

1.90

 %

3.5

 %

3.5

 %

2.45

 %

5

 %
With Coinbase, the fee structure is different. You can buy cryptocurrencies directly from the exchange, or you can convert cryptocurrencies and fiat money into other cryptocurrencies. Regardless of the action, you must pay a fee. Generally, the pricing model of Coinbase is fairly complicated in our opinion, and varies depending on the payment methods and the region of the client.
Here's a break down of the main fees charged by Coinbase on cryptocurrencies transactions:
| Transaction Amount | Flat Fee |
| --- | --- |
| Above$10 | $0.99 |
| $10 – $25 | $1.49 |
| $25 – $50 | $1.99 |
| $50 – $200 | $2.99 |
As you can see, for transactions between $50-200 dollars there's a fixed fee of $2.99. However, you should take into consideration a variable percentage fee of 1.49% for larger transactions.
eToro vs Coinbase Non-Trading Fees
Both Bitcoin trading platforms have additional non-trading fees as well as free services.
For eToro
Inactivity Fee – $10 per month after 1 year
Withdrawal Fees – $5
Conversion currency fee of 0.5% to USD
Overnight fee – Varies depending on the instrument
No management fees
For Coinbase
Withdrawal Fees – Up to 3%
Margin trading. – A flat fee of 2% of the total transaction
Cryptocurrency conversion – Up to 2%
Staking services commission – N/A
Free cryptocurrency wallet
No inactivity fee
eToro vs Coinbase User Experience eToro vs Coinbase 
When it comes to user experience and user interface design, our eToro vs Coinbase review found that both platforms are ideal for beginner investors. Having said that, it should be noted that eToro has the edge in offering a trading platform that also can be used by experienced investors.
Nonetheless, let's see how the two platforms compare in their user experience. First, Coinbase clearly has a clean and smooth design and functionality. The site speed is impressive and the navigation is for inexperienced investors and even those who do not have advanced technical skills.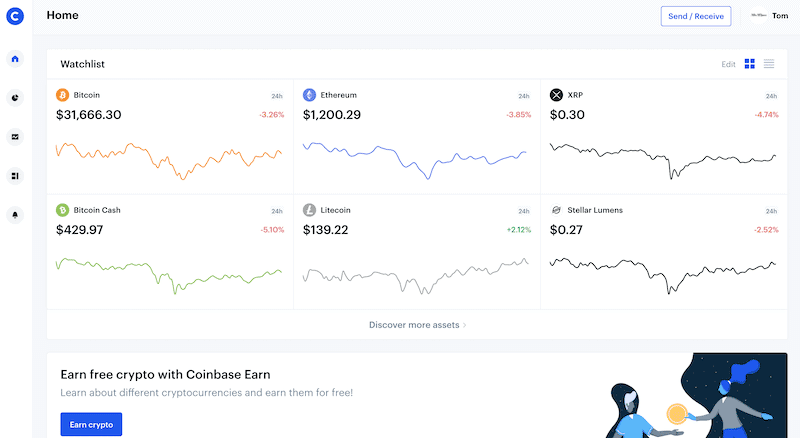 Simply put, there are five tabs on the Coinbase dashboard – Home, portfolio, prices, for you (guides and markets news), and notifications (updates, price alerts, and more). In case you want to change the account setting (profile, currency, etc) and view reports, you can simply click on the profile logo at the top right corner of the dashboard. Finally, Coinbase made the platform simple for buying, selling, and storing digital assets.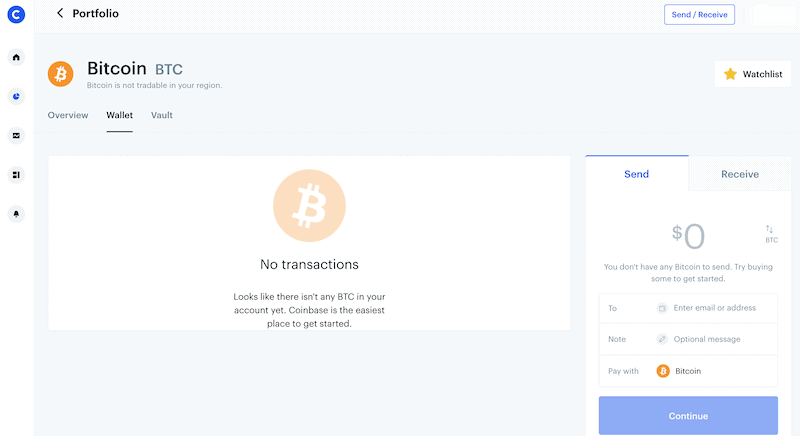 As for eToro, this stock broker has developed a trading platform that is for beginner investors, and at the same time, is also suited for more advanced traders. More importantly, when comparing the two platforms, there's no doubt that the eToro platform gives a sense of a market while Coinbase is more of a platform for buying and selling cryptocurrencies without getting any attention to the market sentiment.
Generally, the eToro's platform is designed for ease of use with an intuitive UI that makes it extremely simple to trade and find information about the market and certain assets. For example, if you want to trade cryptocurrencies (we remind you that eToro offers other markets to trade on), you'll have to navigate to 'Trade Markets' and then 'Crypto'. Placing an order is also simple and quick, as you can see in the image below.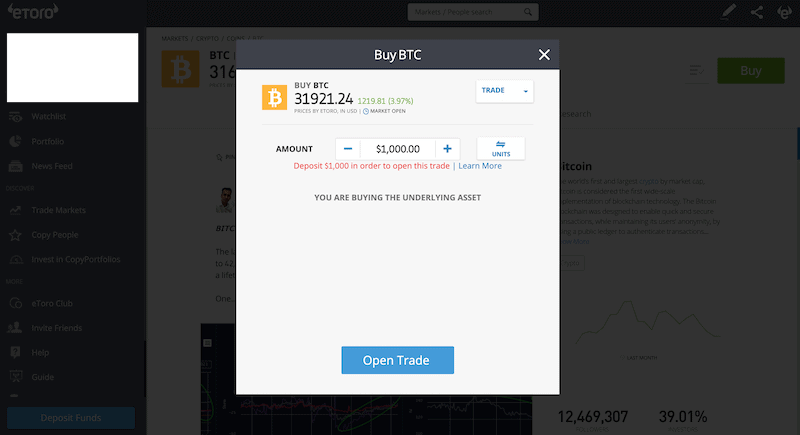 In conclusion, both eToro and Coinbase offer a simple and convenient user experience so you will likely find your way around using both platforms. The only difference between the two is the feeling of the trading environment. While Coinbase UI is very similar to banking sites where you enter in order to make a purchase or transfer securities, the eToro platform is an actual trading platform where you can get a real sense of the cryptocurrency markets as well as other financial markets.
eToro vs Coinbase Mobile App
In recent years, mobile trading apps have become very popular and a necessity for any investor that wishes to trade the markets. As such, it is no wonder that these two giant crypto exchange platforms offer mobile trading applications.
eToro, for example, is a fully-fledged investment app with a convenient UI and extremely easy to use navigation. The app is available on Google Play and Apple Store at no cost. The thing about this app is that it allows you to instantly buy and sell cryptocurrencies. You'll be able to place multiple orders and get market executions immediately.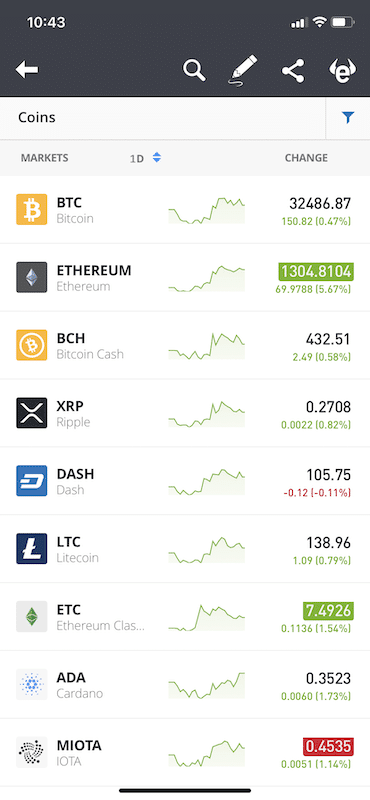 In terms of the trading options on the eToro mobile trading app, these are almost the same as the desktop version. In fact, users can use all desktop features on the mobile app, including analyzing cryptocurrencies on the charting package and trade directly from the charting screen.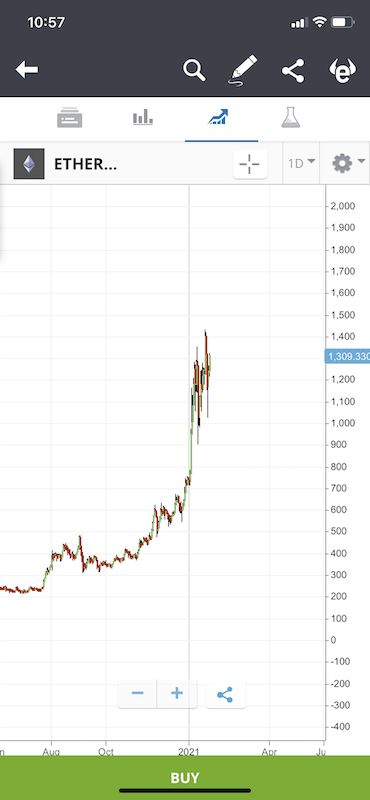 As for Coinbase, the app, which is also available on all mobile smartphone devices, has a clean interface and simple presentation. The app covers the essential needs of any beginner investor – you get real-time quotes of 50 coins, a watchlist, top movers, and news from the cryptocurrency market.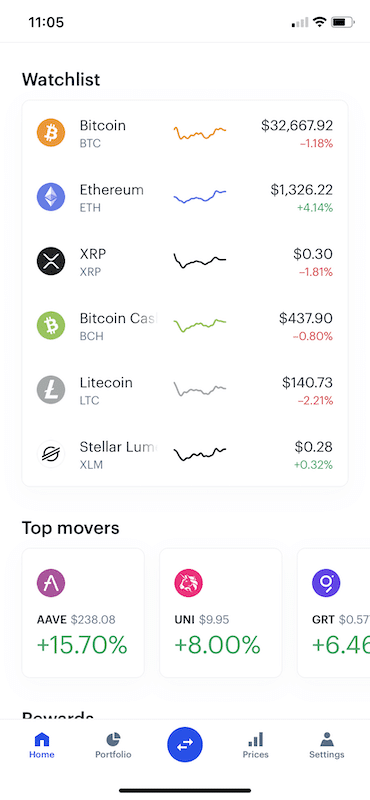 However, while the Coinbase app is absolutely suitable for beginners and for those who want to make a one-time purchase, it is not the best mobile trading app out in the market and there are quite a few issues we found with the app. For example, we don't recommend completing the ID verification process via the mobile app and the trading activity is somewhat unclear so you have to investigate a bit before you make your first transaction. Overall, our eToro vs Coinbase found that for the majority of uses, the eToro mobile trading app is more suitable than the Coinbase app.
eToro vs Coinbase Trading Tools, Education, Research & Analysis
When we take a close look at the trading and research tools and education material available on eToro and Coinbase, eToro is once again on the winning side. This is because eToro is more focused on beginners and professional traders. On eToro, investors get access to an education section that includes news and analysis, daily and weekly podcasts, guides, daily market reviews, video tutorials, and the eToro's trading school.

eToro also offers a lot of analysis information on each instrument page. As such, when you enter an instrument page you get access to feeds from Twitter, stats and data, interactive charting, and a research tab that includes analysts' opinion and markets sentiment tool.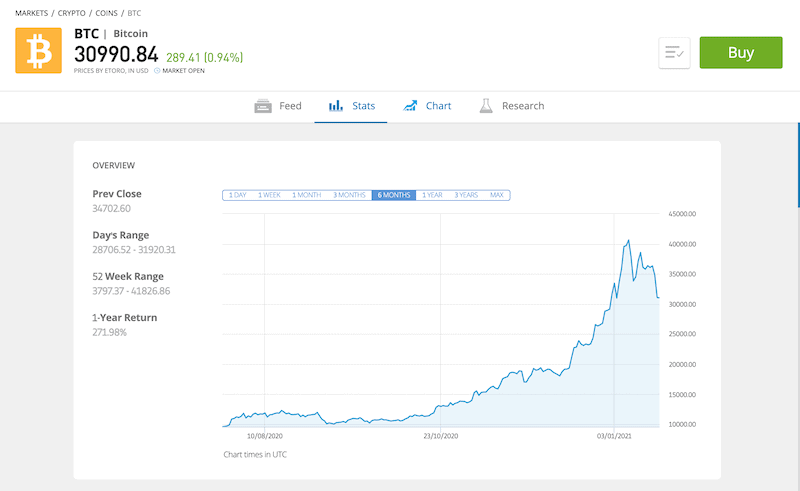 Best of all, eToro has two features that add value to members of its network – the CopyPortfolios and CopyTrade tool. First, the CopyPortfolios are essentially a bundle of ETFs and stocks based on a specific sector, industry, and region. This means you can directly invest in portfolios such as the CryptoPortfolio, InThGame (gaming stocks and ETFs), Driverless, ChinaTech, Cannabis, CyberSecurity, MobilePayment, DroneTech, FoodTech, the Big Banks, and many more.
The second tool to mention is the CopyTrade tool, which simply allows you to choose another investor on the eToro's network and automatically copy the investor's trading activity. You'll be able to set the location of the investor, the market, vie the investor tracking record, and the duration in which the investor made the profits.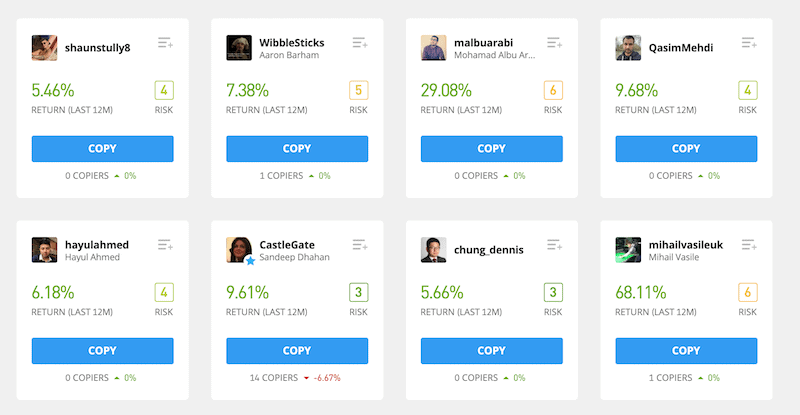 Past performance is not an indication of future results.
On the contrary, Coinbase does not offer a generous selection of trading tools and features nor educational material on its basic account (it does offer some effective trading tools on its Coinbase Pro plan). In that regard, investors at Coinbase only get access to the education section on the website that includes guides on how to use the Coinbase exchange, and market updates on various coins.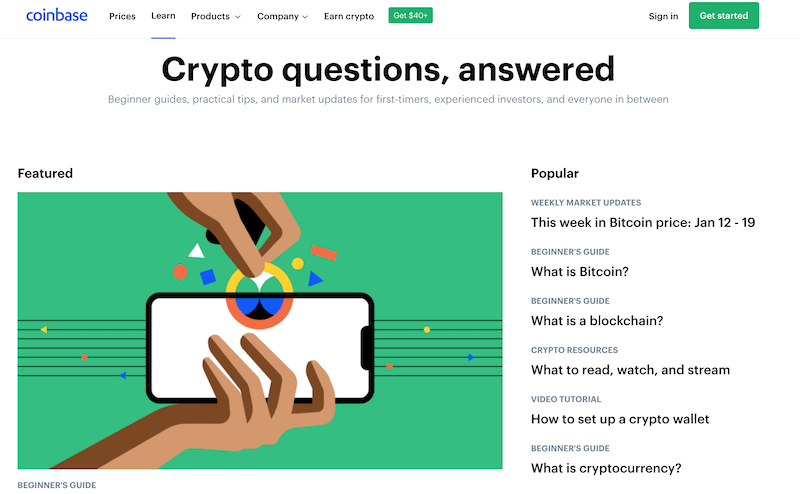 eToro vs Coinbase Demo Account
A demo trading account is a simulated trading environment where the investor gets access to the market with virtual funds and sometimes, even real-time live quotes. For beginners, it is one of the best tools to get familiar with the platform and understand how it works before risking real money. However, not only beginner traders use a demo account –  Professional traders often use this account type to test trading strategies, particularly automatic (algorithmic) trading modes.
When comparing the two platform, eToro is the only platform between the two that offer users a demonstration account. This comes with an account balance of $100,000 and has no time limitation, which is not very usual in the industry. Moreover, with eToro's demo account you get access to all features and tools including two of the most effective features on this platform – the CopyPortfolio and the CopyTrade tool
Coinbase, on the other hand, is not offering a demo account at the time of writing, which means you'll have to deposit in order to get access to the platform's tools and features.
eToro vs Coinbase Payments
Another crucial factor when we compare eToro vs Coinbase is the selection of payment options and the fees associated with each platform. In this case, both Coinbase and eToro offer a decent range of payment methods although eToro is much more versatile.
At eToro, users can make a deposit with a Credit/Debit card, PayPal, Neteller, iDeal, Klarna/Sofort Banking, Bank Wire Transfer, Local Online Banking, and Trusty. All deposit methods at eToro are instant except bank transfer that takes 4-7 days.
Coinbase, on the other hand, is offering the most widely used payment options including Bank account (ACH), Debit card, wire transfer, and PayPal. When depositing funds to Coinbase with a debit card and PayPal, the transfer is instant, with wire transfer it takes 1-3 days, and via bank account (ACH), it takes 4-5 days to process the transactions.
Minimum Deposit
Deposit Fee
Processing Time
Withdrawal Fee
eToro
$50
0.5%
Instant, apart from bank transfers
$5 (about £4)
Coinbase
£2
ACH – Free

Wire Transfer – $10 (about £7)

Instant, apart from bank transfers
1% fee to convert and withdraw your crypto to fiat in addition to standard network fees
eToro vs Coinbase Customer Service
As expected with these two reputable Bitcoin trading platforms, we found out during this review that both platforms have satisfactory customer support service. Most importantly, both eToro and Coinbase offer live chat support although we had to wait a bit longer for a Coinbase agent, mostly due to a large number of clients and the big size of this company.
Other communication channels on both platforms include a submit a ticket form and email. Coinbase currently does not offer any phone support with a live agent. In terms of opening hours, the eToro customer support team is available 24 hours five days a week while the Coinbase support team is available for limited hours during the day.
eToro vs Coinbase Safety & Regulation
When it comes to safety and regulation, our review reveals that both platforms are heavily regulated and effort to secure clients' funds. Having said that, it is important to understand the different approaches that each platform takes.
First, eToro is FCA regulated and keeps all clients' funds in segregated accounts in tier 1 banks. eToro is also is a member of the Financial Services Compensation Scheme, also known as FSCS. This ensures that your funds are covered by up to £85,000 if the broker becomes insolvent. Finally, eToro makes sure to protect clients' data by guarding all personal information under SSL encryption systems. Lastly, you'll be able to use the 2-factor authentication (2FA) system in order to block access to your phone.

As for Coinbase – due to its different type of system the firm takes other measures to protect users' funds. Coinbase is not directly regulated by any big agency as crypto exchanges are not yet regulated by the US government nor by the majority of governments across the world. However, the exchange complies with all applicable laws in each jurisdiction in which it operates and stores almost all of their clients' assets in offline cold storage that cannot be hacked and considered safe and secure.
eToro vs Coinbase – The Verdict
In summary, eToro and Coinbase offer quite a different service when it comes to cryptocurrency trading. Both are heavily regulated and considered safe and secure to buy and sell digital assets. Moreover, eToro and Coinbase are both have a selection of tradable cryptocurrencies though Coinbase wins this battle with 50 cryptocurrencies compared to 18 at eToro.
Having said that, while Coinbase is an ideal cryptocurrency and bitcoin exchange for 'physically' buying digital assets and store them on its built-in digital wallet, it does not provide the most suitable trading platform for active day traders. We also found in this review that eToro is a more cost-effective platform than Coinbase due to its CFD zero commission policy. eToro also provides a demo account and a wider selection of payment methods. Finally, if you are keen to develop a system of trading with useful features and tools, eToro is the broker of choice. This is because eToro offers an advanced charting package, the market sentiment tool, and its famous CopyPortfolio and CopyTrade tool.
eToro – Popular UK Crypto Exchange 2021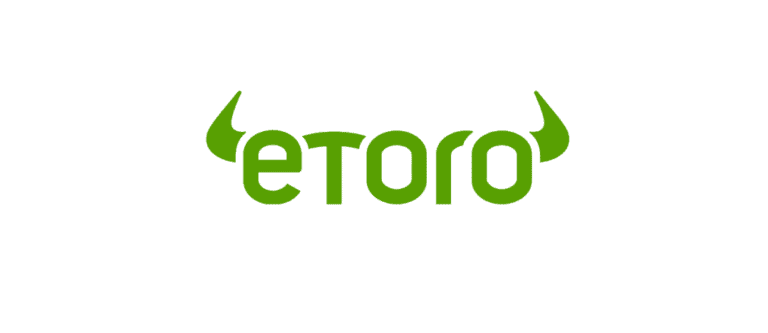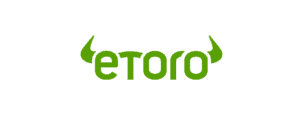 Sponsored ad. Your capital is at risk.68% of retail investor accounts lose money when trading CFDs with this provider.
Cryptoassets are highly volatile unregulated investment products. No EU investor protection
FAQs
Is eToro more popular than Coinbase?
What is the difference between a cryptocurrency exchange and a CFD broker?
Is eToro a popular platform for cryptocurrency trading?
Is Coinbase a popular cryptocurrency exchange?
Which platform offers higher leverage on cryptocurrencies?