How To Buy C+Charge In 2023– Beginner's Guide UK
Fact Checked
Everything you read on our site is provided by expert writers who have many years of experience in the financial markets and have written for other top financial publications. Every piece of information here is fact-checked.
Disclosure
Please note that we are not authorised to provide any investment advice. The information on this page should be construed for information purposes only. We may earn commissions from the products mentioned on this site.
C+Charge, also known as CCHG, is a new cryptocurrency project that aims to incentivize the adoption of electric vehicles and promote sustainability. If you're interested in buying C+Charge, this beginner's guide will walk you through the process of purchasing CCHG tokens through pancakeswap, buying with a credit card, and more.
How To Buy C+Charge (CCHG) 2023– Pancake Swap Step by Step
C+Charge is currently listed on PancakeSwap. Here's how to buy C+Charge through the decentralized exchange:
Step 1: Send ETH To MetaMask Wallet
The first step to buying C+Charge is to send the ETH to your MetaMask wallet. To do this, you will need to follow a few simple steps.
First, open your wallet app on your mobile device and sign in. Once you are in, navigate to the 'Crypto' tab and select Ethereum. From there, tap the 'Send' option. On the send page, you will need to select the amount of Ethereum you wish to send and enter the public address of your crypto wallet. It's essential to ensure that you input the correct public address to avoid any loss of funds.
After you have entered the public address, double-check that everything is correct and then tap 'Send'. You will then receive an SMS message with a verification code on your mobile phone. Enter this code and tap 'Verify' to confirm the transaction. Finally, a confirmation screen will appear, letting you know that your send request has been received. You can check the status of your transaction on the 'Transactions' screen.
Step 2: Open PancakeSwap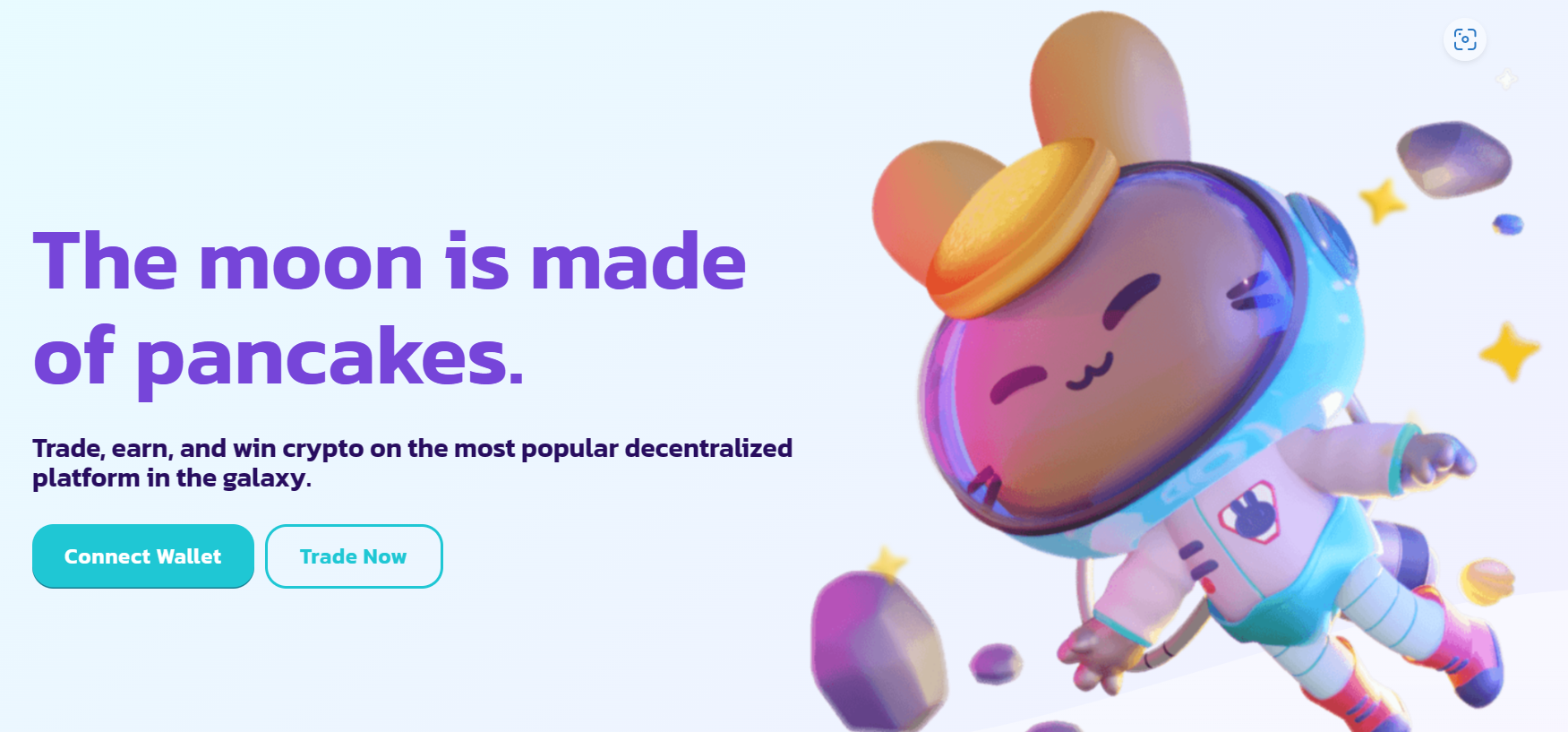 After funding your wallet, the next step is to visit PancakeSwap at https://pancakeswap.finance/. On the homepage, you can find the section to connect your wallet.
Step 3: Connect Wallet To PancakeSwap
To buy CCHG tokens, you will need to connect your wallet to PancakeSwap. This process is fairly simple. Click 'connect wallet' , choose which wallet you would like to connect and then type in your password to verify the connection. Note, the exact process of connecting your wallet will change depending on which wallet you choose to use.
Step 4: Swap ETH tokens for CCHG
After the successful connection of your wallet to PanckeSwap, you will be able to go ahead and swap cryptos for CCHG.
You will need to manually add CCHG token to the exchange. Select 'import token', then 'custom token' and then paste this smart contract address: 0x24f2f371d74b25da7597adeae55895fe6b5c2fde
Make sure that you paste the correct address. You should now be able to see CCHG tokens on the exchange. Now, you can swap tokens for CCHG through PancakeSwap.
Your capital is at risk.
What Is C+Charge (CCHG)?
C+Charge (CCHG) is a sustainable cryptocurrency project that aims to create a robust Peer-to-Peer (P2P) payment system for electric vehicle (EV) charging stations built on blockchain technology. The project seeks to promote the adoption of EVs and reduce carbon emissions by making charging more accessible and affordable.
C+Charge users will be allocated individual electronic wallets, which they can use to pay for EV charging with the C+Charge utility token. The CCHG utility token powers the C+Charge payment system, which pays for each charge.
One unique feature of the C+Charge payment system is that it allows EV drivers to accumulate carbon credits each time they use the CCHG utility token to pay for a charge. These carbon credits are saved in the driver's C+Charge app, which can be used to offset their carbon footprint. Previously, carbon credits were only available to big businesses, but C+Charge aims to make them available to individual EV drivers and token holders.

Moreover, C+Charge is launching a mobile app that will allow users to create non-fungible tokens (NFTs) of all the carbon credits that they have earned through charging and token holdings through its reflection program. This feature allows users to showcase their carbon-neutral status, making it easier for others to join the sustainability movement.
Your capital is at risk.
C+ Charge EV Charging Stations
C+ Charge is building a network of EV charging stations that leverage blockchain technology to provide transparency between EV owners and charging stations. The network consists of stations that are either operated by C+Charge or utilize the blockchain payment network that is supported by the C+Charge Utility Token. This network aims to promote the adoption of electric vehicles by making charging more accessible, efficient, and cost-effective.
The C+Charge network provides a Geolocated Easy Access Charging Stations Finder, which makes it easy for EV drivers to locate the nearest charging station. The finder can be accessed through the C+Charge mobile app, which is available for download on both iOS and Android devices.
The blockchain payment network supported by the C+Charge Utility Token ensures secure and transparent transactions between EV drivers and charging stations. This network aims to reduce transaction fees, eliminate intermediaries, and provide real-time payment confirmation.
CCHG Crypto Tokenomics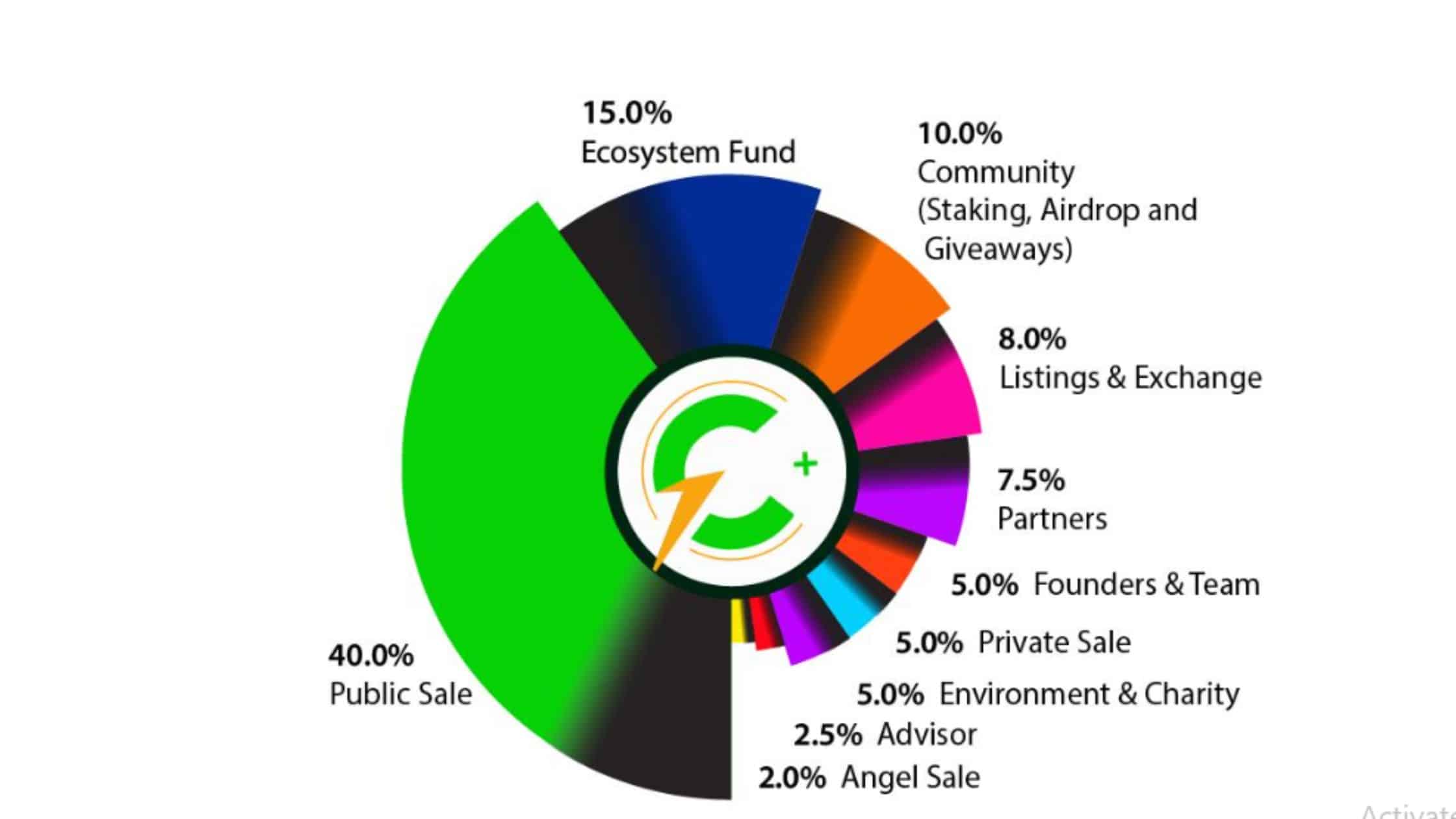 The CCHG token has a total supply of 1 billion, and its tokenomics have been designed to ensure fair distribution and support the development of the project.
The C+Charge token has a public sale, which consists of eight stages, with prices ranging from $0.013 in stage one to $0.0235 in stage eight. The token sale exists to raise funds for the development and implementation of the C+Charge payment system.
The C+Charge token allocation is divided into different categories, with 40% allocated for public sale, 15% for the ecosystem fund, and 10% for the community. The founders and team were allocated 5%, while 7.5% was set aside for partners, 8% for listings and exchange funds, 5% for environmental and charity purposes, and 2.5% for advisors.
The tokenomics of C+Charge ensure a fair distribution of tokens and provide support for the development and implementation of the payment system. As the C+Charge ecosystem grows, the value of the token is expected to increase, providing benefits to token holders and supporting the growth of the project.
Your capital is at risk.
C+ Charge Mobile App
C+ Charge's mobile application is set to become the central platform for all electric vehicle owners' charging needs. In addition to managing payments, the app will manage all end-to-end activities associated with the charging process, making it a one-stop shop for EV owners.
One of the app's main features is the Carbon-Credit Tracker, which allows users to track their carbon credits earned through charging and token holdings. This feature aligns with C+Charge's vision of promoting sustainability and reducing carbon emissions.
Another key feature of the app is its Seamless Payment for Multiple Platform Integration Options, which enables users to pay for charging seamlessly using their CCHG tokens. The app will also include a geolocated easy access charging stations finder, enabling users to locate the nearest charging stations in real time and plan their routes accordingly.
The app will also offer Real-Time Charger Wait Times, which will enable users to see the current wait times at charging stations and adjust their schedules accordingly. Additionally, the app will provide Charging Station Technical Diagnosis, allowing users to report any issues with charging stations and help improve their maintenance.
C+ Charge Carbon Credit NFTs
As C+ Charge is a project that is committed to reducing carbon emissions and promoting environmental sustainability, one of the ways that it is doing this is through its Carbon Credit NFTs. These unique digital tokens provide utility for their users by representing a certificate of ownership for the carbon credits that they have earned through charging their electric vehicles or holding CCHG tokens through the network's reflection program.
The C+Charge app will allow users to create NFTs of all their carbon credits, making it easier to track their progress toward reducing their carbon footprint. This is an innovative and practical way to incentivize people to adopt electric vehicles and support sustainable practices.
Also, the C+Charge network is looking to collaborate with car manufacturers in the EV space and other stakeholders to create special, limited-edition concepts incorporating EVs. These NFTs will not only have value as collectibles but will also contribute to the overall mission of reducing carbon emissions.
Your capital is at risk.
Are Crypto Presales A Good Investment Right Now?
Crypto presales can be a good investment for those who are willing to take on some additional risk in exchange for potentially higher returns. Presales often offer tokens at a discount, allowing investors to buy at a lower price and potentially profit as the value of the token increases.
However, it is important to note that investing in presales comes with certain risks. One of the biggest risks is that presale tokens are often not yet fully developed or tested, meaning that there is a higher risk of fraud or technical issues. In addition, the value of the tokens can be highly volatile, and investors may not be able to sell them for a profit immediately after the presale ends.
Another consideration when investing in presales is the potential for regulatory risk. Governments around the world are still grappling with how to regulate cryptocurrencies, and there is a risk that new regulations could impact the value of presale tokens.
Your capital is at risk.
Is C+ Charge A Sustainable Crypto Project?
One of the key factors that make C+ Charge a sustainable project is its focus on environmental impact reduction. By creating a decentralized network of EV charging stations powered by renewable energy sources, the project aims to reduce the carbon footprint associated with traditional EV charging stations. This means that users of the network will be able to charge their EVs without contributing to the growing carbon emissions problem.

The solutions the C+ Charge crypto project provides, puts the project on the right track to it being sustainable. One of the key solutions is by bringing accessibility to the carbon credit market to EV owners and drivers. By making these credits available to individuals, C+ Charge is helping to democratize access to the carbon credit market, which can only be a good thing for the environment.
Leveraging blockchain technology is another solution C+ Charge intends to bring. The technology provides transparency between EV owners and charging stations, allowing for a more efficient and streamlined charging process. Additionally, blockchain technology ensures that charging data is secure and tamper-proof, which is essential for building trust in the EV charging ecosystem.
Finally, C+ Charge's real-time data transmission for the diagnosis of charging system problems is another commendable solution. By identifying issues early and providing real-time data, the system can reduce the need for costly and time-consuming repairs, which is both cost-effective and better for the environment.
CCHG Crypto Price Prediction 2023
CCHG has a successful presale at the beginning of 2023. However, the token has taken a dip since launching on exchanges. This is very normal after a presale as early investors want to cash out their returns.
Despite the current sentiment, green cryptos have the potential to do very well in the market. There is a growing demand for sustainable alternatives and C+Charge could revolutionize the EV industry. C+Charge is the first project of its kind so is considered to be a pioneer. As a result, it is likely that the token will regain some value when EV usage increases and more people use C+Charge charging stations to fuel their vehicles. We cannot say for sure what the exact price of CCHG could be by the end of this year however, many believe that the token is undervalued and will go up.
How To Buy C+ Charge Crypto in 2023 UK- Conclusion
In conclusion, C+Charge is a promising green crypto project that aims to revolutionize the electric vehicle charging industry. Interested investors can buy CCHG coins by following a few simple steps. After the initial post-presale slump, the coin is expected to increase in value, and some experts predict it could reach $0.1 by the end of 2023. While investing in crypto is inherently risky, C+Charge's sustainable focus and potential for growth make it an intriguing option for those looking to invest in green crypto.
Your capital is at risk.
FAQs
Is C+ Charge a good investment?
What is the current price of CCHG?
Is C+ Charge the next best crypto to buy?
What is the market cap of C+ Charge?
Where to buy c+ charge right now?
.