Walmart Inc. is the largest retailer in the world, with more than 5,000 stores in the United States alone. The company also has thousands more stores around the world in the UK, Mexico, Canada, South Africa, and across Asia. In total, Walmart has more than 2 million employees.
Not long ago, it was widely predicted that Walmart's dominance would be brought to an end by Amazon. However, the company has transformed its business to put eCommerce on an equal footing with retail sales. Today, Walmart has a stronger grip on consumers than ever before – its standing has only increased thanks to the coronavirus pandemic.
Thinking about owning a piece of Walmart Inc? In this guide, we'll show you how to buy Walmart shares online in the UK. We'll highlight top brokers, take a closer look at Walmart's future prospects, and help you decide whether Walmart shares are a buy today.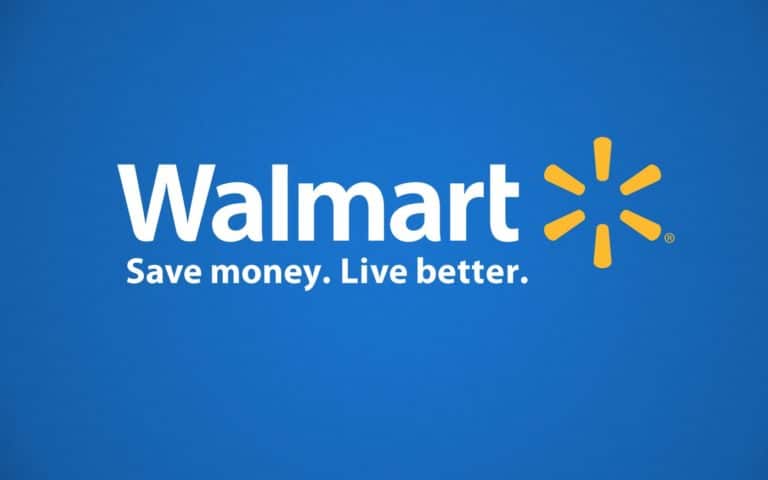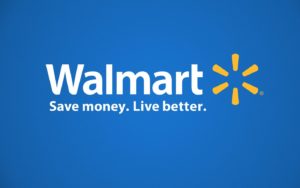 The easiest way to buy Walmart shares in the UK is to use an online broker that offers trading on US companies. There are dozens of brokers that enable you to buy shares of Walmart, but choosing the right one comes down to a few different factors:
Price: Some brokers charge lofty commissions on every trade, while others let you trade US shares completely commission-free. Be sure to check what your prospective broker charges for trading. Also keep an eye on account fees that can add up over time.
Stocks vs. CFDs: Your broker may enable you to jump into equity trading outright, offer CFD trading (contracts for difference) or both. Long-term investors typically prefer to buy shares outright, while active traders may prefer CFDs because they offer leverage.
Trading Platform: Which broker you use will determine what research and analysis tools you get access to. If you're new to stock trading, look for a broker with a user-friendly charting interface and built-in technical indicators. More experienced traders may want tools like trading signals and custom studies.
While these aren't the only things you need to consider when choosing the best UK stock broker, they're the most important for most traders. With that in mind, let's take a closer look at two of our favorite online brokers in the UK to buy Walmart shares: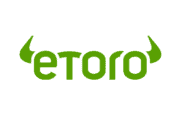 eToro is one of the top 100% commission-free stock brokers in the UK. With this platform, you can choose between buying shares outright or trading CFDs for more than 800 stocks. The selection covers a huge range of markets, including exchanges in London, New York, Johannesburg, Tokyo, and beyond. eToro also supports ETF trading on more than 450 funds.
There's more to eToro than just a wide selection of assets. This broker has a user-friendly charting interface that works equally well for long-term investors and active traders. You get access to more than 100 built-in technical studies and drawing tools. Plus, the charting interface is available through eToro's top-tier mobile trading app.
Another factor that helps distinguish eToro is that the broker has a large social trading network. You can interact with thousands of other UK traders to ask questions, learn from other traders, and gauge market sentiment. Notably, eToro also supports copy portfolios so that you can mimic the positions of professional traders.
Pros
100% commission-free
800+ stocks from around the world
Buy shares or trade stock CFDs
User-friendly charting interface
Built-in social trading network
Cons
Small fee of £4 per withdrawal
67% of retail investor accounts lose money when trading CFDs with this provider.
2. Capital.com – Stock CFD Trading with AI Assistance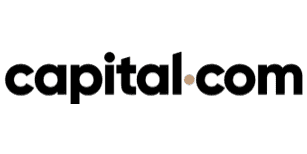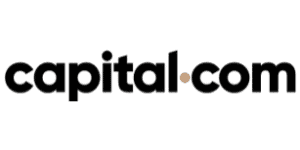 Capital.com is a CFD broker that offers 0% trading commissions and below-average spreads. The broker carries CFDs for hundreds of stocks in the UK, US, and Europe. With CFDs at Capital.com, you can trade with leverage up to 5:1 for most shares.
One of the exciting things about this broker is that its trading platform applies artificial intelligence to help you trade better. Capital.com's AI will automatically analyze your trades and identify changes you can make to increase your win rate or limit your losses. For example, the algorithm may suggest trading only during certain stock market hours when your strategy works best.
Capital.com offers a number of other resources for traders, including a web, desktop, and mobile trading platform that includes dozens of built-in technical indicators. You can also access a news feed to stay on top of the stock market and webinars to listen to expert advice from analysts.
Pros
Low-spread, commission-free CFD trading
Leverage up to 5:1 for most share CFDs
Web, mobile, and desktop trading platform
AI algorithm helps improve your win rate
Cons
Does not allow you to purchase US shares outright
75.26% of retail investors lose money trading CFDs at this site.
Walmart stock has surged in recent months. But before you invest, it's important to know exactly what you're getting into. To help, we'll cover everything you need to know about Walmart and explain the bulls' case for buying Walmart shares.
Walmart was founded in 1962 by Sam Walton and went public on the New York Stock Exchange in 1970. At the time of the IPO, the price was $16.50 per share – equivalent to $0.81 per share after accounting for all the stock splits the company has enacted in the past 50 years.
Walmart expanded aggressively early in its history. It went from a couple of dozen retail locations in 1970 to more than 1,200 across the US by 1990. In the past 30 years, Walmart has opened or acquired more than 4,000 additional retail locations across the US, plus an additional 6,000 locations around the world.
Walmart has grown through a mix of acquisitions and diversifying its own stores. Walmart launched Sam's Club, a membership-based wholesale operation, in the 1990s and Walmart Express in the early 2000s. More recently, it acquired outdoor eCommerce retailer Moosejaw, Amazon competitor Jet.com, and men's fashion retailer Bonobos.
Walmart's stock rose steadily from when the company went public through around 2000. It was priced at under $8 per share in 1990 and jumped to over $55 per share by the end of the decade. Growth paused during the 2000s, in part because of concerns around Walmart's effect on local businesses and its treatment of workers. However, growth began in earnest again in 2012 and shares rose to $87 each by 2015 as the stock gained interested from Wall Street.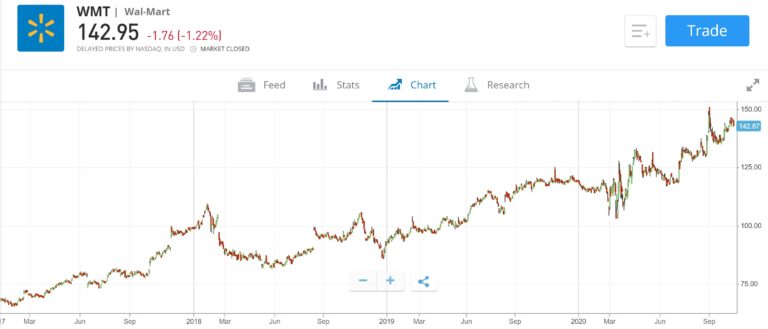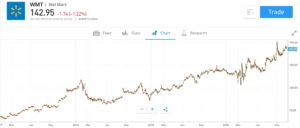 The stocked declined sharply in 2015 after concerns arose that Walmart would be overtaken by Amazon. However, Walmart has invested billions of dollars in eCommerce in recent years and largely calmed investors fears about competition eCommerce. Between 2016 and 2020, Walmart stock rose from $65 per share to a recent high of over $140 per share.
At the time of writing, Walmart has a market cap of 407.777B.
Walmart Stock Fundamentals
Walmart Inc is listed on the NASDAQ, NYSE and the Dow Jones. It has a price-to-earnings (P/E) ratio of 22.79. This is compared to an average of over 35 for the S&P 500 index as a whole, 41 for wholesale competitor Costco, and 123 for Amazon. Although Walmart's P/E ratio is still too high for many value investors, it's remains a relative bargain even after the recent rise in stock price.
Walmart reported an earnings per share (EPS) of $2.27 for the second quarter of 2020, which represents an 80% increase over the same quarter last year. This is comparable to Amazon's EPS growth, which was a 91% for the same quarter compared to 2019. For the whole of 2019, Walmart reported an EPS of $2.26 per share.
Walmart can be considered a dividend stock since the company has made payments to shareholders every quarter since 1974. In fact, the company has increased its dividend every single year for the past 46 years, including in 2020. Currently, the dividend is $0.54 per share, which represents a yield of 1.5% at the current share price.
Should I Buy Walmart?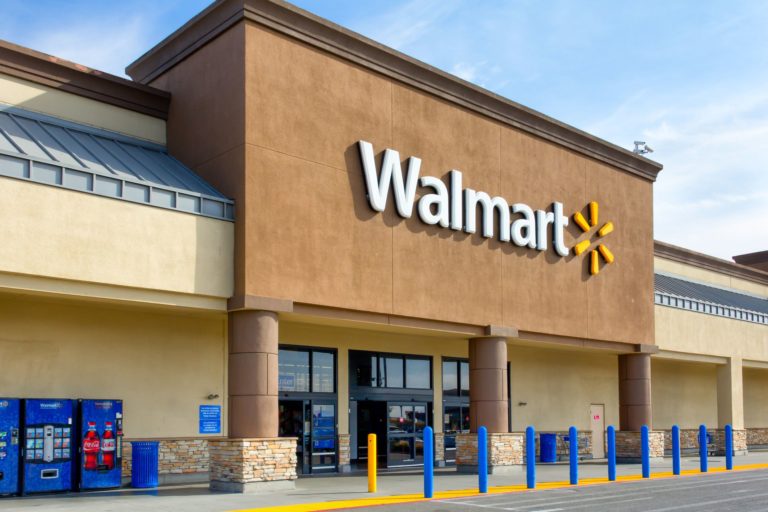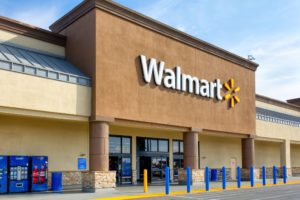 Walmart shares have been appreciating rapidly this year thanks to the retailer's response to the coronavirus and its increasingly large share of eCommerce sales. Analysts and individual investors generally agree that Walmart shares have room for further gains as the company consolidates its operational victories this year.
Let's take a closer look at some of the reasons why Walmart shares are worth buying today.
For the most part, Walmart has fared quite well during the coronavirus pandemic. The retailer was declared essential in the US and nearly all of its department stores, which sell groceries among an assortment of merchandise, were allowed to remain open. As a result of consumers buying food and other supplies in bulk, Walmart saw same-store sales jump 10% year-over-year during the first quarter of 2020.
In the US in particular, Walmart was uniquely positioned to respond to a crisis on the scale of the covid pandemic. The company's logistics network has enabled it to reopen ahead of disaster recovery efforts during hurricanes and wildfires in the past. Consumers flocked to Walmart – and it's eCommerce site – in search of goods that smaller grocery chains were unable to procure in the midst of the pandemic.
The pandemic has also been good for Walmart's reputation, which has always been mixed because of its labor policies. For many communities, Walmart served as a lifeline in the midst of the coronavirus pandemic. This goodwill should make a big difference for Walmart going forward as consumers are deciding whether to shop there, at Amazon, or elsewhere.
Brick and Mortar is Key to eCommerce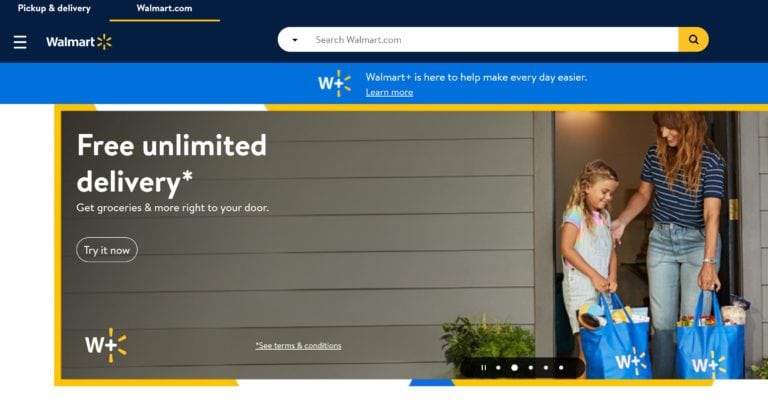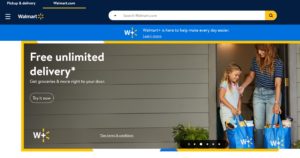 Walmart has invested heavily in eCommerce in the past few years to stay ahead of Amazon in markets around the globe. After years of uncertainty, Walmart's investments appear to finally be paying off. The company's online sales exploded during the pandemic and it recently launched Walmart+, it's own version of Amazon Prime.
One of the key advantages that Walmart has over Amazon is its brick and mortar retail stores. Having a physical footprint and a huge distribution network gives Walmart leverage over its own procurement and delivery chain that even Amazon can't match. Walmart stores are no longer just stores – they're also distribution and fulfillment centers for online orders.
Expect to see Walmart take advantage of this in the years to come. Walmart could offer same-day delivery in some markets or discounts and everyday low prices for in-store pickup. For many customers, that would go a long way to sway the decision about whether to buy from Amazon or Walmart.
Expansion in India
Another development for Walmart that investors can look forward to is the company's growing business segments in India. In 2018, Walmart outbid Amazon for a controlling stake in Flipkart, the largest eCommerce company in India.
Walmart is in the process of merging its brand-name operations in India with Flipkart and is expected to make Flipkart public in 2021 for up to $50 billion. The IPO alone, if it happens, would double Walmart's investment in Flipkart while leaving it poised to dominate the eCommerce market in India.
Step 3: Open an Account and Deposit Funds
If you're ready to buy Walmart shares, the first step is to open a new brokerage account. We'll walk you through the steps to open an account and buy shares at eToro, which offers 100% commission-free trading and the option to buy shares or trade CFDs.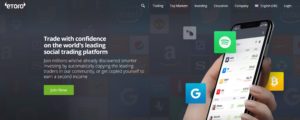 To get started, head to eToro's website and click 'Join Now.' You'll be prompted to create a username and a secure password for your account. Then enter details like you name, email, and address.
In order to comply with UK government regulations, eToro requires that you verify your identity before proceeding. You can complete this step by uploading a copy of your driver's license or passport and a copy of a recent financial statement or utility bill that shows you current address.
Once that's done, you can deposit funds to your account. eToro requires a minimum deposit of £140, which you can pay by debit or credit card, bank transfer, or e-wallet (Neteller or Skrill). There's no fee when you deposit funds to eToro.
Now you're ready to buy Walmart shares. Navigate to the eToro dashboard and search 'WMT' or 'Wal-Mart' in the search bar at the top of the page. Click 'Trade' when the company appears in the drop-down menu to open a new order form.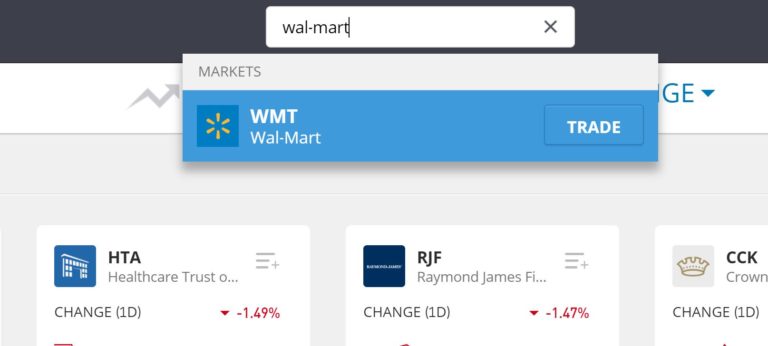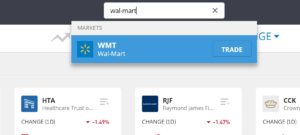 Here, you'll tell eToro how many shares of Walmart you want to buy. You can enter any amount of money over £40 to buy fractional shares or CFDs, or select a specific number of shares to purchase. If you're trading Walmart CFDs, you can also select your desired leverage up to 5:1.
When your trade is ready, click 'Open Position' to buy Walmart shares.
Walmart shares have climbed tremendously this year, and there's no guarantee that they won't soon hit a peak. However, there are several reasons to think that Walmart's growth is sustainable and that the company will continue to compete strongly in the eCommerce realm against Amazon.
In particular, the coronavirus pandemic has demonstrated that Walmart can profit even when the global economy is down. The company is able to leverage both physical and digital stores to drive sales, and it is increasingly able to use its physical footprint to grow its eCommerce business. At the same time, Walmart has made aggressive moves in India to take a significant bite out of the burgeoning eCommerce sector in that country.
Overall, we think Walmart shares are worth buying right now, and they're definitely worth adding to your watch list. Although they are expensive relative to the company's historical value, Walmart has done an excellent job of demonstrating its worth. We expect to see Walmart continue to grow even if sales slow in the aftermath of the coronavirus pandemic.
The Verdict
Walmart is the largest retailer in the world and growing larger by the day. The company has leveraged its dominant positions in physical retail and eCommerce during the coronavirus pandemic to meet the needs of consumers around the world. Over the past few years, Walmart has also demonstrated that it can go toe-to-toe with Amazon – not just in the US and Europe, but in markets like India as well.
There's no guarantee that Walmart shares will continue rising at a breakneck pace. But this is a company that UK investors would do well to own not just today, but for the long run as well.
Ready to buy Walmart shares? Get started today with eToro!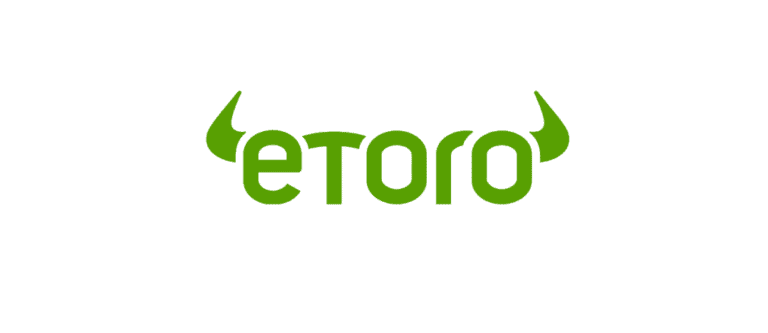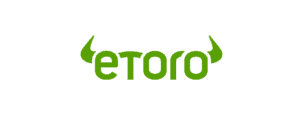 67% of retail investor accounts lose money when trading CFDs with this provider.
FAQs
[sc_fs_multi_faq headline-0="h4″ question-0="What is Walmart's stock ticker symbol?" answer-0="Walmart trades on the New York Stock Exchange under the ticker symbol 'WMT.'" image-0="" headline-1="h4″ question-1="What is Walmart+?" answer-1="Walmart+ is Walmart's new membership service, designed to compete with Amazon Prime. Walmart+ includes same-day shipping on thousands of items, plus perks like faster checkout in stores. Walmart+ costs $98 per year compared to $119 per year for Amazon Prime." image-1="" headline-2="h4″ question-2="How much has Walmart invested in Flipkart?" answer-2="Walmart purchased a 77% stake in India's Flipkart for $16 billion in 2018. Since then, Walmart invested another $1.2 billion in the company as part of a funding round. Walmart expects to debut Flipkart in an IPO in 2021 at a valuation of around $50 billion USD." image-2="" headline-3="h4″ question-3="Does Walmart own a stake in TIkTok?" answer-3="Walmart recently partnered with US tech company Oracle as part of a bid to buy TikTok's US operations from Chinese owner ByteDance. However, it is not clear if this deal will be approved by the US or Chinese governments. Walmart does not have a stake in TikTok at this time." image-3="" headline-4="h4″ question-4="Does Walmart offer grocery delivery?" answer-4="A growing number of Walmart stores now offer grocery delivery, although the service is not available everywhere. Grocery delivery currently requires a Walmart+ membership and costs an additional fee." image-4="" count="5″ html="true" css_class=""]