Best Execution-Only Broker UK – Cheapest Brokers Revealed
Fact Checked
Everything you read on our site is provided by expert writers who have many years of experience in the financial markets and have written for other top financial publications. Every piece of information here is fact-checked.
Disclosure
Please note that we are not authorised to provide any investment advice. The information on this page should be construed for information purposes only. We may earn commissions from the products mentioned on this site.
What is the best execution-only broker? If you're confident enough to make your own trades without any kind of advice or third-party support, then finding a top-rated execution-only broker should be your top priority. 
In this guide we'll cover everything you need to know about execution-only stock brokers, to help you gain exposure to the markets with the lowest fees and commissions.  
---
Best Execution-Only Brokers UK List
eToro

– Overall Best Execution-Only Broker UK with 0% Commission

Fineco

– Top-Rated Execution-Only Broker with 100 Free Trades

Hargreaves Lansdown

– One of the Top execution-only Brokers Offering a User-Friendly Trading Platform

IG

– Best execution-only Broker to Trade Thousands of CFDs with Low Trading Fees 

Barclays

– A Trusted execution-only Broker UK Listed on the LSE (London Stock Exchange) and NYSE 
---
Best Execution-Only Brokers UK Reviewed
But with so many trading platforms to choose from, how do you decide which one is best suited to your needs? We've narrowed it down to the two best stock brokers we believe have everything that beginners and experts are looking for. Read on for an in-depth review of eToro and Fineco Bank right now.  
1. eToro – Overall Best execution-only Broker UK with 0% Commission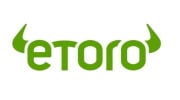 Launched in 2006, eToro is now one of the leading execution-only brokers UK and social trading platforms. Boasting a client base of over 20 million traders, eToro is ideal for beginner and expert investors. This widely popular fintech company offers some of the lowest trading fees out there, which is arguably its best selling point. 
For example, you can invest in shares of stock listed on 17 international exchanges with a minimum investment of just $50. Investing like this is possible as eToro facilitates fractional share trading. This means you can purchase a portion of an entire share, allowing you to build a diversified investment portfolio on a budget, while still gaining exposure to a variety of markets.
If you're a beginner trader interested in execution-only brokers but aren't confident enough to make your own trades you'll be happy to learn that eToro has you covered. Firstly, you can use a free demo account with $100,000 worth of virtual funds to practice your trading strategies in a risk-free environment. Secondly, you could use eToro's copy trading features known as CopyTrader and CopyPortfolios that allow you to copy the trades of other expert investors with the click of a button. You can also invest in prebuilt portfolios of either the top traders on eToro or a particular market such as stocks or cryptos. This is a passive trading style that many beginner traders find convenient and effective.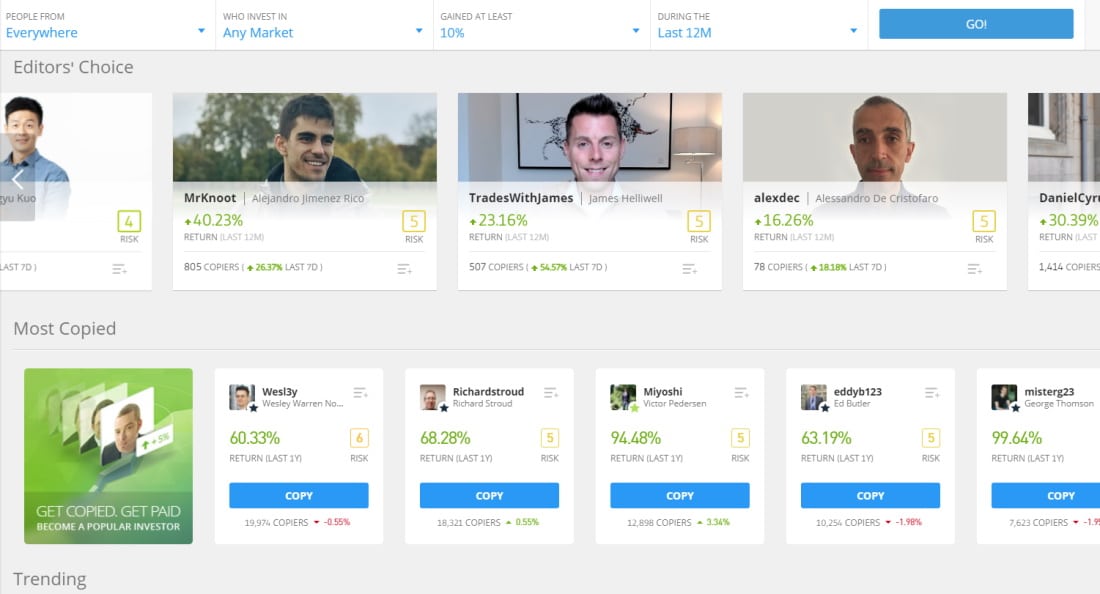 67% of retail investor accounts lose money when trading CFDs with this provider. 
Fees and Commissions – Explained
On the whole, eToro provides commission-free trading. This means that the only trading fees you have to pay are the market spreads – the difference between the bid and ask prices. eToro offers 0% commission stock and ETF trading, as well as CFDs, forex, cryptocurrencies, and more. When it comes to investing in exchange-traded funds and stocks, there are no management fees, no ticket fees, no rollover fees, and no added broker fees. 
What about overnight and weekend fees? CFD positions that remain open after the market closes incur a small overnight financing fee, based on the value of the trade. Simply put it's an interest payment made to cover the cost of the leverage used overnight.  
In terms of non-trading fees, there are no deposit fees or account fees. However, there is a small withdrawal fee of $5, a $10 inactivity fee after 12 months with no login activity, and a conversion fee starting from 50 pips for deposits and transactions made with non-USD currencies.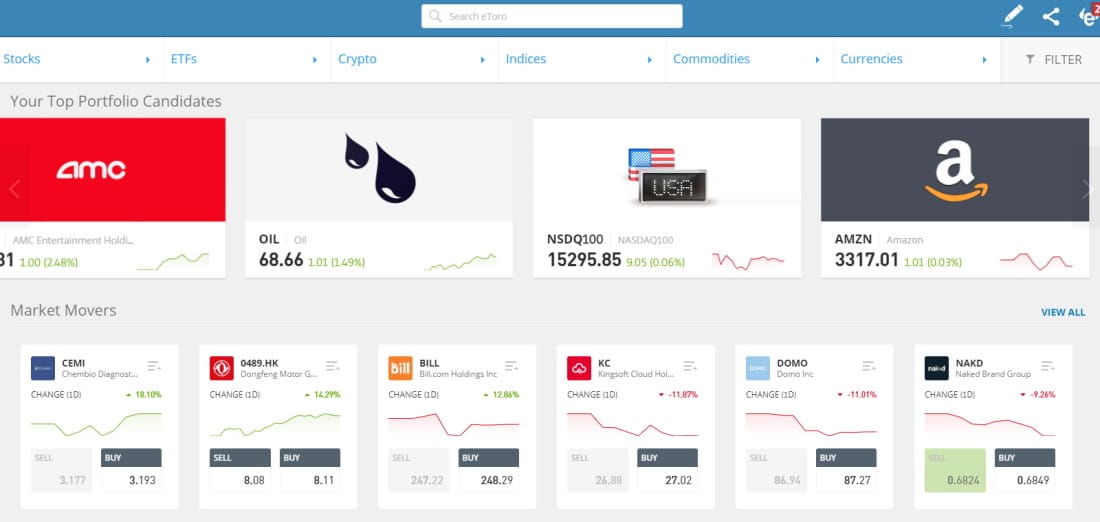 Zero commission means that no additional fees are charged. You'll find that the majority of execution-only brokers include a dealing charge when you trade shares. eToro even goes as far as to absorb the Stamp Duty Tax, thus providing an extra saving of 0.5% for UK-based clients. 
Payments
Funding your eToro live trading account is quick and easy. There are many different payment methods available including bank transfers, debit or credit cards, and e-wallets including PayPal and Neteller, just to name a few. The minimum deposit is $50 and all payment options, apart from bank transfers, are processed instantly. 
Is eToro safe?
eToro is one of the most trusted execution-only brokers across the board. This social trading platform is licensed and regulated by several top-tier financial authorities including the UK's Financial Conduct Authority (FCA), the Cyprus Securities and Exchange Commission (CySEC), and the Australian Securities and Investments Commission (ASIC).
Furthermore, according to eToro, your funds are held in segregated bank accounts or in segregated accounts with a third-party authorised company which may sometimes be an affiliate partner. This execution-only broker UK also provides negative balance protection. 
| | |
| --- | --- |
| Fee Type | Charge |
| Stock Trading | 0% Commission |
| Cost of buying AAPL stocks | Zero Commission |
| Account fee | None |
| Deposit fee | None |
| Withdrawal fee | $5 |
| Inactivity fee | $10 after 12 months |
| Conversion fees | From 50 Pips |
Pros:
Licensed and regulated by top-tier financial institutions including the UK's FCA, CySEC, & ASIC
Buy shares listed on 17 international markets with 0% commission
Free Demo Account with $100,000 of paper funds
Wide range of convenient payment methods & innovative copy trading tools
Invest as little as $50 with fractional share trading
User-friendly eToro mobile app  
Cons:
$10 inactivity fee after 12 months
67% of retail investor accounts lose money when trading CFDs with this provider. 
2. Fineco – Top-Rated execution-only Broker with 100 Free Trades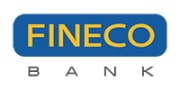 Established in 1999, Fineco Bank is an Italian bank with a strong track record and a wide product portfolio. In terms of regulations, it's authorized by the Bank of Italy and is subject to partial regulations from the UK's Financial Conduct Authority and the Prudential Regulation Authority. Fineco holds a banking licence, it's listed on the Italian stock exchange, and is a constituent of the STOXX Europe 600 index. 
Fees and Commissions – Explained
Fineco Bank has competitive stock and ETF fees, as well as zero inactivity fees or withdrawal fees. Nevertheless, its fees for forex trading are above average and its overnight financing fees are also rather high. When it comes to stock trading, for UK-based traders the commission is fixed at £2.95 per trade for UK shares and $3.95 per trade for US shares. However, if you're a new user you can get 100 free trades from the Fineco welcome bonus.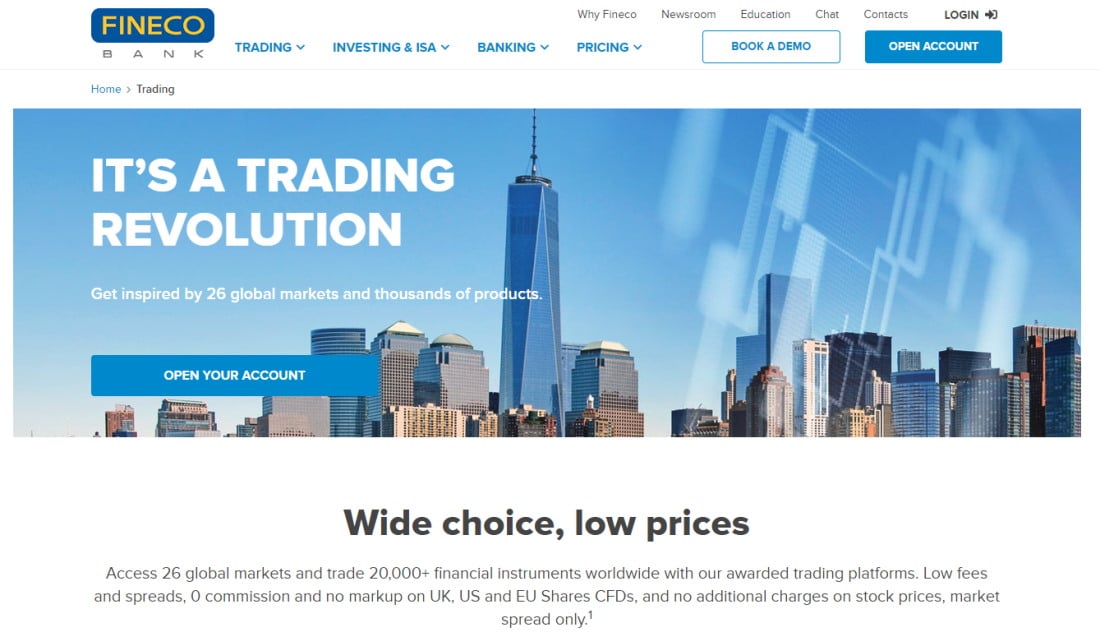 When it comes to non-trading fees Fineco Bank is hard to beat. There are no account, inactivity, deposit, or withdrawal fees. However, there are no withdrawal fees for the domestic bank and debit card transfers. Using an instant bank withdrawal will incur a charge of 0.20%, while international bank transfer withdrawals come with a £19.95 charge. 
What is the FINECO100 Promotion?
When you open a live trading account with Fineco in the United Kingdom before 30/09/2021 using the corresponding promotion code, you can receive a bonus of 100 commission-free trades in any stocks or bonds. The 100 free trades bonus will apply after two days of having opened a Fineco brokerage account. The commission-free trades cover the following stock markets: UK FTSE, US markets (NYSE, NASDAQ, AMEX), Equiduct, Xetra, Euronext, Borsa Italiana, and the following Bond Markets: Mot, Euromot, and Etlx.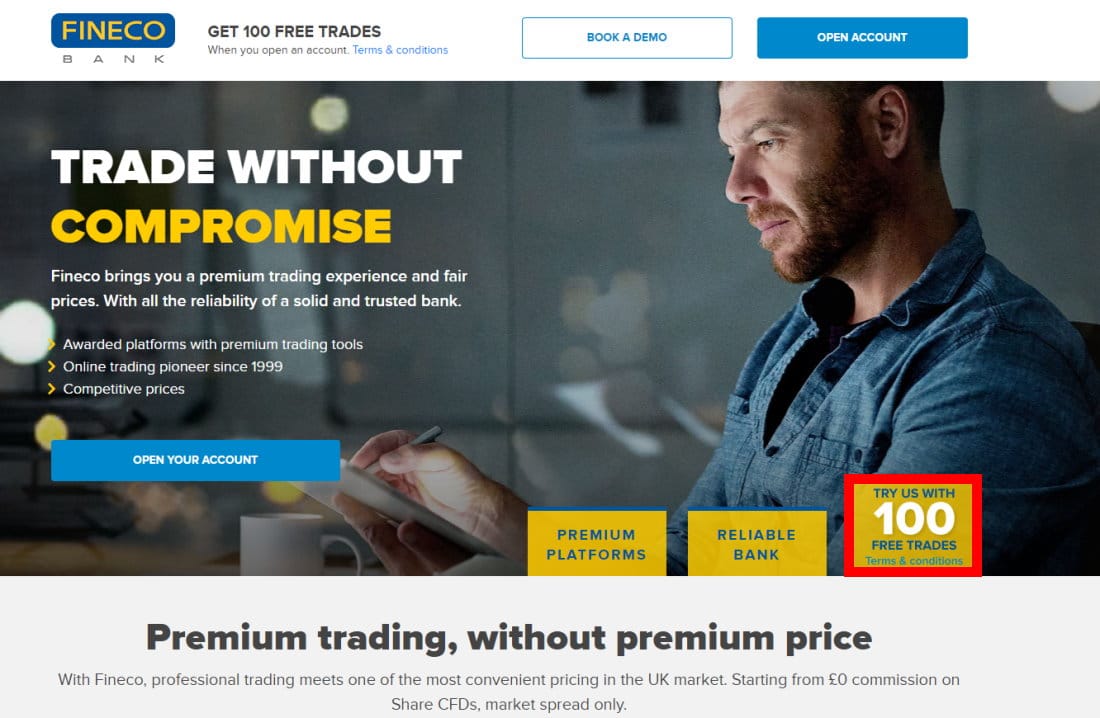 Payments
Fineco Bank provides a huge range of 21 account base currencies from AUD and CAD, to USD and GBP. While there are no deposit fees to worry about, the supported payment methods are rather limited in that you cannot use credit and debit cards or e-wallets to deposit funds into your account.  
Is Fineco Bank Safe?
Fineco Bank is fully regulated by the Commissione Nazionale per le Società e la Borsa (Consob) and the Bank of Italy. This execution-only broker UK is also subject to partial regulation by the FCA and Prudential Regulation Authority. Additionally, it is also listed on the Italian Stock Exchange (BIT: FBK) which helps to reinforce the company's security as it must frequently disclose all its financial statements. In terms of client fund protections, traders based in the UK and Italy are covered by up to €100,000 for cash and €20,000 for securities by the Bank of Italy. 
Fee Type
Charge

UK-listed stocks & ETFs

£2.95 per trade

US-listed stocks & ETFs

£3.95 per trade

100 commission-free stock and bond trades

At the time of writing, there is a current promotion that expires on 30/09/2021 that offers 100 commission-free stock and bond trades when you open a Fineco trading account using the corresponding promotion code.

Click here

for more details. 

Account fee

None

Deposit fee

None

Withdrawal fee

None

Inactivity fee

None

GBP Margin Rate

8.0%
Pros:
Authorised by the Bank of Italy and partially regulated by the UK's FCA
Listed on the Italian stock exchange – Borsa Italiana (BIT: FBK)
User-friendly mobile trading app
Low non-trading fees
Open an account before 30/09/21 and receive 100 commission-free trades
Cons:
65.11% of retail investor accounts lose money due to CFD trading with FinecoBank.
Execution-only Brokers Fees Comparison
In this section, we'll examine the execution-only brokers comparison table below to see just how cheap these top-rated trading platforms are. 
| | | |
| --- | --- | --- |
| Execution-only Online Brokers UK | Stock Trading Fee | Account Fee |
| eToro | 0% Commission | None |
| Fineco Bank | £2.95 per trade for UK-listed stocks (100 free trades for new users) | None |
| Hargreaves Lansdown | The commission for stock trading is volume-tiered: 0-9 trades: £11.95, 10-19 trades: £8.95, 20+ trades: £5.95 | Zero account fees for Fund & Share accounts. However, there is an account fee for shares between ISA and SIPP accounts. |
| IG | The commission varies depending on the exchange, i.e 0.10% per side for FTSE 350 stock CFDs.  | None |
| Barclays | There is a £6 per trade fee for every transaction made online. Alternatively, you can set up automated investments which incur a smaller fee of £1 per trade.  | None |
What is an Execution-only Broker?
It does exactly what it says on the tin. Execution-only brokers provide access to an execution-only service, meaning that there is no personal investment advice. In other words, you take command of the stern and navigate your investment portfolio as you see fit without the intervention or recommendations of expert traders and portfolio managers. execution-only brokers can offer a cheaper option for investors to buy and sell tradable assets and gain exposure to financial markets.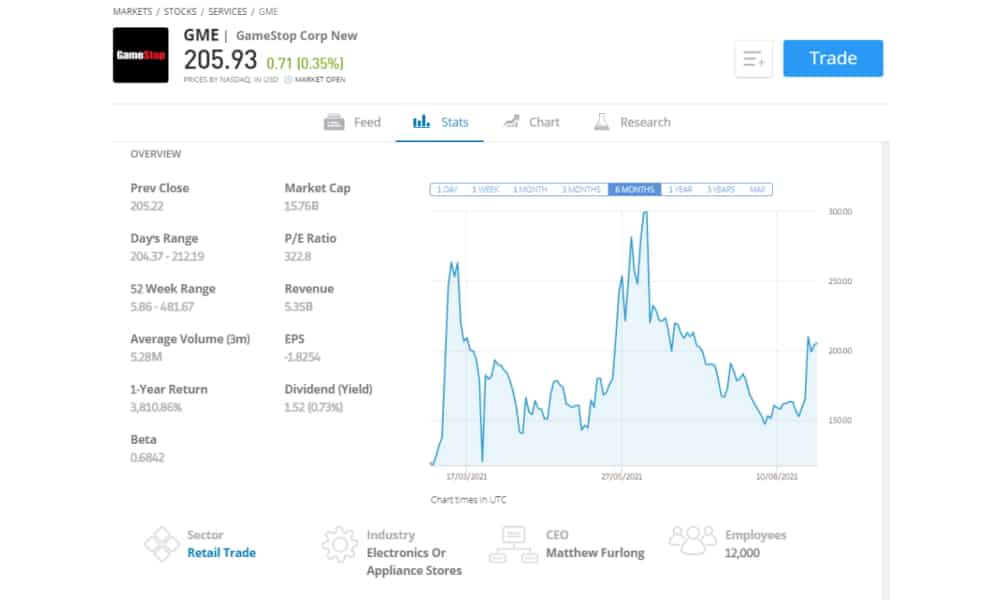 Traders that choose an execution-only broker typically take a more active role in online investments. Despite there not being any tailored investment advice, the best execution-only brokers usually offer market analysis, trading ideas, and research tools to help you make the best decisions and identify unique trading opportunities in real-time. 
Since execution-only brokers do not give financial advice, execution-only services are ideal for experienced investors who understand the risk to reward ratios of online trading. 
Execution-only Brokers vs Advisory Brokers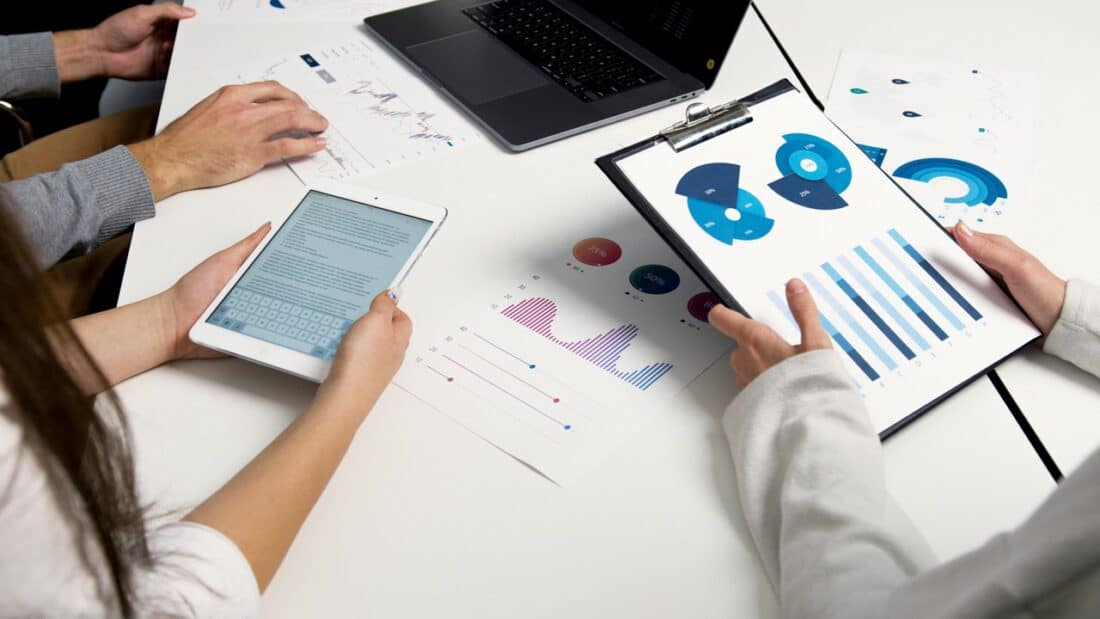 Photo by Artem Podrez from Pexels
An execution-only trading account is a better match for traders who:
Have experience in making trades and investment decisions independently

, and simply need a regulated broker to execute the orders quickly.

Prefer to seek occasional investment advice

and trading ideas regarding certain investments and assets, but ultimately have the final say on whether they buy or sell. 

Opt for long-term investing strategies such as HODL

(buy and hold) and DCA (Dollar Cost Averaging).

Want to pay per transaction
Prefer to have the flexibility to use leverage

, trade options and CFDs, and more. 
On the other hand, advisory accounts are ideal for traders who:
Are beginners or have little to no trading experience

and require expert support and advice when making trades and investment decisions.

Prefer to relinquish control to an expert investor 

Have no awareness of

risk tolerance

A

re looking for a prebuilt investment portfolio

covering a range of securities, with automated fund rebalancing and regular transactions. 

Prefer to buy and sell financial instruments in concert with a financial advisor

, where the fees are fixed and not volume-based. 

Want money managers and expert investors to monitor their investment portfolios

providing recommendations and financial advice in the meantime. 
Execution-only Brokers vs Discretionary Brokers
The majority of wealth managers provide trading services under the following categories: execution-only, advisory, and discretionary. These terms simply represent the degree of involvement you have when managing your investments. If execution-only is the most hands-on approach to online investing, then discretionary services sit on the passive side of the decision-making scale. 
Photo by Nataliya Vaitkevich from Pexels
Here's how discretionary brokers work
Discretionary investment services are a popular choice for beginner traders with little to no trading experience, or for those who simply do not have enough time and are looking for a more hands-off passive approach to online trading. If you choose a discretionary broker you and your wealth manager will begin the process of defining your investment goals and risk tolerance. Together you will then hatch a plan and trading strategy that suits your experience, criteria, risk tolerance, and objectives. 
How much risk can you tolerate? What asset classes and markets do you want to gain exposure to? How often do you want to participate in the markets? What is your investment budget? These are just some of the questions that will be discussed. 
Your wealth manager will then lead all trading decisions and have full authority to execute trades on your behalf. This type of investment management service frees you from having to make important investment decisions on a daily basis, and makes long-term investments including retirement funds, ISAs, and trusts much easier to manage. For more details on how to invest for retirement, make sure you read our beginner's guide.. 
So the main difference between execution-only brokers and discretionary brokers is the level of involvement in making investment decisions. 
Benefits of Execution-only Stock Broking Accounts
There has been a rapid increase in the number of DIY trading platforms over the last decade. execution-only brokers offer a low-cost investment option for experienced, technologically adept traders. With no advisory fees, faster trade executions, and lower trade fees, execution-only brokers have become widely popular with experienced traders looking to take a hands-on approach to online trading.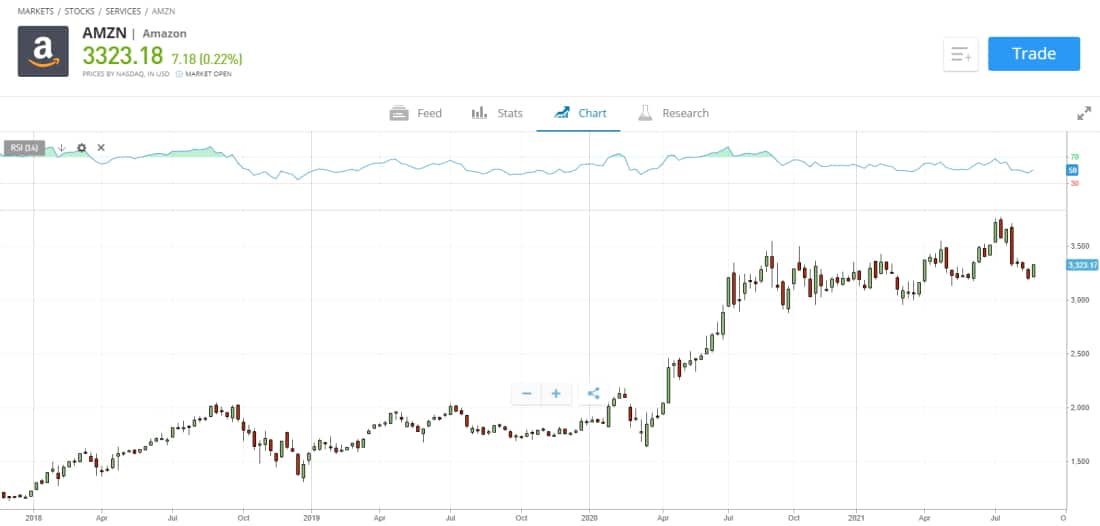 67% of retail investor accounts lose money when trading CFDs with this provider.
Arguably the key benefit of execution-only trading accounts is that you have access to fundamental research, market news, trading ideas, and charts with technical indicators in real-time. These features make online trading a much more active experience, as you have to vigilantly monitor the markets to make the right investment decisions at the right time and the right place. 
Execution-only Brokers Fees
There are several fees you need to keep in mind when selecting an execution-only share dealing account: 
Deposit and Withdrawal fees – this is the fee that some brokers charge when you deposit and withdraw funds from your account, for example when you withdraw funds with eToro there is a flat fee of just $5. . 

Platform or account fees – these are fees charged for using the trading platform and maintaining a brokerage account. 

Commission per side – some trading platforms charge a commission per side, which means you have to pay a commission every time you open a position and again when you close it. eToro clients can trade heaps of assets on a commission-free basis. 
Some UK execution-only brokers provide a frequent trader rate, which lowers the amount you have to pay when buying and selling tradable assets. To become eligible for this discount your trading volume for the previous month needs to meet certain thresholds as is the case with Hargreaves Lansdown. 
How to Get Started with an execution-only Broker
Let's look at how to get started with eToro – the best execution-only broker in the UK – with a few easy steps!
Step 1: Create an eToro Account
Start by heading over to the eToro website and click on the button marked 'Join Now'. Provide your details and choose a username and password to open your new trading account on the world's leading copy trading platform.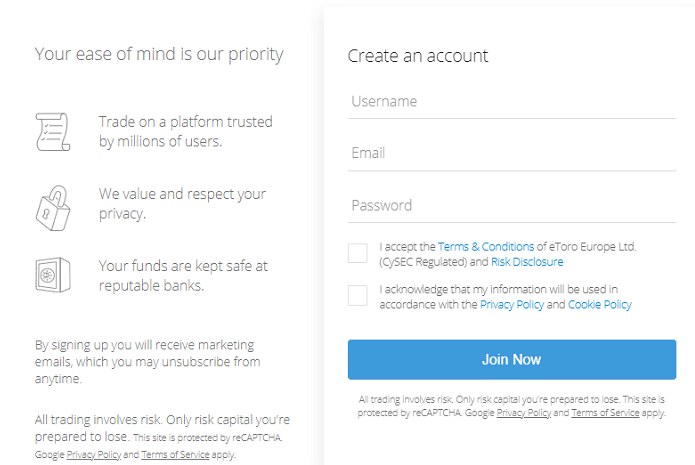 67% of retail investor accounts lose money when trading CFDs with this provider.
Step 2: Verify your Account
Since eToro complies with the FCA's regulations, all new users are subject to KYC (Know Your Customer) policies. Simply put, to verify your live brokerage account you will need to provide proof of identity and address. 
To do this simply click on 'Complete Profile' on the eToro dashboard and upload copies of either your driving license or passport and copies of a recent utility bill or bank statement. The processing team will then assess your documents and you will be notified as soon as your account is verified. 
Step 3: Deposit Funds
How do I deposit funds into my new eToro trading account? Funding your account is a simple process. With a wide range of payment methods available, just choose your preferred option and follow the instructions below. 
Log in to your live trading account with your credentials

Tap on the button marked 'Deposit Funds'

Specify the amount you want to deposit and choose the currency

Lastly, choose your preferred payment method
Step 4: Start Investing and Trading Financial Assets with the Best execution-only Broker UK – eToro
Once you have successfully deposited funds into your live trading account you'll have the flexibility and freedom to start investing and trading whatever you want. You can use eToro's advanced ProCharts to research and use technical indicators such as the RSI Divergence indicators and the MACD to identify unique trading opportunities. 
You can either browse through the supported tradable assets via the 'Trade Markets' link or you can search for the specific company or asset you wish to trade using the search bar. Let's say you wanted to buy shares of Apple stock (NASDAQ: AAPL). To buy Apple Shares you would need to search for AAPL or APPLE and then click on 'Trade' next to the relevant result. This will make an order box appear from which you can enter your stake amount. You can also use leverage if you want to trade CFDs, and place Stop Loss and Take Profit orders. Once you're happy with your own investment decisions simply click on 'Open Trade'.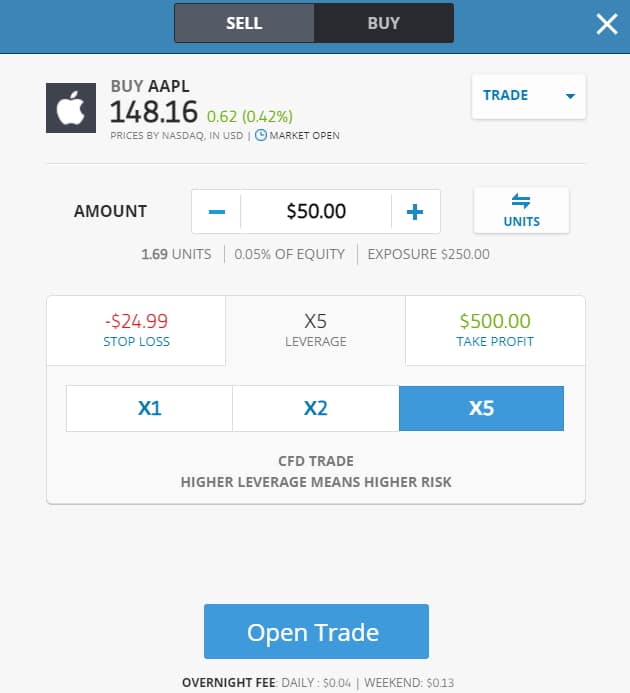 And there you have it! You've just invested in stocks with 0% commission on the best execution-only Broker UK – eToro. 
67% of retail investor accounts lose money when trading CFDs with this provider.
Conclusion – Expert Verdict
Whether you're a beginner trader who's just testing the waters or an avid expert investor, execution-only brokers offer lower costs and much more flexibility than other investment services. But is there a platform that combines the best of both worlds?
As well as being one of the leading execution-only brokers, eToro also offers copy trading allowing you to copy the trades of other expert investors from the comfort of your own home. Even though this is a passive investment strategy, you still have control over exactly what you'll be copying and you can close the positions at any time. 
If you want to start trading on a commission-free basis with the best execution-only broker UK, simply follow the link below and get your trading journey started with eToro right now!
67% of retail investor accounts lose money when trading CFDs with this provider.
Frequently Asked Questions about Execution-only Brokers
What is an execution-only Broker?
What does execution-only mean?
What is an order execution account?
What is the most trusted stock broker?
What is an execution-only client?