How to Buy Ocado Shares UK – with 0% Commission
Fact Checked
Everything you read on our site is provided by expert writers who have many years of experience in the financial markets and have written for other top financial publications. Every piece of information here is fact-checked.
Disclosure
Please note that we are not authorised to provide any investment advice. The information on this page should be construed for information purposes only. We may earn commissions from the products mentioned on this site.
Ocado is a British online supermarket that unlike its competitors has no chain of stores but instead, the tech firm makes all clients' deliveries from its warehouses. With a market capitalisation of £17bn, Ocado Group plc is one of the largest and most promising companies in the UK. It is also one of the best-performing stocks in 2020 with a return of 79.44% from the start of the year.
So, if you have landed on this page, it means you are looking for a way to buy shares of Ocado Group plc. To help you do so, we'll show you the process of how to buy Ocado shares online in the UK, suggest UK stockbrokers, and analyze the Ocado share price performance, and the share price outlook.
Step 1: Find a UK Stock Broker That Offers Ocado Shares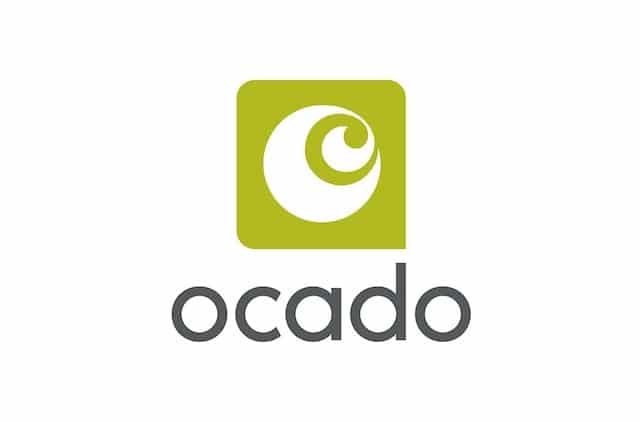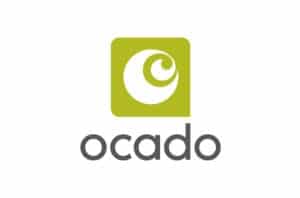 Ocado Group plc is a UK-based retailer listed on the London Stock Exchange (LSE) and is one of the top rising stock of the FTSE 100 index in the past five years. As such, you will be able to find plenty of UK stockbrokers that let you trade Ocado shares. But as the majority of brokerage firms charge a flat per-trade commission fee for any share purchase, and annual management fee, you might want to consider another solution.
Additionally, it's crucial that you understand the difference between buying UK shares outright or in the form of CFDs. Typically, investors who engage in long term positions prefer buying shares via stock exchanges while active day traders will favor CFDs trading.
With that in mind, we have selected two UK stockbrokers that offer investors to buy and sell Ocado shares.
1. eToro – Buy Ocado Shares via Exchanges or via CFDs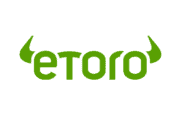 eToro is a very popular online trading platform in the UK and worldwide. This broker offers commission-free trading on more than 800 shares from 17 different stock exchanges. As the UK based broker offers an extensive list of shares from the London Stock Exchange, you'll also get access to Ocado shares. One of the reasons eToro is a favorite platform for many investors is the fact it enables you to buy shares outright or via CFDs.
eToro also offers commission-free trading on shares and other tradable assets. On this platform, you'll get access to not only shares but also ETFs, FX currency pairs, commodities, stock indices, and digital assets. As eToro is a CFD broker, you'll be able to take short positions without the strict restrictions required by most brokerage firms. For those unaware, a short position allows you to speculate that the price of the asset will decline.
eToro also supports social trading tools. In fact, this broker is the largest hub for social trading. This means you can interact with other members, view posts and stock market insights, and use the CopyTrade tool that enables you to automate your trading by copying another trader. You'll get to choose the one trader you wish to copy and test the trader's performance on a demonstration account before you risk your capital.
Finally, eToro is regulated by the FCA, CySEC, and ASIC, and secures clients' funds by the government's Financial Services Compensation Scheme. To start, you need to meet a minimum requirement of around £140.
Pros:
Zero commission policy for share trading
More than 800 global shares, including shares of Ocado
Enables investors to buy shares outright or CFDs
Fractional share trading is available
Social trading network, and copy trading tools
Accepts different payment methods, including PayPal
User-friendly web platform and mobile trading app
Regulated by the Financial Conduct Authority
Cons:
Limited technical analysis charting package for advanced traders
67% of retail investor accounts lose money when trading CFDs with this provider.
2. Plus500 – Trusted UK Stockbroker with Tight Spreads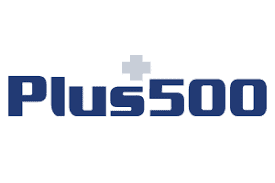 Another excellent option to trade Ocado shares in the UK is via Plus500, a UK-Based broker that operates in the industry since 2007. This CFD broker offers you to trade on more than 1700 shares on a commission-free basis and with a leverage ratio of 5:1, so you's'll be able to take a large stake in a company with a small investment. It is also one of the most cost-effective brokers in the market with low trading fees and competitive spreads.
The key strength of Plus500 is that it's a great platform for beginners and experienced traders alike. The trading platform is very simple to use so you won't have to spend too much time learning how to utilize it, but at the same time, this feature-packed trading platform comes with plenty of advanced trading tools including a built-in charting package, price alerts, an economic calendar, and a news feed. Additionally, you get access to some of the most useful risk management tools including trailing stop order and guaranteed stop.
Plus500 maintains a minimum deposit requirement of just £100 and you can test the platform and the broker's trading terms on a free demo account. As to regulation, Plus500 is regulated and licensed by the FCA and its parent company, Plus500 LTD is a public listed company on the London Stock Exchange.
Pros:
A commission-free trading policy
Tight spreads and low fees
A leverage ratio of 5:1 on shares
User friendly and easy to use trading platform, available on web browsers and mobile phones
Plenty of features including risk management tool, price alerts and trader's sentiment tool
Heavily regulated including a license by the FCA
Cons:
Not a social trading platform
Offers to trade on CFDs only
72% of retail CFD accounts lose money.
Step 2: Research Ocado Shares
Ocado shares have performed tremendously well since the beginning of the year, and before that. As a matter of fact, shares of the British online supermarket have been on an explosive run since the company sold shares to the public at a price of 180p on its Initial Public Offering (IPO) in 2010. But before you make an investment, it's crucial to analyze the share historical performance, its financials, dividend policy, and the company's prospects.
How Much Are Ocado Shares Worth? Ocado Share Price History
Ocado (LON:OCDO, ISIN GB00B3MBS747) was founded in April 2000 by a group of former Goldman Sachs traders during the dot.com bubble. Very soon, the company has made its first partnership deal with Waitrose, and in 2002, Ocado started its operational service. It would be fair to say that the company was a success from the first days of operation as Ocado has achieved sales of £1bn in the same year, though Ocado share price was stuck in a range and by the end of 2010, the share was valued at around 170p.
In the past decade, however, Ocado's share price has made an incredible run from around 170p in 2010 to a peak of 2817p in September 2020.  This can be attributed to Ocado technological developments including its mobile app for iPhone and Android, the first Apple Watch grocery app, and above all, that Ocado Smart Platform (OSP), which is one of the leading systems in the market for operating online grocery business.
This year, Ocado shares gained nearly 80% as the UK market had to make a strong shift to online services caused by the Covid-19 pandemic. This obviously makes Ocado one of the top-performing shares in the United Kingdom in 2020. Just a month ago, Ocado has overtaken Tesco in terms of market capitalisation, with a market cap of £21.7 at its peak.
Ocado Share Fundamentals – Market Cap, P/E Ratio and EPS
As mentioned previously, Ocado has a market cap of £17bn as of October 2020, which makes it one of the largest companies in the UK in terms of market capitalisation. As for the price per earnings ratio, the company is not yet profitable and therefore it currently has a P/E ratio of 0.0.
In the first half of the year, Ocado reported a growth of 27% in retail revenues growth and an impressive cash position of £2.3bn. However, despite the soar in sales, Ocado reported a net loss of £40.6m for the first six months of the year. As such, Ocado's EPS currently stands at -0.29p per share.
Ocado Shares Dividend Information
At present, Ocado does not pay a dividend yield to shareholders. This does not come as a surprise as Ocado is considered a tech company and has not yet managed to turn into a profitable enterprise. If you are keen on buying a high yielding dividend share, we suggest you visit our best dividend stocks guide.
Should I Buy Ocado Shares?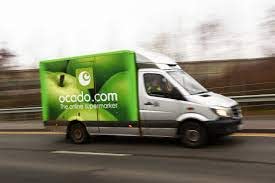 Ocado shares have been increasing abnormally over the past decade and in 2020 thanks to its unique technology and the Covid19 pandemic that has changed the way people shop. Generally, analysts' opinions are mixed on the future of Ocado share – While some believe that Ocado share price is overvalued, others agree that Ocado has more room to grow, particularly given the fact that it is expected to become profitable within the next two years.
With that in mind, let's take a close look at some of the reasons why analysts rate this stock as a 'buy'.
Ocado Sales Surge Amid the Coronavirus Pandemic
Only a few companies in the world have done better than usual during the Covid-19 pandemic that emerged in March. Ocado is one of these companies. In the second quarter of 2020, the online grocer has reported retail revenue growth of 40.4% from the previous year. In Q3, the company reported a 52% increase in revenue, and the total revenue is expected to grow to £2.3bn by the end of the year, and £2.6bn by the end of next year.
The shift to online shopping during the lockdowns has pushed the Ocado share price from the yearly bottom of 1084p on March 11 to a peak of 2895p on September 29. It is worth mentioning that even if the Covid-19 situation will end soon, Ocado has increased its client base, and cash inventory.
An Extensive Partnership Network
Ocado has made a lot of effort towards building an extensive partnership network in and out of the UK. These include Aeon (Japan), Bon Preu (Spain), Coles (Australia), Groupe Casino (France), ICA (Sweden), Kroger (United States), Morrison (United Kingdon), Sobeys (Canada), Markes & Spencer (United Kingdom).
Notably, partnerships solution is a huge part of Ocado's strategy. In that sense, Ocado is not only an online grocery service but is also a software tech company as it sells the Ocado Smart Platform (OSP) to many companies that operate online grocery business.
Ocado Market Share Hits Record High
In 2020, Ocado's sales rose exponentially and the online supermarket has achieved huge growth in the UK market shares. According to Kantar, Ocado has a 1.7% market share of the overall market, and this figure is expected to grow in the next year. Looking ahead, there are estimates that online grocery's share in the Uk set to double. According to Ocado's CEO Tim Steiner: "We'll see another doubling of the market in the next few years".
Further, the fact that Ocado plans to raise £1bn from retail investors and institutional investors is most likely would push the company forward.
Step 3: Open an Account and Deposit Funds
Now that you have enough information about Ocado shares, the next step is to open an online trading account. In this section, we'll show you how to open a trading account with eToro and walk you through the process of buying Ocado shares.
First, you need to navigate to eToro's website and sign up for a free trading account. To do that, click on the 'Join Now' button at the center of the screen.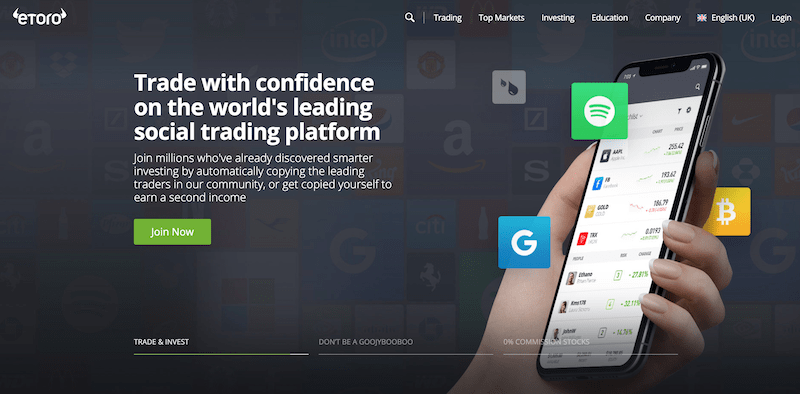 Next, you'll be prompted to a sign-up form where you'll be asked to enter personal information and verify your identity by uploading a copy of your passport or driver's license along with a copy of a recent financial statement or utility bill.
Once your account was approved, you can fund your account using one of the following payment methods.
Debit Card
Credit Card
Paypal
Skrill
Neteller
UK Bank Transfer
Bear in mind that you'll need to meet a minimum requirement of around £140 to start trading the live markets with eToro.
Step 4: Buy Ocado Shares
Once you have completed the signup process and your account has been funded, you are ready to buy Ocado shares. To start the buying process, go to the trading dashboard and click Ocado at the search bar and then click on the first result the appears in the drop-down menu.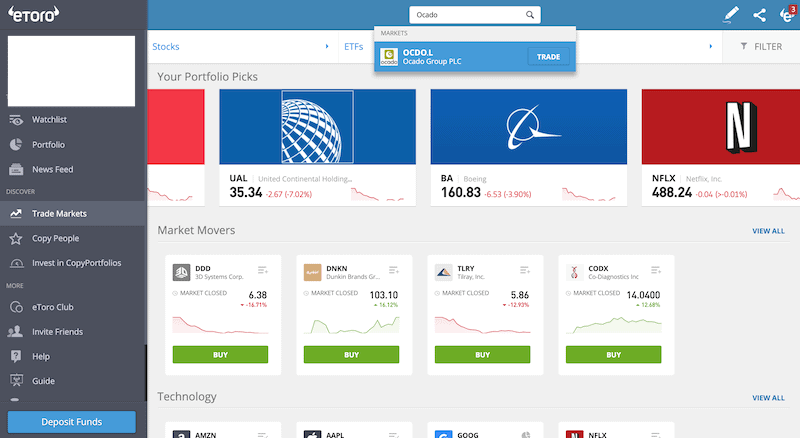 On the next page, click on the 'Buy' button.
Now, you'll see an order form to place your Ocado buying order. In the form, you need to enter the amount you want to invest in Ocado. Take note that eToro offers fractional trading and as such, you can make an investment of just £40, however, when taking the leverage ratio provided by the broker, this means your position size is £200.
When you are ready to send the order, click on the 'Open Trade' button.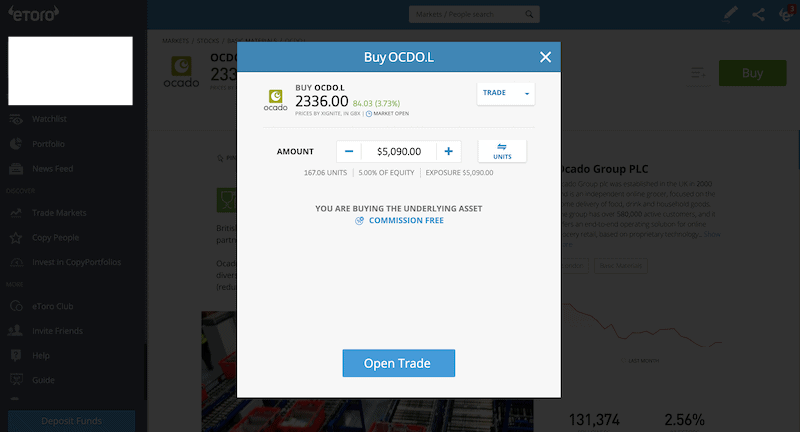 Ocado Shares: Buy or Sell?
Since its foundation, Ocado has proved its ability to become a market leader in a very competitive industry. The growth in sales was exponential and the share price followed the upward trend. But while the growth of this grocery retailer is certainly an important factor to consider, the company has not yet shown consistent profits. This could be a concern for investors as the company's risk is directly affected by its ability to pay its debts. But at the same time, it is more than likely that Ocado will turn profitable soon, perhaps even in the next year. Once this will happen, the Ocado share price will further increase from current levels.
As such, we think Ocado is more a buy than a sell, particularly for long term investors. Moreover, as investors are looking for companies that succeed during the Covid-19 pandemic, there is a good reason to believe that more retail and institutional investors will continue buying Ocado shares.
The Verdict
Ocado shares have outperformed the market during the previous year, and the future looks bright for this tech star company. There are some crucial factors to take into consideration before buying Ocado shares, however, for those looking for a potentially high return share, Ocado is one of the best growth stock in the UK to buy right now.
If you ready to buy Ocado shares, simply click the link below to get started!
Frequently Asked Questions on Ocado Shares
Who is the chief executive of Ocado?
What stock exchange is Ocado Group plc listed on?
Does Ocado pay dividends?
Can I invest in Ocado via an ISA or SIPP?
What is the current price of Ocado shares?