How to Buy Halma Shares UK – With No Commission
Fact Checked
Everything you read on our site is provided by expert writers who have many years of experience in the financial markets and have written for other top financial publications. Every piece of information here is fact-checked.
Disclosure
Please note that we are not authorised to provide any investment advice. The information on this page should be construed for information purposes only. We may earn commissions from the products mentioned on this site.
Halma plc has been a public listed company for over 45 years, and throughout the years, it has managed to diversify its business and reinvent itself several times. Now, it is one of the largest companies in the UK with a market cap of nearly £9.4 billion as of May 2021 and annual revenues of £1.3 billion.
So, if you are thinking of buying shares of this huge holding company, this guide is for you. we'll show you How to Buy Halma Shares UK, analyze the company's strengths, and suggest top UK platforms that enable you to invest in Halma plc without paying any trading fees.
How to Buy Halma Shares UK – Step by Step Guide 2021
In the section below, we'll show you how to instantly buy Halma shares in the UK.
Step 1: Open an eToro account – First, visit the eToro website and click on the 'Join Now' button. Then, fill in the registration form and verify your email address.
Step 2: Upload ID – Verify your identity by uploading proof of ID and proof of address.
Step 3: Deposit Funds– Deposit funds to your account using one of eToro's supported payment methods: credit/debit card, bank transfer, PayPal, Neteller, or Skrill.
Step 4: Buy Halma Shares – In the search bar, enter Halma and click on the first result that appears in the drop-down menu. Then, insert the amount you want to invest and complete your purchase by clicking on the 'Open Trade' button.
Step 1: Choose a Stock Broker
Halma shares are listed on the London Stock Exchange (LSE), and therefore, you need to find a brokerage firm that offers you to buy and sell shares in the UK. In general, there are many ways to buy shares in the UK, with one of the most popular and cost-effective of them is by Contract for Difference (CFDs). These are essentially derivative instruments that allow you to speculate on the price of an asset without exchanging the assets and paying high fees.
To help you find a good platform that supports this stock, below we analyze two FCA-regulated brokers to buy Halma's shares.
1. eToro – Best Broker to Buy Halma Shares UK with 0% Commission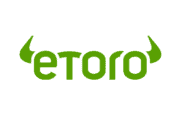 If you are ready to buy shares of Halma, eToro is most likely the best choice in the UK. This is in large because this online CFD platform allows users to speculate on the prices of thousands of shares, including Halma plc, without paying any trading fees and commissions. This pricing structure is especially attractive for active day traders that typically make a large number of trades.
But besides offering a zero commission policy when buying shares and ETFs, the broker also offers one of the most unusual trading platforms in the market in terms of the design and user experience. In general, the eToro platform does not look like many conventional and complicated trading platforms but instead, it is very similar to other popular social platforms.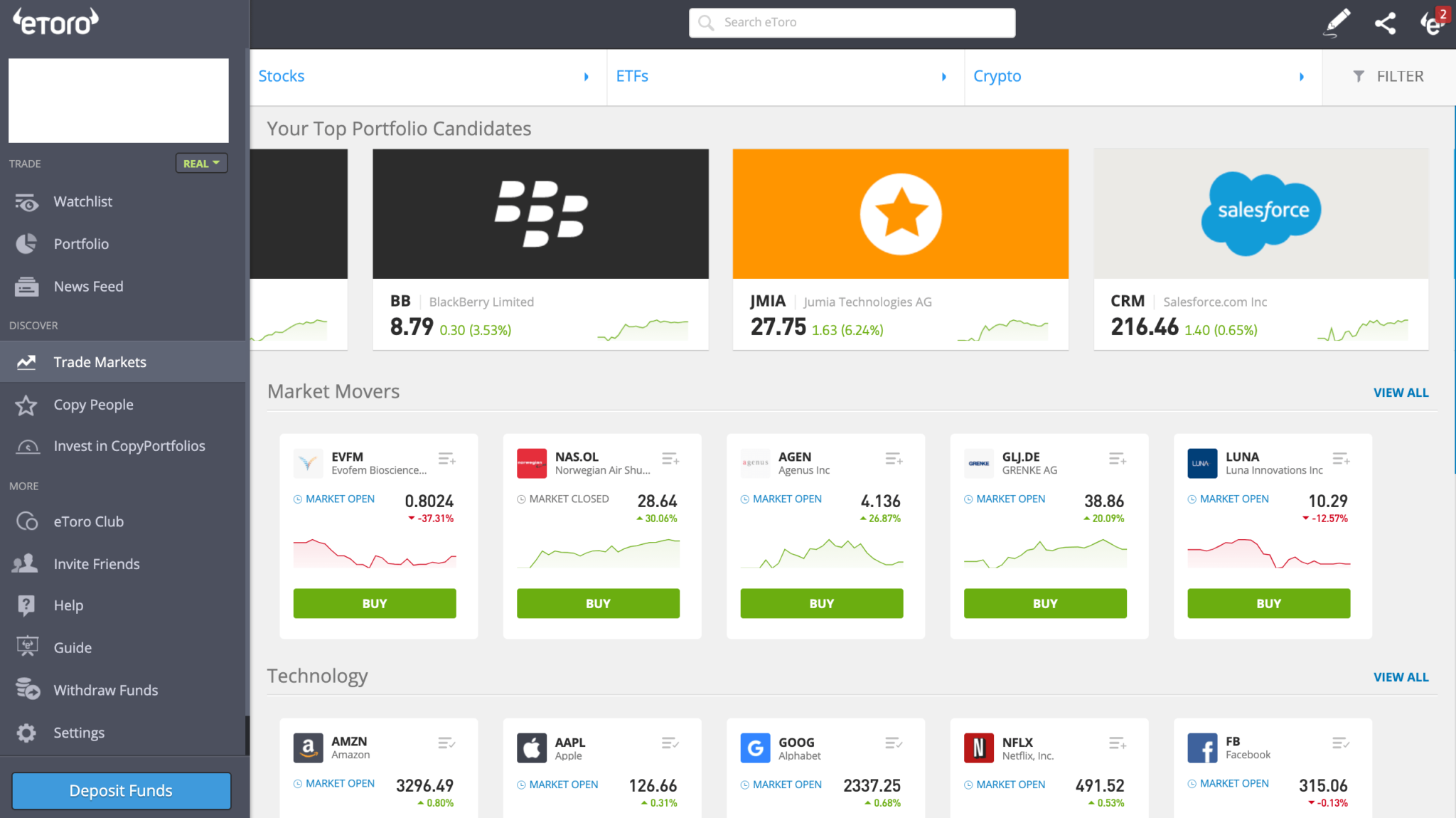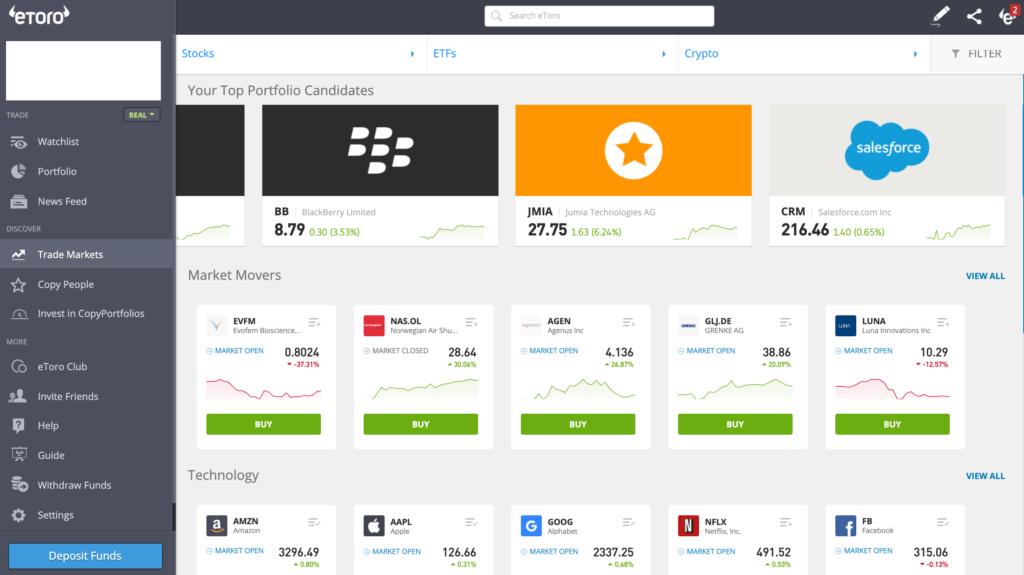 When it comes to buying shares on eToro's platform, users can utilize margin trading for up to 5x leverage and trade without paying any commissions when getting in and out of a position. Also, eToro enables fractional ownership when you buy shares on the platform so you won't have to buy a whole share.
For beginner and intermediate investors, eToro is also the ideal platform as it enables users to use the CopyTrade feature. This is simply a tool that enables you to choose another investor and automatically copy the trades made by the investor. You will, therefore, be able to choose a certain investor based on the market, risk, and return over various time frames.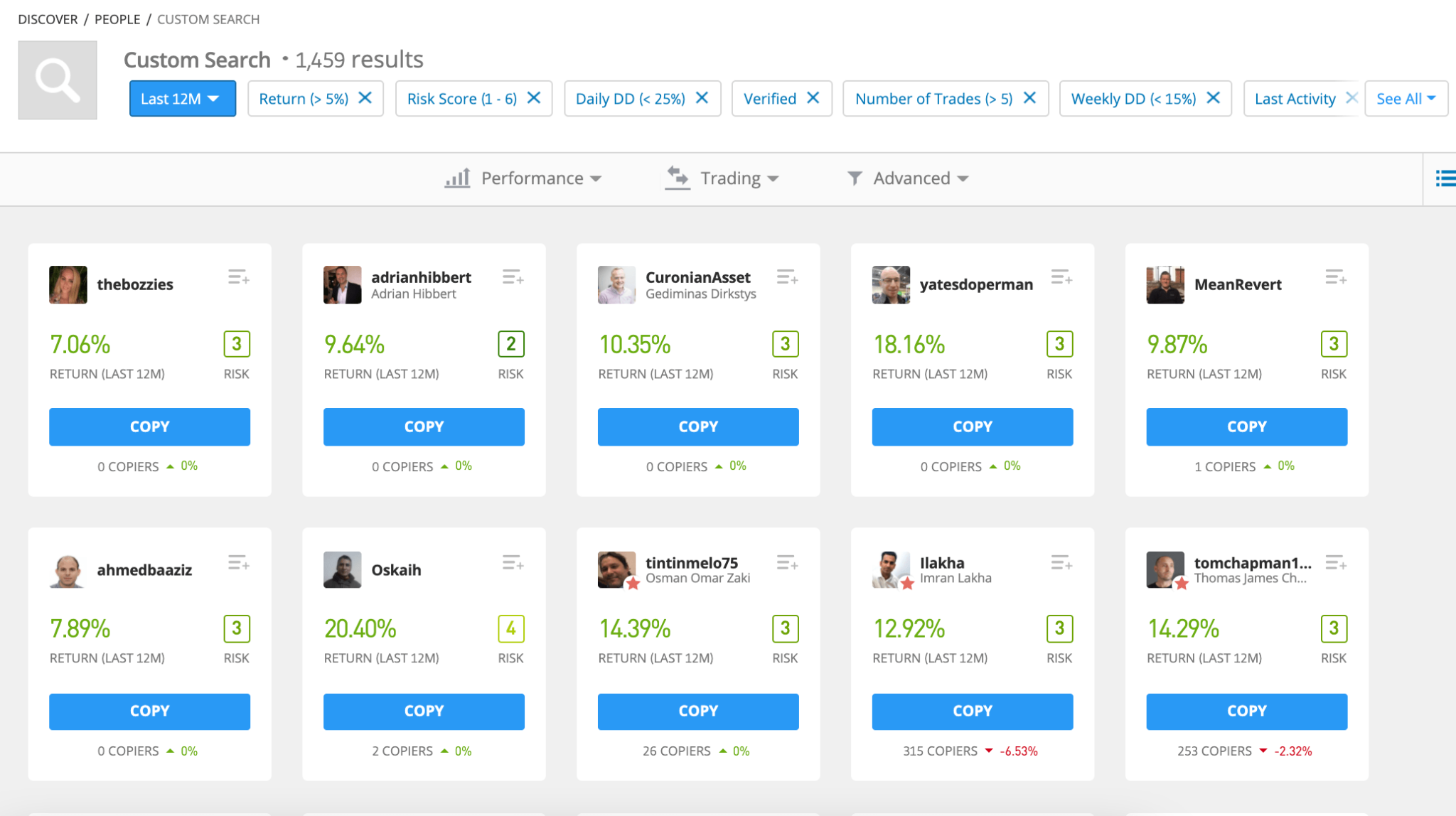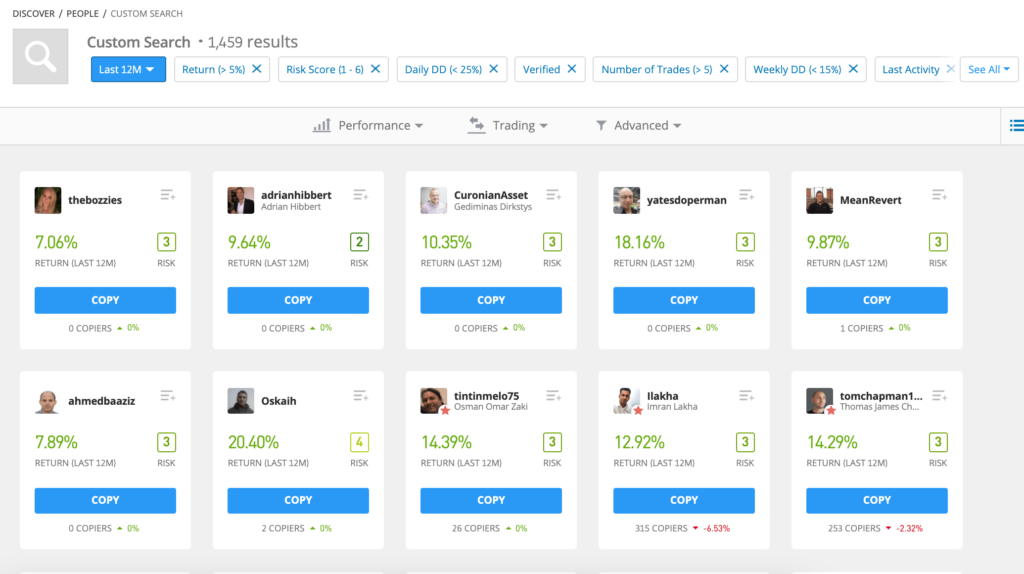 Finally, opening an account with eToro is not a complex process and you can start with a minimum deposit of just $200, which is around £140. The broker is also FCA regulated and offers 24/7 customer support service.
Pros
Zero-commission brokerage firm
Huge range of 2,400 global shares and 250 ETFs – including Halma plc
CFD markets also offered
User-friendly trading platform – available on web browsers and as a mobile app
Innovative CopyTrader feature
Regulated by the FCA
Covered under the FSCS
Cons
Charges an inactivity fees, and overnight fee
67% of retail investor accounts lose money when trading CFDs with this provider. You should consider whether you can afford to take the high risk of losing your money.
Research Halma Shares
Before you make any investment, it's best to conduct market research to get familiar with the company and know the risk involved in the investment you are about to make. As such, in the section of our guide, we are going to analyze Halma plc and help you decide whether it's the right time to invest in this company.
What is Halma?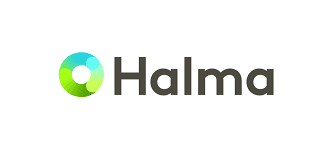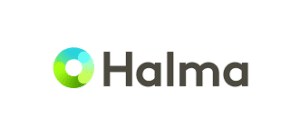 Halma plc is a British company that was founded way back in 1894, though it officially became Halma in 1973, just one year after it was listed on the London Stock Exchange. The decision to rebrand the company came following a series of acquisitions that made Halma an international holdings company.
Nowadays, Halma is considered as a sort of conglomerate company, which means that it is a multi-industry company that has various sources of income and very often less risk. That said, it does have a strong focus on three sectors – Safety, Environment & Analysis, and Medical.
Halma is a FTSE 100 company and one of the few British firms that have a market capitalization of over £1 billion. It is trading under the ticker symbol 'lon:hlma'.
In February 2021, Halma has announced the appointment of Dame Louise Makin as the next chair.
Halma Share Price
Over the last 30 years, Halma shares have clearly been on a long steady uptrend. Back in 1993, one share of Halma was trading at around 18p and for the next 15 years, the HLMA stock was trading at a fairly narrow range of 100p-200p. But, since 2008, the UK-based company has been growing exponentially in the UK and around the world. Its shares price followed suit, rising from around 200p in 2008 to the current price of 2428p.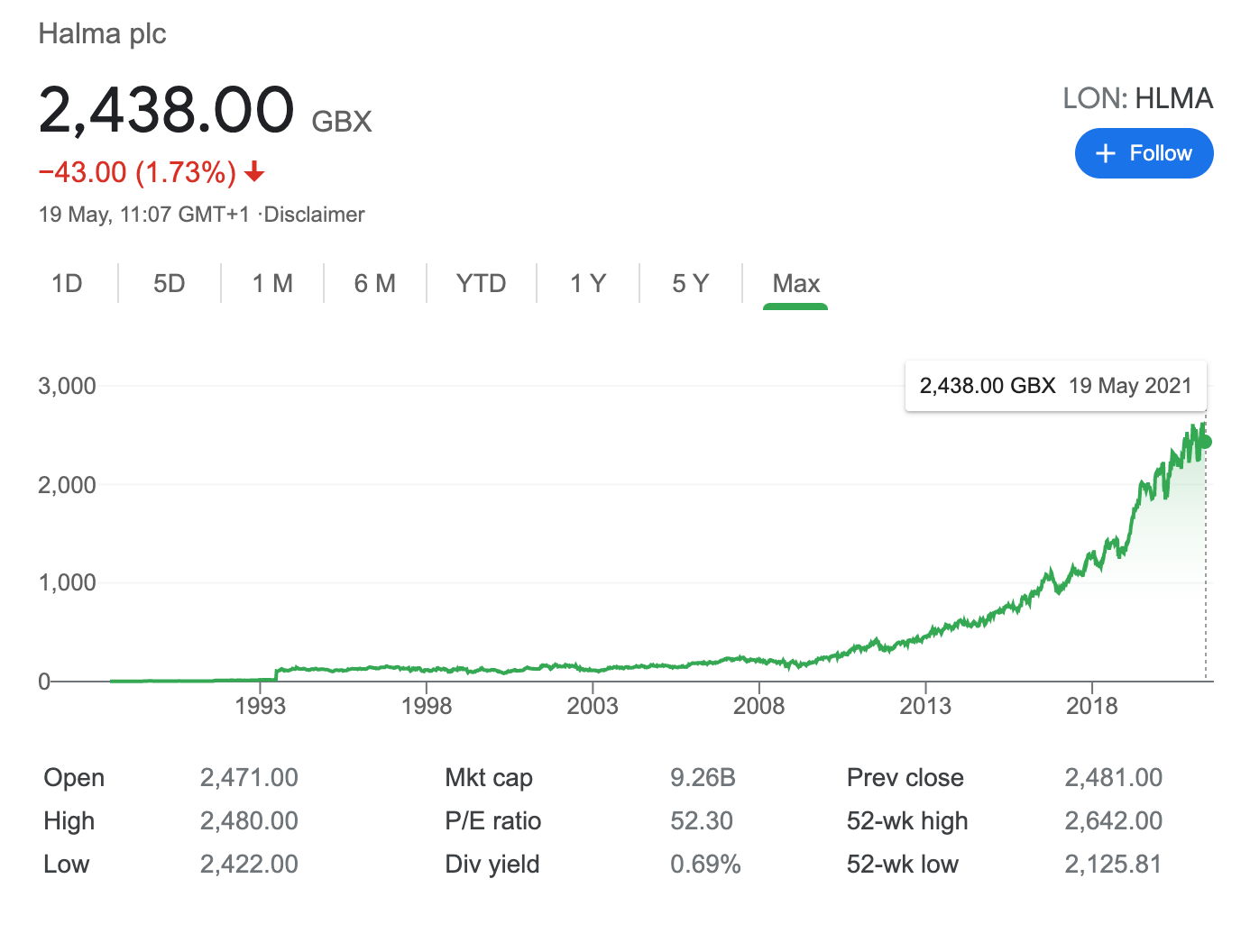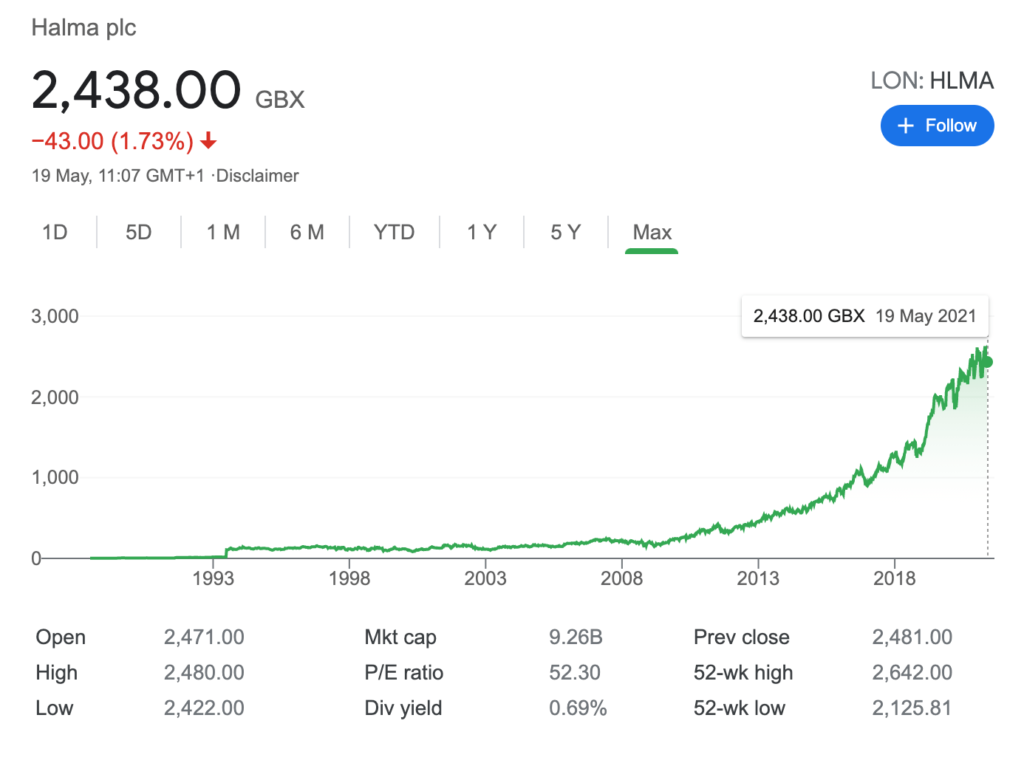 Looking at the previous year, Halma performed quite well during the COVID-19 crisis and as evident, it has a 1-year return of 10.37%. In 2021, however, the company's stock price is so far unchanged.
As you can see in the chart below through the lens of technical analysis, Halma's share price is trading on an upward trend line (and above the moving average line) and the next price target should be around 2950p.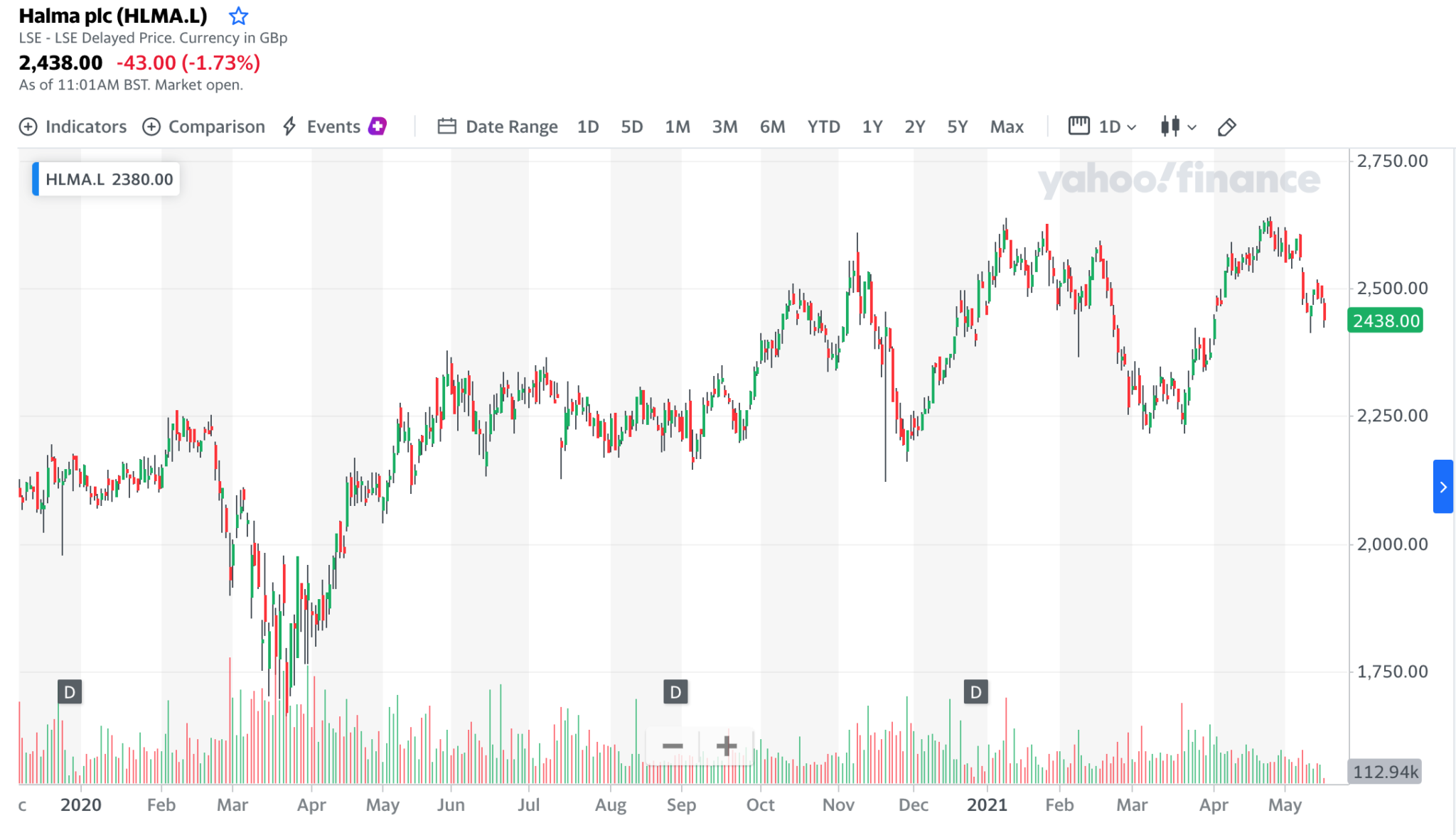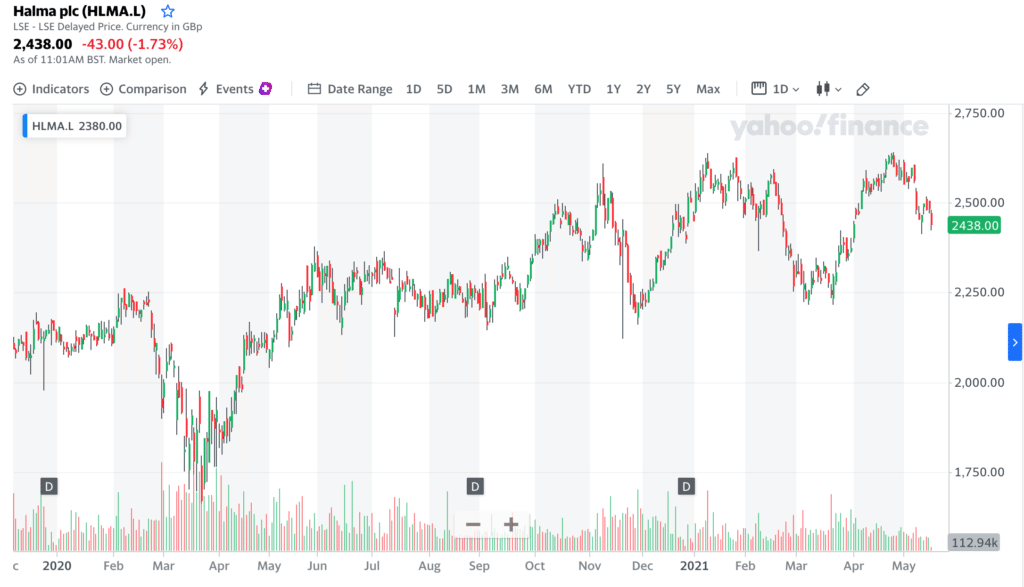 In terms of the fundamentals, Halma has a Price/Earnings (PE) ratio of 52! This is a strong signal that investors currently expect higher future earnings and are willing to pay a very high price per share because they believe in the company's future growth. The company also shows its strength in the EPS data it has released. For the fiscal year of 2020, it has reported a basic EPS of 48.66p, and adjusted EPS of 57.39p for the same year, an increase of 9% from 2019. Halma also expects earnings to keep growing as it forecasts an EPS of 52.3p for 2021/22, and 57.2p for 2022/23.
Halma Shares Dividends
If you are looking for a safe and stable dividend stock in the UK, then Halma is certainly it. The company pays a dividend to its investors two times per one calendar year and the dividend yield currently stands at around 6.7% in 2021.


Further, Halma has a long history of sharing its profits with shareholders, and the company's payout ratio typically ranges between 33%-37%. Additionally, Halma states on its website that it has a dividend growth of over 5% for over 40 consecutive years. The good thing here is that this is not likely to change in the near future based on Halma's ROE and the company's policy of consistently increasing its dividend payouts. Looking ahead, Halma's next ex-dividend date is expected to on 15 Jul 2021.
Are Halma Shares a Good Buy?
Even though Halma's share price has been rising steadily over the last few years, it is important to check what are the key strength of this business and what is the upside potential for this stock. After all, the past performance of a company does not always reflect its future performance. As such, we are now going to take a closer look at the recent developments of Halma, the company's key points, and how it performed during the coronavirus crisis.
A Network of Diverse Businesses Around the World
Above all, the main reason why Halma is such a strong company is the diversity of the products and services the company offers. Essentially, Halma is a holding company with approximately 45 companies around the world operating in different sectors. Simply put, Halma has a different approach in making sure it partners only with individuals and organizations who share the same business ideology. This means that Halma is acting like a conglomerate in some ways, and constantly sells companies, and makes new acquisitions.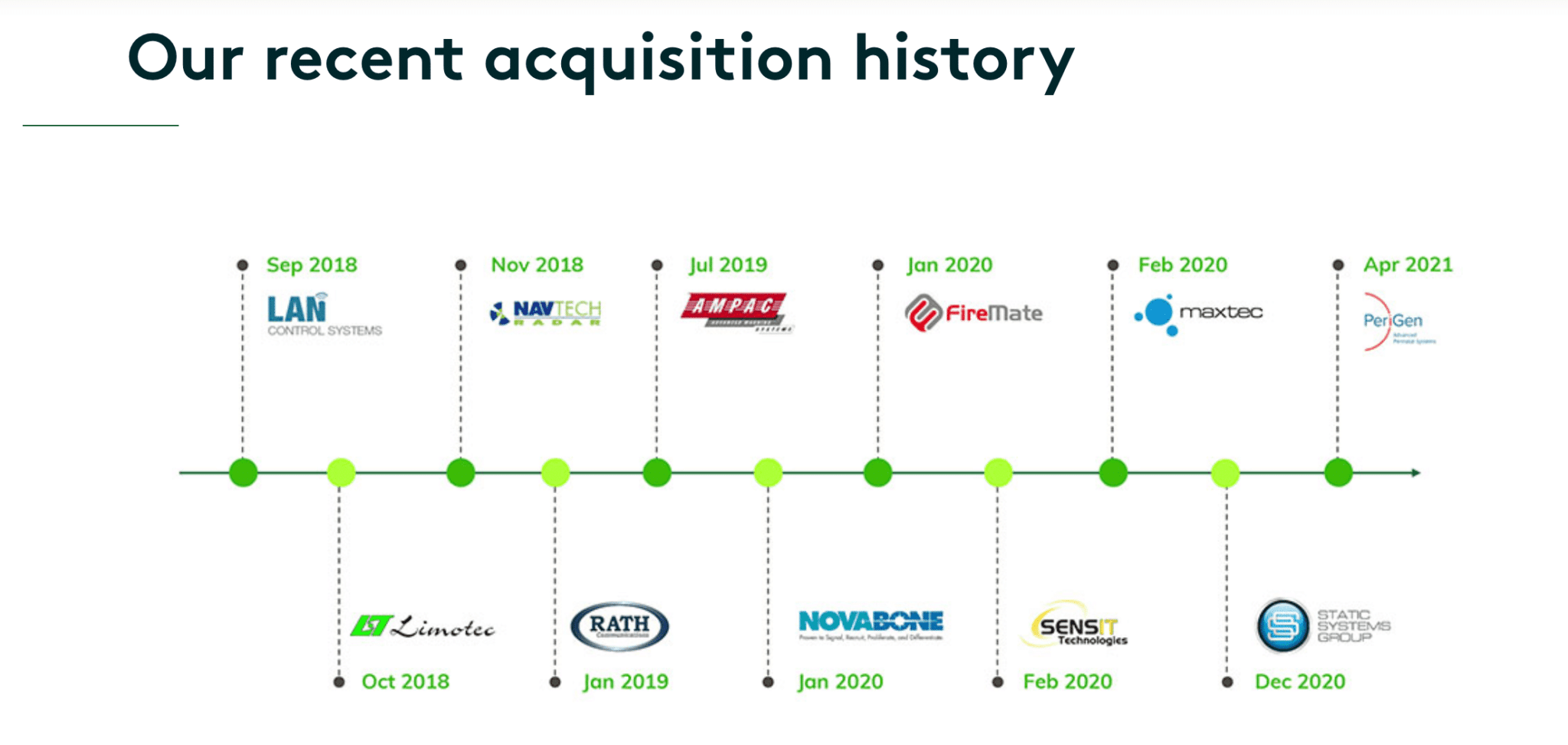 Solid Operational Performance During the Covid-19 Pandemic
Despite a minor bump in the road around May-June 2020, Halma has delivered a resilient performance during the Covid-19 crisis and even increased its dividend in July last year. And, even though the company's revenue and adjusted profit declined by 5% last year, the company still has a robust balance sheet with net debt of just £315.0 million and a free cash flow of £249 million.
Acquisition of PeriGen, Inc/One Third Spin-Out
In April 2021, Halma has announced the acquisition of PeriGen, Inc., a technology company that develops software that alerts parents with an early problem of their unborn babies. The software uses artificial intelligence to provide the PerWatch surveillance, the PerWatch Vigilance, and the PeriWatch Command Center. PeriGen, which was acquired by Halma for $58M, has total revenues of $20 million and a return on sales of 18%-22%.
In the same month, Halma has also announced the spin-put of OneThird, a food technology start-up that helps to prevent food waste through data-driven quality prediction.
Open an Account & Buy Halma Shares
If following this review, you are ready to buy Halma shares – then the next step is to open an online account at one of the brokers that offer to trade Halma shares and place a buying order. To help you make this process without any mistakes on the way, we are going to show a step-by-step tutorial to buy Halma shares with eToro.
Step 1: Sign Up for an eToro Account
The first thing needed to be done is to visit eToro's website and sign-up for an online trading account. To do that, simply click on the Join Now button on the broker's homepage and create a username, password, and submit your email address.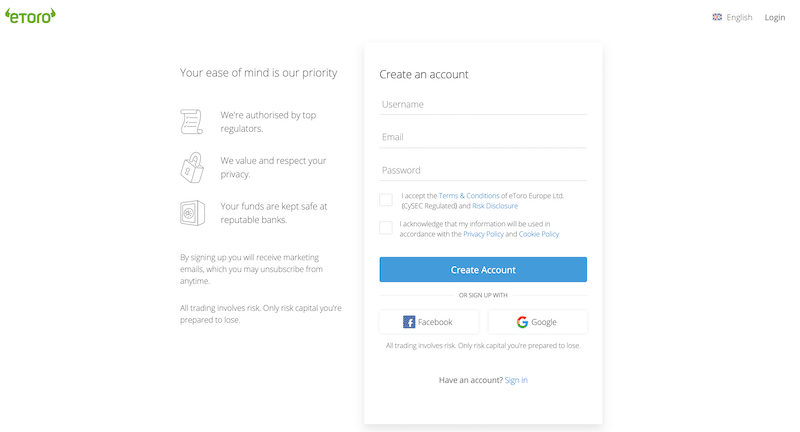 67% of retail investor accounts lose money when trading CFDs with this provider. You should consider whether you can afford to take the high risk of losing your money.
Step 2: Verify your ID
In the next step, you need to verify your identity before you are allowed to trade with real money. This is because eToro is FCA regulated and must follow all Know Your Customer (KYC) procedures. Fortunately, the process is fairly simple and you will be guided through the verification process. To complete this step you simply need to upload proof of ID (a copy of your passport or driving license) and proof of address (any utility bill or bank statement that approves your current address).
Step 3: Make A Deposit
One of the benefits of trading with eToro is that you can always use a demo account in order to get familiar with the platform and test different trading strategies. The broker offers you an unlimited paper trading account, and you switch from real to live mode with one click of a button.
However, whenever you are ready to buy Halma shares, you need to make a deposit. In the UK, eToro maintains a minimum deposit requirement of around £140 (or $200). This can be done by using any of the supported payment methods that include credit and debit cards, bank wire transfer, PayPal, Skrill, and Neteller.
To add funds, you need to click on the Deposit button from the trading dashboard, choose the payment method, insert the amount, and click the Submit button.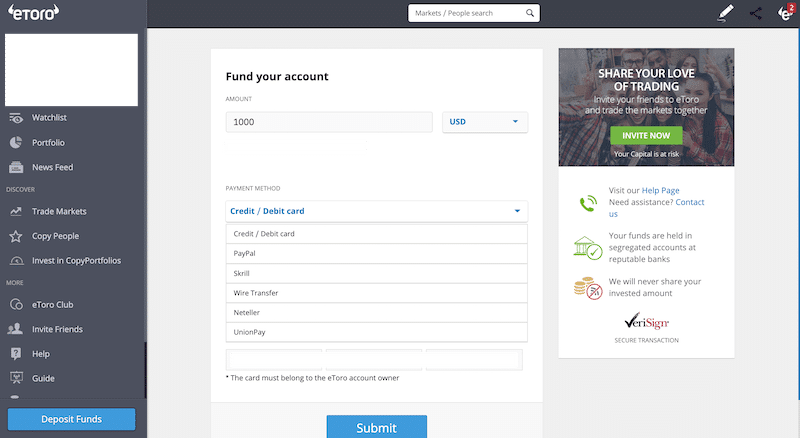 Step 4: Buy Halma Shares UK
At this point, you have funds in your account and all that is left to do is to place an order to buy Halma shares on eToro's platform. To do this, you first need to search for Halma at the search bar on the eToro platform.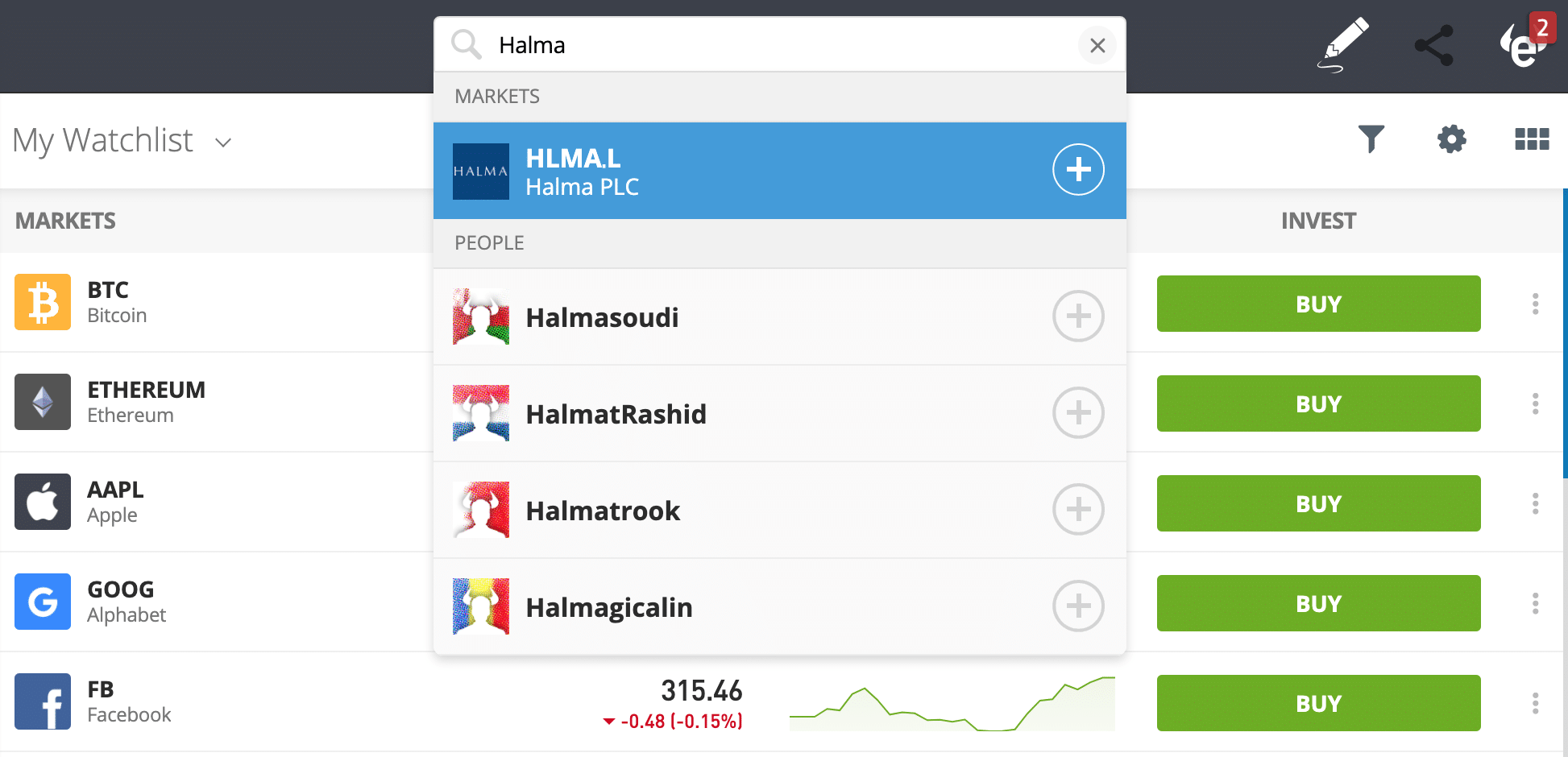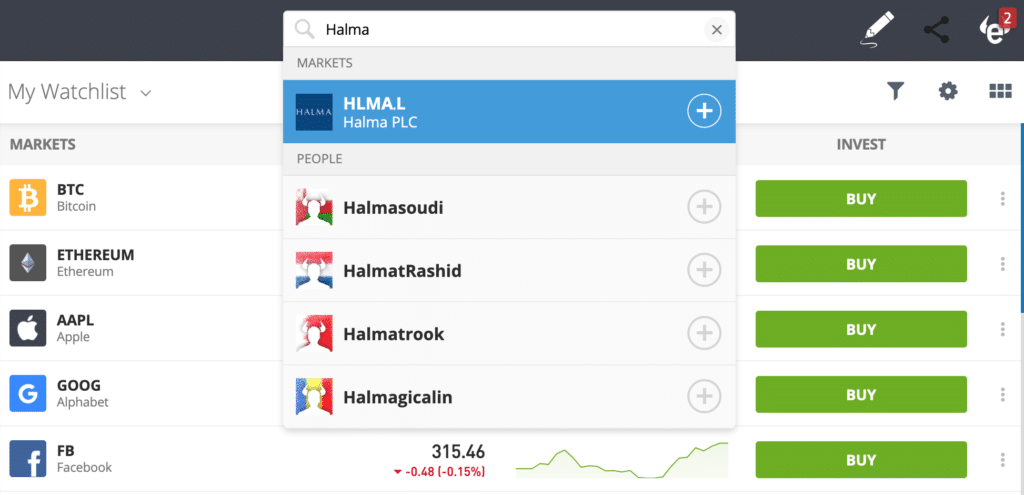 Next, you will be channeled to the Halma plc instrument page. From this page, you can analyze the stock and get live feed from other users. You can also get access to important stats about the company and use the eToro charting system.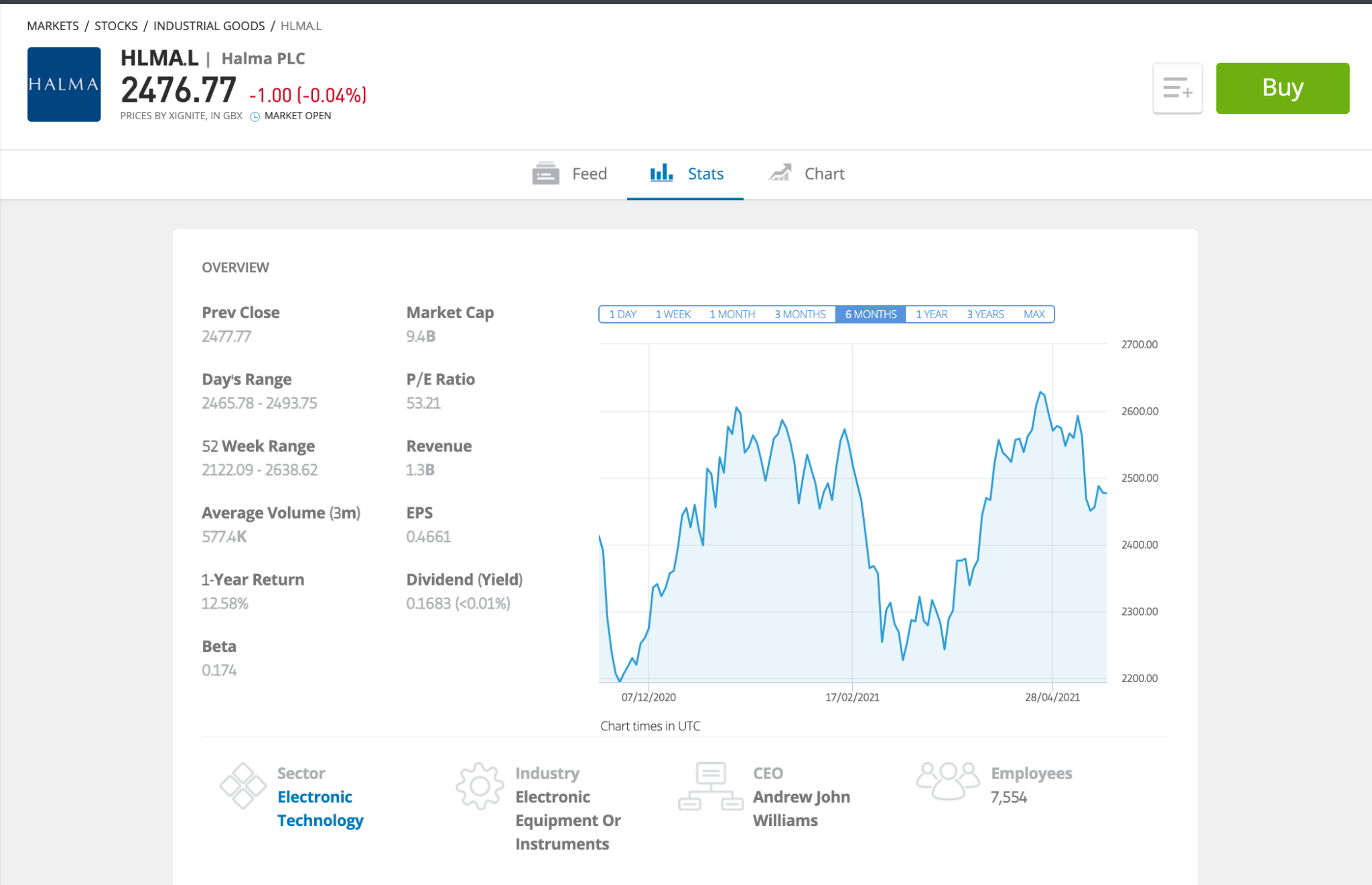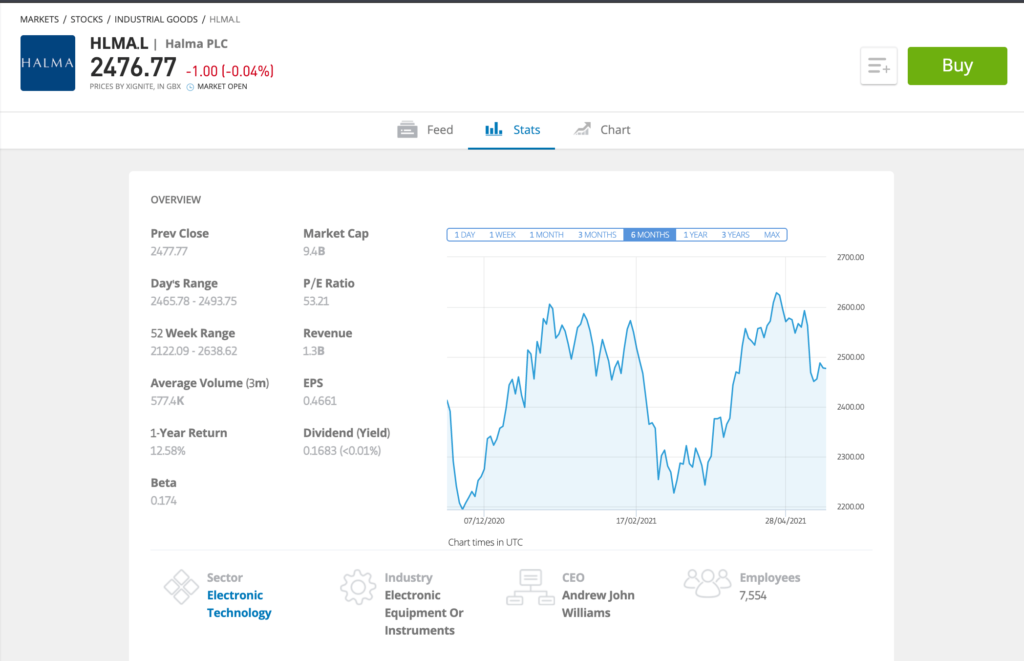 Once you are ready to place an order to buy Halma shares UK, click on the Buy button. You'll then be taken to an order form in which you'll be able to insert the amount of investment and click on the Open Trade button to complete your purchase. Finally, to view and modify your position, navigate to your Portfolio section on the left side menu.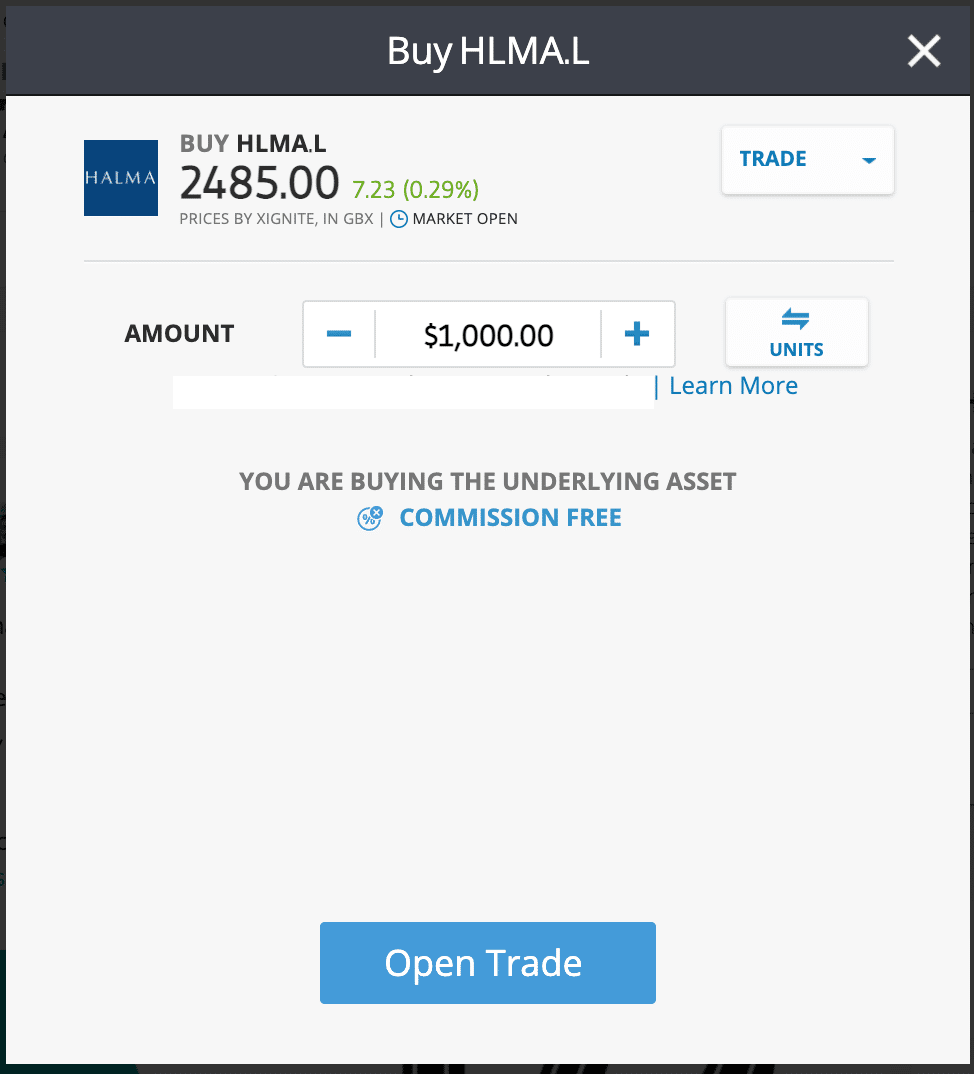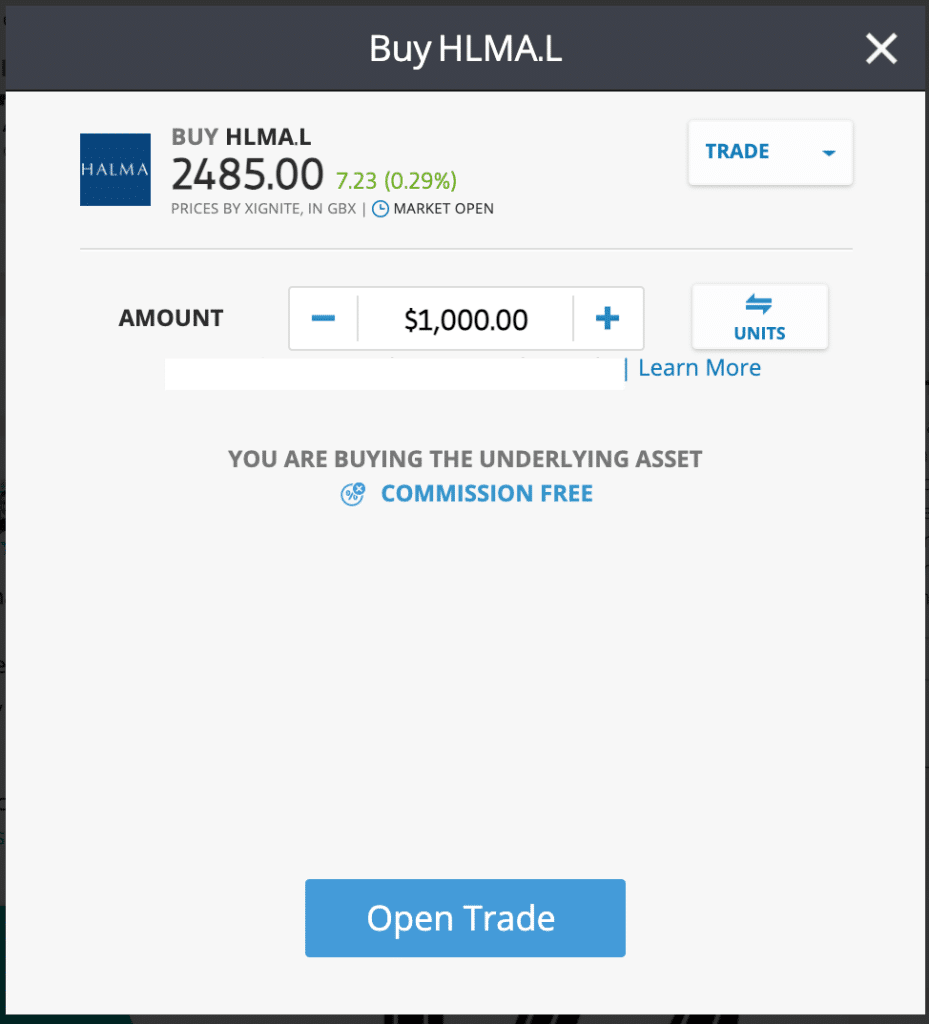 Halma Shares Buy or Sell?
Clearly, one of the main reasons that every rational investor asks these days is whether it is the time to buy or sell stocks. The reason for that is the growing concerns of an upcoming stock market bubble that will burst in the near future. In that aspect, it is important to understand that you can make a profit from a drop in share prices – this concept is known as short selling. As such, if you believe Halma's share price is expected to fall soon, you can use platforms like eToro in order to short sell the stock.
Having said that, Halma seems to be one of the best UK stocks to buy right now, even in the case of a market crash. Throughout the years, Halma has developed a business model that succeeds to generate steady growth and increasing revenues. And, quite remarkably, for the full-year results for the 12 months to 31 March 2020, Halma has reported record revenue and profitability for the 17th consecutive year. Further, the fact that Halma takes climate change and environmental sustainability seriously is another factor to consider when analyzing this company. Just a day ago, Halma has been named by the Financial Times and Statista as one of Europe's Climate Leaders.
So, all things considered, if your time horizon is short and you think the market is expected to crash or at least correct soon – then, consider selling Halma is a fair decision. Otherwise, in our view, Halma is a great long-term stock to buy right now.
How to Buy Halma Shares UK – Conclusion
To sum up, Halma plc is definitely a stock to consider adding to your portfolio. This company has a good business model, a positive purpose, an excellent bussiness model, and a stable dividend that consistently increases by 5% every year.
So, if you would like to add Halma to your portfolio, then the best way to do that is via a CFD trading platform like eToro. With this broker, you do not need to pay high trading fees and you can use one of the most user-friendly and innovative trading platforms in the world.
eToro – Buy Halma Shares With 0% Commission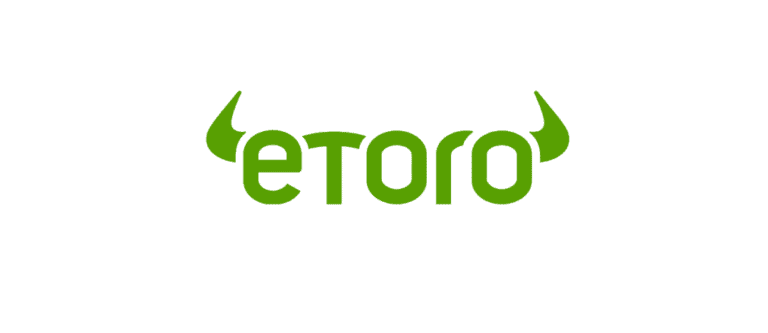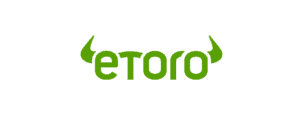 67% of retail investor accounts lose money when trading CFDs with this provider. You should consider whether you can afford to take the high risk of losing your money.
FAQs
Should I buy Halma Shares?
Well, there are several reasons why you should buy Halma shares. First, Halma is the most admirable company in the United Kingdom due to its goals to invest in renewable energy and companies that aim to solve key problems in the world. Other than that, Halma is a diverse company with various sources of income and its business model seems to work very well. Finally, perhaps the most convincing reason to buy Halma shares is the PE ratio of 52 that shows the high expectations of investors towards the future of this company.
How much are Halma shares worth?
At the time of writing, Halma plc shares are trading at 2438p.
Who owns Halma?
Halma is a public listed company and thus, it is owned by shareholders. Some of the main mutual fund owners of Halma include Covéa Actions Europe, American Funds EuroPacific Growth Fund, and MFS International Intrinsic Value Fund. The main institutions that own Halma include Capital Research & Management Co. (World Investors), Mawer Investment Management Ltd., and MFS International (UK) Ltd.
What services does Halma provide?
Halma provides safety equipment products in the following sectors: infrastructure surveillance sensors (34.9%), healthcare equipment (25.9%), environmental analysis equipment (24.3%), and industrial security equipment (14.9%).
Where is Halma based?
Halma plc is based in Amersham, England. It has additional offices in London, Bristol, the United States, China, and India.