How to Buy Forterra Shares UK – With 0% Commission
Fact Checked
Everything you read on our site is provided by expert writers who have many years of experience in the financial markets and have written for other top financial publications. Every piece of information here is fact-checked.
Disclosure
Please note that we are not authorised to provide any investment advice. The information on this page should be construed for information purposes only. We may earn commissions from the products mentioned on this site.
Forterra is a relatively unexciting company in a UK industry that doesn't always receive as much attention as it should: construction. But while this construction company isn't as flashy and doesn't receive as much media attention as tech and financial companies, it's worth paying attention to as an investor.
That's because Forterra has slowly built out an impressive moat in the UK construction industry and is now in the process of generously rewarding shareholders. The company pays out a good dividend yield and is on track to dominate the UK building products industry for many years to come.
So, is now a good time to buy Forterra shares? In this guide, we'll show you how to buy Forterra shares in the UK and take a closer look at why we think every UK investor should have shares of this company in their portfolio.
Step 1: Find a UK Stock Broker That Offers Forterra Shares
Forterra PLC trades on the London Stock Exchange and is a constituent of the FTSE 250. As a result, almost every stock broker in the UK offers shares of this building and masonry products company.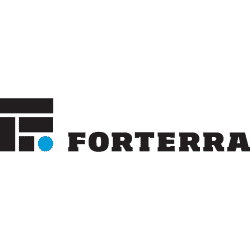 However, that doesn't mean you should sign up for just any broker. Your choice of brokerage will impact everything about your trading and investing, from what companies you can trade to how much you'll pay in fees.
On top of that, it's important to look for a broker that offers a combination of user-friendly and powerful trading tools. Your broker is your main source of information about the stock market, so it's important to make sure that you have access to a comprehensive trading platform, technical charts, expert research, and more.
With all that in mind, we'll share two of our top recommended brokers that you can use to buy shares of Forterra in the UK.
1. eToro – Buy Forterra Shares with 0% Commission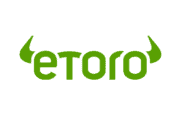 eToro is one of the best brokerage choices whether you're looking to buy Forterra shares or expand your investing beyond the UK. This trading platform offers more than 800 shares and 450 ETFs from markets around the world, including the UK, US, Europe, South Africa, and Asia. Better yet, you can buy shares directly or trade CFDs for most of the companies that eToro offers. eToro also supports CFD trading for forex, commodities, cryptocurrencies, and even bonds.
One of the best things about eToro is that CFD trading comes with 0% commissions. So, you just pay a floating spread in order to trade CFDs for companies like Forterra. eToro's spreads are below the UK market average across the assets it offers, making it an inexpensive platform for cost-conscious traders and investors.
Another benefit to eToro is that it offers a very robust trading platform. You get access to a proprietary web trading software that includes over 100 technical studies and dozens of drawing tools. eToro also offers key research features like an economic calendar and market news feed.
We're also big fans of eToro's social trading network, which puts you in contact with tens of thousands of fellow traders from around the world. You can use the social network to share ideas and trading strategies as well as to gauge market sentiment around companies like Forterra. eToro also supports copy portfolios, which enable you to automate your portfolio by mimicking the trades of professional investors.
The only downside we can see to eToro is that it does charge a few account fees, although they're relatively small and easy to avoid. Withdrawals cost £4 each and the platform also has an inactivity fee that costs £15 after three months without placing a trade.
Pros
Trade shares and CFDs for 800+ companies
0% commission for CFD trading
Offers ETF, forex, commodity, and crypto trading
Trading platform includes over 100 technical studies
Access a global social trading network
Cons
Withdrawals aren't free
Inactivity fee after three months
67% of retail investor accounts lose money when trading CFDs with this provider.
2. Fineco Bank – Low-cost Share Dealing for UK and International Stocks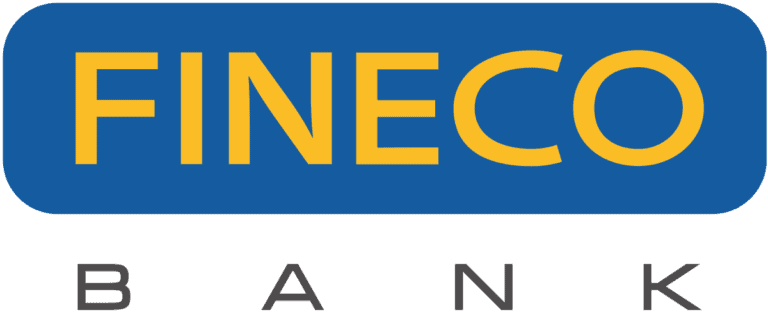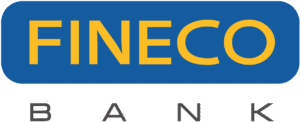 Fineco Bank is an Italy-based bank that offers very attractive share dealing accounts. With this broker, you can trade over 1,200 UK companies, including nearly all of the companies that make up the FTSE 250 index. In the US, Fineco Bank has a selection of over 5,000 stocks to choose from, and there are thousands more options from exchanges in Europe and Canada.
Unfortunately, share dealing at Fineco Bank isn't commission-free. Still, we're quite pleased with how inexpensive the fees are compared to other share dealing platforms. Fineco Bank charges £2.95 every time you buy or sell UK shares and $3.95 for international shares.
It's also noteworthy that Fineco Bank offers CFDs for a wide variety of other asset classes, including forex, commodities, and indices. CFD trading with this broker is 0% commission, which makes its share dealing pricing look even more attractive for investors who have diversified portfolios.
Another thing we like about trading and investing with Fineco Bank is that it offers an advanced trading platform called PowerDesk. With PowerDesk, you get access to dozens of popular technical indicators and fine-grained control over your market orders. It also offers price alerts, a real-time news feed, and a useful economic calendar. Fineco Bank also has one of the best mobile trading apps we've seen.
Fineco Bank doesn't charge any account fees to speak of. There are no deposit or withdrawal charges, and you don't even have to worry about an inactivity fee if you take a few months away from trading.
Pros
Trade over 1,200 UK shares
Relatively low-cost share dealing commissions
CFD trading is commission-free
Comes with advanced PowerDesk trading software
No account or inactivity fees
Cons
Fixed commissions for share dealing
Limited expert stock research
Your money is at risk.
Step 2: Research Forterra Shares
Before you buy Forterra shares, it's important to know what you're getting into. This company doesn't typically receive the same amount of attention as some of its peers on the FTSE 250 index.
So, let's take a closer look at Forterra's history and where this company may be headed in the future.
Forterra Share Price History & Market Capitalisation
Forterra was founded as the building products division of Hanson PLC in 1964. The company made several acquisitions as it grew, including London Brick PLC in 1984, Marshalls Clay Products Ltd in 2005, and Formpave Holdings Ltd in 2006.
In 2007, Hanson PLC was acquired by HeidelbergCement. Heidelberg then sold the business to the investment firm Lone Star Funds in 2015. Lone Star Funds changed the company's name in Forterra PLC and subsequently held an IPO on the London Stock Exchange in April 2016.
Forterra entered the public market with a share price of 175p, but fell to a low of 111p after just a few months of trading. From there, Forterra experienced a surprising amount of volatility. The share price hit a high of 330.50p in mid-2018 and then promptly dropped to 214p. The share price recovered last year and ultimately hit a high of 371.50p before the COVID-19 pandemic swept the globe.
Following the market crash in February and March, Forterra shares dropped to 165.60p. The shares briefly recovered before dropping to a 52-week low of 144.16p in July. Shares have recently rebounded on promising news of coronavirus vaccines from Pfizer and Moderna, and now sit at 232.50p.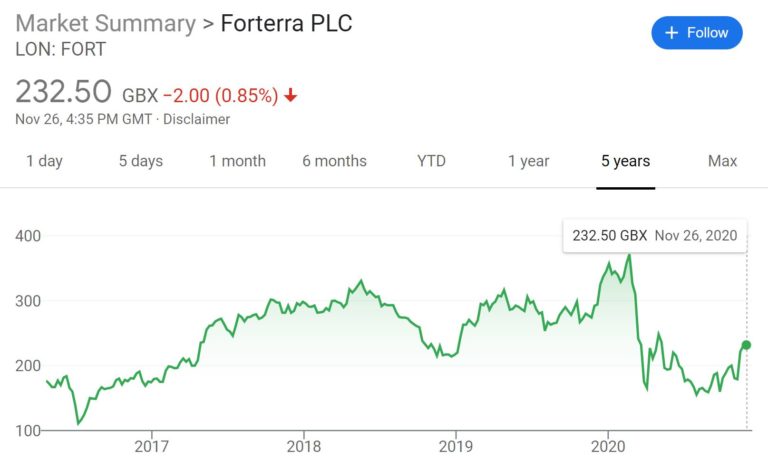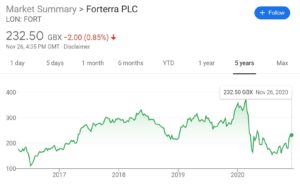 At its current share price, Forterra has a market cap of £531.6 million. In September, the company announced earnings per share (EPS) of £0.24, which was in line with analysts' expectations. Shares rose over 9% on the news. However, analysts expect Forterra to declare a loss for some quarters in 2021 as a result of a slowdown in construction demand due to the coronavirus pandemic.
Forterra currently has a price-to-earnings (P/E) ratio of 37.7, down from over 200 prior to the pandemic.
Forterra Shares Dividend Information
Forterra pays out a dividend yield of 4.9% per year, which puts it in a rarefied class of high-paying dividend stocks. The company makes payments in July and March, with the March payment usually around double what shareholders receive in July.
The really good news for dividend investors is that the company announced an increase to its dividend payouts in May, at a time when most other companies were cutting back on dividends as a result of the coronavirus pandemic. The change brings its total payments to investors to a whopping 45% of profits. The company also hinted that it could raise its dividend payouts even higher in years to come.
Should I Buy Forterra?
While it's impossible to know what the future holds for Forterra – or for the stock market more broadly – we think this building and masonry products company is a good buy for UK investors. Let's explain why.
To begin, Forterra is incredibly cheap right now. The company has a P/E ratio of 37.7 at the current share price. While that's still pricey to many value investors, it's hard to ignore the fact that this company was trading at a P/E ratio of over 200 at the start of the year. Even if Forterra was overvalued in January, that leaves a ton of room for the stock price to recover in 2021 and beyond.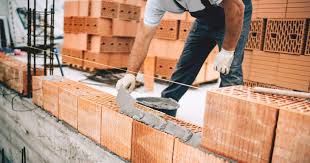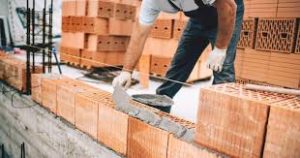 It's also hard to ignore Forterra's dividend yield. At nearly 5%, Forterra is one of the best dividend companies in the FTSE 250 right now. Sure, you can find companies that pay out even more to shareholders, but almost none of them have the same potential for share price appreciation as Forterra.
In effect, this provides something of an insurance policy for your investment. If the share price goes up, you benefit from appreciation. If the share price drops, your dividend yield goes up. Given that announced an increase in dividend payouts in May, at the height of the pandemic, it's hard to believe that the dividend will disappear even as the company navigates through the aftermath of Brexit and the coronavirus pandemic.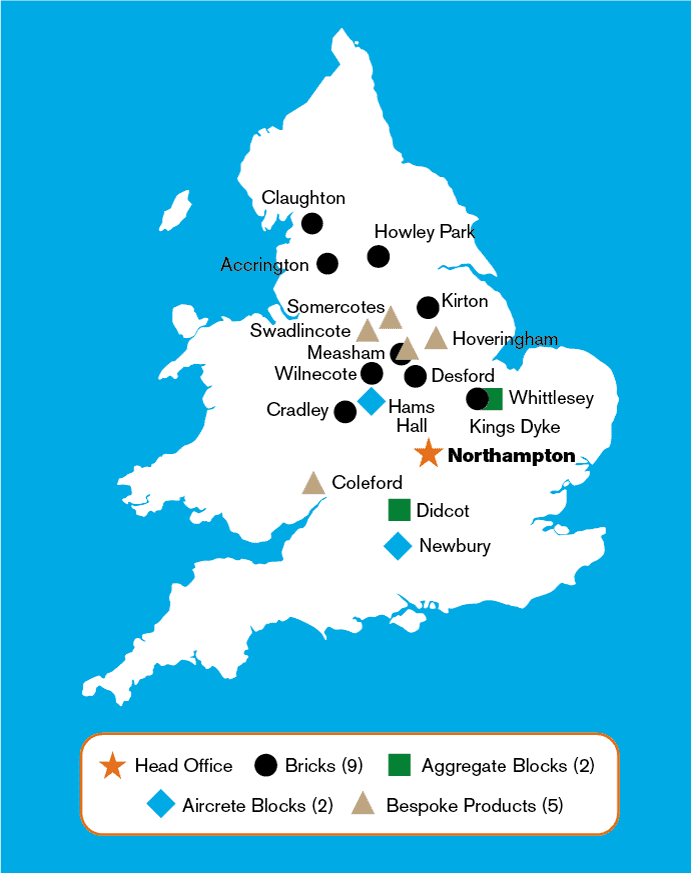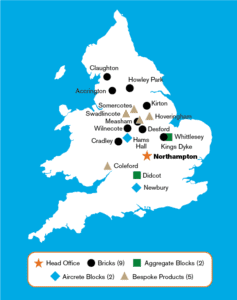 Another reason to be bullish about Forterra is that the company is expanding to fill the construction industry's demand for its bespoke products and staples. Forterra already controls more than 25% of the UK brick supply, and the company recently received permission to build a new brick-making facility in Leicestershire. The new factory will enable the company to more than double its precast brick-making capacity.
There's almost sure to be demand for this capacity. The UK is in the midst of an acute home shortage and the homebuilding industry is likely to bounce back rapidly as the economic crunch of the coronavirus pandemic wears off. That means more revenue for Forterra on a product for which the company already has a strong industry moat and turns reliably good margins.
Step 3: Open an Account and Deposit Funds
Ready to buy Forterra shares? We'll show you how to get started with eToro, which offers 0% commission trading on hundreds of UK and global shares.
To open a new account, head to eToro's website and click 'Join Now.' You'll be prompted to create a new username and password for your account, then enter personal information like your name, email address, and phone number.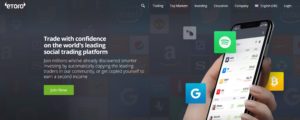 eToro next requires that you verify your identity in order to comply with UK financial regulations. You can complete this step online by uploading a copy of the picture page of your passport or your driver's license. You'll also need to upload a photo of a recent utility bill or financial statement that shows your current address.
Next, you can fund your new brokerage account. eToro requires a minimum deposit of £140, which you can pay by credit or debit card, UK bank transfer, or e-wallet (including Neteller and Skrill). eToro also accepts wire transfers, although there's an extra fee for that method.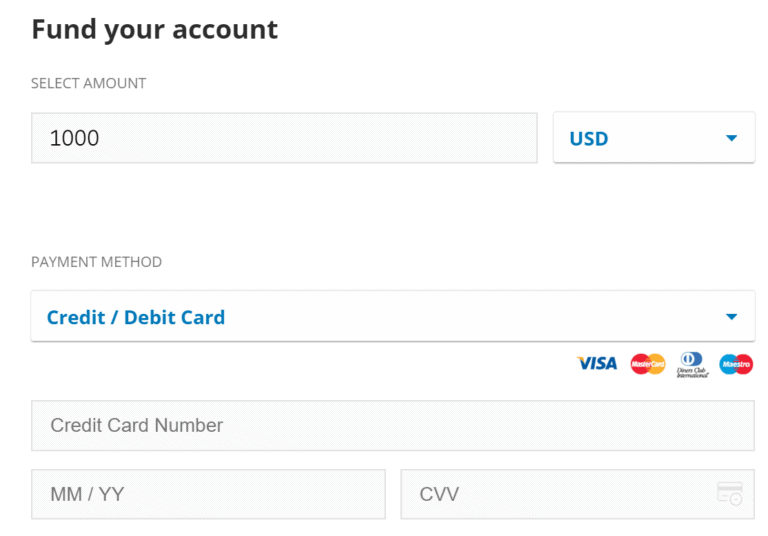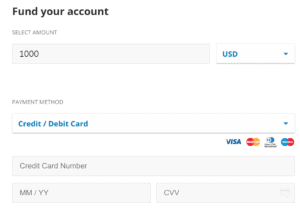 Step 4: Buy Forterra Shares
Now you're ready to buy Forterra shares through eToro. From your account dashboard, search 'Forterra' or 'FORT.' When Forterra appears in the drop-down menu, click 'Trade' to open a new order form.
The first thing to do in the order form is enter how much money you want to invest in Forterra. eToro offers fractional shares, so you can trade any amount over £40. You can also select leverage up to 5:1 for your trade. Then enter a stop loss or take profit level if you want these conditions on your trade.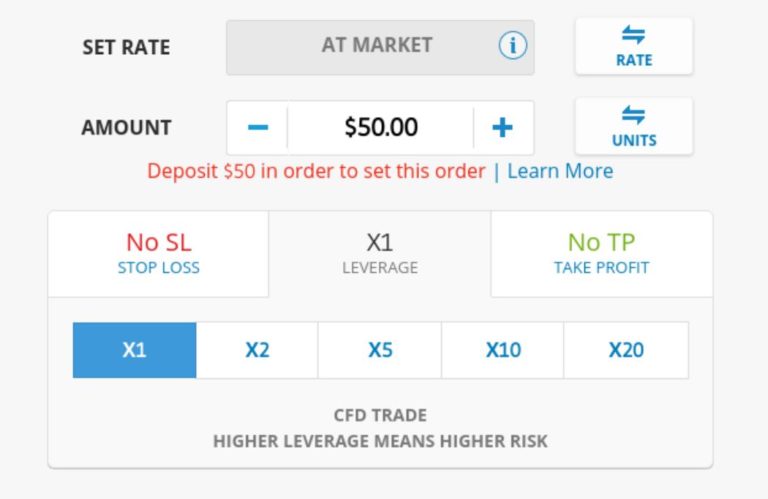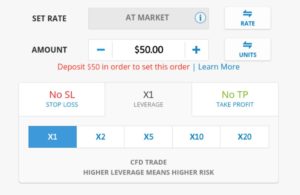 When your trade is ready, click 'Open Position' to buy Forterra shares in the UK.
Forterra Shares: Buy or Sell?
Forterra flies under the radar of many UK investors. The construction industry doesn't get as much attention as the more volatile tech and finance industries, and Forterra's dominance in making precast bricks simply isn't all that exciting.
But excitement aside, we think that this company is a strong buy for UK investors. It offers a very impressive 4.9% dividend yield and is currently trading at a huge discount compared to its price in January.
On top of that, Forterra is on solid footing despite the coronavirus pandemic. It's in the process of building a new brick-making factory and recently announced an increase to its dividend.
Overall, we think Forterra is a strong company with a lot of room to grow ahead of it. The share price doesn't yet reflect Forterra's excellent outlook, which means that UK investors have a chance to get in early and reap appreciation and growing dividends into the future.
The Verdict
Forterra is one of the best dividend stocks in the UK, even if most investors have never heard of it. This company has built a strong moat for itself in the construction industry and controls more than 25% of the brick supply in the country. Plus, with the opening of a new factory coming soon, Forterra is poised to grow even more dominant.
On top of that, Forterra shares are priced to move. The company's stock price has only recently begun to recover from its pandemic lows, despite the fact that it announced a dividend increase and strong earnings for most of 2020. Investors now stand to collect a nearly 5% dividend yield and get in on potentially strong appreciation in the share price over the years ahead.
Ready to buy Forterra shares? Click the link below to open an eToro account and invest today!
eToro – Buy Forterra Shares with 0% Commission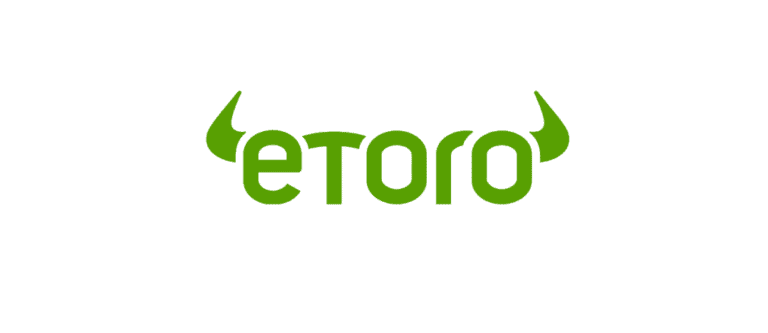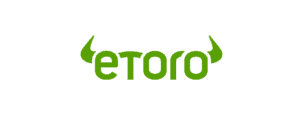 67% of retail investor accounts lose money when trading CFDs with this provider.
FAQs
What is Forterra's stock ticker symbol?
Forterra trades on the London Stock Exchange under the ticker symbol 'FORT.'
Who is Forterra's current chief executive?
Forterra's current CEO is Stephen Harrison. Harrison joined the company in 2002 (when it was still Hanson PLC) and has been CEO since the company became independent in 2016.
Can I buy Forterra shares in an ISA or SIPP?
Yes, you can buy Forterra shares in an ISA or SIPP account in the UK. In fact, Forterra's dividend payout makes it a great candidate for a retirement investing portfolio. Keep in mind that SIPP accounts have rules around when you can withdraw money.
Where is Forterra's headquarters?
Forterra is headquartered at 5 Grange Park Court, Roman Way, Northampton NN4 5EA, United Kingdom.
When is Forterra's new brick factory expected to open?
Forterra's new brick-making factory is Leicestershire is expected to be operational in 2022. The new factory will produce 180 million bricks per year.