Forex Fury Review – Pros & Cons Revealed
Fact Checked
Everything you read on our site is provided by expert writers who have many years of experience in the financial markets and have written for other top financial publications. Every piece of information here is fact-checked.
Disclosure
Please note that we are not authorised to provide any investment advice. The information on this page should be construed for information purposes only. We may earn commissions from the products mentioned on this site.
Forex Fury is a forex robot that's built to find and execute winning trades for its users. The program advertises a 93% winning history backed by the verified Myfxbook forex platform.
In this Forex Fury review, we explore how the trading software works, its key features, broker compatibility, and how to get started.
What is Forex Fury?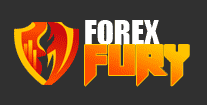 Forex Fury is a forex expert advisor (EA) that automates the identification and execution of high-percentage trades. Since 2015, the algorithmic trading software has been constantly updated with major releases every one to two years. Forex Fury is owned by Forex Robot Nation.
The forex robot comes in two different forex trading products: Forex Fury Gold Lifetime Membership which can be used on one live account and Forex Fury Diamond Lifetime Membership which can be used on two live accounts.
Both Gold and Diamond products offer complete access to the Forex Fury software, full access to the members area, free updates on the software, and content of their educational guides. 
Forex Fury's customer support is one of the product's strongest suits as they hold their clients in the highest regards. Their 24/7 customer service ensures that the platform will always respond to member inquiries which are usually answered within a few hours during business days.
The Forex Fury EA is compatible with all MetaTrader 4 (MT4) and MetaTrader 5 (MT5) platforms. 
Your capital is at risk.
How Does Forex Fury Work?
Just like other forex trading software, Forex Fury uses forex signals to place long and short orders when it identifies favourable market conditions. The forex robot finds these trends automatically and can execute trades without human intervention.
While many forex trading programs trade within long time periods, Forex Fury gets its success by day trading in shorter time frames of one to two hours. By executing trades in periods of low volatility, the auto-trading bot can find consistent opportunities that limit drawdowns and maximise gains.
This scalping trading strategy has been formulated and developed by the Forex Fury team which they created to be suitable for both beginner and advanced forex skill levels. A mix of high risk, moderate risk, and low risk techniques can be applied to the EA that can trade different forex pairs.
Upon purchase of either the Gold or Diamond Live Membership, users will immediately receive a members registration link which includes the download to Forex Fury. The product comes with a quick five minute installation guide and how-to-use videos featuring the forex bot's tools and settings.
Forex Fury Cost & Fees
Forex Fury is a one-time purchase that has no subscription or membership fees. Users have access to the trading robot, unlimited demo account, and members area once registered.
| | |
| --- | --- |
| Gold Membership (1 live account) | $229.99  |
| Diamond Membership (2 live accounts) | $439.99 |
| Membership fee | None |
| Inactivity fee | None |
Forex Fury Monthly Gains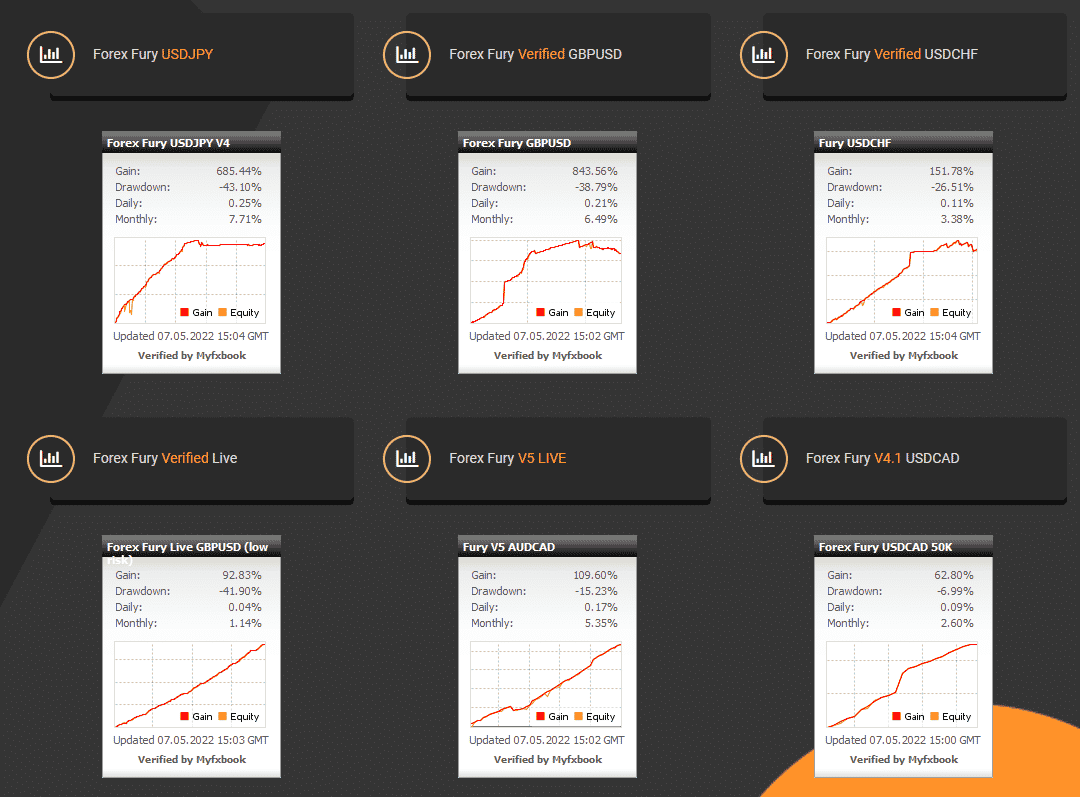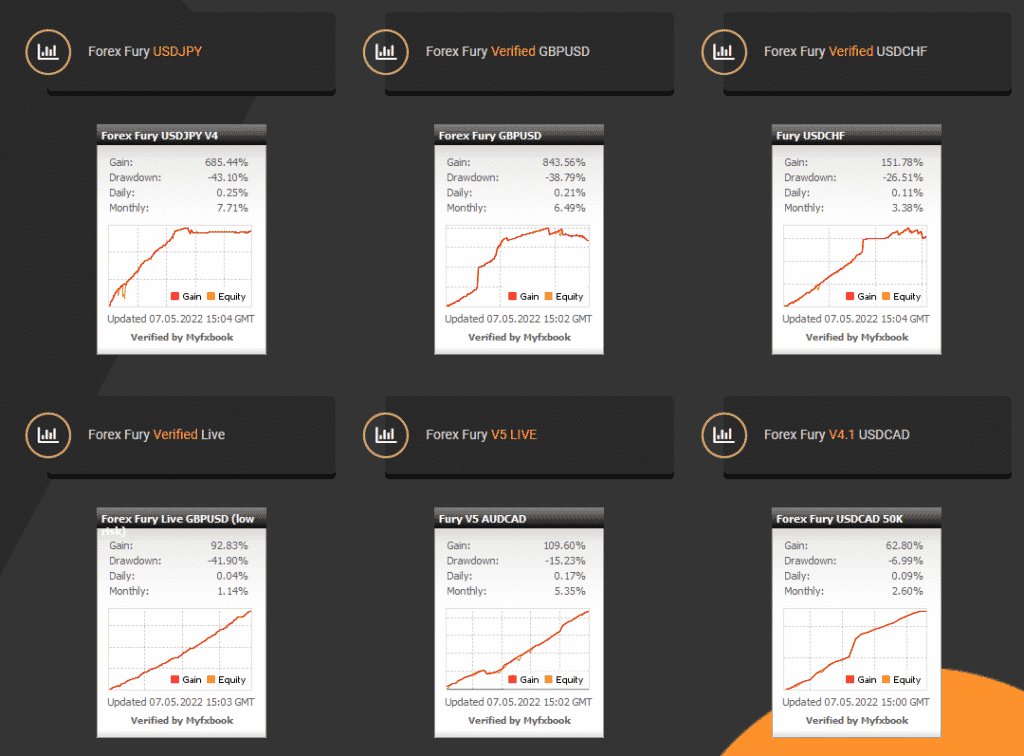 The current performance of Forex Fury accounts from Myfxbook is excellent with winning gains across the board. Their most successful account has achieved a 7.70% monthly compound rate of return which trades the USD/JPY forex pair. 
Forex Fury's goal is to have a 10-20% growth rate per month for its clients. Several of their accounts have reached these growth targets during different months but results will vary depending on the market conditions as well as the variable sets that clients can change. The platform does not promise any future results but the Forex Fury team continues to improve their product for better performance.
Forex Fury Top Features & Tools
Let's look into Forex Fury's top features and tools that make it a strong competitor in the forex robot market.
Automated Trading Software
All trading performed through Forex Fury can be done completely hands-free. Simply put, clients only need to make sure that the software is running properly in their computers for the program to profit from the trades that are executed.
It's not the automation that sets Forex Fury apart from other forex robots, but the trading strategy that it utilises. The Forex Fury EA only opens trades in one hour, particularly from 4-5pm Eastern Standard Time (EST). The team has identified this to be a period of low volatility in the market where the software finds its best risk to reward trades.
Although Forex Fury only opens trades within an hour, it doesn't necessarily close them within the same time period. The program can close the positions even after the time window if it finds more winning opportunities.
Trade Settings
Traders have plenty of options when it comes to Forex Fury trade settings as it's important for forex trading programs to accommodate the different risk profiles and methods of users. For one, Forex Fury lets traders choose the amount of risk per trade which is represented by a percentage number which relates to the lot size of the trade.
Another set of trade settings that benefits users are the take profit, stop loss, and trailing stop loss features. Users can set tighter stop losses and take profits to minimise risk and lock in profits. Otherwise, they can use trailing stop losses that move the stop loss as a trade position continues winning to secure more earnings.
Unlimited Demo Accounts
It's common to find demo accounts or paper trading accounts in trading robots and Forex Fury lets users open unlimited demo accounts for testing. It's recommended that new trading configurations be tested first in demo accounts to see if users are happy with the given success rate.
Full Training and Support Included
Forex Fury comes with complete setup guides and tutorial videos to help get its users started. It only takes five minutes to install the EA and integrate the program in your MT4 or MT5 platform. Combined with a highly responsive customer support service, the Forex Fury team has made an easy-to-use and effective trading robot with a profitable track record.
Lifetime Membership
Aside from the Forex Fury EA from the one time purchase, users are also given access to the Forex Fury Members Area. This exclusive content features client updates, tested configurations, and community posts that enhance the overall Forex Fury trading experience.
Forex Fury Compatible Brokers
Forex Fury is compatible with a variety of platforms such as any MT4 like the Alvexo broker. The forex auto-trading bot can also be configured in NFA and FIFO forex brokers.
Additionally, all MT5 brokers can run the Forex Fury EA such as IG Markets, FxPro, and Pepperstone.
Forex Fury Forex Pairs
Forex Fury uses their proprietary trading strategy to make profitable positions for their clients. The trading robot recommends one forex pair per account but has found success in many major pairs such as:
GBP/USD

USD/JPY

AUD/USD

EUR/USD

USD/CHF
Recently, Forex Fury has used its strategy on other forex pairs that suit their method of range trading under suitable market conditions. Some of these pairs include:
GBP/NZD

EUR/PLN

EUR/CHF

EUR/SEK

EUR/NOK

GBP/CAD

EUR/GBP

NOK/SEK

AUD/NZD
Is Forex Fury Legit & Reliable?
As mentioned earlier, Forex Fury has a positive client feedback rate of 90%. To add to that, Trustpilot has an excellent mark on the trading bot with a 4.3 star rating across over 180 reviews. The forex robot is backed by a winning history and team that's spearheaded by a passionate CEO in Patrick Ryan.
Forex Fury puts its clients first and works at everything to ensure that its clients make winning trades. They have centred their product around an engaging community that helps the platform grow further as a successful auto-trading software.
Although the platform has yet to attain its 10-20% month growth rate for its clients' portfolios, Forex Fury's track record remains positive and highly profitable. They continue to test and build upon their current system and are not afraid to use high risk strategies in their live accounts to push the limits and improve.
How to Join & Use Forex Fury?
Now that we've looked into all of Forex Fury's key features, let's go through the steps to buy the Forex Fury product and get started on forex trading.
Step 1: Select A Forex Fury Product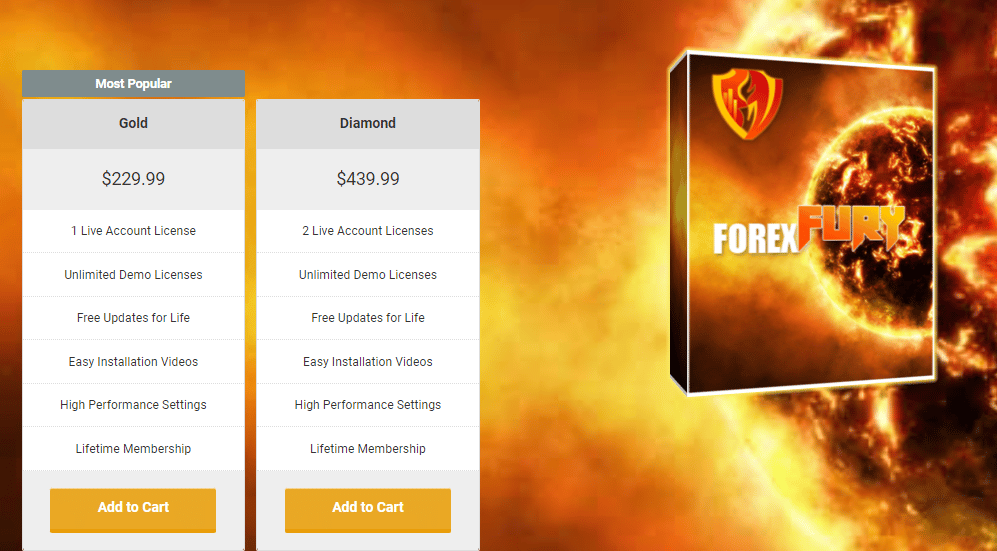 Enter the Forex Fury site scroll down to the product section of the landing page. Here, you'll find two options: the most popular Gold Membership ($229.99) and the alternative Diamond Membership ($439.99). Once you've chosen what to buy, click Add to Cart.  
Step 2: Purchase Forex Fury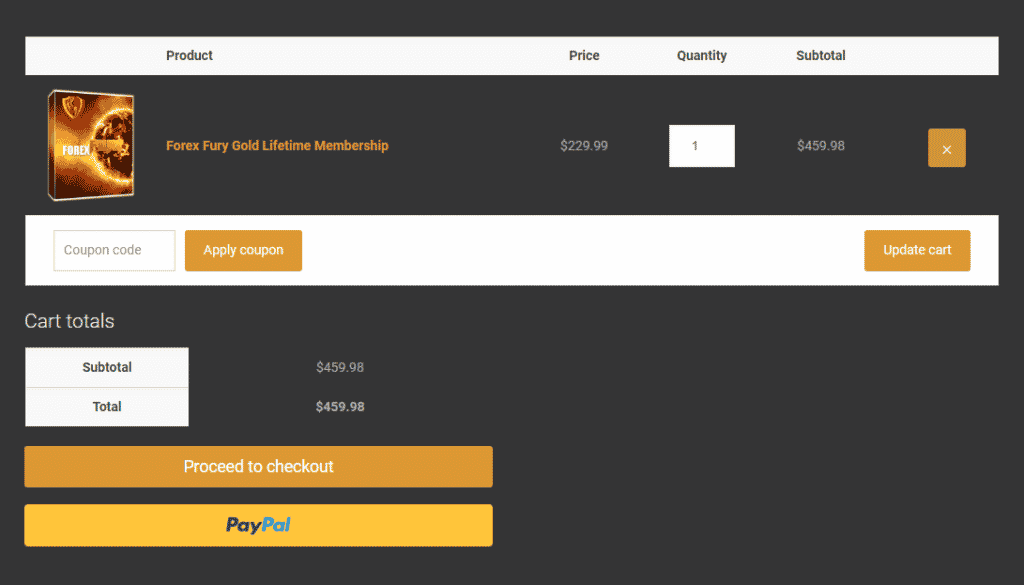 Now that you've added your selected Forex Fury product on your cart, you can head over to the cart page by clicking on the bag icon on the upper right hand part of the page. Click Proceed to Checkout where you will be redirected to the checkout page where you can input your billing details as well as your bank card details.
Alternatively, you can purchase Forex Fury through PayPal.
Step 3: Use Demo Trading Accounts
Immediately after purchase, you will receive an email with the Forex Fury members registration link which includes the download to the trading software. It only takes 5 minutes to install Forex Fury and add the EA to your MT4 or MT5 platform.
Once you've installed Forex Fury, you can open a demo account to test out the auto-trading bot, configure settings depending on your risk profile and methods, and see Forex Fury in action.
Step 4: Start Live Trading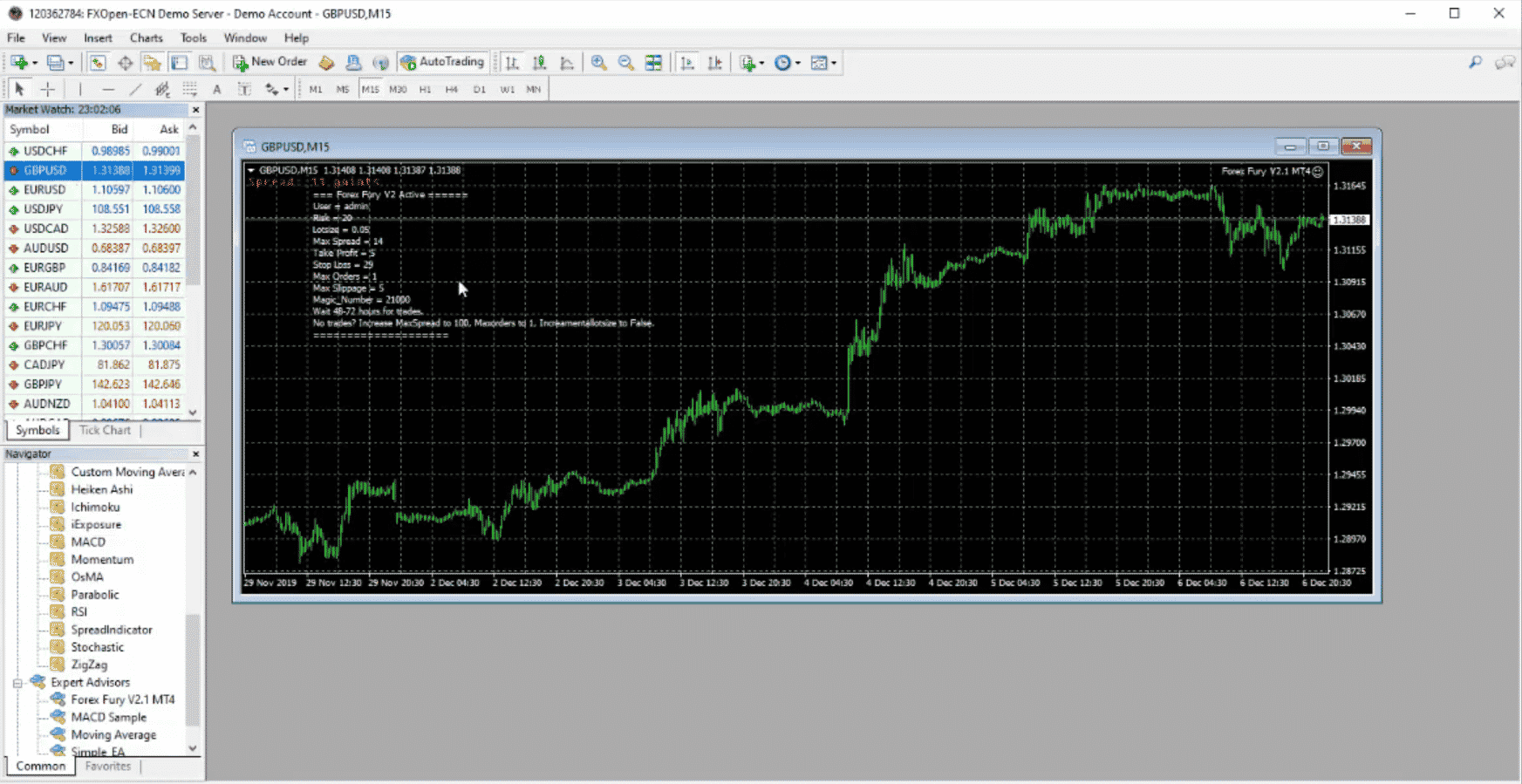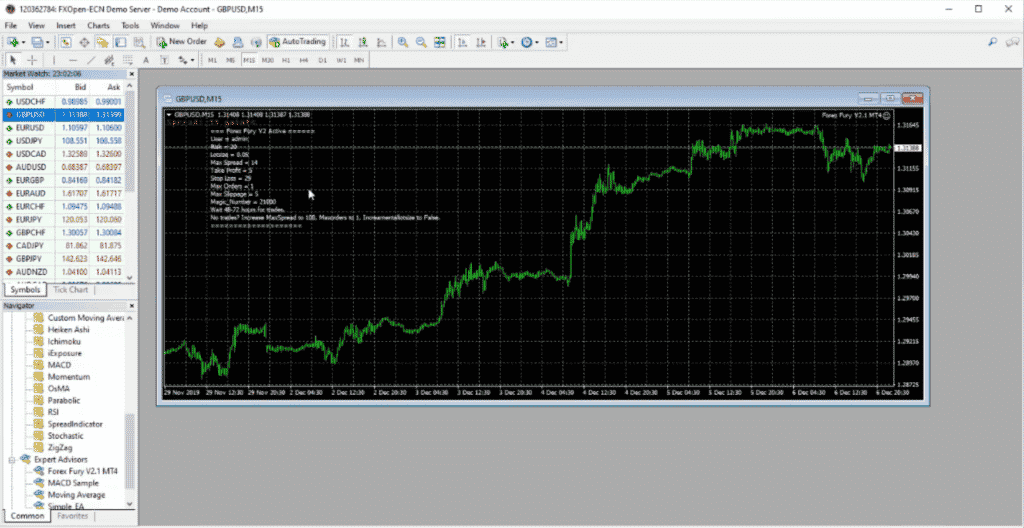 When you're confident with the Forex Fury EA after using the demo accounts, you can open a live account to start trading real money. Gold Lifetime product users can open one live account while Diamond Lifetime product holders can open two live accounts.
Your capital is at risk.
Forex Fury Community & Support
The Forex Fury community is composed of members and are involved in the continuous development of the product through their feedback. Thanks to the highly responsive 24/7 customer support that Forex Fury offers, user inquiries are answered within hours and future updates on the forex robot often takes into account client insights.
Conclusion
Forex Fury has the winning record and features to be one of the most successful auto-trading EAs for forex. The product is compatible with all MT4 and MT5 brokers and can be used by forex traders of all skill levels. Their live trading accounts have been verified by Myfxbooks to be profitable and the goal is to reach double digit monthly portfolio growth.
Those looking to adopt a forex robot with range trading strategies should note that Forex Fury is worth looking into. So far, Trustpilot reviews have been greatly positive and their customer support superb. If you want to start trading with the Forex Fury EA with its 93% winning record, click on the link below.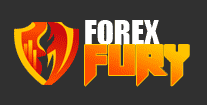 Your capital is at risk.
FAQs
Is There a Forex Fury Free Trial?
How do I join Forex Fury?
Is there a Forex Fury mobile app?
What is Forex Fury price?