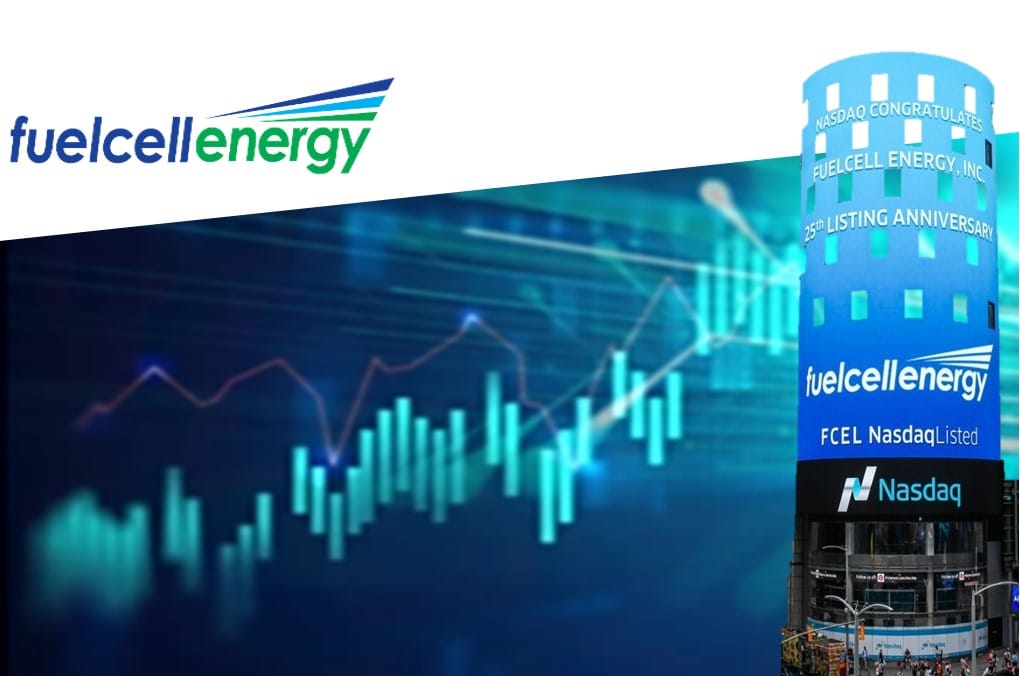 FuelCell Energy will release its fiscal second-quarter earnings on Thursday before the US markets open. What should you expect from the company's quarterly earnings and what're analysts forecasting for the share?
Hydrogen fuel cell shares rose sharply in 2020 after Joe Biden's election as the US president. The rally in the entire green energy spectrum continued in 2021 after Democrats took control of the House. Among the first decisions that Biden took was to rejoin the Paris Climate Deal. He also announced that the federal fleet would be converted into zero-emission vehicles.
FuelCell Energy share went as high as $29.44. However, soon there was a crash in all fuel cell shares amid concerns over the valuation. That said, FuelCell share has bounced back sharply from its lows and is up 45% over the last month. There has been some bottom fishing in all green energy shares and all the electric vehicle shares including Tesla and NIO have rebounded sharply from their lows. However, they are way off their 52-week highs even as the broader markets are trading near all-time highs.
FuelCell Energy earnings estimates
Analysts polled by TIKR expect FuelCell Energy to post revenues of $18.91 million in the fiscal second quarter that ended on 30 April. The revenues are expected to be flat as compared to the corresponding period in 2020. In the previous quarter, the company's revenues had fallen 8.5%. Plug Power also posted dismal earnings in the previous quarter.
FuelCell Energy is expected to post an adjusted EBITDA loss of $5.78 million in the quarter. Barring one quarter in 2019, FuelCell Energy has posted negative EBITDA for the last many quarters. But then, investors have been willing to overlook the poor near term financials and have instead focussed on the fuel cell industry's long-term growth potential amid the global pivot towards green energy.
Green energy
Here it is worth noting that the opinion over hydrogen fuel cell technology is very divided. On one hand, we have Tesla's CEO Elon Musk who has been critical of fuel cell technology. Volkswagen has also been focusing on electric vehicles only and it has set itself an ambitious target of becoming the industry leader in electric vehicles and autonomous driving by 2025.
Meanwhile, companies like Toyota Motors and Hyundai are investing in both fuel cell and electric vehicle cars. Notably, vehicles running on hydrogen tend to have a higher range and are especially more useful in long-range trucks. Volvo would launch trucks running on hydrogen fuel cells in the latter half of this decade. For now, the company is focusing on battery electric vehicles and wants to have half of its sales mix in Europe as electric trucks by the end of this decade.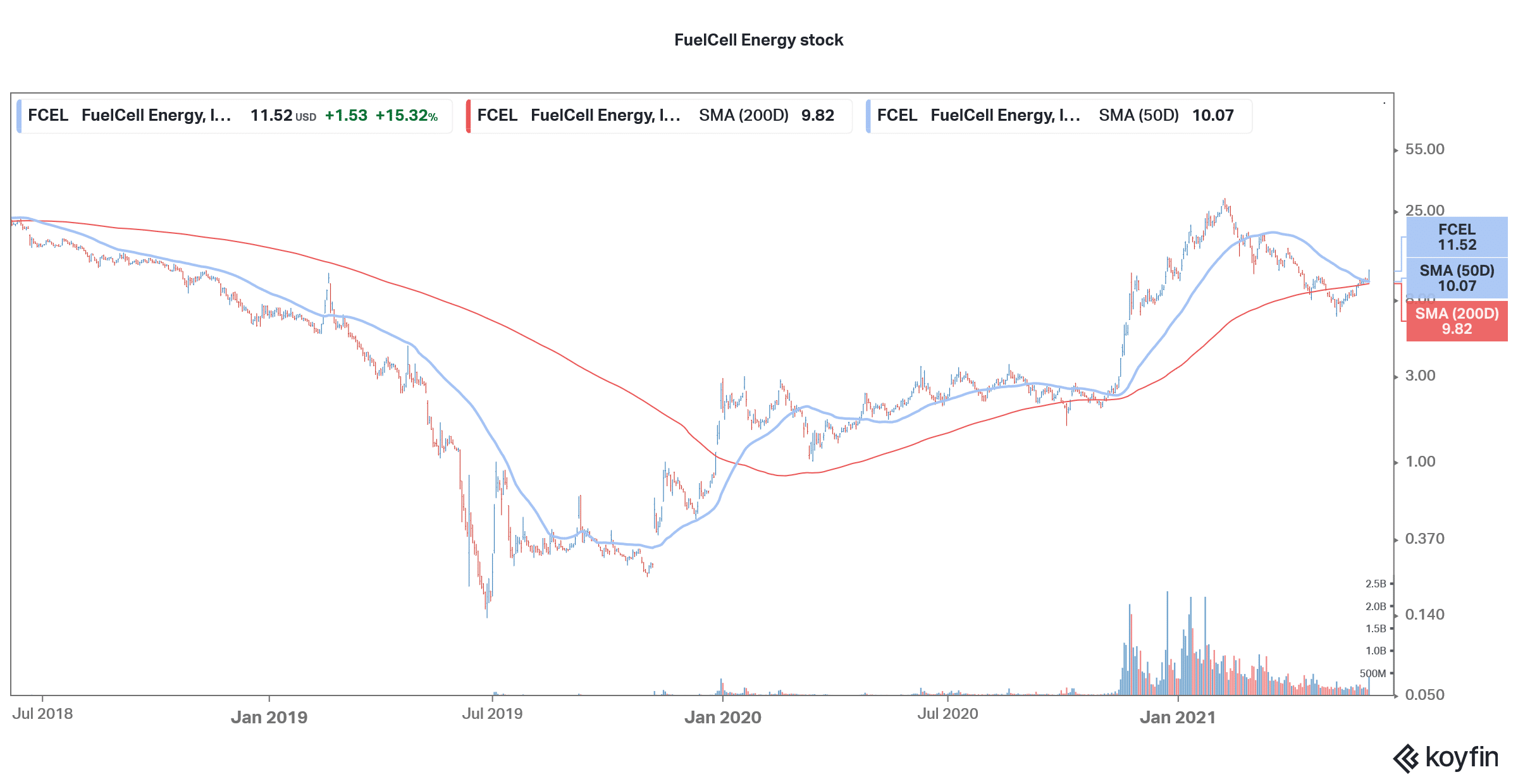 According to the forecast estimates compiled by MarketBeat, FuelCell Energy has a target price of $9.10 which is a discount of 21% over current prices. Of the eight analysts covering the share, five rate them as a hold while the remaining three rate them as a sell. None of the analysts has a buy rating of the share.
In April, Wells Fargo had initiated coverage on FuelCell Energy share with an underweight rating and target price of $9. Wells Fargo analyst Praneeth Satish is bearish on the share due to concerns over its valuation. According to him, "the company should benefit in the coming years from the commercialization of a new solid oxide fuel cell product and carbon capture opportunities." However, he added, "We struggle to see a likely scenario in which FCEL can grow into its valuation."
FuelCell Energy order book
FuelCell Energy had an order backlog of $1.27 billion at the end of the fiscal first quarter which was $98 million lower than the corresponding period in 2020. At the end of January, the company had cash and cash equivalents of $209.6 million out of which $31 was restricted cash. The cash balance increased in the quarter after it raised $156.4 million from a share issue.
Tesla
Notably, most green energy companies capitalised on the spike in their share prices to raise cash. Even Tesla, which has been generating positive free cash flows and categorically denied the need for capital raise at the beginning of 2020, ended up raising $13 billion through share sale last year. It now has more cash than debt on its balance sheet and ended up investing $1.5 billion in bitcoins in the first quarter. However, Musk has had a change of opinion over bitcoins and the company has stopped accepting them as payments. It would, however, continue to hold the bitcoins that it is currently holding.
Coming back to FuelCell Energy, during the earnings call, the management might provide more details on the massive order backlog as well its capital raising plans. The share has risen sharply over the last month and given its cash burn, the company might be tempted to raise cash when the share price is high.
FuelCell is looking strong on the charts
FuelCell Energy share gained over 15% yesterday and was trading over 3% higher in US premarket price action today. The share is up 3% so far in 2021 and is underperforming the S&P 500. Looking at the technical indicators, FuelCell share has risen above its 50-day SMA (simple moving average) and 200-day SMA which is a bullish indicator. The share is looking strong on the charts and a positive earnings surprise would provide further wings to the rally.
Looking to buy or trade FuelCell shares now? Invest at eToro with 0% commission!
75% of retail investor accounts lose money when trading CFDs with this provider