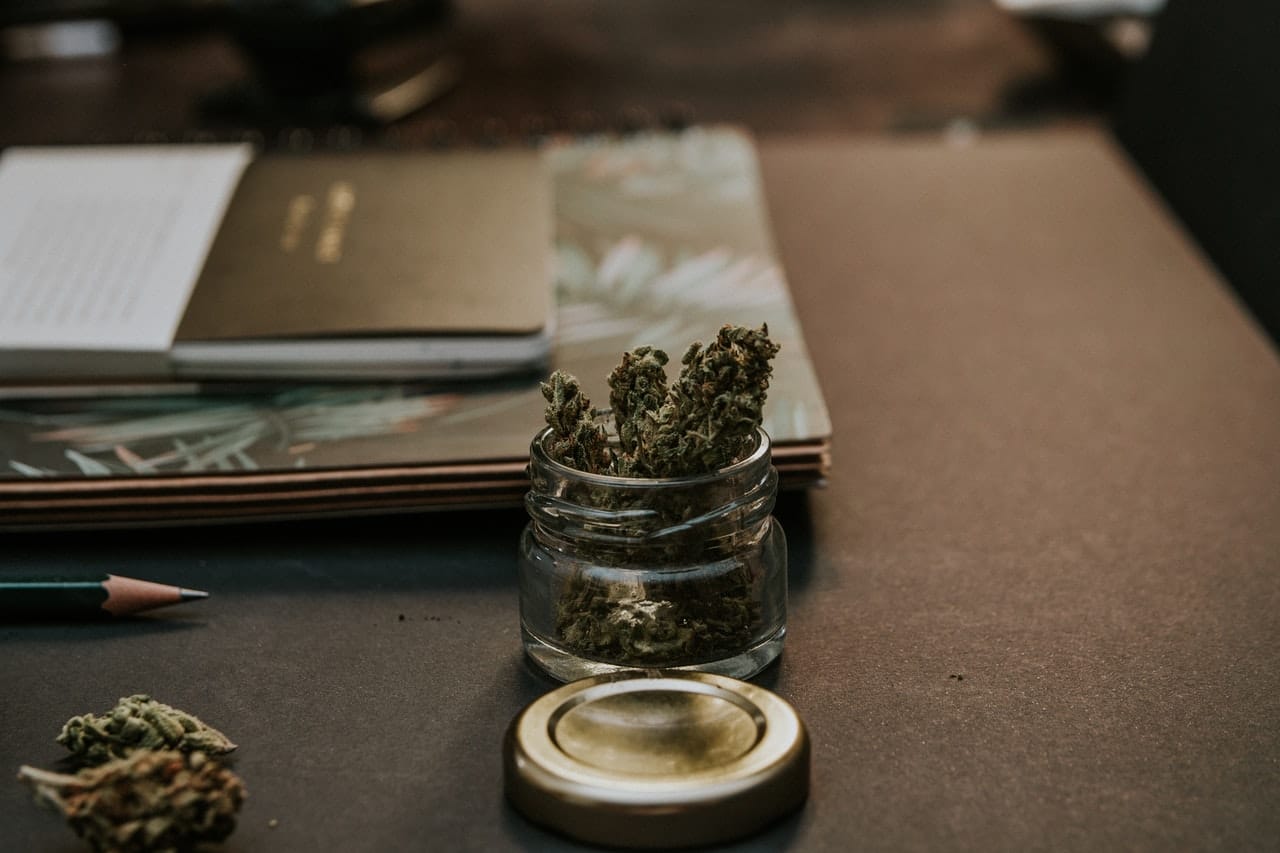 Canopy Growth Corporation (CGC) will release its fiscal fourth-quarter 2021 earnings today before the US markets open. What are analysts expecting from the cannabis company's earnings and what's the forecast for the shares in 2021?
Cannabis shares have gone through a boom-bust cycle several times over the last three years. Cannabis shares including Canopy Growth rose to record highs in 2018 as investors bought into the legalisation story in the US. However, the Donald Trump administration wasn't quite favourable towards legalisation.
Cannabis stocks rose sharply after Joe Biden was elected as the 46th US president. Also, four more US states voted to legalise marijuana in November 2020. Cannabis stocks rose further after Democrats took control of the Senate. Markets expect things to move faster on marijuana legalisation under a Biden administration.
However, the administration's focus so far has been to provide stimulus to the US economy that's still not fully recovered from the impact of the COVID-19 pandemic. Also, the Biden administration has been moving forward on the green energy agenda and infrastructure investments. This has meant that marijuana legalisation has taken a back seat, at least for now.
Cannabis shares have fallen sharply from their highs. Looking at Canopy Growth, the shares are up only about 5.9% for the year and are underperforming the S&P 500 which is up in double digits. Also, Canopy Growth shares are down almost 54% from their 52-week highs.
Wall Street analysts have a mixed forecast for Canopy Growth shares. Of the 19 analysts polled by CNN Business, only four rate it as a buy while four others rate it as a sell. 11 analyst have a hold rating on the shares. The median price target for Canopy Growth shares is $31.27 which is a premium of 20%. Its lowest target price is $16.5 while $45.64 is its highest target price.
In May, MKM Partners upgraded the shares from neutral to buy and assigned a street high target price of CAD (Canadian dollars) 55. However, CIBC lowered its target price from CAD 55 to CAD 38.
Canopy Growth is the largest US-listed cannabis company by market capitalisation. However, when it comes to revenues, Tilray is the largest cannabis company after its merger with Aphria. However, Tilray's status as the largest cannabis company might be short-lived as Curaleaf has announced the acquisition of EMMAC Life Science. After the merger, Curaleaf might reclaim its title as the world's largest cannabis company by revenues.
Canopy Growth earnings estimates
Analysts polled by TIKR expect canopy Growth to report revenues of $124 million in the fiscal fourth quarter of 2021 that ended in March. Its revenues are expected to rise 48.6% in the quarter and 45.6% in the fiscal year 2021. Analysts expect the company's revenues to increase 43% in the fiscal year 2022.
Meanwhile, like most other cannabis companies, Canopy Growth is also posting losses. Analysts expect the company to post an EBITDA loss of $256 million in the fiscal year 2021 but expect the losses to narrow to $82 million in the fiscal year 2022.
Perennial losses and price competition has prompted cannabis companies to look at consolidation in the sector. Canopy Growth is also looking at acquisitions and earlier this year it announced the acquisition of Supreme Cannabis company for $348 million. The transaction was a mix of cash and shares and valued Supreme Cannabis at a premium of 66%.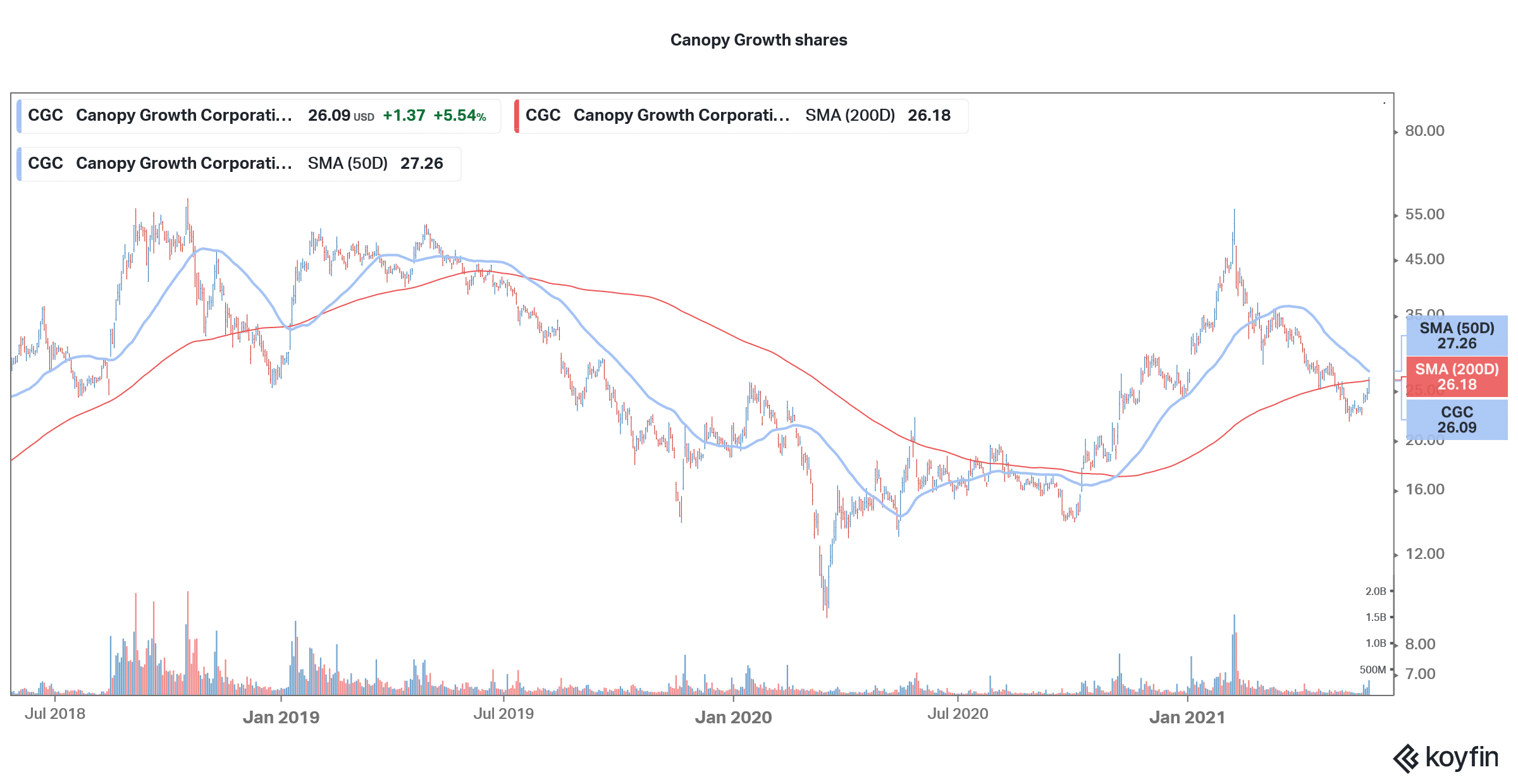 MKM partner does not expect earnings beat in the quarter
Meanwhile, MKM Partners does not expect much from the earnings of Canopy Growth. However, analyst Bill Kirk said, "we believe sentiment is so low as to render risk/reward very favorable." He added, "We believe fill rates are now consistently over 90%, leading to [year-over-year] share gains and recaptured sales."
Kirk is also optimistic about federal marijuana legalisation in the US and said "Further, we believe U.S. legislative potential is no longer reflected in Canopy valuation, leaving upside should there be any progress from Senator Schumer or the Republican-sponsored bill."
Canopy Growth valuation
Canopy Growth shares trade at an NTM (next-12 months) EV (enterprise value)-to-revenue multiple of 16x. The multiple has averaged 18.3x ever since the company was listed. That said, the shares trade at a premium over other cannabis shares like Tilray and Aurora Cannabis.
Tilray
Tilray could be a better bet in the cannabis industry after its acquisition of Aphria. The shares look reasonably priced and trade at a discount to Canopy Growth. Tilray is a diversified play on the cannabis industry with operations in North America as well as Europe.
Last month, Jefferies upgraded Tilray stock and projected a 60% upside in the shares. "For us, when Aphria and Tilray combined, it was the perfect match. In Canada, a leading portfolio of brands, supported [by] an efficient cost structure. In Europe, the market is now picking up, while Tilray's scale and Aphria's unique German positioning make it perfectly suited to succeed," said Jefferies analysts in their note.
Canopy Growth shares rose over 5% on Friday but were trading almost 1% lower in US premarket trading today. Futures point to a positive opening for US shares markets today as they look to continue last month's momentum into June also.
Looking to buy or trade Canopy Growth shares now? Invest at eToro with 0% commission!
75% of retail investor accounts lose money when trading CFDs with this provider
Read next