How to Buy Dart Group Shares Online in the UK
Fact Checked
Everything you read on our site is provided by expert writers who have many years of experience in the financial markets and have written for other top financial publications. Every piece of information here is fact-checked.
Disclosure
Please note that we are not authorised to provide any investment advice. The information on this page should be construed for information purposes only. We may earn commissions from the products mentioned on this site.
Dart Group runs a small airlines and logistics business in the UK with flights to tourist destinations across Europe. The company's share price has fallen far from its not-too-distant high, so many investors are looking at it as a potential bargain.
If you're thinking about buying Dart Group shares, this guide will cover everything you need to know about investing in Dart. We'll highlight top online stock brokers in the UK that you can use to buy shares of this aviation company. We'll also take a closer look at Dart Group's share price to help you decide whether it's as good a deal as it looks.
Step 1: Find a UK Stock Broker That Offers Dart Group Shares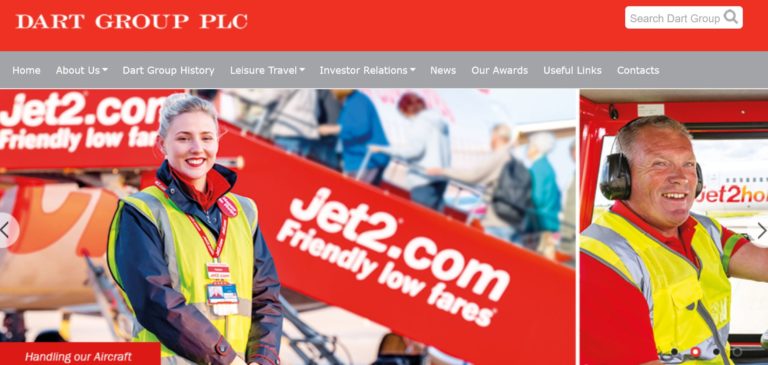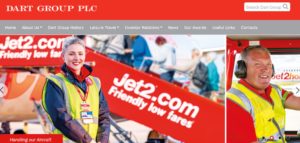 The easiest way to buy Dart Group shares is to turn to an online broker. Often, online brokers are inexpensive and offer trading on a variety of top UK shares. For example, with a decent broker, you could buy not just Dart Group, but also British Airways, Royal Mail, and more.
There are tons of online stock brokers in the UK, all of which differ in how they handle trading, fees, share research, and more. To make the choice easier for you, let's take a closer look at two of our top recommended UK brokers.
1. eToro – Buy Dart Group Shares with No Commission
eToro is a global stock broker that's gained popularity thanks to its low-fee model. All share trades with this broker are 100% commission-free. You can choose to buy shares in Dart Group the traditional sense or trade CFDs, and for the latter you just pay the spread, which is typically less than 0.1% for UK shares.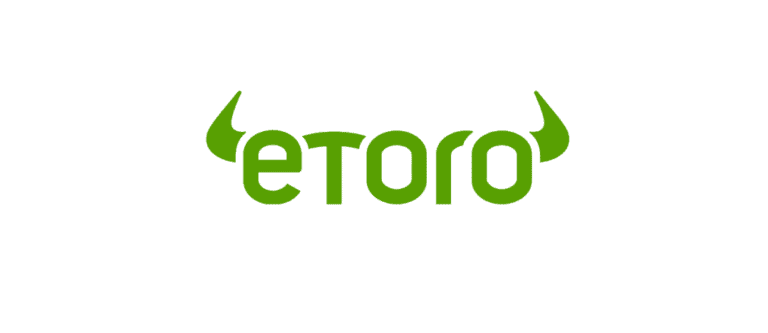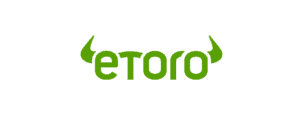 For a commission-free broker, eToro offers trading on a huge range of stocks. The broker lets you trade stock CFDs for more than 800 global companies, including hundreds on the FTSE 250 and the AIM indices in the UK. You can also trade top US stocks like Amazon and Facebook through this broker. Since you're trading CFDs, you can apply leverage of up to 5:1 with every trade.
Another thing we love about eToro is that it offers traders a built-in social network. You can start discussions with other traders and see how they're building their portfolios. You can also take advantage of eToro's copy trading tools to mimic the portfolios of top investors.
eToro's trading platform is very user-friendly, although you won't find highly advanced technical studies for the built-in charts. That said, this broker has one of the best mobile trading apps on the market right now.
eToro is fully regulated by the UK's Financial Conduct Authority and all UK accounts are protected by the government's Financial Services Compensation Scheme.
Pros:
Over 800+ global shares
Buy shares or trade share CFDs
Leverage of 1:5 for share trades
100% commission-free with low spreads
Regulated by the FCA
Social and copy trading platform
Top-tier mobile trading app
Cons:
Cannot create fully custom technical studies
67% of retail investor accounts lose money when trading CFDs with this provider.
2. Fineco Bank – Trustworthy Online Broker with Low Fees
Fineco Bank is, as the name suggests, a full-service bank. It has a large network of branches and ATMs in Italy, but its investment and trading arm extends to the UK. You get access to thousands of shares, CFDs, mutual funds, and ETFs through this broker, making it a popular choice among investors who want to invest in funds as well as individual companies.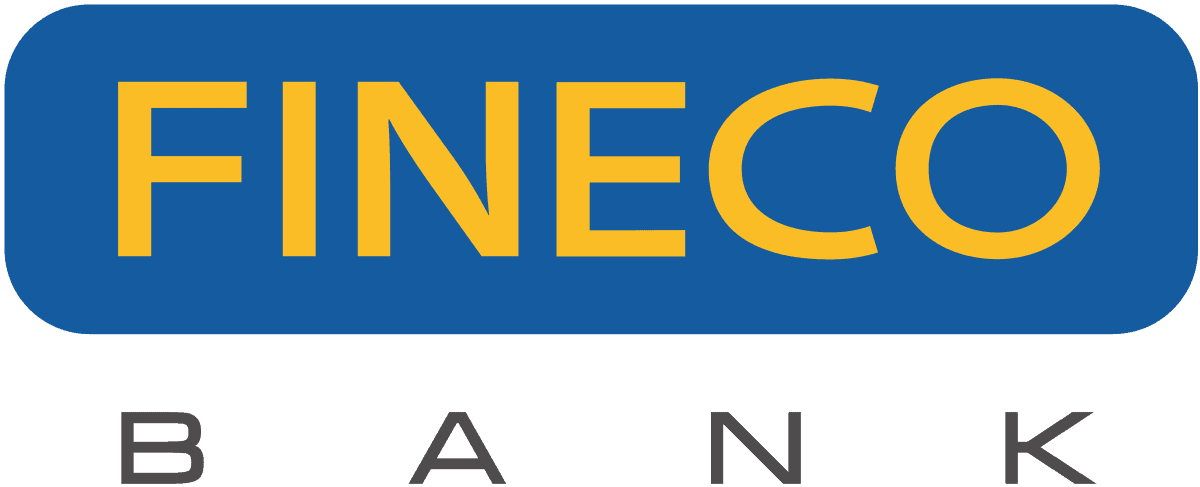 Fineco Bank isn't a commission-free broker, but it's close. This platform charges just £2.95 per trade and there's no spread. For high-value trades, the lack of a spread can actually make Fineco Bank's pricing structure equivalent to a commission-free pricing structure.
We like Fineco Bank's trading tools, but they don't necessarily go above and beyond what's expected. The broker offers an easy to use mobile investment app and some limited charts, but you won't find an in-depth technical analysis interface nor advanced research reports from analysts. Despite this, Fineco Bank levies an annual fee on your account. You'll pay a yearly maintenance fee equivalent to 0.25% of the value of your account.
Although Fineco Bank is based in Italy, it comes under the purview of the UK's Financial Conduct Authority and all UK accounts are protected by the Financial Services Compensation Scheme. So, you can feel confident that you're in good hands when opening an account with this broker.
Pros:
Trade CFDs, shares, and mutual funds
No spread on any trade
Flat £2.95 commission on all trades
Easy to use mobile app
Regulated by the FCA
Cons:
Annual 0.25% account fee
Can only make deposits by bank transfer
Step 2: Research Dart Group Shares
Is Dart Group worth investing in right now? The only way to know is to do a deep dive on this company and its share price. We'll highlight some of the key points you need to know about this airline stock in order to make a buying decision. In addition, you should always do your own research to make sure this company fits your investing goals and strategy.
Dart Group Share Price History
Dart Group first landed on the London Stock Exchange in 1991, although the company's history extends back several more decades.
Dart Group began in 1971, when aviator Art Carpenter founded Carpenter's Air Service to fly flowers between the UK mainland and the Channel Islands. The company's services to and from the Channel Islands expanded throughout the 1970s as Carpenter took on contracts with Royal Mail and some grocery stores
The company changed its name to Channel Express Group in 1983 to reflect its growing business with the islands. The name changed again, to Dart Group, in 1991 when it first listed on the London Stock Exchange.
Dart Group continues to rely heavily on its air logistics business, but it also expanded into commercial passenger service in 2002 with the formation of Jet2.com. This low-cost passenger airline, under the Dart Group umbrella, focuses on the tourism market and flies from several smaller UK airports (among them Leeds, Manchester, Newcastle, and Belfast) to popular destinations in mainland Europe.
Throughout this expansion period, Dart Group's share price moved rather slowly. It was only in 2012, as Europe emerged from the 2008 financial crisis and the tourism boom began, that the company's share price began to rise rapidly. From a price of around 70p in 2012, Dart Group shares exploded in value to 664p in 2016 and to a high of more than 1,900p at the start of 2020.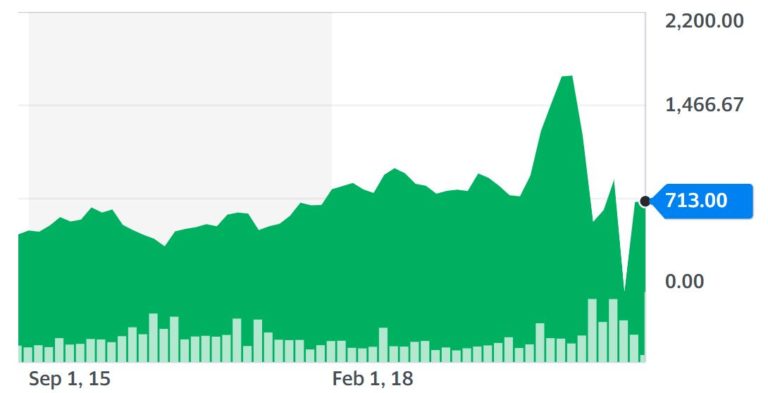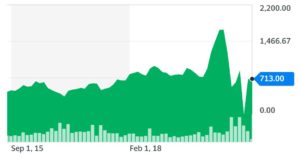 However, the collapse in price in response to the coronavirus pandemic was swift. In mid-March, shares dropped to 320p. The share price has recovered since then and has remained somewhat steady at around 710p per share.
Dart Group Dividend Information
Dart Group normally pays out dividends twice a year, in February and October. From 2016 to 2019, the dividend had more than doubled from 4p per share to 10.2p per share. Going into 2020, it appeared as if the dividend would continue increasing – the February payment was 50% higher than for the same payment in 2019.
However, because of the coronavirus pandemic and uncertainty around the airline industry, Dart Group decided to suspend its October dividend payout for 2020. This was a move made by most airlines, so it wasn't unexpected when Dart Group made the announcement.
At this time, it is not known whether or when Dart Group might reinstate its dividend or, if it does, what the payout amount will be.
Should I Buy Shares in Dart Group?
Dart Group's share price has been on something of a rollercoaster ride. Shares hit an impressive new price high in January 2020 only to lose nearly 80% of their value after the coronavirus pandemic. Today, the 710p per share price is still less than half of the price Dart Group shares were fetching earlier in the year.
So, is Dart Group a buy right now? Let's look at the bulls' case for why this company is undervalued.
Dart Group is Poised to Weather the Storm
Dart Group is one of the UK airlines most well-positioned to make it through the coronavirus crisis and the drop in tourism relatively unscathed. The company has a net cash position at the moment, meaning that it is able to cover short-term debts with the revenue it's bringing in. That's extremely unusual in the airline industry right now and most of Dart Group's low-cost airline peers have negative cash flows.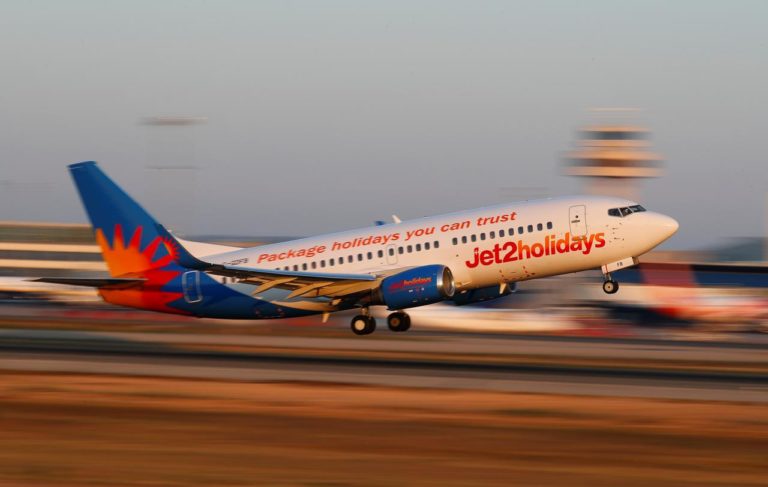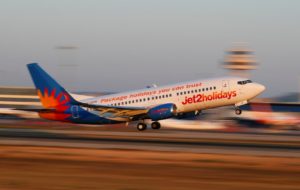 The other good news for Dart Group is that it's probably already made it through the worst of the crisis. The company reported that it is receiving an 'encouraging' number of bookings for the remainder of the summer tourism season. At the same time, travel is slowly restarting between the UK and mainland Europe. If it turns out that people have pent-up demand for travel, Dart Group's Jet2.com airline division could rebound rather quickly.
Insider Buying is a Good Signal
One of the most attractive things about Dart shares right now is that the company's management is plowing money into them. The company's executive board has been heavily investing in shares of Dart Group, which is a good indication that they're upbeat about the airline's future. That's a rare ray of sunshine in an industry where executives generally seem worried about the possibility of bankruptcy or restructuring.
Demand Will Return
The best thing about Dart Group shares is that at the current price, the company looks like an undervalued growth stock. The key assumption here is that demand for tourism in the UK will return.
Analysts are mixed about exactly when demand will return to 2019 levels, but there's almost no question that it will eventually. Dart Group is potentially helped by the fact that it operates only within the UK and Europe, rather than on a broader international scale where travel bans and regulations will have a greater effect in slowing demand.
Dart Group appears as if it will have no trouble holding out until demand returns to its pre-coronavirus levels. So, long-term investors could see a steady appreciation as business picks up for the company over the next few years.
Step 3: Open an Account and Deposit Funds
In order to buy Dart Group shares, you'll need a brokerage account. To walk you through the process of buying shares, we'll use eToro as an example.
We recommend eToro since it offers commission-free trading on Dart Group and hundreds of other shares from around the globe, including many of the best shares to buy. But, if you want to invest in stocks with Fineco Bank or another UK broker, the process is fairly similar.
To open an account with eToro, navigate to the broker's website and select 'Join Now.' You will need to choose a username and password, then provide your name, address, birthdate, and contact details.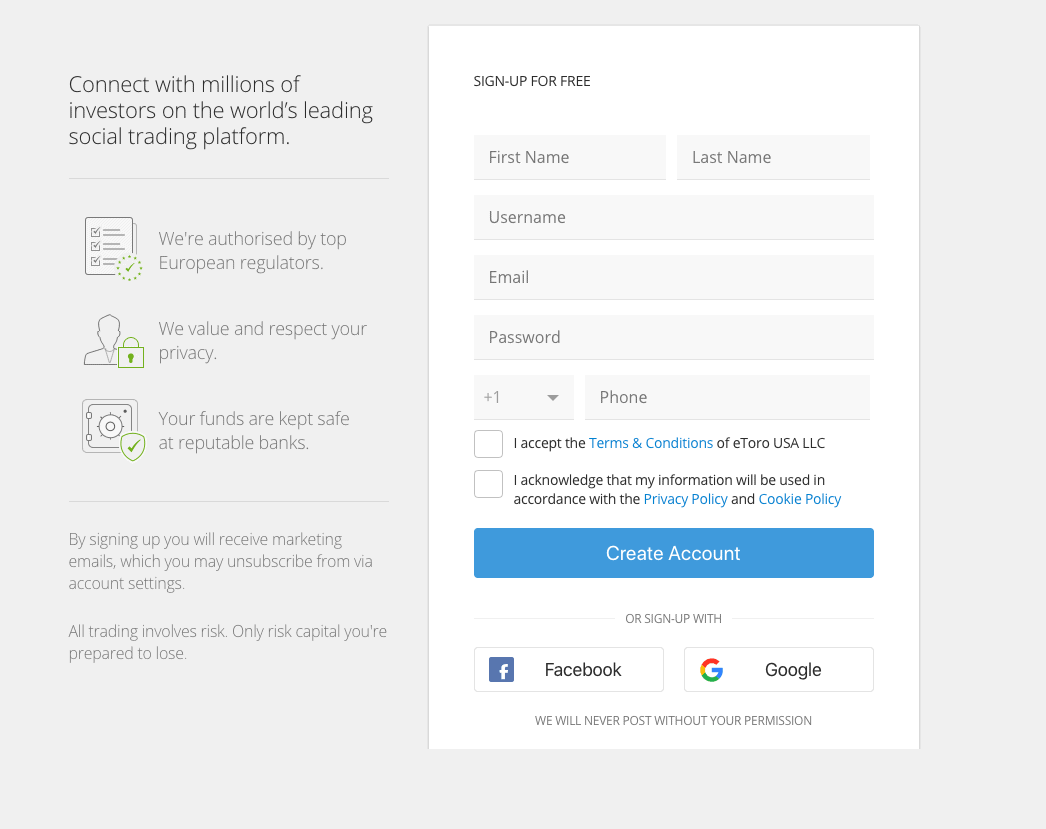 You'll also be prompted to verify your identity at this time. This step is required by UK regulators before you are allowed to withdraw money from your account. To complete the verification process, upload a copy of your driver's license or passport and a utility bill or bank account statement that shows your address.
eToro requires a minimum deposit of £160 when you open a new account. You can pay using a variety of different methods including:
Debit card
Credit card
PayPal
Skrill
Neteller
Bank transfer
Wire transfer (extra charge applies)
If you fund your account with a debit card, credit card or e-wallet, your funds are available for trading  instantly.
Step 4: Buy Dart Group Shares
Once your account is funded, you're ready to buy Dart Group shares. On eToro, enter 'Dart Group' into the search box at the top of the broker's dashboard. When the company appears in the drop-down menu, click on it.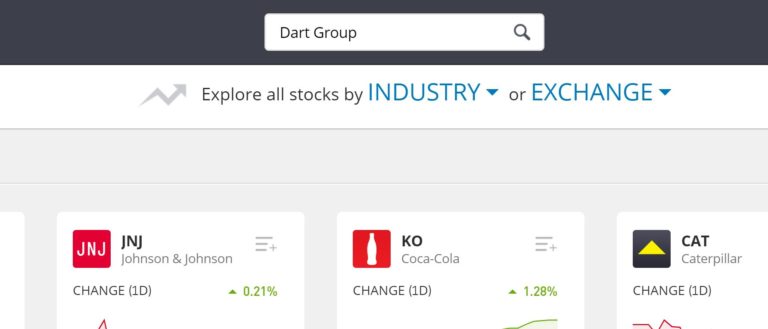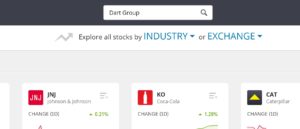 On the Dart Group page that appears, click 'Trade' to open an order form.
The order form in front of you is used to tell eToro how much money you want to invest in Dart Group. You can buy any amount as long as your transaction involves a minimum of £40. If you want to set a stop loss or take profit level for your trade, you can do that using the order form.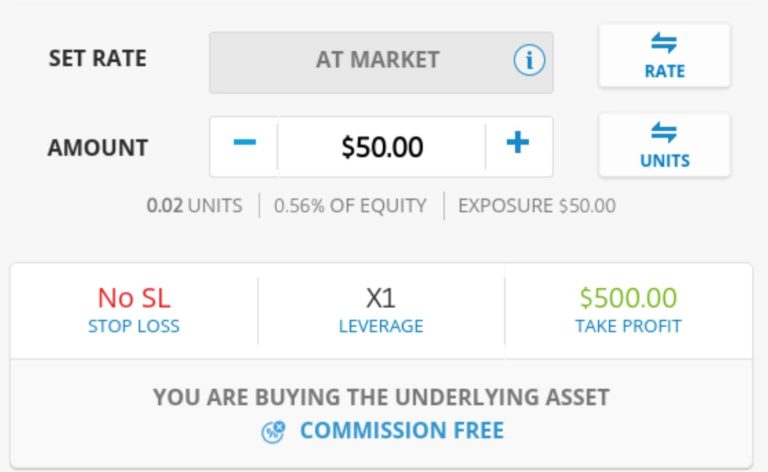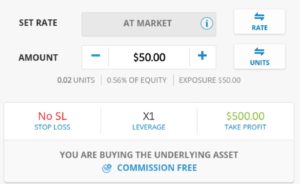 When you're ready, click 'Open Trade' to buy shares in Dart Group.
The Verdict
Dart Group is one of the few companies in the airline industry, both in the UK and around the world, that seems fairly well-poised to get through the coronavirus crisis without suffering major losses. The company has managed to turn a profit even with the current vastly reduced demand, which is something almost no other airline can claim right now.
Despite this relative success, Dart Group's share price has taken an enormous hit in recent months. The company is still valued at less than half of what it was in January. While it's impossible to say with any certainty how Dart Group will come out of the crisis, analysts believe that Dart Group could be well-poised to take advantage of the slow rebound in demand for tourism.
Ready to buy shares in Dart Group? Click the link below to open an account with eToro and start investing today.
eToro – Buy Dart Group Shares With No Commission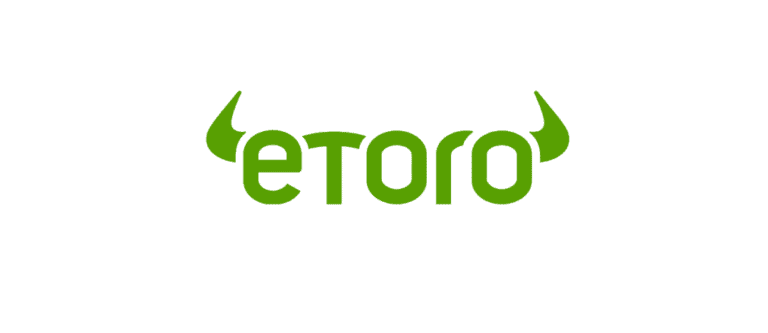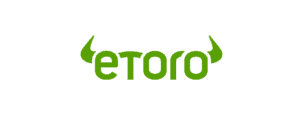 67% of retail investor accounts lose money when trading CFDs with this provider.
FAQs
What is Dart Group's ticker symbol?
Dart Group trades on the London Stock Exchange (as part of the AIM index) using the ticker symbol DTG.
Does Dart Group still have a logistics business?
Dart Group sold off a significant portion of its logistics arm – a division known as Fowler Welch – in June 2020. The company netted £98 million for the sale, which helped with its liquidity during the coronavirus crisis.
Does Dart Group pay a dividend?
Dart Group has historically paid a dividend to shareholders, but the company suspended its dividend in 2020 in response to the coronavirus pandemic and the ensuing drop in air travel. It is unknown whether Dart Group will reinstate its dividend, although it seems likely that it would once the crisis has passed and the company's revenue has recovered.
What is the minimum amount I can invest in Dart Group?
If you're purchasing Dart shares through eToro, you must invest a minimum of £40. At Dart Group's current share price of 710p, that's equivalent to a minimum of six shares. Other brokers may have a different minimum investment.
Can I invest in Dart Group through a fund or index?
Dart Group is part of the AIM index on the London Stock Exchange, so shares of this airline company are included in a number of mutual funds, investment trusts, and ETFs. It is also likely included in sector-specific funds that track the airline or tourism industries. Be sure to check on the contents of a specific fund before investing in it.