Best DeFi Wallets
Fact Checked
Everything you read on our site is provided by expert writers who have many years of experience in the financial markets and have written for other top financial publications. Every piece of information here is fact-checked.
Disclosure
Please note that we are not authorised to provide any investment advice. The information on this page should be construed for information purposes only. We may earn commissions from the products mentioned on this site.
Over the past few years, decentralized finance (DeFi) has taken over the crypto market, allowing market participants to exchange services without using a centralized intermediary. Investors can safely and easily store their holdings with DeFi wallets, an essential part of this growing sector.
Throughout this guide, we'll highlight the best DeFi wallets UK available on the market, explain what they are and how they work, and show you everything you need to know to get started today with a top provider.
Best DeFi Wallets UK – List
We will take a close look at the best DeFi wallets in detail, but before we do, here are the top picks already widely used by millions of users around the world:
DeFi Swap – Best overall DeFi wallet for 2023
eToro – Support Over 120 Cryptocurrencies in its Crypto Wallet
Crypto.com – DeFi Wallet – Enables Users To Create Multiple Wallets
Binance – One of the Most Popular Crypto Wallets
MetaMask – Popular DeFi Wallet with 30 Million Active Users
Trust Wallet – Best DeFi Wallet for Asset Selection
Best Defi Wallets UK in 2023 Reviewed
DeFi wallets are similar to DeFi exchanges in that they remove the middleman from specific transactions, reducing fees and maintaining anonymity. Although centralized and decentralized wallets have their pros and cons, more and more people are turning to the latter due to their many benefits.
Let's review some of the best DeFi wallets available right now without further ado:
1. DeFi Swap – Best overall DeFi wallet for 2023
DeFi Swap is our pick for the best DeFi wallet in 2023. Using DeFi Swap, users can passively trade tokens and earn interest without a centralized exchange. That is done through a handy web-based platform, and no KYC checks are required.
Despite not being a DeFi wallet in the traditional sense, DeFi Swap offers many of the same features as these wallets. In addition, DeFi Swap supports more than 50 different coins, including the platform's native 'DeFi Coin' token.
Additionally, a yield farming mechanism offers four different levels of participation in DeFi Swap's wallet review. APYs and lock-up periods vary by tier, with the platinum tier offering rates up to 75%. Finally, by becoming a liquidity provider and placing your tokens in a liquidity pool, you are eligible for a share of DeFi Swap's commissions.
The DEFC token is the exchange's native token, which can be traded for other tokens or used to farm yields. However, the most appealing aspect of DeFi Coin is that token holders can generate passive income by simply storing the token in their crypto wallet.
An income stream is generated by DEFC's innovative 'static rewards' system, which taxes buy and sell orders by 10%. DeFi Swap places the other half of the tax income into its liquidity pools and distributes half to DEFC holders as a reward.
Among the significant improvements, DeFi Swap has planned for the future are a mobile app and a section for trading non-financial derivatives. As a result, DeFi Swap would be one of the best apps because it offers many of the same features as top DeFi wallets.
You can purchase DeFi Coin today by choosing the best DeFi app or following the four steps outlined below:
Step 1 – You'll need MetaMask or Trust Wallet in order to begin using DeFi Coin, which requires a wallet that connects to Binance Smart Chain. It is best to use MetaMask (browser extension) or Trust Wallet (mobile app) to accomplish this.
Step 2 – You will need BNB tokens in order to purchase DeFi Coin. You need to transfer BNB tokens to your wallet first. Using MetaMask and Trust Wallet, you can purchase BNB directly.
Step 3 – If you want to connect with DeFi Swap, click the 'Connect Wallet' button to choose MetaMask or WalletConnect (for Trust Wallet). If you have installed your wallet on a mobile device, you will receive a pop-up notification. Before you can use DeFi Swap, make sure your device is authorized.
Step 4 – You will be able to choose the currency to receive and the token to use to pay for your swap when you buy DeFi Coin. In order to exchange BNB tokens for DeFi Coins, you must enter the number of tokens you wish to exchange and confirm the transaction.
Cryptoassets are highly volatile unregulated investment products. No EU or UK Protection.
2. eToro – Support Over 120 Cryptocurrencies in its Crypto Wallet
As RetailFX, eToro was founded in 2007 in Tel Aviv by Ronen Assia and Yoni Assia with David Ring. eToro's first version was designed to serve as a forex trading platform.
Through its intuitive WebTrader platform, launched in 2009, the company offers tools to novice and professional traders. Recently, eToro has greatly increased its cryptocurrency trading capabilities.
eToro's social trading platform may also be worth considering, as it assists those who lack the time or experience to trade themselves. This functionality allows users to view and copy the trades of the platform's best traders.
The eToro exchange does not claim to be a DeFi wallet per se, but it offers a variety of DeFi tokens such as AAVE, UNI, COMP, etc., that can be purchased and traded. According to the company, it follows regulations set in place by financial institutions rigorously.
In many countries around the world, eToro Wallet is available as a mobile cryptocurrency wallet. eToroX is the owner and operator of the wallet, which is regulated and is part of the global trading platform's mission to expand its Blockchain-related services. Gibraltar's Gibraltar Financial Services Commission licenses eToroX as a regulated DLT provider.
You only pay for transactions or conversions when you use the mobile wallet. In addition to storing digital coins and tokens safely, eToro wallet features an inbuilt exchange that makes it possible to switch from one cryptocurrency to another without transferring funds. A debit or credit card can even be used to purchase cryptocurrencies directly from your wallet.
Several trusted governing bodies oversee the exchange, including ASIC, CySEC, and the FCA. As of 2022, eToro was available in over 140 countries, making it one of the most regulated and trusted crypto wallets available.
Cryptoassets are highly volatile and unregulated in the UK. No consumer protection. Tax on profits may apply.
3. Crypto.com DeFi Wallet – Enables Users To Create Multiple Wallets
Crypto.Com Exchange was founded in Hong Kong in 2016. The company offers a wide range of products and services related to cryptocurrency and payments. May 2020 saw the addition of a new product to the ecosystem, Crypto.com DeFi Wallet.
The Crypto.com DeFi Wallet is a non-custodial wallet that enables users to create multiple multi-coin wallets to store various crypto assets safely and is available on iOS and Android. The 12/18/24-word recovery phrase can also be used to import existing wallets.
Three tabs are available in the UI; the first is the wallet tab, where you can receive and send cryptos. At the top is an Ethereum gas meter that shows how the ETH network performs and estimates the cost of Fast, Average, and Slow transactions. You can choose between different wallets in the drop-down menu next to the Gas meter.
With the second tab, users can swap almost all ETH/ERC20 tokens right within the wallet, thanks to the DeFi Swap protocol and 1inch V3 Pathfinder. You will need to check whether you are allowed to use the swap due to geo-restrictions.
The third tab is the DeFi earn. Users can earn passive income by putting their money to work using Cosmos Staking, Compound Lending, Yearn Earn V2, Aave Lending V2, and Crypto.org Chain Staking. Upon deposit, tokens are deposited into the integrated protocol with the highest APY.
68% of retail investor accounts lose money when trading CFDs with this provider.
4. Binance – One of the Most Popular Crypto Wallets
There is no doubt that Binance is the industry's most well-known cryptocurrency exchange. Binance was founded by Changpeng Zhao, also known as CZ, which rose quickly in the ranks as an exchange, and has captured the market so far that the total number of trades put on the exchange is greater than the total number of trades put in the order book of all four of its rival exchanges combined.
Binance was launched by CZ, an ex-high frequency trading software creator. Since its launch in 2017, Binance has faced many legal barriers across various countries and has been able to bypass almost all of them. Having one of the most secure and trusted wallets within the industry, Binance is used by over 22.6 million investors around the globe as of 2022.
Binance's Trust wallet and Binance smart chain wallet are among the most popular DeFi wallets. These wallets support the entire BSC Smart Chain and have been widely used to invest in several projects that have soared since. Binance acquired the Trust wallet in 2018, and it has been running alongside the BSC wallet concurrently ever since.
Similar to any other wallet, the Trust wallet connects to isolated blockchains through the use of nodes. Every blockchain contains a set of private addresses. Every address encrypts and stores the user's cryptocurrency.
In contrast, the Binance Chain Wallet allows a seamless switch between exchanges and wallets. The Trust wallet is an excellent option and is owned by Binance, but the Binance Chain wallet is the official wallet for the company.
It provides easy access to Binance chain, Ethereum networks, and BSC. In addition, the browser extension wallet makes it easy to swap BNB (Binance's native token), mint NFTs, and do yield farming. Currently, the wallet supports Chrome, Firefox, and Brave.
Binance wallets aren't without special perks, however. Despite the wallet looking like any other in the space, it has a few features that make it stand out. Binance users can easily link the extension wallet to their wallet by using wallet direct, a feature of Binance's exchange.
A wrong address can result in lost assets forever, so this feature that doesn't require copy-pasting provides an extra level of safety and assurance for withdrawals and deposits.
68% of retail investor accounts lose money when trading CFDs with this provider.
5. MetaMask – Popular DeFi Wallet with 30 Million Active Users
MetaMask is a great DeFi wallet to consider for iOS and Android. Investors who regularly buy cryptocurrencies are likely to have heard of MetaMask, which reportedly has over 30 million monthly active users (MAU). This Ethereum wallet supports the Ethereum blockchain and can be downloaded as a mobile app or a browser extension.
MetaMask's best feature gathers data from various sources to ensure you get the best price with the lowest network fees when you make a token swap. In addition, MetaMask spreads your orders across multiple exchanges, protecting you against slippage. The wallet can accomplish this by partnering with leading protocols such as Uniswap, Curve, 1inch, etc.
Additionally, MetaMask allows you to buy cryptocurrency directly from the wallet's interface, including tokens from Ethereum, Polygon, BSC, Avalanche, Fantom, and Celo. Your purchase can be funded by credit/debit card, bank transfer, or even Apple Pay/Google Pay. Finally, MetaMask ensures that your identity stays anonymous during the entire process, as it does not store your payment information or allow you to control your crypto-assets.
6. Trust Wallet – Best DeFi Wallet for Asset Selection
In the DeFi sector, Trust Wallet is another excellent crypto wallet. Over 25 million people use Trust Wallet, a mobile wallet that supports over 1 million cryptoassets. In addition, the Trust Wallet supports a total of 53 blockchains, making it one of the best DeFi wallets for asset selection.
One of the best features of Trust Wallet is the Trust dApp Browser, a fully-functional Web 3.0 browser that allows you to use a wide range of decentralized applications (dApps). This browser supports Ethereum and Binance Smart Chain (BSC) dApps so that you can use protocols such as PancakeSwap, 1inch, OpenSea, and more. Along with the dApp browser, Trust Wallet offers seamless token swapping and the ability to buy crypto with a credit or debit card.
Trust Wallet supports 12 popular tokens with an integrated staking mechanism like CRO DeFi. APYs can vary dramatically, although some tokens support APYs over 10%. Furthermore, Trust Wallet supports NFTs, enabling you to purchase on one of the best NFT marketplaces and then store your assets for a long period.
Best DeFi Wallets UK Compared
| | | | | |
| --- | --- | --- | --- | --- |
| Wallet | Services | Number of Supported Coins | Fee Structure | Mobile App |
| DeFi Swap | Token swapping, staking, yield farming | 50+ | Variable (paid in BNB) | Currently in development |
| eToro | Swapping, storing | 100+ | No wallet fees | Yes |
| Crypto.com DeFi Wallet | Swapping, staking, storing | 100+ | No wallet fees | Yes |
| Binance | Swapping, storing, staking | 100+ | No wallet fees | No |
| Trust Wallet | Crypto purchases, token swapping, dApp browser, staking | 1,000,000+ | No wallet fees | Yes |
| MetaMask | Token swapping, crypto purchases, dApp browser | 500,000+ | 0.875% service fee per swap | Yes |
What Is a DeFi Wallet?
The DeFi wallet eliminates the need to rely on third parties, further revolutionizing the financial industry. DeFi wallets typically operate as Web 3.0 wallets compatible with Ethereum or other blockchains. Since DeFi wallets act as access points, their owners have complete control over their devices.
For example, a traditional bank does not retain ownership of the user's assets and requires that the user provide verification and other information before it will transfer those assets to the bank.
In addition to their compatibility with DeFi applications, these wallets are also key-based solutions, meaning they require the user to be responsible for the safekeeping of their private keys. Furthermore, DeFi wallets work on a non-custodial basis, meaning that only the wallet owner has access to the funds in the wallet.
The wallet prevents theft or tampering, even from someone with the greatest authority. Due to these factors, DeFi wallets are among the most secure solutions available. Nevertheless, the user becomes responsible for their security, so they have nowhere to turn for assistance if they lose their login information.
In recent years, the need for DeFi and DeFi wallets has surged since banks have threatened to halt cash withdrawals and services during times of dire need, leaving users stranded. There is no area-based limitation in DeFi, so that it can be used in such scenarios.
The DeFi ecosystem is reliant on people using and participating in DeFi wallets. Crypto wallets typically offer a broad range of features, security, and usability.
How Does DeFi work?
The blockchain records all transactions in blocks, which other users can verify. Upon completion of the verification, the particular block is closed and encrypted; simultaneously, another block is created containing the previous block's information.
A blockchain is formed by chaining together blocks. Each lock contains information about the next block. Changing the information of any block requires modifying the following block; hence it is not possible to alter the blockchain mechanism.
Many of DeFi's financial services can be found on the Ethereum network, the second-largest crypto marketplace after Bitcoin. DApps use blockchain technology and smart contracts to facilitate direct exchanges, lending, borrowing, and trading between parties without third-party involvement and with zero fees.
To trade cryptocurrencies like ETH, BTC, etc., "DApps" is used where one can buy these cryptocurrencies. The DeFi financial services can be used to make transactions without involving any third parties if one wishes to purchase a car or other item using Bitcoin or Ethereum.
Therefore, Bitcoin and other cryptocurrencies are decentralized currencies and not financial services because they operate on blockchains and are primarily used as a medium of exchange. DeFi, on the other hand, is a blockchain built using public blockchains like Ethereum and Bitcoin.
A smart contract is nothing more than a software program that has already been written in code and launched on a network such as Ethereum. Alternatively, a blockchain is a set of code (its functions) and data (its state) located in one place.
An ETH smart contract can be deployed by sending transaction addresses with EVM bytecode to its data field. As soon as the code is executed, it returns the contract code that allows indirect execution. Instead of sending the contract code directly, you attach a code that returns the contract code.
You can only access the contract with an address derived from the deploy transaction sender's address. There is no public or private key associated with this contract, so money sent to this contract cannot be accessed unless you have a withdrawal method.
Are DeFi Wallets Safe?
Choosing a wallet can be difficult when you are new to the DeFi wallet market. During the decision-making process, the following factors should be kept in mind:
Security Level
Your top priority should be the wallet's security level, which is crucial for maintaining the confidentiality of your private keys. Due to their offline nature, hardware wallets have the highest level of security. However, many 'hot' wallets also offer leading security protocols. Among them are biometric authentication, two-factor authentication, and standardization protocols.
Services Offered
Many DeFi wallets act as crypto banks, letting you store your holdings safely. However, the best DeFi wallets also include token swapping, yield farming, and staking features. Some wallets even include a built-in dApp browser that allows you to browse the decentralized web.
Supported Assets
The blockchain will dictate assets supported by a DeFi wallet that it is compatible with. Wallets linked to Ethereum, for example, will likely support ERC-20 and ERC-721 tokens. Some wallets, however, offer multi-chain support, which allows them to work with an exponentially larger number of tokens.
Fees
You'll likely want to review your wallet's fees before connecting it to your bank account. That is because many wallets let you purchase cryptocurrency from within the platform's interface, whether you want to use a credit-debit card or a bank transfer. In addition to this, there are usually network fees when a token is transferred – although these are determined by the blockchain and not by the wallet provider.
User-Friendliness
If you're a beginner, you should consider the user-friendliness of the DeFi wallet before choosing a staking platform. Thanks to platforms such as DeFi Swap, tokens can be swapped quickly and easily, so you can generate a yield immediately.
Accessibility
In addition, the accessibility of the wallet needs to be considered. It refers to how easily your holdings can be accessed quickly, meaning that hot wallets are usually the easiest to use. Additionally, a web browser can access platforms like DeFi Swap, making them the most accessible for services like swapping and staking.
How to Invest in DeFi Wallets UK
The DeFi Swap platform is our recommendation for using decentralized finance mechanisms. While DeFi Swap isn't a crypto wallet, it offers many of the same features as these wallets.
Following are the four steps below that will help you get started using DeFi Swap right now – all from your laptop, tablet, or phone:
Step 1: Setup Crypto Wallet
You will need a cryptocurrency wallet to use the DeFi Swap platform's services, such as token swapping and staking. Since DeFi Swap is hosted on the Binance Smart Chain (BSC), this crypto wallet must be able to connect to the Binance Smart Chain (BSC).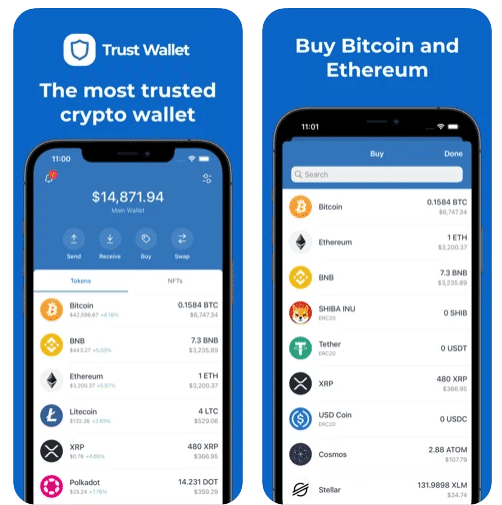 Step 2: Purchase BNB
Then you will need to purchase Binance Coin (BNB) so that you can trade tokens, stakes, and farm yields. BNB can be purchased from the most reputable brokers or crypto exchanges, where you can then transfer your tokens to the wallet you created in Step 1.
Step 3: Connect to Wallet to DeFi Swap
Click 'Connect to a Wallet' on the DeFi Swap homepage. Then, link your wallet by selecting it and following the instructions on the screen.
Step 4: Swap Tokens
DeFi Swap's services can be accessed once your wallet is connected. The 'Swap' feature allows you to swap tokens between users or become a liquidity provider, earning a 0.25% fee on each trade proportional to your share of the pool.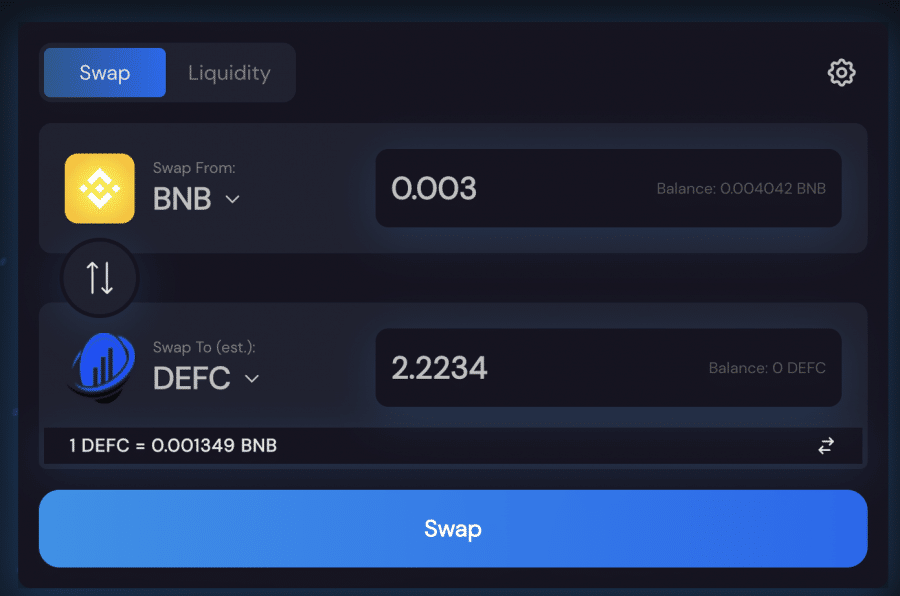 Cryptoassets are highly volatile unregulated investment products. No EU or UK Protection.
Best DeFi Wallet UK – Conclusion
In this guide, we have taken a look at the best DeFi wallets currently available on the market, detailing the fees, features, and security protocols of each wallet. Having partnered with any of the providers on our list, you'll be able to have a solid foundation for safely using DeFi mechanisms.
We recommend DeFi Swap as a provider if you are interested in getting started with a DeFi wallet as soon as possible. With the DeFi Swap Exchange, you can quickly swap, stake, and yield farm using the platform's easy-to-use online portal.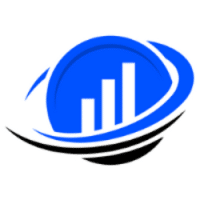 Cryptoassets are highly volatile unregulated investment products. No EU or UK Protection.
Frequently Asked Questions on Crypto Lending
Does crypto grow in DeFi wallet?
Can I withdraw money from DeFi wallet?
What is the purpose of a DeFi wallet?