Where To Buy Meme Coins In The UK – Best Platforms Revealed!
Fact Checked
Everything you read on our site is provided by expert writers who have many years of experience in the financial markets and have written for other top financial publications. Every piece of information here is fact-checked.
Disclosure
Please note that we are not authorised to provide any investment advice. The information on this page should be construed for information purposes only. We may earn commissions from the products mentioned on this site.
Meme coins are an ongoing trend that everybody wants to be a part of. These momentary tokens have shaken both the internet and crypto markets time and again, thanks to the backing they get from popular public figures. 
However, even after such robust foundations, things can become complex when you finally decide to invest in one. Getting the best meme coins can be a challenge for any beginner investor. 
This guide explores the top meme coins you could add to your portfolio in 2023. So continue reading as we gather more insight into these tokens and look at the different exchanges where you could buy them.
Where To Buy Meme Coins UK 2023 – List
'Where to buy meme coins?' remains a haunting question for many investors. Given their transient nature, finding a large pool of meme tokens in a single exchange becomes difficult. 
Keeping this in mind, we've developed a list of the top exchanges where you could buy meme tokens in 2023. They are:
eToro: The best beginner-friendly crypto exchange
Alvexo: Adds to a premier trading experience
Skilling: Flexible crypto trading platform
Margex: Great start for beginners
OKX: Your go-to option for meme coins
Don't invest in crypto assets unless you're prepared to lose all the money you invest.
A Closer Look At The Best Places To Buy Meme Coins in 2023
eToro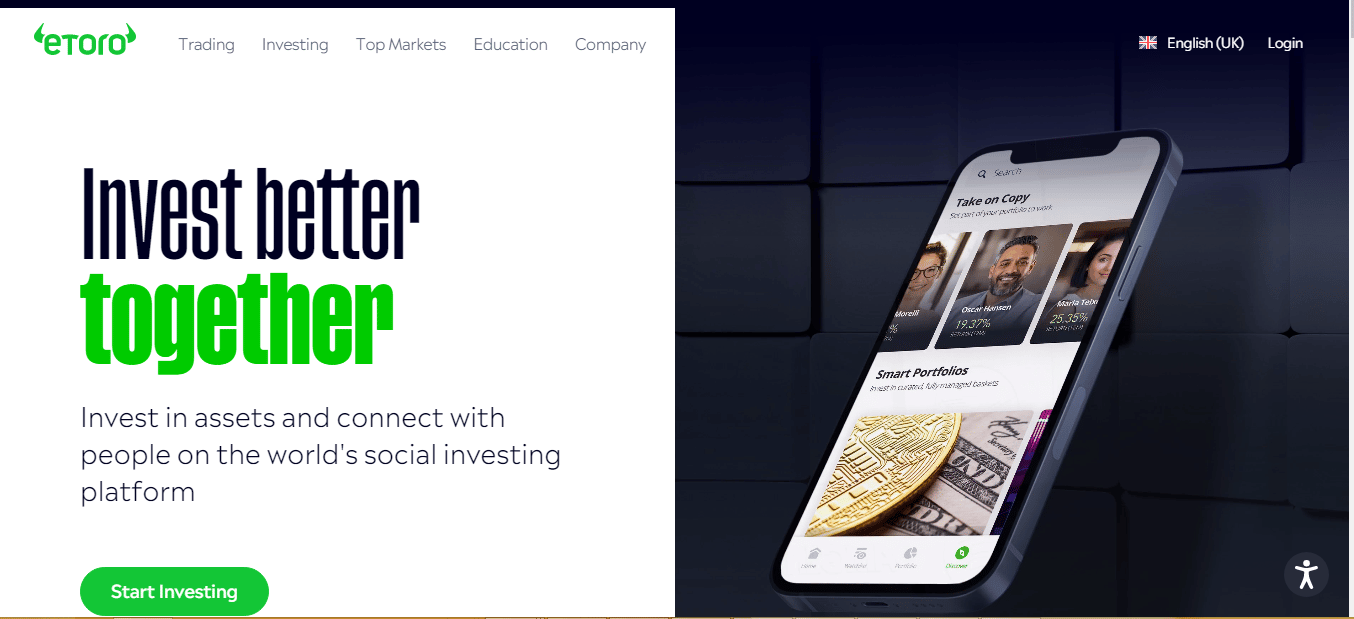 eToro is one of the most recognised crypto exchanges in the world with over 17 million users across 100 different countries. This popular platform is known for its easy-to-use interface and variety of helpful tools and features. These features include copy trading, access to advanced research and tools, low commissions and fees, social trading and ready-made portfolios.
Since its inception in 2007, the platform has earned a reputation for providing a wide range of investment assets. It currently offers over 75 crypto tokens alongside 2,700 shares and stocks, providing investors with every chance to diversify their portfolios. 
eToro also offers multiple payment options to fund your wallet flexibly. All these aspects, backed by its 24/7 customer service, make eToro one of the best places to buy meme coins in 2023.
Pros
User-friendly trading approach
Copy trading facility
Access to educational tools
Options to invest in multiple asset classes, including stocks and shares.
Cons
Levies a withdrawal fee of $5
Inactivity fees applicable after 12 months
Don't invest in crypto assets unless you're prepared to lose all the money you invest.
Alvexo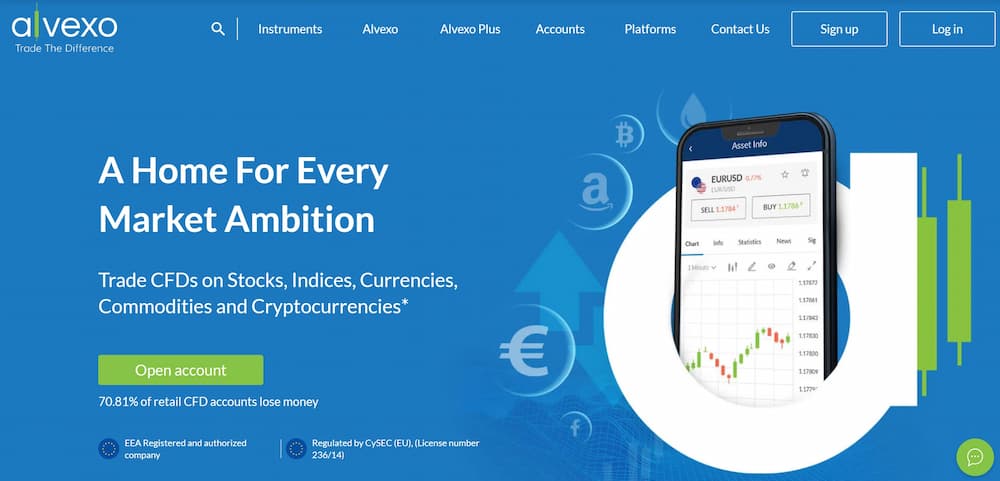 Next, we have Alvexo, a forex and CFD trading platform that leverages data for operations. This beginner-friendly platform asks users to enter specific data around skill sets, experience levels, risk tolerance, and investment goals to suggest the best account type for everyday trading. However, that's not all. The platform includes a variety of features for both novice and experienced meme coin investors.
Once signed up, you can use trading tools like 300:1 leverage, a demo account, negative balance protection, and real-time customer service. Adding to its list of features is an impressive range of trading platforms and financial markets that cater to thousands of registered traders globally. 
Since its inception in 2014, the platform has passed the requirements of several regulatory bodies like CySEC and the Financial Conduct Authority (FCA), making it one of the safest crypto exchanges to start your journey with. Topping its features and security is the platform's competitive fee structure. 
Although it doesn't charge any money on deposits and withdrawals, users are charged between $0.015 and $0.025 per share for CFDs and spreads between 0.1 and 3.5 pips per trade, based on the account type. Other related fees include inactivity, where the platform charges ten units of the base currency.
Overall, Alvexo is a good option for investors who want to buy meme coins in limited quantities. 
Pros
Regulated under Seychelles FSA and Cyprus CySEC
Offers a wide range of financial instruments
Clean UI and UX
Competitive spreads and tiered account options
Cons
€500 minimum account deposit
Lacks charting package
76.22% of retail investor accounts lose money when trading CFDs with this provider. You should consider whether you can afford to take the high risk of losing your money.
Skilling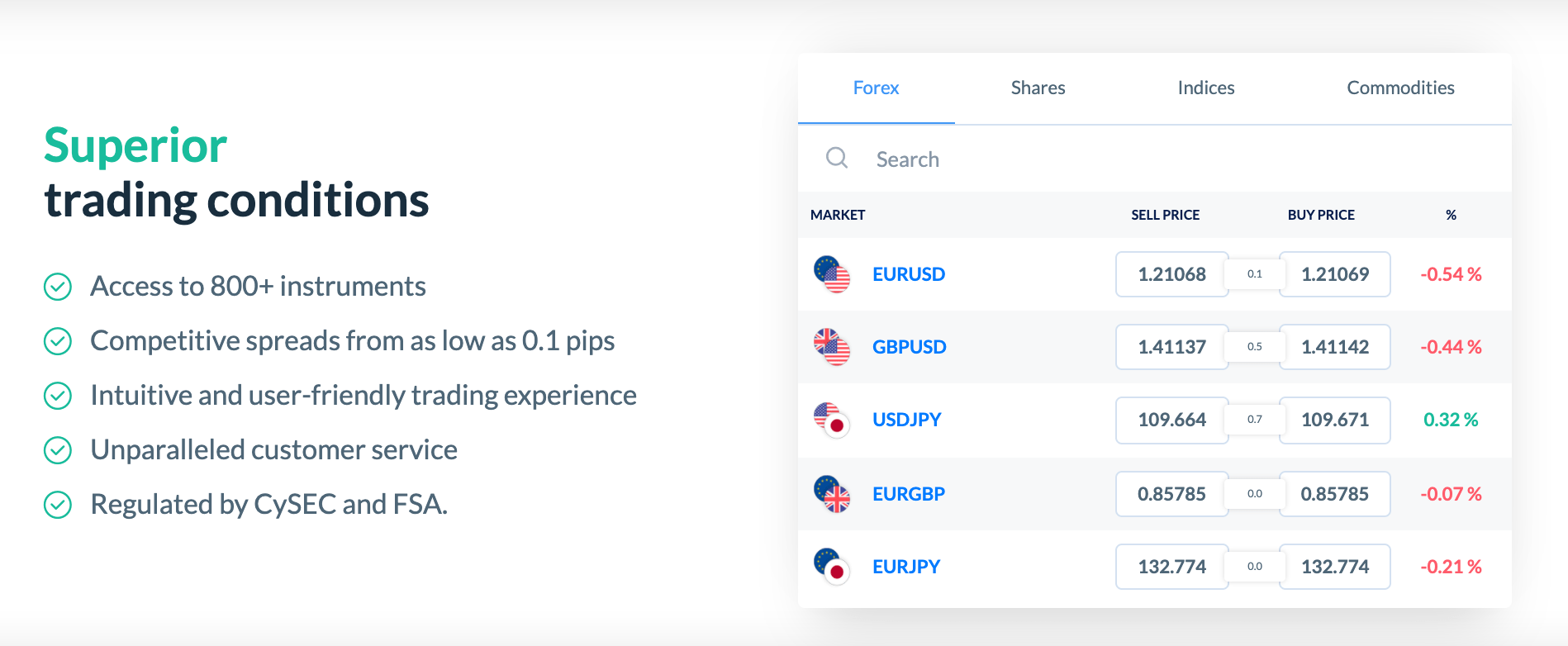 Next, we have the Scandinavian-owned broker, Skilling. This flexible payments platform allows you to invest in or trade in crypto, forex, stocks, commodities, and CFDs.
Skilling provides the user with trading profiles based on their previous experience. Depending on their experience and requirements, users can choose between Standard, Premium, and MT4 Premium accounts for beginner- to expert-level expertise. 
The platform was started in 2016, with a goal to make trading easy and available to everyone. Today, it is one of the most stringent trading platforms, with certifications from CySEC, Fi, BaFin, and FSA-Seychelles. Skilling also brings together a number of advanced tools and features, such as a demo account, copy trading, and educational materials, all in one place. All these factors allow traders to analyse the crypto markets without hassle. 
In terms of its fee structure, Skilling doesn't charge anything on deposits. However, spreads for professional and standard accounts are 0.1 and 0.7 pips, respectively. Skilling also charges users for specific withdrawal methods. For instance, users can attract a withdrawal fee of around 2% to 2.6% while transacting a minimum of $50 over Skrill or Neteller.
Overall, Skilling is a great exchange for experts and experienced traders, but it might take some time for new traders to get used to it. 
Pros
Fast trade execution speeds of under 5ms
Availability of 900+ assets for investments
No inactivity fees
Spreads from 0.2 pips
Cons
MT5 console isn't supported
No physical stocks or cryptos are available, just CFDs
Crypto assets are unregulated in some parts of the UK. Invest wisely.
Margex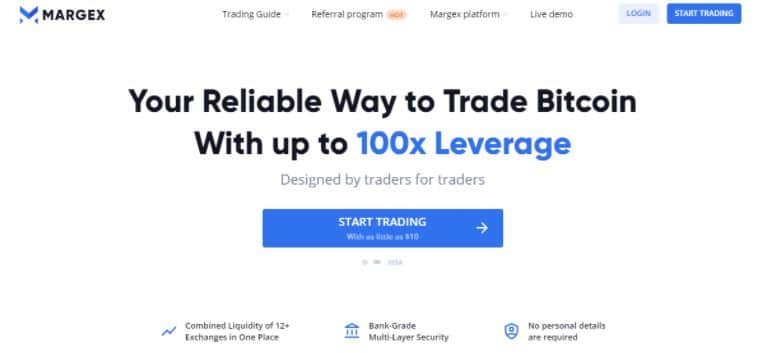 Margex is one of the latest entrants on our list of crypto exchanges. This crypto derivatives trading platform has been around since 2020. It is unique, and all of its trading pairs offer more than 100x leverage. It has a clean UI and UX, and top-notch security, making it a great choice for traders who are just starting out. Interestingly, that's not all about this crypto exchange. 
Once signed up, users can utilise the no KYC feature to make the most of their trades with the leverage option. Besides, rewarding price manipulation and adaptable leverage trading are some features that add to the platform's trading experience. 
Speaking of the fee structure, Margex doesn't charge any fees for opening an account or maintaining your wallet. However, the exchange does charge a trading fee based on the maker-taker model of 0.19% and 0.060%, respectively. Users should also note that Margex does not offer any discounts on trading volume.
Overall, Margex is a good choice for experienced and advanced traders because of its high liquidity, security, and low fees. However, trading on Margex can be risky as it is an unregulated exchange. Sing up at your own risk. 
Pros
Up to 100x leverage
Real-time customer support
High liquidity trading pairs
No KYC Signup
Cons
Single crypto withdrawal per day
Limited selection opportunities for trading fees
Crypto assets are unregulated in some parts of the UK. Invest wisely.
OKX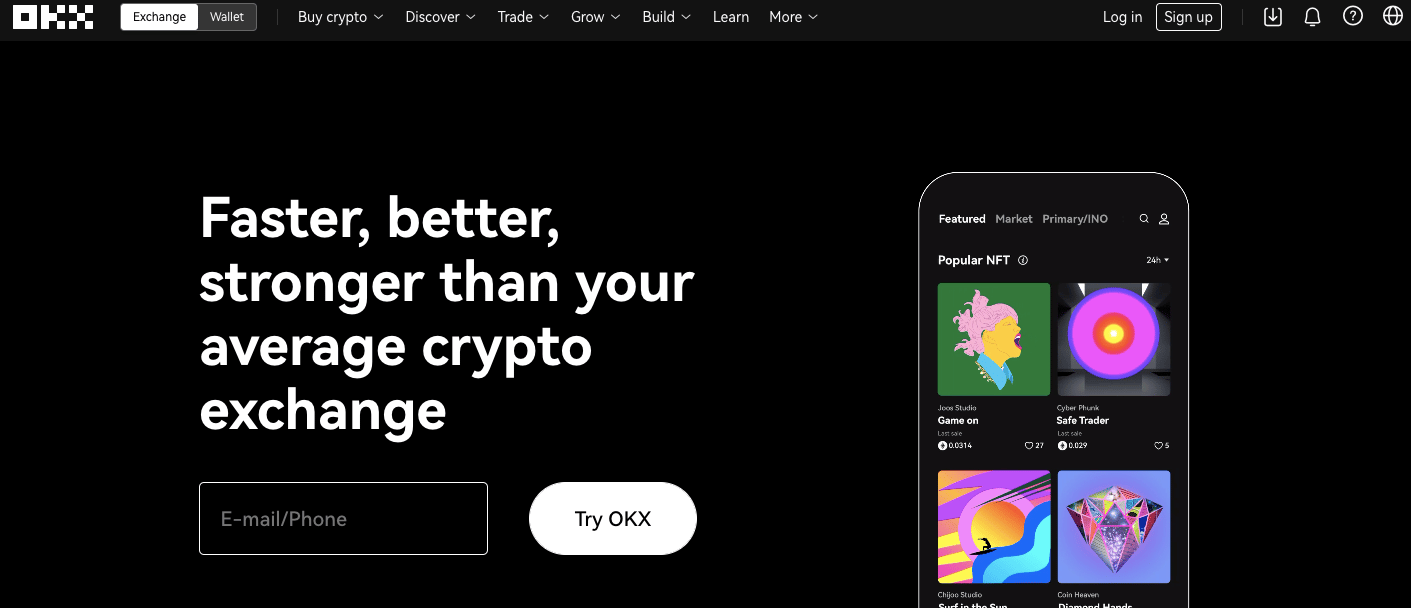 OKX is the last exchange on our list of the best places to buy meme coins in 2023. It is another top exchange that many new investors use. The platform has a reliable user interface and user experience, a low commission, and high-interest betting options, which makes it a safer choice. 
Since it started in 2017, the platform has added more than 340 crypto tokens. This means that users can diversify their portfolios with big cryptos like BTC and ETH or choose from other popular coins like Avalanche and Solana. The site claims over 20 million active users and has its own blockchain called OKExChain.  
Interestingly, OKX is one of those few exchanges that offers you Tamadoge in the current market. This makes the VARA-regulated exchange one of the fastest platforms to list new meme tokens, giving you a window of opportunity for early investments. 
In terms of its fee structure, OKX is mostly semi-transparent. The platform charges fees based on account holdings and trade volume. Users pay 0.10% for spot trading, while traders holding high volumes of OKB tokens (OKXs crypto) qualify for additional discounts. 
Overall, OKX is one of the most up-to-date platforms for crypto, with the latest tools and features for both new and experienced users. However, one downside of OKX is the hidden fees that the platform charges on fees and withdrawals. 
Pros
Trading fees start at 0.1%
Several payment options available
Offers high-staking investment opportunities
Has its own blockchain network
Cons
Low liquidity for certain currencies
Unsatisfying customer service
Crypto assets are unregulated in some parts of the UK. Invest wisely.
How To Buy Meme Coins On eToro 2023
Considering that you now know where to buy meme coins in the UK, it's time to move on to the execution stage, where you learn how to get started with your first trade. 
For the purpose of this tutorial, we've used eToro as an example to of the various steps involved in purchasing meme coins. Let's check them out in the following section. 
Sign up for eToro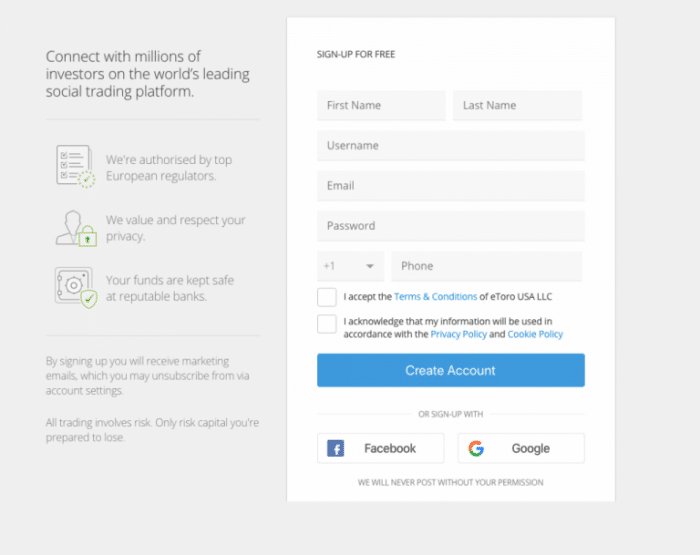 In the first step; you must sign up for the eToro exchange. To get started, you must visit eToro.com and click on the 'Start Investing' button. 
Once done, you'll be asked to submit your username, email, and create a password for your account. After you enter all of your information correctly, a dialogue box will ask you to agree to the terms and conditions so that you can set up your crypto trading account. 
Verify your account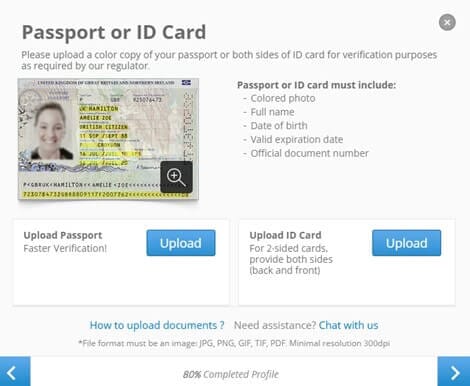 After successfully entering the correct details into your eToro account, the verification team will send you a link via email; once clicked, your account will be ready to use. 
Before placing any orders, you must verify your identity by providing a proof of name and address. This could be a copy of your driver's license, birth certificate or a utility bill.
Practice with a demo account
Once you are registered and verified, it's time to spend some time practicing your upcoming trades on a demo account. The demo account feature allows you to analyse, prepare, and practice via paper trades. 
Here, you can implement your trading strategy and use eToro's tools to make trading decisions. The eToro demo account mimics live conditions which makes it a great way to familiarise yourself with the platform without putting any money at risk. 
Deposit funds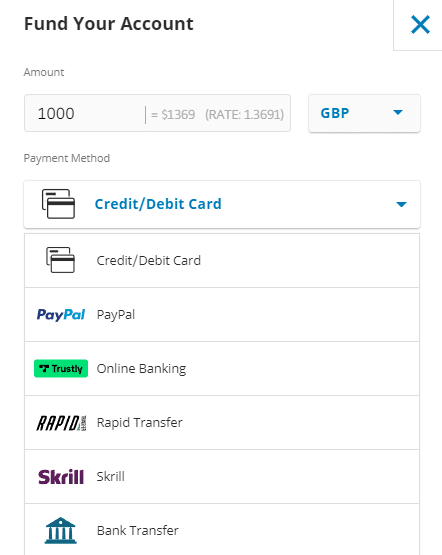 Now that you're sure you're ready to trade on the real market, it's time to get started. But before that, ensure you've deposited the required funds to carry out your trade. 
You can choose from a long list of options to fund your account. The methods include everything from credit and debit cards to Neteller and PayPal. Therefore, while you're at it, ensure that you've double-checked the charges your chosen payment method might attract. 
Search for meme coins
Once you have funded your account, it's time to look for potential investment opportunities. For instance, let's say you want to invest in the Tamadoge project. In this case, you must move to the market section of your eToro exchange and type TAMA. After seeing the TAMA token ticker symbol, click on it and enter the number of tokens you'd like to purchase from the exchange. 
Execute an order
Executing your order on eToro is as simple as clicking the 'Open Trade' button present on the market section of the exchange. The platform will run your demand in the active market and transfer the number of tokens to your wallet in no time.

Don't invest in crypto assets unless you're prepared to lose all the money you invest.
What Are The Best Meme Coins To Buy in 2023?
Meme coins are known to generate returns over a considerably short time. This is primarily because of the hype they generate during their launch. But if you plan to stay in the market for a long time, you can't build a large portfolio around meme coins. 
The market is currently filled with around 200 meme coins. As a new investor, you should make sure to choose projects with a strong base so that your money grows over time. So, to help you gain a better understanding, we've compiled a list of meme coins that are backed by solid fundamentals and are expected to grow over time. Let's check them out:
TAMA – Meme Coin With A P2E Fundamentals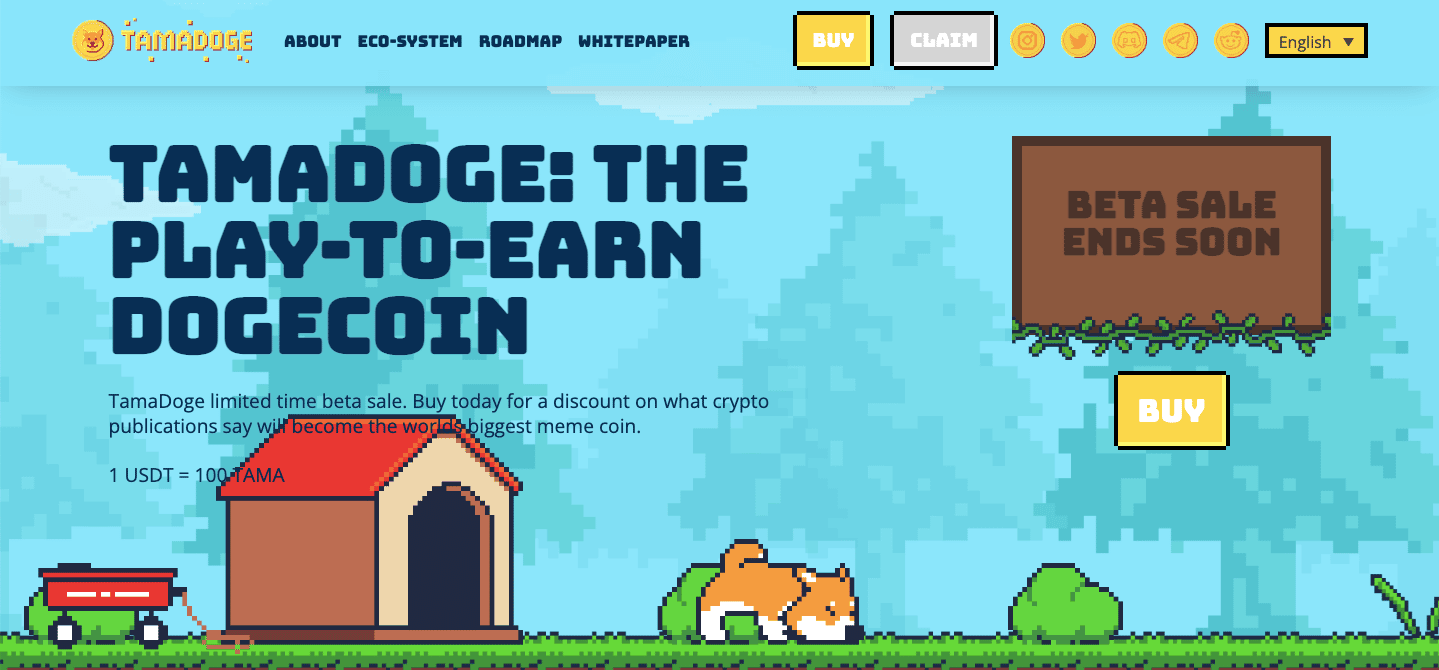 Kicking off our list of the best meme coins is Tamadoge, one of the latest entrants into the long queue of shitcoins. The token is a part of the Tamaverse, a gaming platform that allows gamers to feed, care for, and raise their NFT-based pets. Once the pets reach a certain level, users can also send them into random battles with other players to win TAMA tokens.  
Once gamers have acquired enough Tamadoge meme coins, they can later level up their pets and add different upgrades via the in-game store. Besides, since the pets are available in a non-fungible format, they can also be sold to individual gamers. Tamadoge is a crypto project that should be in every investor's portfolio for all of these reasons. 
However, that's not all that makes the project unique. From an investor's point of view, it's TAMA's roadmap that makes it a reliable investment. The token is a deflationary asset, which means that every time it is used, 5% of its ecosystem is lost. This allows the project to maintain an increasing demand over time. 
In addition, TAMA has become more popular because of its P2E (play-to-earn) functionality. This is different from Dogecoin, which only depends on how popular it is on social media. 
Furthermore, TAMA has been a success since its pre-sale, selling approximately $19 million in tokens in just eight weeks. Following this, the token pumped up to $0.194, reaching its all-time high before being listed on an exchange. 
The latest events have resulted in a 2,000% increase from TAMA's pre-sale price and a 550% increment from its list price. These aspects make TAMA one of the top meme coins to invest in 2023.
Crypto assets are unregulated in some parts of the UK. Invest wisely.
DOGE – The King Of Meme Coins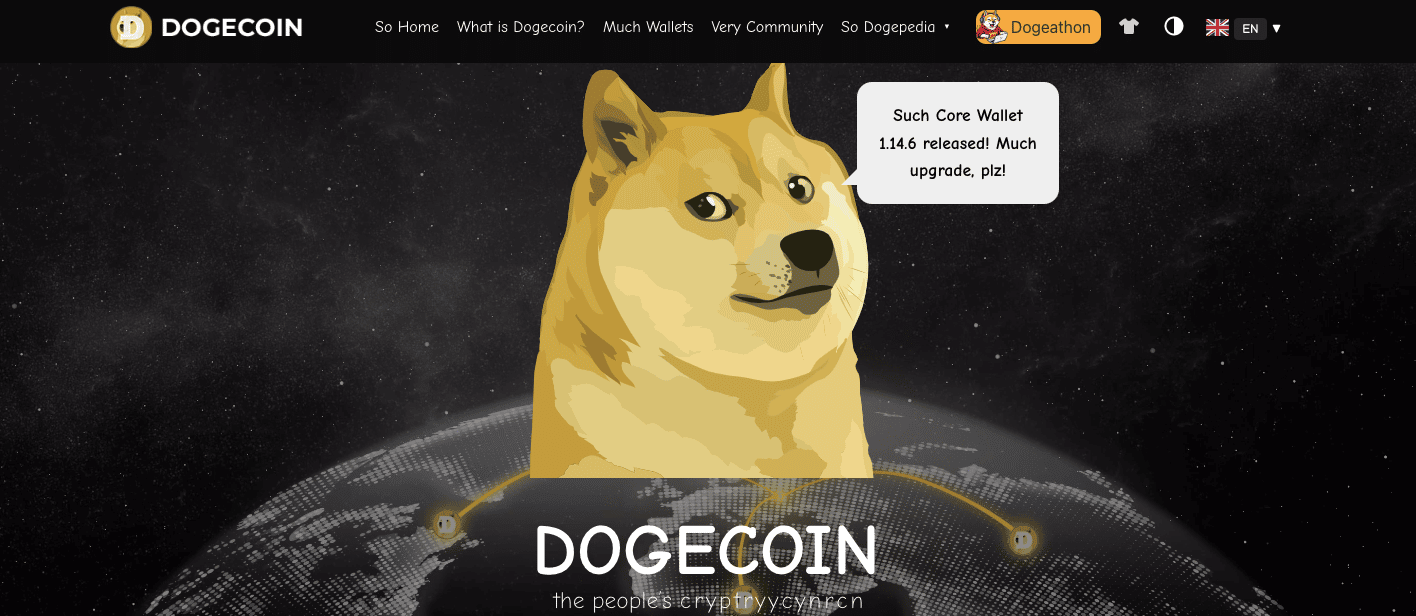 No list of meme coins is complete without the mention of Dogecoin, the token that started it all. Being the first token of its type present in the market since 2013, it currently serves as a gold standard for meme tokens. 
However, there was no such strong motive behind the launch of this token. Jack Palmer and his colleagues came up with a satirical coin named Dogecoin due to his love for dogs. Instead, DOGE started as a satire of the countless cryptos trying to ride on the Bitcoin wave in 2013. 
Fast forward to 2021, Dogecoin was at the centre of a great market movement due to its backing from the world's richest man, Elon Musk. Also known as the "Dogefather," Musk brought the token to market, forcing its founders and developers to work on the once-abandoned project and its fundamentals.
Currently, Dogecoin is considered the 'king' of the meme ecosystem and enjoys the solid backing of a budding community with millions of followers. All such joint efforts from the growing community and SpaceX, Tesla's CEO, led to the pumping up of the token's price to nearly $1 before it tapped out at 73 cents. 
Besides, several businesses have also accepted the token as legal tender. So, for example, you could now use DOGE to make purchases on Twitch, Newegg, and Gamestop so you could use their services. 
From an investment point of view, it cxould be the best opportunity to invest in DOGE. While the token is far from its 2021 high, it remains among the top meme coins. Furthermore, the token is currently trading at $0.07 and shows positive market movement for the future. Therefore, now could be the best time to purchase the token at its new low.

Don't invest in crypto assets unless you're prepared to lose all the money you invest.
SHIB – The Suspected DOGE Killer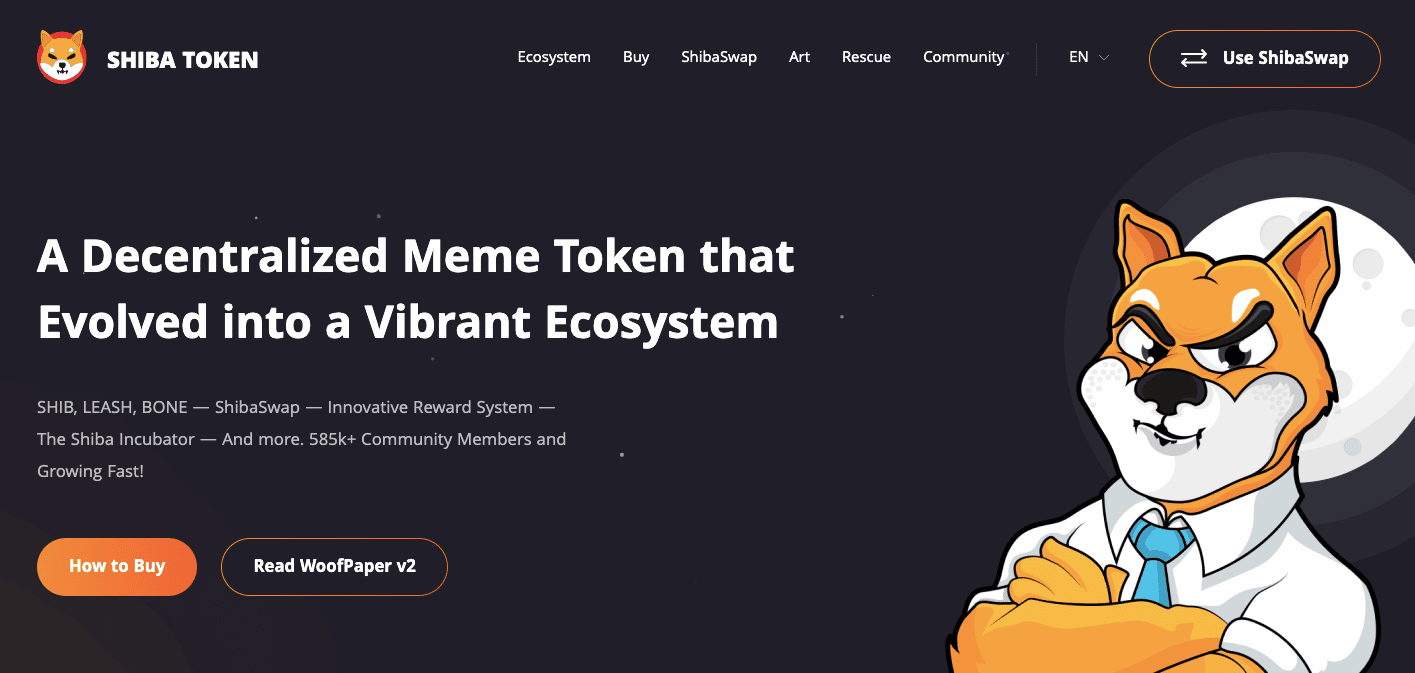 Following TAMA and DOGE in the race for the top meme coins is Shiba Inu, a token that was launched in late 2020. The token was made by a group of anonymous developers as an experiment around the community-driven initiative. 
However, the primary aim behind the development of the token was to tackle the rising popularity and growth of Dogecoin, another reason why Shiba Inu is also nicknamed the 'Dogecoin killer.'
Interestingly, there's more than just social media, hype, and fanfare that make SHIB one of the best meme coins on the internet. Shiba Inu has been largely ahead of its competition due to its evolving use cases. Furthermore, despite playing second fiddle to DOGE, SHIB has managed to gain more than a 21,000% return by the end of 2021.
But things don't end here if you're looking at the token from an investment perspective. Shiba Inu has been the talk of the crypto market lately because of how active it is in the Metaverse. The team behind the project also went ahead to release two updates, highlighting two aspects of its upcoming project. 
All these aspects make SHIB a reliable investment for 2023 and beyond. The project is currently at its all-time low of $0.0000001 and is expected to increase to the $0.000001 mark by the end of the year.

Don't invest in crypto assets unless you're prepared to lose all the money you invest.
Baby Doge
The last meme coin on our list is Baby Doge, which is one of the newest meme tokens. The project is relatively new and was launched last year. Interestingly, the concept of Baby Doge can be linked to Dogecoin to a certain degree, as the project was launched with the intent to better the DOGE community. 
This hyper-deflationary token has earned its name for its streamlined transaction speed and static reflection, rewarding its holders by redistributing 5% of every transaction. Besides, the ecosystem introduces more Baby Doge into the market for each transaction made. Adding to it, the Baby Doge project also works on rescuing dogs and making a charitable contribution towards their rescue. 
While many consider Baby Doge to be another light-hearted crypto joke, the token has presented immense potential for returns. The token witnessed a 1,000% spike within days of its launch, and by the third week of its launch, the token already had a market capitalisation of $200 million. 
While that was its performance in the past, the project is also considered a potent future investment. Its predefined roadmap is what makes it a potential investment. The Baby Doge roadmap is made up of several stages, and each stage makes a promise to investors. 
Currently, BABYDOGE is sold for $0.000000001061. However, as one of the top 10 projects on the list of meme coins today, it is expected to give exceptional returns in the future. 

Don't invest in crypto assets unless you're prepared to lose all the money you invest.
Where To Buy Meme Coins – Compared
Given the list of tokens and the numerous exchanges we discussed in this blog's initial sections, you might be confused about your options. So, to help you better, we've curated a table of the different exchanges and differentiated between them using the most common trade factors. 
Let's check it out: 
| | | | | | |
| --- | --- | --- | --- | --- | --- |
| | eToro | Alvexo | Skilling | Margex | OKX |
| Minimum Deposit | $20 | €500  | €100  | $10 | 10 USDT |
| Crypto Trading Fees | 1% | Depending on trade volume | From $0.5 | Depending on trade volume | Depending on trade volume |
| Asset Variety | Stock, ETF, Forex, CFD, Crypto | Forex, CFDs, Shares, Commodities, Indices, Cryptocurrencies | Commodities, Cryptocurrencies, Stock CFDs, Forex, Indices, Metals | BTC, USD, ETH, XRP, LTC, YFI, EOS | Crypto |
| Regulation | CySEC, FCA, AFSL, ASIC | CySEC, FSA | CySEC, Fi, BaFin, FSA-Seychelles | –  | VARA |
| Payment Methods | eToro Money, Credit/Debit card, PayPal, Neteller, Skrill, Rapid Transfer, Bank Transfer | Bank Wire, FairPay, Bitcoin, Tether | Credit/Debit card, Web Money, Union Pay, Neteller, Trustly, Klarna, Bank Transfer | Credit/Debit card & Bitcoin | Credit/Debit Cards, Bank Transfers, Google Pay, PayPal, & Fiat |
| Device Compatibility | Mobile & Web | Web-based  | Web & Mobile | Web-based | Web & Mobile |
What To Look For When Choosing A Crypto Trading Platform
Payment Methods
Payment methods are the first thing many investors and traders notice in a crypto exchange. The flexibility of payments and the availability of different options to fund your account is one of the most convenient factors for every user. However, most platforms have dedicated methods of investing in crypto. 
For instance, some exchanges require you to deposit money via online wallets. In contrast, others need bank transfers; some accept credit and debit card payments, while some only use PayPal for crypto purchases.
Therefore, if you're a beginner looking to buy meme coins, it would be best to check out the different payment options before signing up for any exchange. Besides, selecting a platform that accepts fiat payments would be a good move. 
Note: The time taken to process transactions is another factor you must keep in mind. Some platforms process transactions in real-time, while others take days, affecting your investment strategy. 
Tools and Features
No crypto exchange is complete without its trading tools and features. Platform features and tools can make it stand out among the hundreds of options available on the market. Therefore, before choosing a crypto exchange, ensure you have access to all the beginner-friendly tools and features. 
For instance, as a beginner investor or trader, you'll need access to customer support and educational materials. So, look for features such as live chat, in-depth guide and webinars, and 24*7 customer support to cover all your needs. These small tools and features can make a big difference in your everyday trading.
However, that's not all. You can't only rely on beginner-friendly tools and features when selecting an exchange. Since you're at the initial stages, you might find these features useful. But as you move further, you will need access to better tools and features. 
Therefore, keep in mind to look for advanced charting tools and features like stop loss, copy, automated trading, and access to trading bots, among others, while signing up for your ideal exchange. 
User Experience
User experience is one of the most critical aspects for an average investor. Since only a few beginners are well-versed in the complexities of the crypto industry, they want their purchase and trade journey to be as effortless as possible. 
In addition, an easy-to-use interface saves you time by letting you place orders almost immediately. With fewer steps between adding money and purchasing your desired token, investors have a better opportunity to enter their desired price range and make better profits from their investment. 
So whether you're a seasoned crypto trader or buying your first crypto, intuitive UI interfaces allow you to be more efficient and informed. However, remember that user experience is subjective, and people taste their trading interfaces uniquely.
Customer Service
Customer service is one of the most important features to look for when choosing an exchange. Having your queries settled or getting assistance in real-time is always a pleasant customer experience. However, not every crypto exchange prioritises customer experience similarly. 
For instance, some exchanges don't have transparent communication services, leaving you without help in your time of need. While such problems are common in your everyday trading experience, you may need an exchange that caters to your needs promptly. 
Therefore, it is smart to do some research on your selected crypto exchange first. So, before you sign up with any, make sure you've checked testimonials, feedback, reviews, and anything else that could give you an idea of their customer experience. 
Platform Fees
Nobody enjoys trading at a crypto exchange that charges a sizable commission. Most crypto exchanges set their fee tiers based on how much their customers trade in a 30-day period, with the percentage commission going down as the size of the trade goes up. Such platforms tend to leave you with a problem in the long run. 
Most crypto exchanges charge you a fee when you trade, withdraw, or deposit funds. These fees can range from 0% to 5% per trade, depending on the type of transaction and your selected payment method. This is one of the primary reasons one must analyse the platform fees closely before signing up for any crypto exchange. 
There are few exchanges that do not charge commission on transactions, with the exception of eToro. So, before you join an exchange, make sure you know what their transaction fees, deposit and withdrawal fees (depending on the source), account maintenance fees, and other charges are. 
Expert Tip: Many exchanges say that they don't charge commissions, but they tend to add on costs for maintenance and other things. Ensure you're aware of every penny the service provider charges you.
Mobile App
While crypto might be a technology of the future, only some platforms are on board with the technology in the present. Most crypto exchanges still only work through their websites and don't offer their services on mobile phones. A competent mobile application is a must-have on every excellent crypto exchange. 
A mobile application that keeps you connected to your trades and offers a similar UI with relevant features like live market status, detailed charts, quick buy/sell options, and more, is a must-have. It gives you the flexibility of having access to your portfolio in real-time and allows you to enter new trades without any delay, giving you a chance at better trade profits. 
Demo Account
You can't miss out on the significance of having a demo account, especially if you're a beginner trader. Having a demo account lets you get an idea of the crypto market and its volatility without ptting any money at risk. A demo account is intended to give you a feel for real-time market movements, preparing you for active trades ahead of time. 
It is one of the best tools for traders and investors, as it allows you to paper trade and understand your trades' success by investing 'fake' money according to your strategy. Also, because the simulated charts are in sync with the real market, advanced traders can try out their strategies and get an idea of how likely they are to succeed. 
Asset Availability
The availability of specific tokens is another crucial factor that must be checked before you sign up for any exchange to buy meme coins. The crypto market is flooded with over 20,000 tokens. However, only some tokens can be found across all major exchanges. 
Interestingly, the availability of coins alone isn't sufficient. You can't trade with a crypto exchange that doesn't add new projects or doesn't update often enough. When dealing with an exchange that lists new crypto projects regularly, you've got a better chance of making a sizable profit in the long term. 
Pro Tip: While asset availability is there, don't miss out on the trade volume of your chosen crypto platform. High volumes ensure liquidity, allowing you to cash in your profits. On the contrary, low-volume platforms can result in sellouts at reduced prices. 
Regulation And Security
Regulation is another important factor for every investor or trader to consider. Unlike stock exchanges, crypto exchanges have always been the subject of speculation due to their decentralised approach. Adding to it, many countries and financial bodies are yet to take a stand on the crypto trade and industry entirely. 
Adding to it, the rising popularity of crypto has made it a prime target for hackers. As a result, millions of dollars have been lost due to hacking attacks on well-known exchanges like KuCoin and Binance. Although exchanges frequently compensate users whose coins are stolen, nobody wants to be in that situation.
Therefore, a safer way is to sign up with crypto exchanges that are regulated and secure. Or, settle with exchanges that are known to keep their security up-to-date and have promised to pay back their users if they are hacked. 
Besides, you can minimise your threat to security by spreading your crypto purchases among several exchanges. Alternatively, develop the practice of moving your cryptocurrency holdings from the default wallet of your exchange to your own private "cold" wallet. 
Project team
The project team behind the crypto exchange is another factor that you need to look into before signing up. The crypto space is evolving, and so are the crypto hackers. Recent incidents surfacing on the internet cite how anonymous exchanges have duped investors out of their money and can't be found anywhere. 
So, before you sign up for any exchange, make sure you know a lot about the people who are working on it. This way, you'll have someone to contact if something goes wrong with your overall trading experience. 
Which Meme Coin Is The Best To Invest in Right Now?
The crypto market is flooded with dozens of meme coins. Most of these tokens try their luck at creating a monumental buzz on the internet but have no real utility.
Such tokens lose their value after their momentary fame, resulting in the loss of your investment. This makes choosing the best meme coins a real hassle. 
However, despite the negative effect of the market, some of the top meme coins we discussed above have experienced enormous increases lately. One such token would be Tamadoge (TAMA), a P2E crypto project that sold out in a matter of days in its pre-sale. 
Adding to it, the deflationary properties and the token's overall fundamental backing make it a reliable investment over the long term. So if you're looking to invest in and hold a meme token, TAMA should be the one.

Crypto assets are unregulated in some parts of the UK. Invest wisely.
Are Meme Coins Still Worth Investing In?
Any meme coin mentioned above can provide a considerable return if you buy and hold it over the long term. So when researching the ideal project, consider tokens with sound fundamentals for greater profits and lower risk. In addition, such projects are quite fresh, have scope for development, and don't pass out with the trend. 
Besides, there is no denying meme coins' current popularity and appeal. These digital assets have a lot of potential to generate significant returns quickly. Finding the right project, however, can take time and effort. 
Which Exchanges Sell Meme Coins?
Almost every major crypto exchange offers meme coins. However, only some meme coins are listed on reliable exchanges like eToro and OKX. Most newly introduced projects fail to meet such an exchange's criteria as they're short-term and fail to perform beyond their hype period. 
Can You Buy Meme Coins with PayPal in The UK?
Thanks to their soaring popularity, meme coins like DOGE are available through PayPal UK. However, the process isn't that straightforward. Therefore, we have divided the process into steps to give you a better insight into the process.
Step 1: Open your eToro account and move to the 'deposit funds' section.
Step 2: After you've entered the funds section, choose PayPal as your deposit option and follow the instructions to connect your account. Once done, type the amount of money you want to transfer. 
Step 3: Continue with your purchase by typing 'DOGE' in the search box and finalising the transaction by clicking on 'Open Trade.' 
Top Tips for Buying Meme Coins Safely
The crypto industry has become a hotspot for fraud with its increasing popularity. Every year, millions of dollars are lost to such attempts on individual accounts and exchanges. 
All such incidents call for a guideline that allows you to buy meme coins safely. So keep reading as we show you some useful tips you should remember for your next crypto transactions. 
Check the website URL
One simple step every customer participating in crypto purchases could take is to check the website properly. The website contains many elements that give you an idea of its authenticity. 
Consumers should check if it has HTTPS-based SSL encryption when purchasing meme coins from a website. This can be done in real-time by looking at the web address or URL and checking for 'https://' or a lock icon at the beginning of the payment page.
Check for regulation and security measures
Checking the regulations and security measures is a good rule of thumb for any investor or trader interested in purchasing meme tokens. So, make sure your vendor is PCI DSS compliant or has a higher level of certification. 
Besides, it is crucial that the vendor follow the latest security trends and maintain necessary cybersecurity certificates in the process. It will also help if you look for the exchange's regulatory certificates, which ensure the transaction's authenticity. 
Be careful when sharing your wallet address
Your wallet address is like your email address. It is all a user needs to transact the funds into your account. However, keep in mind that blockchain shares every piece of information publicly. 
So, if you care about privacy, be careful about sharing your wallet address online. 
Only buy from reputable platforms
Don't fall for 'too good to be true' traps. It's a common honeytrap used by crypto jackers. They try to get you to buy crypto tokens at prices that seem too good to be true so they can get your wallet address and other information about you. 
Besides, once they have enough information on your wallet address and funds, they can plan an attack on your savings. Therefore, only deal with renowned exchanges with years of existence in the market. 
Conduct thorough research before making any decisions
The crypto industry is known for its volatility. What works for you right now might not in the next few hours or even minutes; therefore, stay on top of hype and trends when you plan to invest in the market. 
Always base your investment strategy on thorough research. Remember, good research can go a long way in the crypto industry. All the best! 
FAQs
How to buy meme coins in the UK?
Is Tamadoge the best meme coin?
Will meme coins explode in 2023?
Where is the best place to buy meme coins?
Can I buy Dogecoin on eToro?