Cost of Selling Shares
Fact Checked
Everything you read on our site is provided by expert writers who have many years of experience in the financial markets and have written for other top financial publications. Every piece of information here is fact-checked.
Disclosure
Please note that we are not authorised to provide any investment advice. The information on this page should be construed for information purposes only. We may earn commissions from the products mentioned on this site.
Most people who invest in the stock market take into account the cost of buying shares. However, when you trade with a share dealing platform, you'll be charged for each transaction you make, which means you also need to take into consideration the cost of selling shares.
This guide can help you understand the cost of selling shares in the UK. We'll explain the various forms of buying and selling shares in the UK and suggest cost-effective platforms to buy and sell stocks.
Cost of Selling Real Shares
Before we delve into the details of the cost of selling shares, it is crucial to understand the difference between different forms of investments. Presently, there are two options to buy and sell shares in the markets – via a share dealing platform or via Contract for Difference (CFDs).
The first option is to open an account with a share dealing investment platform that connects you to various exchanges such as the London Stock Exchange where you'll be able to place an order and physically buy the asset outright and then get share certificates that show your ownership in the company. Further, with these brokers, you get access to various financial services such as ISAs account, SIPP, investment trusts, and dividend reinvestments programs.
When you choose an investment platform that directly connects you to the exchange like Hargreaves Lansdown, Barclays, etc – you'll have to pay a fixed trading dealing commission that typically ranges between around £1.5-£10.  Additionally, on traditional brokers platforms, you'll have to pay a stamp duty tax of 0.5% on the transaction when you buy shares electronically and account management fees.
The second option is to buy and sell shares via derivatives, or in other words, Contract for Difference. These are basically outside of the exchange contracts that enable two sides to speculate on the price of the asset without owning it. With CFDs, you are not required to pay any share dealing charges nor stamp duty tax, or account management fees. Instead, you pay only the buy and sell spread. For example, eToro which is one of the largest and best CFD brokers in the world offers zero commission pricing, which means you do not have to pay any additional fee rather than the spread.
Another option is to open an account with FinecoBank that allows you to trade shares outright or in the form of CFDs. For buying shares outright, this broker has a 100 free trades bonus that enables you to buy and sell shares and bonds without any commission charges in the first 100 trades you make.
Generally, it is important to remember that while there are many benefits of trading on a CFD trading account, some investors prefer to invest their money via stocks and shares ISA account (or via a self-invested personal pension, SIPP). This account type is available on traditional brokerage firms that connect users to exchanges and offers several benefits that include:
On an ISA account, you don't pay capital gains tax
No tax on interest rate earned on fixed-income assets
No tax from dividend payment from shares
Cost of Selling Shares Comparison
| | | |
| --- | --- | --- |
| | Cost of Selling Shares | Number of Shares |
| eToro | Free. Only the buy and sell spread | 800 |
| Fineco | CFDs (free, only spreads) or outright (£2.95 fixed commission per trade) | over 20,000 shares |
| Hargreaves Lansdown | £1.50 per deal | 8000 |
| Barclays | £3 per transaction (£1 if investing more frequently) | Over 30,000 instruments |
| Halifax | Real-time online trades – £9.50 per trade. Scheduled regular investments – £2 per trade | N/A |
| Equinit Shareview | £12.5 per trade | 8000+ markets |
| Fidelity | £10.00 for each deal | More than 7000 |
Cost of Selling Share CFDs
As we mentioned above, the vast majority of CFD brokers offer investors to buy and sell shares without having to pay fixed trading commissions. Instead, these brokers charge the buy and sell spread only, which is the one direct charge you'll need to consider when selling share CFDs.
This means that if you are planning to trade frequently, a CFD platform could be the best choice as you do not have to pay any fixed trading commissions. This is particularly the case for active day traders that do not hold positions open overnight and thus, can avoid paying the swap fee.
Notably, spreads vary between different brokers and the assets being traded. As such, you need to choose a CFD broker that gives you competitive spreads and low fees. With that in mind, below you can find some of the top CFD platforms in the UK market and the cost for selling Amazon shares on each platform:
| | |
| --- | --- |
| | Cost for Selling Amazon Shares |
| eToro | A spread of around 7-10 + overnight fee |
| | |
| Plus500 | A spread of 24 and an overnight fee between -0.04416% to -0.04356% |
| AvaTrade | A spread of 0.13% and an overnight fee between -0.0111% to -0.0166% |
| Peppestone | Depending on the account. For the Standard account – zero spread and $0.02 per share |
Cheapest Platforms for Selling Shares
By now, you have a better picture of the cost of selling shares in the UK. But in order to help you find the most cost-effective share dealing service to buy and sell shares, below we suggest two of the best UK stockbrokers.
1. eToro – Overall Best UK Broker to Buy and Sell Shares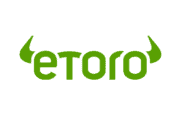 eToro is an online trading platform that was founded in 2006 and has become one of the favorite trading platforms thanks to its user-friendliness and the variety of social trading tools. eToro offers a range of more than 2400 assets including a huge selection of popular stocks and Exchange Traded Funds (ETFs) from different exchanges around the globe.
Best of all, being a CFD brokerage eToro does not charge any fixed trading commissions when you buy and sell shares on its platform. Further, not only you are not required to pay account management fees, but the broker also absorbs Stamp Duty and other Financial Transaction Tax for clients where applicable.
The great thing with eToro is that, unlike other UK trading platforms, it offers the most user-friendly and extensive social trading platform in the world with more than 17 million users. As such, you'll be able to connect with other traders, and even automatically copy the trades of other top-performing investors by using an innovative tool called CopyTrade. Further, you can invest directly in built-in managed portfolios using another tool known as CopyPortfolios.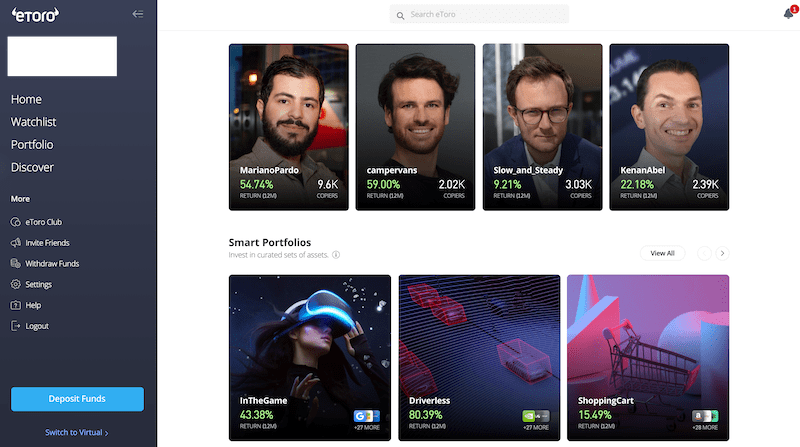 Finally, eToro is safe and regulated by several regulators including the UK's Financial Conduct Authority. To get started, you need to meet a minimum deposit requirement of just $200, which is around 146 GBP. However, the great thing with eToro is that it gives you unlimited access to a demo trading account and you can start trading the demo account before you add funds and start trading with real money.
Pros:
Zero fixed trading commissions when selling shares
Tight spreads
The largest social trading platform in the world – supports the copy trade and copy portfolios
Great trading platform on desktop and mobile app
Unlimited demo account
Regulated by the FCA
Cons:
Small withdrawal flat fee
Charges overnight fee
67% of retail investors lose money trading CFDs at this site.
2. Fineco Bank – Top Rated Online Share Dealing Platform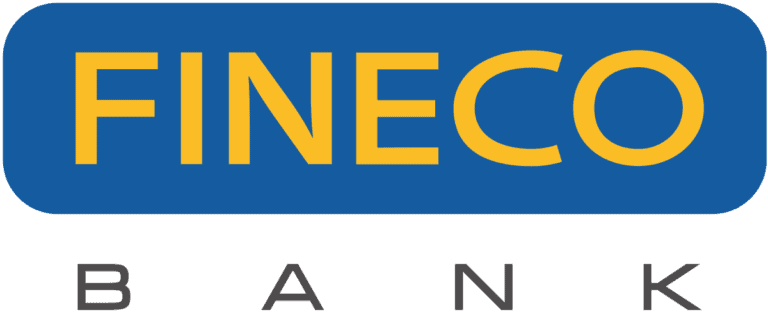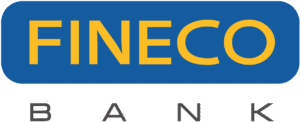 Another platform that offers extensive options to trade shares is Fineco Bank, an Italian bank that was founded in 1999 and specializes in online brokerage services. While eToro offers users to trade CFDs, FinecoBank offers an extensive trading arena that includes buying and selling shares outright or in the form of CFDs.
If you choose the second option, you'll be able to use a leverage ratio of 30:1 when you buy and sell US and UK shares. However, you should take into consideration that the range of shares is fairly limited when compared to other CFD platforms.
Otherwise, you can use FinecoBank to buy US shares, UK shares, and international shares outright – meaning directly from exchanges. In this case, the cost of buying and selling shares is just $3.95 and the broker has zero FX conversion rates. Best of all, if you open a share dealing account at Fineco, you'll get a sign-up bonus that gives you 100 free trades.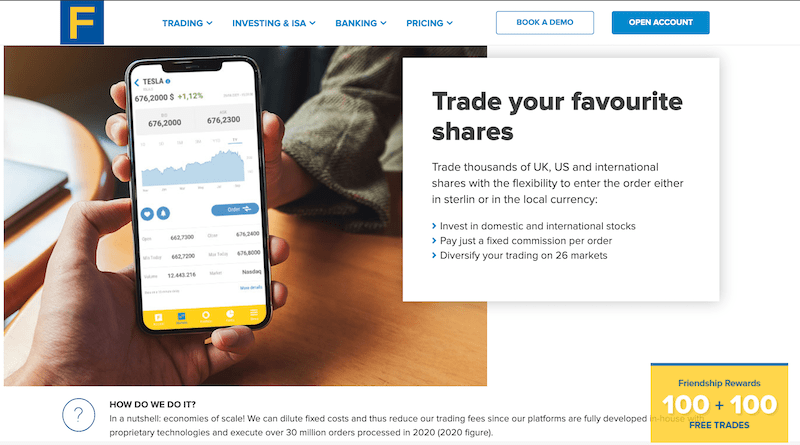 When it comes to trading platforms, Fineco offers two options – a web trading platform that is easy to use and suited beginner investors and a professional trading platform known as the PowerDesk. At last, much like eToro, Fneco is regulated by the FCA and is a safe and trusted brokerage firm.
Pros:
Low-cost share dealing platform
Allows you to trade shares outright or via CFDs
Over 20,000 financial instruments
Commission-free CFD trading – Low spreads
Supports two trading platforms – web trading and PowerDesk
A heavily regulated brokerage firm
Cons:
A limited number of shares for CFDs when compared to other brokers
No social trading tools
Your capital is at risk.
Conclusion
The bottom line, selling shares is another cost that people often don't take into consideration. However, brokerage firms charge investors for each trade they make, including selling their shares. This means you'll have to find a broker that will meet your trading demands and gives you the best trading conditions to trade shares.
From our research, eToro is one of the best online investment platforms in the UK to buy and sell shares as it does not charge any trading fees and offers an extensive range of over 800 shares. The cost of selling shares on this platform is zero, which means you'll simply have to pay the spread only. Additionally, it is also heavily regulated and provides some of the best trading tools in the trading world that include a user-friendly platform the CopyTrade, and the CopyPortfolios,
eToro – Best Online Trading Platform to Buy and Sell Shares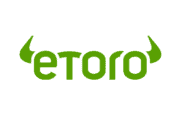 67% of retail investors lose money trading CFDs at this site.
FAQs
How much does it cost to sell shares?
Can I sell shares for free?
What is the cheapest broker for selling shares in the UK?