Absolute Markets Review UK – Fees, Features, Pros and Cons Revealed
Fact Checked
Everything you read on our site is provided by expert writers who have many years of experience in the financial markets and have written for other top financial publications. Every piece of information here is fact-checked.
Disclosure
Please note that we are not authorised to provide any investment advice. The information on this page should be construed for information purposes only. We may earn commissions from the products mentioned on this site.
Trading stock markets can be a great way to generate extra income. However, in order to gain access to markets, you must trade through a broker. There are many brokers out there, all boasting unique features. If you are currently looking for a low fee, multi-asset class broker where you can easily trade a host of financial assets, then Absolute Markets could be a great choice.
In this article, we are going to take a closer look at Absolute Markets, including which assets you can trade, its fees and commission, its tools, and much more. We will also cover an in-depth guide on how you can set up an account and start trading immediately.
What is Absolute Markets?
Absolute Markets is a multi-asset online broker. Since being founded, it has grown to over 5400 users in over 170 countries. This highlights the growing popularity and extensive presence of the platform. It is available on both Google Play and the App Store making it widely accessible to users. It also has a 4.9-star rating on Trustpilot. The platform has also received numerous accolades including The Fastest Growing Forex Broker and The Best Trading Experience at the World Finance Awards.
The platform primarily offers Forex trading, with over 100 currency pairs available to trade. Alongside this, it offers spots, futures, stocks, commodities, and a whole host of cryptos. This makes the platform a great choice for users who wish to build a diversified portfolio. Absolute Markets aims for extremely fast execution times, which can be as low as 0.01 seconds per trade. In addition to this, spreads are pretty tight, coming in at around 2 pips per trade.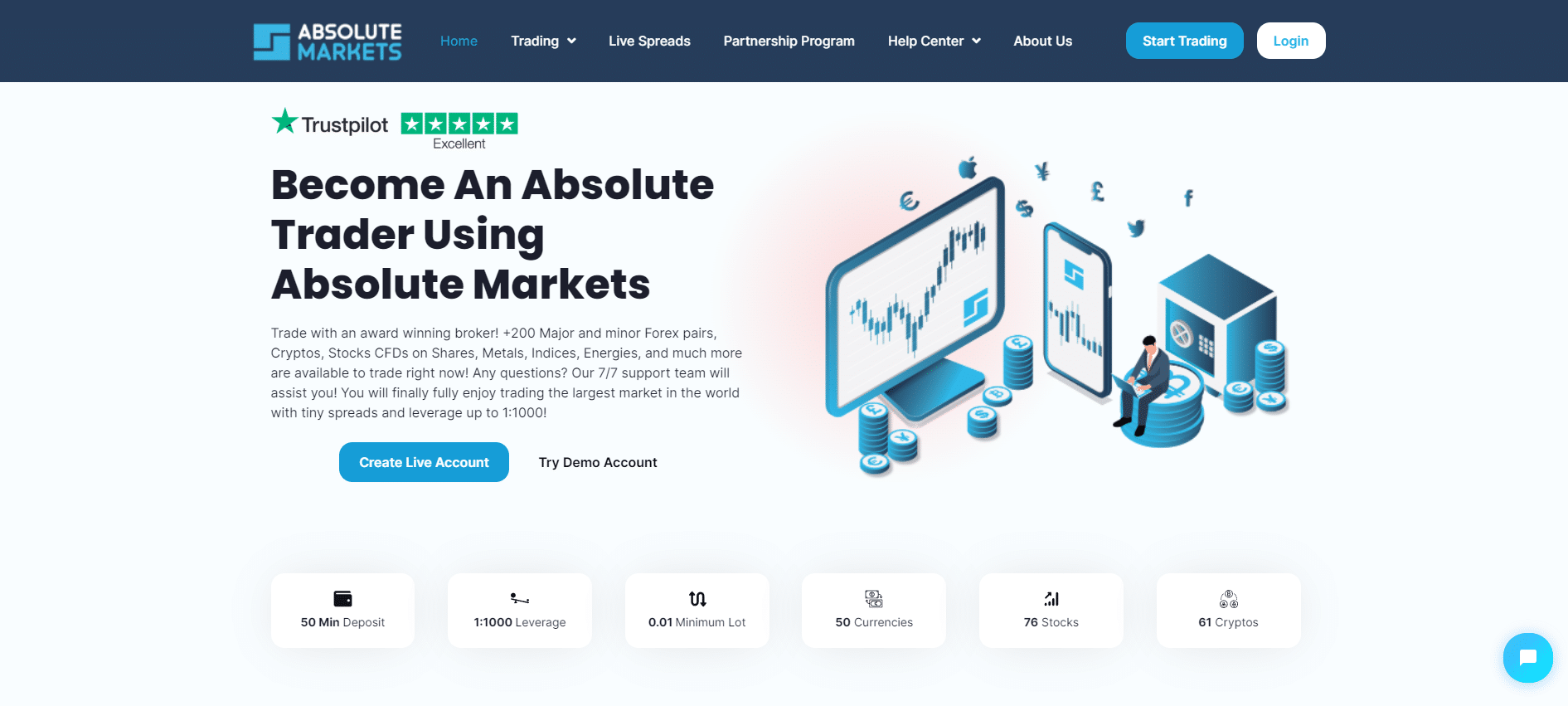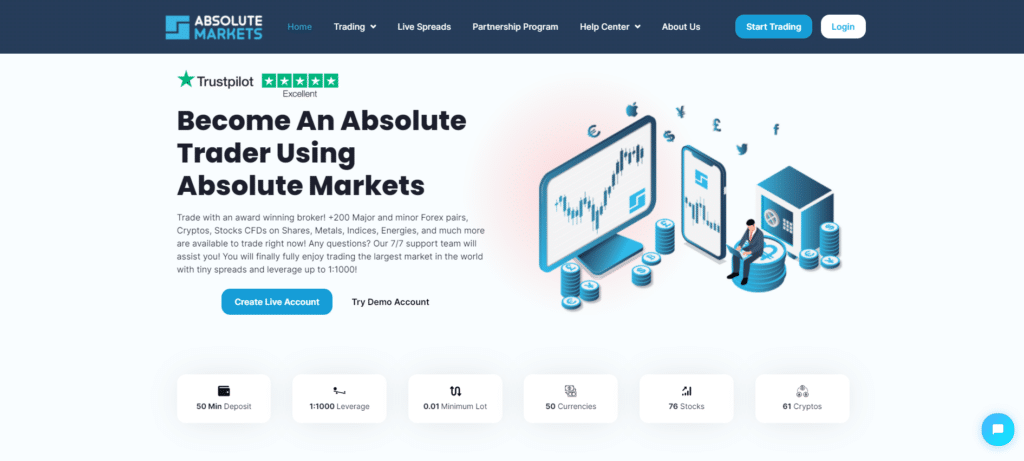 The platform has MetaTrader 4 integrated into it, which is the most downloaded trading app. It also has WebTrader integration, which enhances the overall trading experience. This makes it a great share dealing account.
Users also gain access to a comprehensive economic calendar, which is an essential tool for traders trading currency fluctuations. There is also a dedicated customer hotline for any issues that users may encounter whilst using the platform.
Financial assets and crypto assets can be highly volatile.
What Assets can I Trade at Absolute Markets?
As mentioned, users can trade a host of financial assets on Absolute Markets. However, the primary focus of the platform is on Forex markets. Let's take a closer look at each of the assets that Absolute Markets offers:
Stocks and commodities
The platform gives users access to 76 top stocks. These include all the mega-cap blue-chip stocks that are most highly traded, for example, Apple, Microsoft, and Amazon. For each of these stocks, a detailed price chart is available, with additional analysis options too. Users can enjoy super-fast order speeds on all stocks, alongside zero commission and tight spreads.
Crypto
Absolute Markets offers a whopping 61 cryptos. For context, this is more than some of the best investment platforms in the world like eToro and Trading212. Some of the most popular crypto trading pairs available on Absolute Markets include BTC/USD, ETH/USD, XRP/USD, and LTC/USD. For all cryptos, there are advanced charting and analysis tools that users gain access to.
World indices
If you are after a lower-risk investment, then you may wish to invest in an index fund or start indices trading. These track markets and tend to give low consistent returns over long periods of time. Absolute Markets gives users access to some of the worlds leading indices including the FTSE 100, S&P 500, Nasdaq, and the Dow Jones Industrial Average. There are trading tools available for all of these indices.
Spots/futures
Another asset class offered by Absolute Markets is spots and futures contracts. This really sets the platform aside as most smaller brokers don't offer such complex financial instruments. Popular spots include XAGAUD, XAGGBP, XAUEUR, and XAUUSD. There are three futures supported which are Natural Gas, Brent Crude oil, and WTI Crude oil.
Financial assets and crypto assets can be highly volatile.
Absolute Markets Fees, Charges, and Commissions
As mentioned, Absolute Markets is a very cheap broker to trade with. In this next section, we are going to break down the pricing of the platform, identifying all the costs that users should be aware of. Let's dive in.
Zero commission
Absolute Markets charges zero commission on all trades. The commission is defined as a small amount taken per trade (usually between 1% and 5% depending on the broker). This commission usually varies by lot size traded. However, you don't have to worry about any of this when trading with Absolute Markets as it's completely commission-free! This can be great for low-cost trading. The zero-commission plan extends to all assets across the platform, meaning users should save considerable amounts over the long term when using Absolute Markets.
Low spreads
Absolute Markets makes its money from charging spreads on trades. What this means is that it will charge slightly extended bid and offer prices from the direct market price, hence pocketing the difference. What is cool about Absolute Markets is that it has a live spread tracker on its website, which means you can constantly check spreads. For the Micro account ($50 minimum deposit), the spreads are as low as 1.4 pips. For the Variable account ($100 minimum deposit), the spreads are as low as 1.2 pips. For the ECN account ($500 minimum deposit), the spreads are as low as 0.1 pips. Finally, for Absolute Markets' premium account plan, the VIP ECN plan ($5000 minimum deposit), users will be quoted direct market prices, hence paying 0 pips in spreads.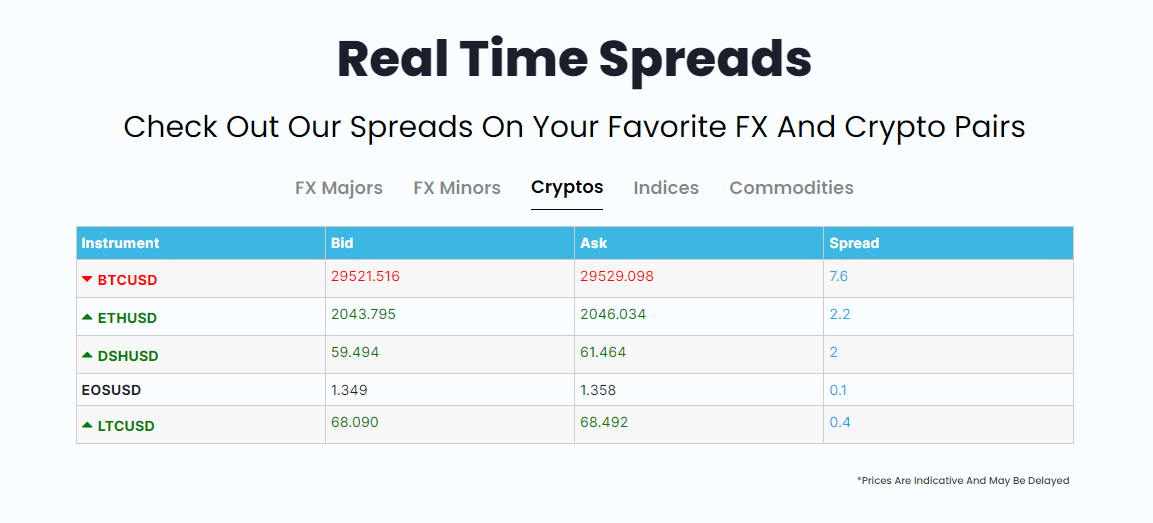 Absolute Markets Leverage
Leverage can be a very useful tool to trade with and can allow users to generate much higher returns with the same amount of capital. However, this works both ways and hence it is also a potentially very dangerous tool that can lead to huge losses if used incorrectly. Therefore, we advise that you only use leverage if you are an experienced trader, and you should be very sceptical of using anything over 5x leverage, as this could lead to devastating losses. Leverage ratios are closely monitored by the ESMA in order to protect traders.
Absolute Markets advertise a 1:1000 leverage ratio, which doesn't seem very plausible. This means that if you were trading a $5000 lot, you could get liquidity of up to $5m. It is highly unlikely that Absolute Markets would be able to fulfill this request, and hence we are sceptical about this claim. If the claim is correct, then we strongly advise against using such high leverage.
Financial assets and crypto assets can be highly volatile.
Absolute Markets Trading Platforms and Tools
Absolute Markets offer numerous tools to traders, which is very appealing to users. We are going to focus on the MT4 integration, Copy Trader PAMM account, the Partnership Programme, and WebTrader tools. Absolute Markets also offers a trading app, which we will look at closer in the next section.
Absolute Markets WebTrader
WebTrader is Absolute Markets' web-based platform. It allows users to chart stocks online, and quickly buy and sell them all through one central interface. It is very easy to use, and easy to navigate around, which makes it a great option to trade with.
MT4 integration
Alongside the WebTrader function, Absolute Markets offers MetaTrader 4 integration, making it one of the best MT4 brokers out there. Once you have created your Absolute Markets account, you can download the MT4 app on your IOS and Android phone to benefit from its extended tools.
These tools include a plethora of order types, over 30 different technical indicators, and 9 different charting timeframes. The user face can also be customised to personal preference, which can help make some of the tools easier to apply.
Copy Trader account
The copy trading PAMM account allows users to monitor their favourite trader's moves and orders. This can be great for keeping up with market movements and learning from more advanced traders. In addition to this, you can also create a trading strategy yourself, then earn a commission each time the strategy is used.
Partnership Programme
You can earn up to $700 per deposit by being affiliated with the Absolute Markets partnership program. What this essentially means is that people who become an affiliate can earn money for referrals to other users. If you have spare time, then this can be a great way to earn more money from the platform.
Absolute Markets App
Absolute Markets does not have its own app as such, however, as explained above it uses MetaTrader 4 in order to give access to accounts on phones. Although most brokers have popular trading apps, MT4 is a highly distinguished app, and hence seems smart to outsource this capability to n external provider. Whilst there isn't an app available, as mentioned users can still access their Absolute Markets accounts directly through MT4, which means they can still trade whilst being away from their desk and WebTrader account. There is also great charting and technical capabilities on MT4, so users can rest assured they won't miss out.
Education and Research at Absolute Markets
There is currently no educational resources or research on the Absolute Markets website. This is a little disappointing, especially considering the website seems like it's catered to beginner investors. However, there is the option to try a demo MT4 account, which can be good for beginners to learn more about trading and trading strategies with zero risk. There is also a very extensive FAQ page, which has a dedicated section for trading. In addition to this, the Instagram page has a host of useful posts which help users set up accounts.
Deposits and Withdrawals
Users can deposit a minimum of $50 with the most basic account. This is good for users who wish to trade with relatively low liquidity, but the spreads are slightly larger per transaction. Users who wish to trade larger sums can enjoy a much lower spread but will have to deposit $5000 to do so. Deposits can be added through numerous payment methods, including debit/credit cards, bank transfers, and cryptos like Bitcoin, Ethereum, and Tether. All of these cost $0 to deposit and are deposited instantly to your account with the exception of international bank transfer which can take up to 5 days and costs $200.
The withdrawal process offers the same set of payment options, however, the fees are higher. Bank transfer costs $100 to withdraw and can take up to 5 days. Bitcoin charges 0.5%, Tether 1.99%, and Ethereum 1%+0.006 ETH. Most of these payment options take up to 24 hours. A detailed chart of all the withdrawal costs can be found below: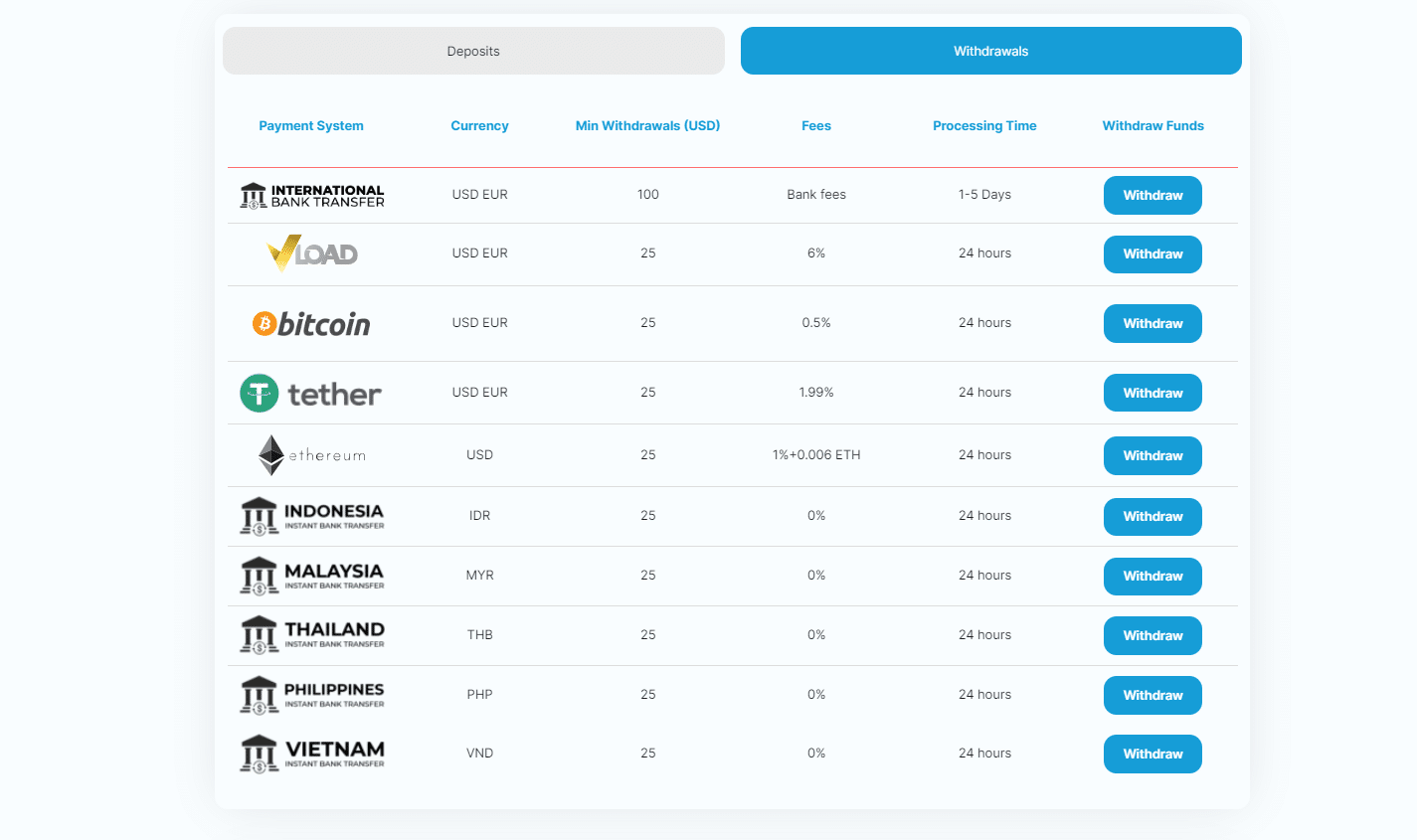 Is Absolute Markets Safe?
Absolute Markets seems like a reputable company based on surface level research. It also has a 4.9-star Trustpilot rating, with over 170 5-star reviews. This leads us to believe the broker is legit. In addition to this, it has some inbuilt safety features, for example, the stop-out tool which is in line with the Negative Balance Protection Act. This will immediately stop out all of your trades when you reach a negative 30% in your trading account. This helps protect against substantial losses to your portfolio and individual wealth.
The broker is regulated by St Vincent and The Grenadines Financial Services Authority (SVGFSA).
Financial assets and crypto assets can be highly volatile.
How to Get Started at Absolute Markets?
Before we finish up with this article, we are going to take you through an in-depth guide on how you can set up a trading account with Absolute Markets. The whole process can be completed online and should take no longer than an hour.
Step 1: Set up account
The first step is to set up your account. Simply visit the online site, click the sign-up button, and fill in the on-screen form. You will have to provide a telephone number at this stage.
Step 2: Verify your account
This is a typical step with most brokers. You need to provide Absolute Markets with some forms of ID in order to verify your account. This step is automated and should be completed quickly.
Step 3: Deposit funds
Now you have verified your account, you can deposit funds. This can be done using a variety of different payment methods explained above. To recap, these include bank transfer, debit/credit cards, Bitcoin, Ethereum, and Tether.
Step 4: Start Trading
Now you have a verified account, you can begin trading! Search for your chosen asset using the search bar or copy a friend's trading strategy. You can then fill out an order form to complete the trade and add the asset to your portfolio.
Financial assets and crypto assets can be highly volatile.
Absolute Markets Pros and Cons:
Pros:
Trade a wide variety of financial assets
Trade over 60 cryptos
4 account types to choose from
Full MT4 integration
Accepts numerous payment options
User friendly account
WebTrader integration
Zero commission
Cons:
High withdrawal fees
Questions about regulation
Accepted Countries
Absolute Markets accepts traders from a wide variety of countries across the world, including the UK and the US.
Absolute Markets Review – The Verdict
Overall, this article should have covered everything you need to know about Absolute Markets, from its history, who it is, its pros and cons, and how to set up an account. The platform seems like a great option for traders who want access to a variety of financial assets. The MT4 integration means that all these assets can be traded on a smartphone or tablet, which is a great point to consider. The platform is also regulated by the SVGFSA.
If you want to get started with an Absolute Markets account, then click the link below. The account setup process is quick and easy and should take no longer than an hour to complete.
Financial assets and crypto assets can be highly volatile.
Is Absolute Markets safe?
What assets can I get on Absolute Markets?
Does Absolute Markets offer shares?
What trading platforms do Absolute Markets offer?
What is the minimum deposit at Absolute Markets?