Skilling is a relatively new CFD broker designed to give traders in the UK and beyond more control over their money. This broker offers several different trading platforms to cater to the needs of beginner and expert traders alike. For a relatively new trading platform, it also offers an impressive range of assets to trade.
In our Skilling review, we'll cover everything you need to know about this upstart trading platform.
What is Skilling?
Skilling LTD is an online CFD broker founded in 2016. The private company is owned by a group of Scandinavian investors from Sweden and is based in Nicosia in Cyprus.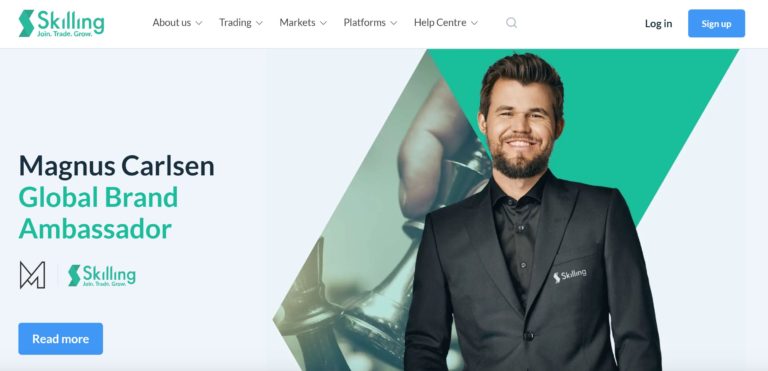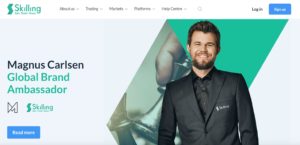 Skilling differentiates itself by offering a wide selection of CFDs for stock trading and forex trading. The broker also supports limited commodity and cryptocurrency trading through CFDs, so there's a range of financial instruments overall.
The goal of this platform is to be as convenient as possible for both beginners and experienced traders, whilst offering the advanced CFD trading tools necessary for success. To that end, Skilling offers two different versions of its own trading platform – one for trading and analysis, and another for advanced analysis and algorithmic trading – plus the MetaTrader 4 platform for forex trading. Skilling also has mobile trading apps that you can use to trade on the go.
What Shares Can You Buy on Skilling?
Skilling offers more than 700 shares through CFDs. The majority of stocks available are traded on exchanges in New York, London, and across Europe, but there are also a handful of CFDs for stocks on the Tokyo and Hong Kong Stock Exchanges. All share CFDs can be traded using a maximum leverage of 1:5.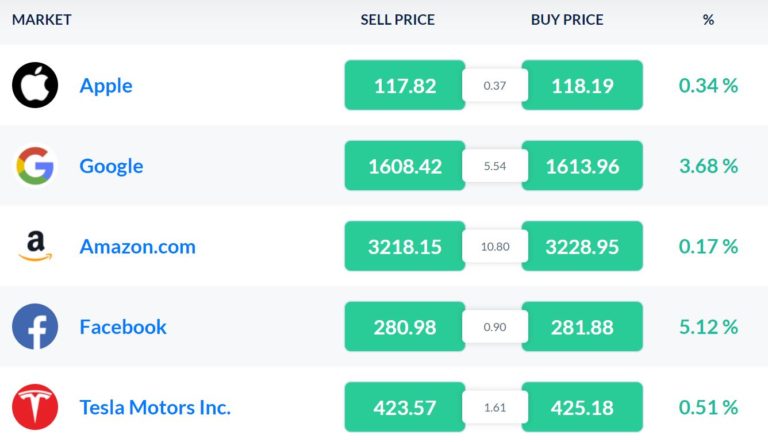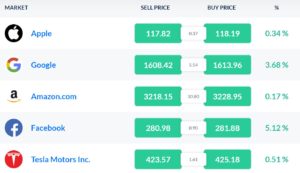 Skilling offers an additional 17 stock index CFDs, which trade with leverage up to 20:1. These are country-specific and cover most developed economies, including China. Notably, Skilling does not offer ETF trading at this time.
Forex Trading
Skilling is also well-known as a forex broker and its account offerings are primarily focused on forex trading. Skilling has 73 forex currency pairs available as CFDs with leverage up to 1:30 for major forex pairs and 1:20 for all other pairs. The selection of minor and exotic forex pairs at Skilling compares very favourably to online forex brokers in the United Kingdom that have been operating for decades.


Commodities and Cryptocurrencies
Skilling also offers a limited selection of commodity CFDs and cryptocurrency CFDs. Commodity CFDs include gold, silver, platinum, crude oil, and natural gas. Gold trading allows leverage up to 1:20, while all other commodities allow 1:10 leverage. There is currently no agricultural commodity trading available through this broker.
Skilling has cryptocurrency CFDs available for the ten most popular coins, including Bitcoin, Ethereum, Litecoin, Ripple and Bitcoin Cash. These can be traded with leverage up to 1:2. Remember that cryptocurrencies are complex instruments with a high risk factor.
Skilling Fees & Commissions
Unless you sign up for a Premium forex trading account, which we'll cover below, Skilling is a 100% commission-free broker. There are no commissions under any circumstances for stock, index, or cryptocurrency trading.
Spreads vary by share, but they are typically very reasonable. Our research of share CFDs found an average spread of around 0.3%, or 30 pips. Many popular US shares traded with spreads closer to 0.1%. This is on par with other low-cost CFD brokers in the UK. Notably, Skilling is up front about the minimum spread and average spread for every share CFD the broker offers.
Forex Trading Accounts and Fees
For forex and metal CFD trading, Skilling offer two different account types. The Standard Skilling account is completely commission-free, but charges relatively higher spreads. Spreads start at 0.7 pips, or 0.007%, for the popular EUR/USD forex pair. It's also worth noting that the Standard account has a low minimum deposit of just £100 and is recommended for retail clients.
Standard Account
Premium Account
Trading Platform
Skilling Trader

Skilling cTrader

Skilling MetaTrader 4

Skilling Trader

Skilling cTrader

Commissions
None
$35 per million
Spreads
From 0.7 pips
From 0.1 pips
Minimum deposit
€100
€5000
Leverage (Retail)
1:30
1:30
Leverage (Professional)
1:200
1:200
Micro Lot Trading?
Yes
Yes
Currency Pairs
73
73
The Premium account charges commissions on forex and spot metal CFD trades in exchange for lower spreads. The commission is $35 (around £27) per million dollars of contracts traded. However, the minimum spread for the EUR/USD pair drops from 0.7 pips to just 0.1 pip. The Premium account requires a minimum deposit of £5,000 and it is generally most suitable for scalping trading and professional traders.
Account Fees
One nice thing about Skilling is that the broker charges very few account fees. There are no deposit or withdrawal fees and no monthly platform fees, regardless of whether you have a Standard or Premium account.
Skilling does charge an inactivity fee, but it's very reasonable. You pay £10 after a year of inactivity, and then £10 again only if an entire additional year goes by. It's not a monthly charge, as is the case at most other brokers that charge this type of fee.
Skilling Platform and Trading Tools
Skilling offers three different trading platforms: Skilling Trader, Skilling cTrader, and Skilling MetaTrader 4. Trader and cTrader are nearly identical, except that cTrader adds the ability to set up algorithmic trading.
Skilling Trader: Charts
Skilling Trader offers reasonable. You can switch between several chart types, including candlesticks, Heikin Ashi, Renko, point and figure, and more. There's also a wide range of time intervals, from one minute to one month. Notably for day traders, Skilling Trader doesn't offer one second or tick by tick charts.
The platform comes with 75 built-in indicators, which is fewer than comparable trading platforms. However, most popular indicators are available, so traders won't finding themselves missing too many studies. There are also plenty of drawing tools, including tools for annotating Elliot waves and pitchfork patterns.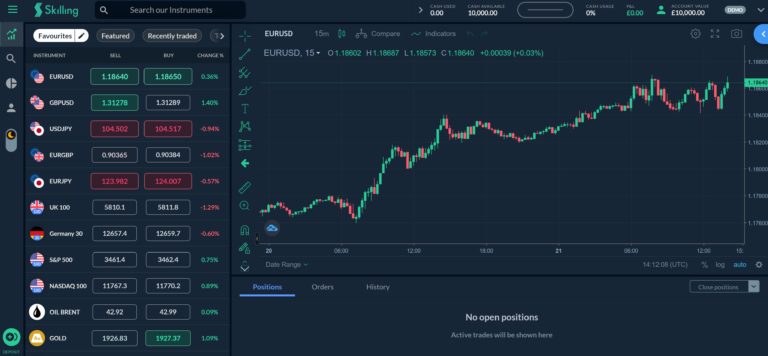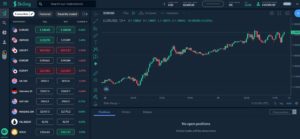 One thing about Skilling Trader is that it makes it easy to compare multiple currencies or shares in the same chart window. You can add any number of symbols simultaneously, so the software works well for deciding between two potential share CFDs.
Skilling Trader: Order Placement
You can place orders directly through the Skilling Trader platform. Order entry is relatively simple, but Skilling offers relevant information throughout the order entry process.
For example, if you're trading shares that are priced in USD, Skilling will make it clear how much your order will cost in pounds. The order interface also shows your maximum potential profit for a take-profit entry and your maximum potential loss for a stop loss.
That said, Skilling's order process isn't all that robust. The only order types available are market and limit orders, and you have almost no control over fulfilment. It's also not simple to set up multi-leg orders to automate easing into and out of positions over multiple trades.
Skilling Trader: Trade Assistant
The Skilling Trade Assistant is a useful feature within Skilling Trader for first-time traders. This tool walks you through the process of placing a trade. It first asks what type of asset you want to trade, then suggests popular trading instruments in that asset class. Trade Assistant will help you place a stop loss or take profit level, and then finalise your trade. While most traders won't need this tool, it's a huge plus for beginners who want a helping hand.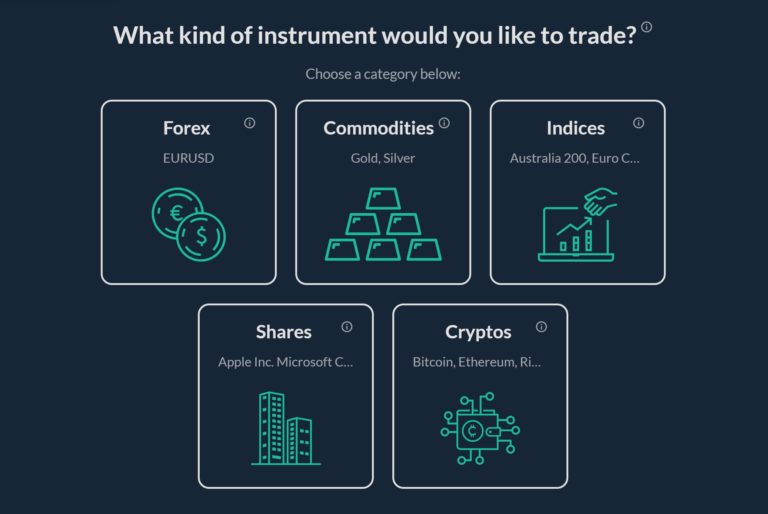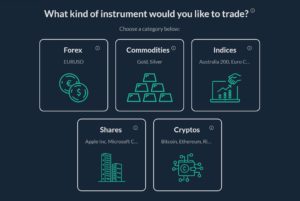 Skilling cTrader: Algorithmic Trading
cTrader is nearly identical to Trader, with the exception that it supports algorithmic trading. Algorithmic trading requires a knowledge of the C# and .net frameworks. Unfortunately, Skilling provides very little guidance about how to set up a basic trading algorithm through cTrader. As a result, it's difficult to use this feature unless you have prior algorithmic trading experience.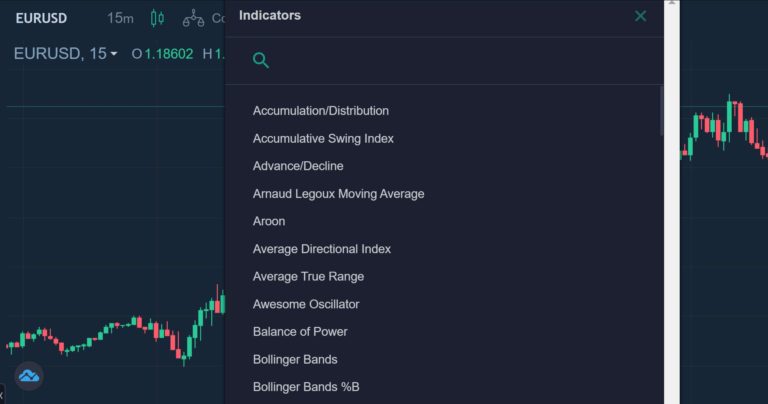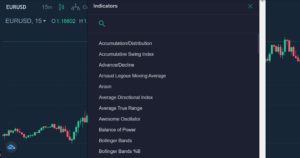 Skilling MetaTrader 4
Skilling offers access to MetaTrader 4 for all account holders. MetaTrader 4 is only suitable for forex trading, but it offers advanced traders significantly more flexibility than either Skilling Trader or cTrader. For example, you can use MetaTrader 4 to create custom indicators, build forex signals, or deploy forex robots.
Skilling Demo Account
Skilling offers a free demo account. You receive £10,000 to start off with for paper trading and you can reset your account at any time. Notably, Skilling doesn't let you access the cTrader platform's algorithmic trading features. This is somewhat disappointing since it can be very useful for advanced traders to try out these tools before committing to this broker.
Research and Analysis at Skilling
The Skilling trading platform is surprisingly light on research and technical analysis tools. There is no information provided by Skilling analysts to help inform your trading, and the 'Explore' feature within Skilling Trader does little more than highlight stocks that are popular with other traders across the brokerage.
Skilling Trader does come with a new feed, but it's far from awe-inspiring. The feed only sources stories from Investing.com. It's not searchable and cannot be customised based on your watchlist or recent trades.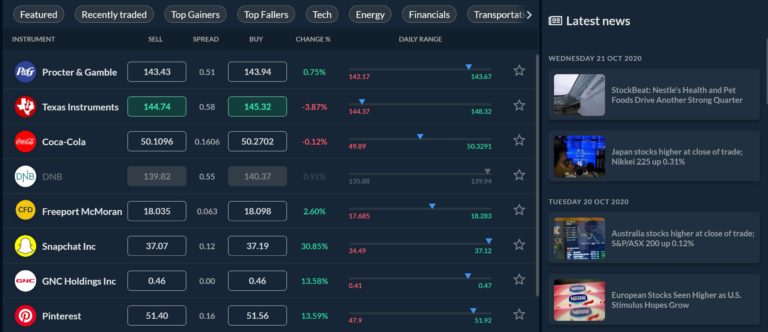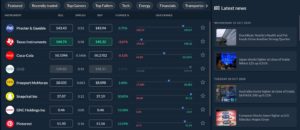 Skilling does offer some online education. There are five 'courses,' although each course consists simply of a handful of plain-text articles. This might be helpful for a brand-new trader, but it's not the type of in-depth resource that might help you take your trading to the next level.
Skilling App
The Skilling Trader mobile app can be download from the Apple App Store or Google Play Store and preserves nearly all of the features of the web interface and adapts them for a smaller, vertical-oriented mobile screen. You can access nearly the full suite of charting features, including technical indicators. One notable missing feature, though, is the ability to compare multiple stocks on the same chart.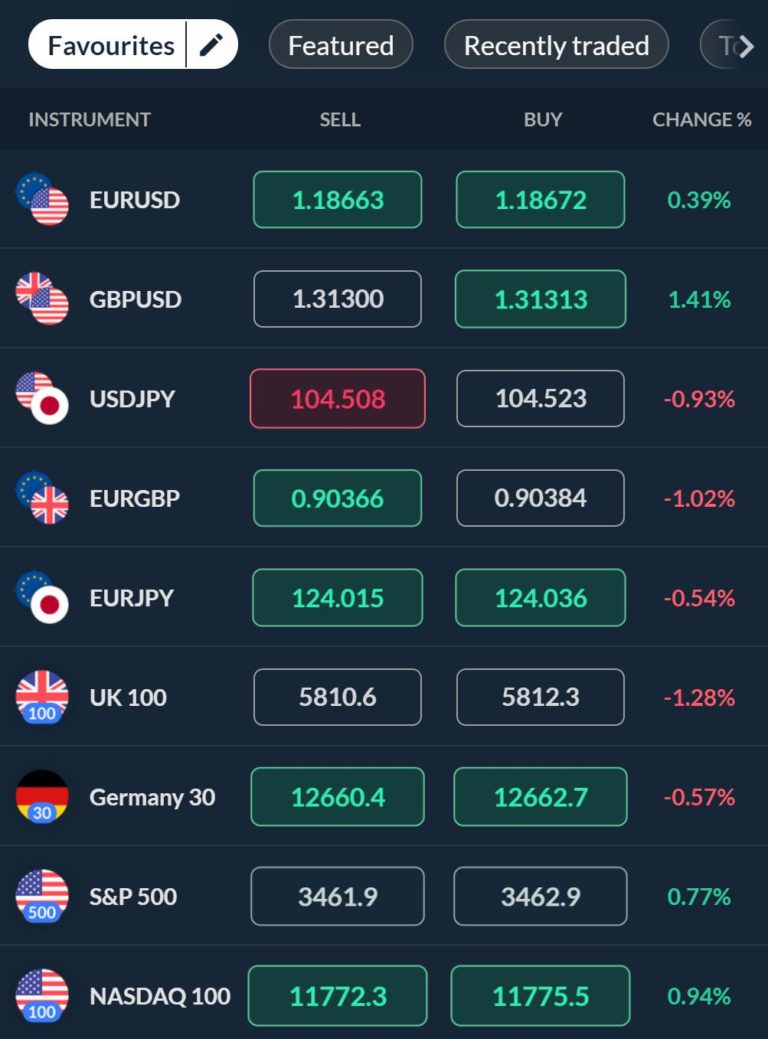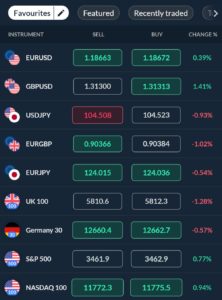 The mobile app is fairly easy to navigate, with a pop-out menu that saves screen space. You can save watchlist stocks and other assets to a favourites menu, which serves as a watchlist. These stocks appear on the app's home screen when you first open the app.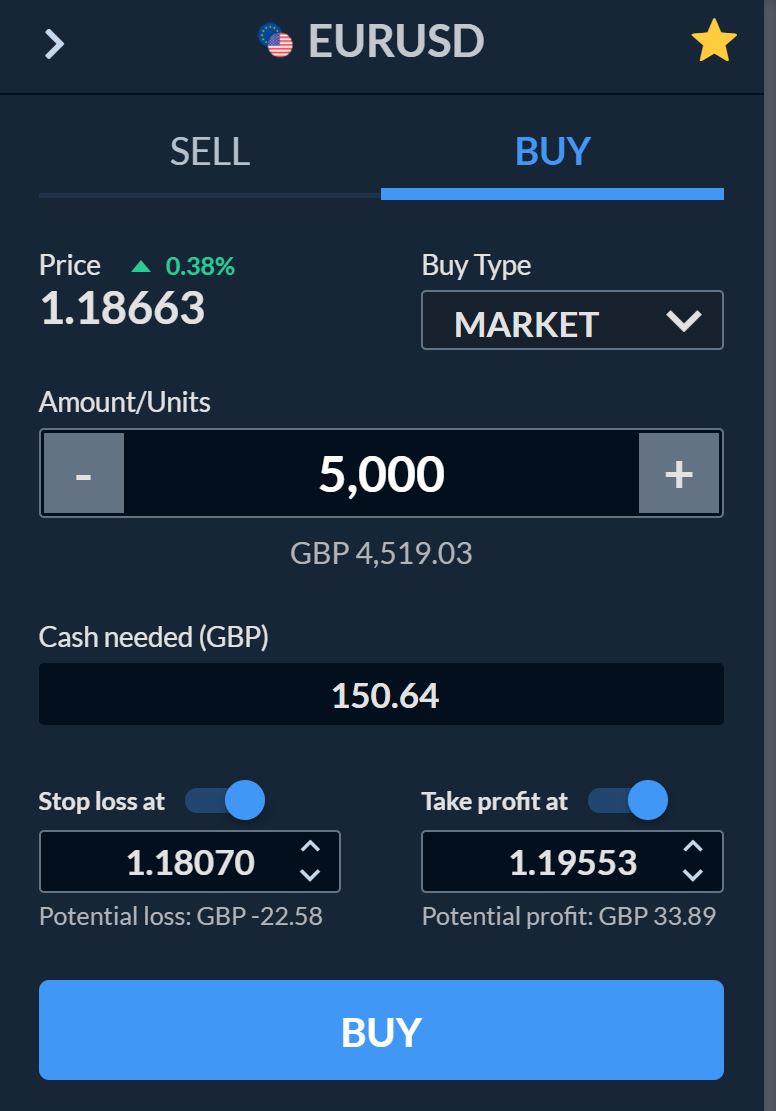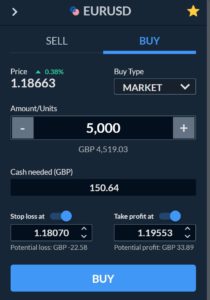 Payments at Skilling
Skilling requires a minimum deposit of €100 for a Standard account and €5000 for a Premium account. There are no deposit fees and the company offers a variety of payment methods, including bank transfer, wire transfer and credit/debit card. You can also pay with an e-wallet from Neteller, Skrill, or Trustly. Notably, the minimum amount you can withdraw is €50, which is the same regardless of the payment method. The table below presents a breakdown of the payment methods offered, along with their fees and withdrawal timeframes.
| | | |
| --- | --- | --- |
| Payment Method | Fee | Withdrawal Time |
| Credit/Debit Card | None | One working day |
| Trustly | None | One working day |
| Skrill | Up to 2.9% | One working day |
| Neteller | Up to 2.9% | One working day |
| Klarna | None | One working day |
| Swish | None | One working day |
Customer Service at Skilling
Skilling doesn't offer the same 24/5 or 24/7 customer service hours as many competing forex brokers. However, the broker still takes customer support seriously and makes agents available between 7 AM and 8 PM GMT by phone, live chat, and email. The brokerage also has a basic FAQs section on its website where you'll find instructions for how to deposit funds and place your first trade.
You can get in touch with Skilling by calling (357) 222-7610 or emailing [email protected].


Is Skilling Safe?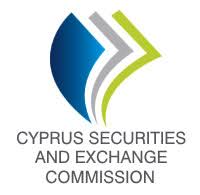 Since Skilling was only founded in 2016, it doesn't have as long a track record of handling traders' funds as many other online brokers in the UK.
First of all, Skilling is regulated by the Cyprus Securities and Exchange Commission. While this isn't considered a global financial regulator like the FCA, CySEC is generally trusted and has stringent rules for how brokerages can operate. For example, Skilling must keep at least €750,000 in cash on hand in case of a rainy day and submit regular financial reports to the agency.
Skilling also offers all UK investors negative balance protection. That means that even when you're trading with leverage, you can never lose more money than you have deposited in your trading account.
Finally, UK trading accounts at Skilling are backed by the UK's Financial Services Compensation Scheme. In case anything ever happens to the broker, you are eligible for up to £85,000 in reimbursement from the government.
The Verdict
Skilling is a relatively new CFD broker that aims to offer convenient trading platforms for traders of all stripes. It offers trading on more than 700 shares and 70 forex pairs with no commissions on share trading and a low minimum deposit.
Sponsored ad. Your capital is at risk.
FAQs – All your questions about Skilling answered
Is Skilling suitable for day trading?
Can I use MetaTrader 5 with Skilling?
Is Skilling a publicly-traded company?
Is Skilling Trader available as a desktop platform?
Does Skilling offer templates for algorithmic trading?