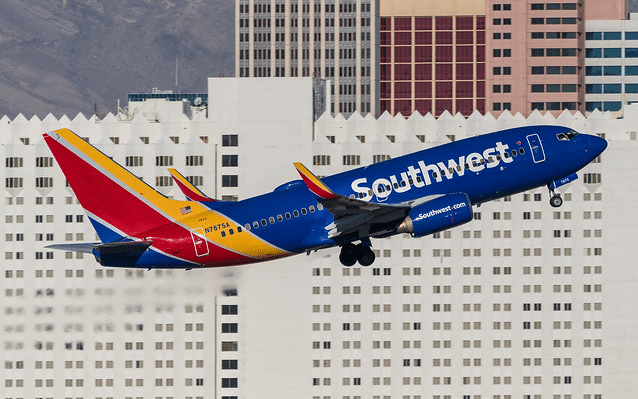 The price of Southwest Airlines stock has been going down steadily in the past three months as concerns about the spread of the Delta variant have plunged airline stocks to their lowest momentum readings since the 2020 market crash.
In the United States specifically, the most important market for Southwest Airlines, the number of daily cases has been surging to around 40,000 and, even though a decent percentage of the population has been vaccinated, the company's recovery could still be affected by a prolonged downturn in passenger volumes.
With the stock already down 8.6% in July and almost 25% since its mid-April peak, could this be an opportunity to purchase one of the most well-managed airlines in the world at a low price?
Join me in the following Southwest Airlines share price forecast ahead of the company's Q2 2021 earnings report to find an answer to that question.
What are analysts expecting from Southwest for Q2 2021?
Southwest revenues have been progressively recovering since a terrible first quarter of 2020 when the company reported its first quarterly loss in nine years, with revenues landing at $1 billion back then while losses amplified from $94 million during Q1 2020 to as much as $1.16 billion by the end of the third quarter of last year.
However, revenues have been picking up progressively, landing at $2 billion in the past two quarters while the company swung to profitability during the first quarter of 2021.
For this second quarter of the year, the consensus compiled by Seeking Alpha for Southwest's sales is standing at $3.92 billion, resulting in a 288% jump compared to a year ago, with the lowest estimate currently sitting at $3.6 billion and the highest at $4.11 billion.
Analysts expect that strong demand during the summer season might provide a boost to Southwest's top-line results, while passenger throughput, as indicated by TSA screenings, shows that traffic volumes are moving closer to their pre-pandemic levels, ranging between 60% and 80% of the numbers seen back then during June.
Back in the second quarter of 2019, Southwest brought in $5.9 billion in revenue, which means that the consensus estimate is seeing sales landing at around 66% of those levels already for the Texas-based carrier.
As for its profitability, Southwest's gross margins have been recovering lately but were still negative by the end of the previous quarter. Before the pandemic stroked, those margins ranged from 20% to 30% depending on fuel prices, load factors, and average ticket fares. For this quarter, analysts appear to be expecting to see positive gross margins landing in the low-single-digit area.
Meanwhile, losses are expected to land at $0.26 per share, with the most optimistic consensus currently standing at minus $0.05. This results in a forecasted net loss of approximately $150 million for a negative net margin of 4.2%.
By the end of the first quarter of 2021, the company had $14 billion in cash while it reported $1 extra billion in a revolving credit facility. Additionally, Southwest has been negotiating multiple credit lines with the Treasury Department to further strengthen its balance sheet while the firm's long-term debt is currently standing at around $16 billion.
Interestingly, Southwest managed to produce free cash flows of $550 million by the end of the previous quarter, which is a fairly positive development as it means that the firm is no longer burning its cash reserves.
Meanwhile, by the end of that same period, the company's net tangible value landed at $13 per share or 27% of its current market price of $48.50 per share. As for its valuation, Southwest is being valued at 15 times its forecasted earnings per share for 2022 ($3.24).
Southwest is a rare animal in today's commercial aviation landscape as the company is recovering at a faster pace than its peers. The fact that it has already managed to produce free cash flows is perhaps the most positive characteristic of this low-cost airline as it could use the cash it has at hand later on to either repurchase shares – something that has already been doing – or to pay down a portion of the debt it took during the health crisis.
If that happens, it seems likely that Southwest will be able to move its per-share profits somewhere between $4 and $4.5 in the next few years, which points to the current valuation multiple as fairly justified and attractive for a well-managed company like this one.
Meanwhile, from a technical standpoint, Southwest shares could experience further drops in the following weeks as uncertainties about the impact of the Delta variant continue to dominate the narrative for airline stocks.
A plausible landing zone for LUV shares could be found at the $44 level for a 7.3% downside risk. If shares dive that much, that would be an even more attractive opportunity to buy the stock at a fairly more conservative multiple compared to today.
Looking to buy or trade Southwest Airlines (LUV) shares now? Invest at eToro with 0% commission!
75% of retail investor accounts lose money when trading CFDs with this provider
Read next