Last week global cannabis giant Tilray released its earnings for the fiscal third quarter of 2022. The shares popped after the company reported better than expected profits. What lies ahead for Tilray and should you buy the shares now?
Tilray and Aphria merged in 2021 to create a global cannabis powerhouse. The company has international operations in both medical and adult-use cannabis. There has been a wave of consolidation in the cannabis industry as incumbents battle high competition and perennial losses. Curaleaf has also merged with Europe-based EMMAC Life Sciences. Penny cannabis company Sundial Growers has also been on an acquisition spree.
Tilray reported fiscal third-quarter earnings
Tilray reported revenues of $152 million in the quarter, which was 23% higher than the corresponding period last year. The revenues are not comparable though as the earnings in the third quarter of the fiscal year 2021 did not include the earnings of Aphria.
Looking at the revenue breakup, the company's cannabis revenues increased 32% to $55 million while the beverage revenue was $20 million in the quarter. It also reported wellness revenues of $15 million.
The company's gross profits increased to $39.8 million while it reported an adjusted EBITDA of $10.1 million. It was the 12th consecutive quarter where the company reported a positive adjusted EBITDA.
The company is the market leader in Canada, which is among the few countries which have legalized adult-use marijuana. However, Tilray has been gradually losing market share and in the fiscal third quarter, its market share in the country was around 10.2%. The market share losses have narrowed but might not have bottomed yet as the company is looking to further rationalize the number of brands that it is offering in the country.
Tilray is the market leader in Europe and its revenues in the region increased 4,000% YoY in the quarter. The company has two EU GMP facilities in the region which are located in Germany and Portugal. Its facility in Germany is the only plant producing medical cannabis in the country.
Tilray said that it has realized $76 million worth of synergies from its Aphria merger. The company's CEO Simon Irwin also provided a lot of colour on how the company plans to reach $4 billion in revenues by the fiscal year 2024 while its current annual revenue run rate is even below $1 billion.
How does Tilray plan to reach $4 billion in revenues?
Simon said during the earnings call that Europe has the potential to become a $1 billion annual revenue market for the company. It expects to generate another $1 billion in organic sales in Canada. It expects to generate between $500 million-$1 billion in revenues from the US market. However, it would ultimately depend on the legalization in the country.
Overall, the company is targeting between $2.5-$3 billion in cannabis sales by 2024 and another $1 billion from beverages.
How is Tilray targeting the US market?
Tilray has invested in Medmen and Hexo which gives it the optionality to expand in the US market as and when the legalization happens. It invested in MedMen in 2021 while the Hexo investment was made in 2022 only.
Tilray would acquire up to US$211 million of Hexo's senior secured convertible notes which were amended to give Tilray the right to convert the investment into equity at Canadian dollar 0.90 per share.
Tilray would get 10% interest in cash in the first year. After that, only half of the interest would be paid in cash while the remaining would be added to the interest.
Irwin Simon on the deal
Commenting on the deal, Simon had said "We believe this proposed Transaction would be a win-win for Tilray Brands and HEXO as it would launch a strategic partnership between two leading Canadian cannabis producers with complementary brand portfolios. For us, it provides a path for meaningful future equity ownership of HEXO, and enables us to participate in HEXO's share price appreciation as it continues to execute on its growth initiatives."
Tilray has been making several such strategic partnerships that would help it expand its reach.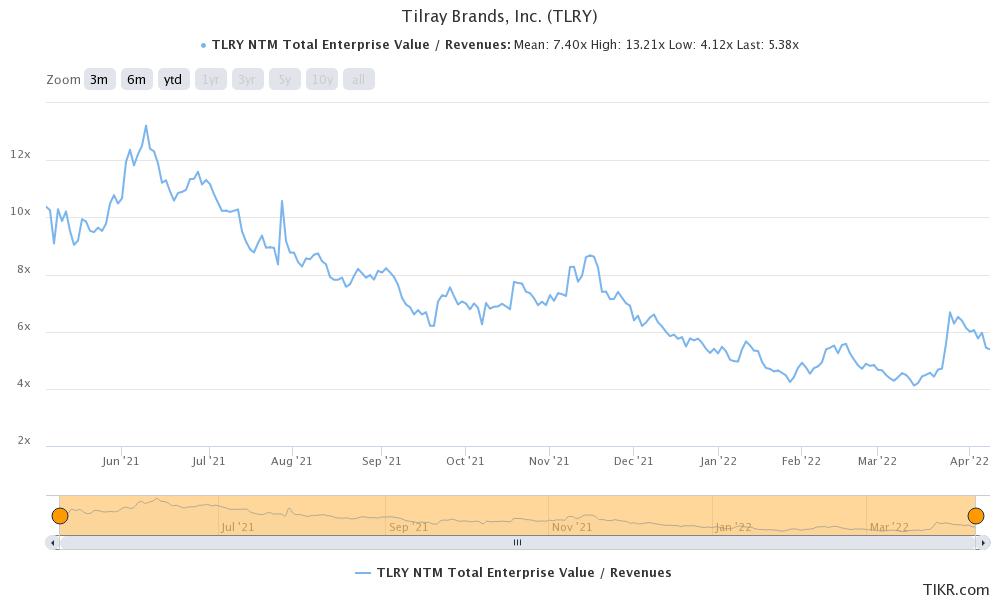 Cannabis legalization
Simon said that the US cannabis market might reach $100 billion by 2030. He added, "And even if it didn't go legal, it's still a good-sized business. Consumers want cannabis legalized … so we need to be positioned for it when that happens."
Simon also said that in the meanwhile the company is expanding its beverage and spirit business in the US. He said, "We see tremendous consumer demand for spirits and beverage, but I also come back and think one day — with infused bourbons or tequilas with THC or infused beers — there's going to be tremendous demand there, and we'll be ready for it."
The company added, "In the U.S., our SweetWater Brewing, Breckenridge Distillery, and Manitoba Harvest businesses are profitable, growing and emerging as nationwide, iconic brands with loyal followings that will be home to THC-based products upon U.S. federal legalization."
According to the estimates forecasts compiled by CNN Business, Tilray's median price target is $8, which is a premium of 25%. Its highest price target of $23 is a premium of almost 260% over current prices, while its lowest price target of $5.5 is a 14% discount to the current share price.
Of the 20 analysts covering Snowflake, only four have rated it as a buy while the remaining 14 analysts have rated it as a hold or some equivalent. Two analysts rate the stock as a sell.
Cannabis shares are ultimately a play on legalization. While several US states have already legalized adult-use marijuana, it is still illegal at the federal level. Legalization should ultimately happen as keeping it banned at the federal level does not help but instead channels more sales to the illegal market.
If the US legalized marijuana at the federal level, more countries might take a liberal view of legalizing adult-use cannabis. With a strong and healthy mix of medical and adult-use cannabis, Tilray looks well placed in the cannabis industry. The shares trade at an NTM (next-12 months) EV-to-sales multiple of around 5.4x which does not look unreasonable.
Disclaimer
All trading carries risk. Views expressed are those of the writers only. Past performance is no guarantee of future results. The opinions expressed in this Site do not constitute investment advice and independent financial advice should be sought where appropriate. This website is free for you to use but we may receive commission from the companies we feature on this site.