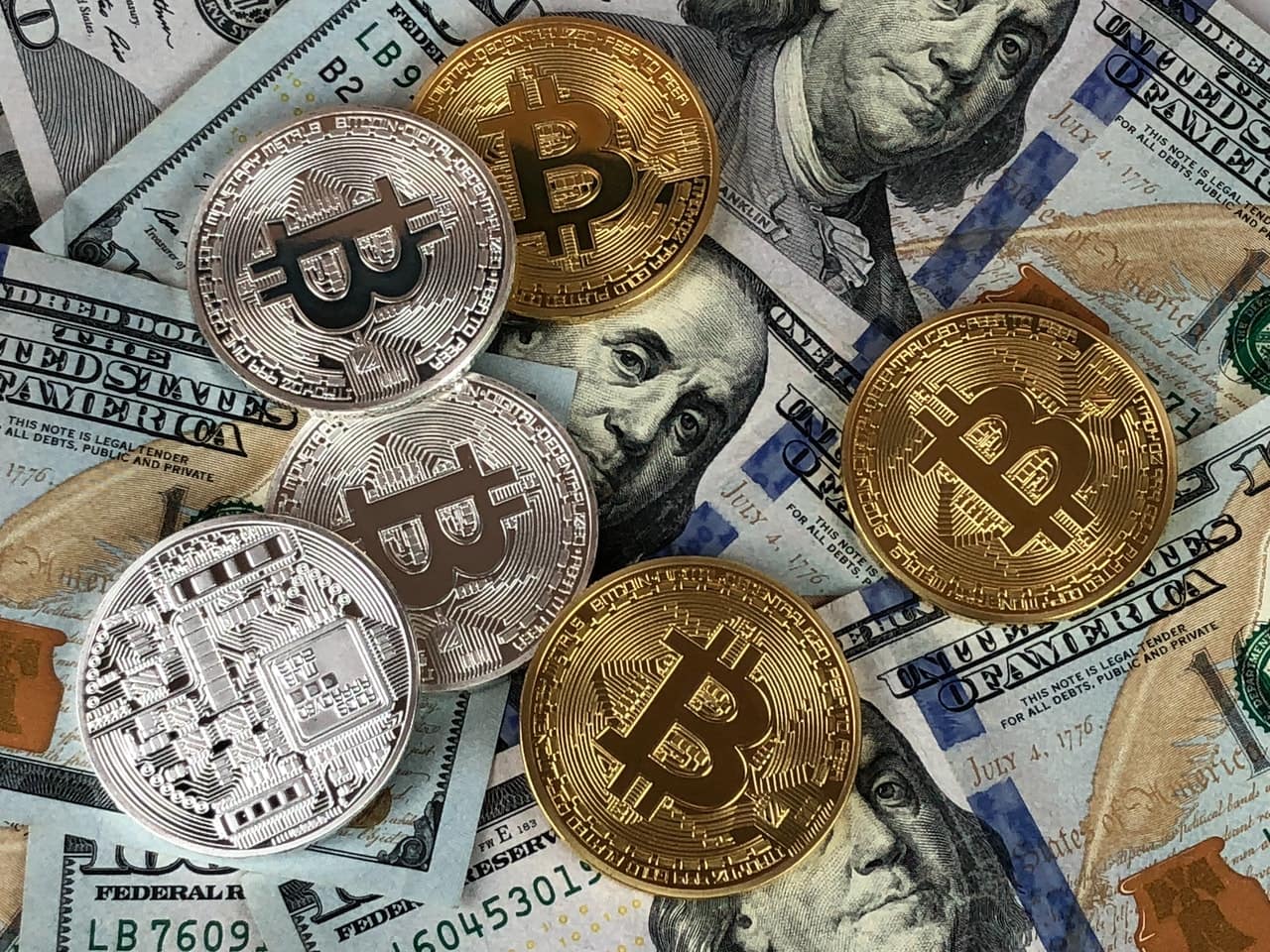 The sharp rise in the bitcoin price, which breached $53,000 earlier this week has also triggered a buying spree in cryptocurrency mining companies like Riot Blockchain (RIOT), BT Digital, Argo Blockchain and Marathon Patent. What's the forecast for Riot Blockchain shares in 2021?
Riot Blockchain shares have gained 265% so far in 2021 and are up almost 3,700% over the last year. Meanwhile, it is not the only crypto mining company that is skyrocketing. BT Digital and Marathon Patent shares have respectively gained almost 6,500% and 3,200% over the last year.
Marathon Patent bought $150 million worth of bitcoin earlier this year from the proceeds of a share issuance. The company has made gains of over $100 million on its investment in bitcoins.
Riot Blockchain share has been very volatile
Riot Blockchain shares have been very volatile this year. They lost 20% in the regular session yesterday but were up over 10% in US premarket trading today. The shares have come off their peak and are currently down over 22% from their 52-week highs. Technically the shares are in a bear market territory as it has fallen over 20% from its recent highs. That said, it is still up sharply over the last year.
Riot Blockchain share price forecast
Riot Blockchain now has a market capitalisation of a little above $4 billion. However, it was a penny share a year back. The US SEC defines penny shares as those which trade at less than $5. Riot Blockchain's 52-week low price is only $0.51. Because it was a penny share, not many analysts cover it.
Only Kevin Dede, CFA of H.C. Wainwright & Company covers the shares. The analyst has a buy rating on the shares with a $28 price target. Meanwhile, amid the sharp rally in its shares, Riot Blockchain has far surpassed the target price and is trading almost 55% above that.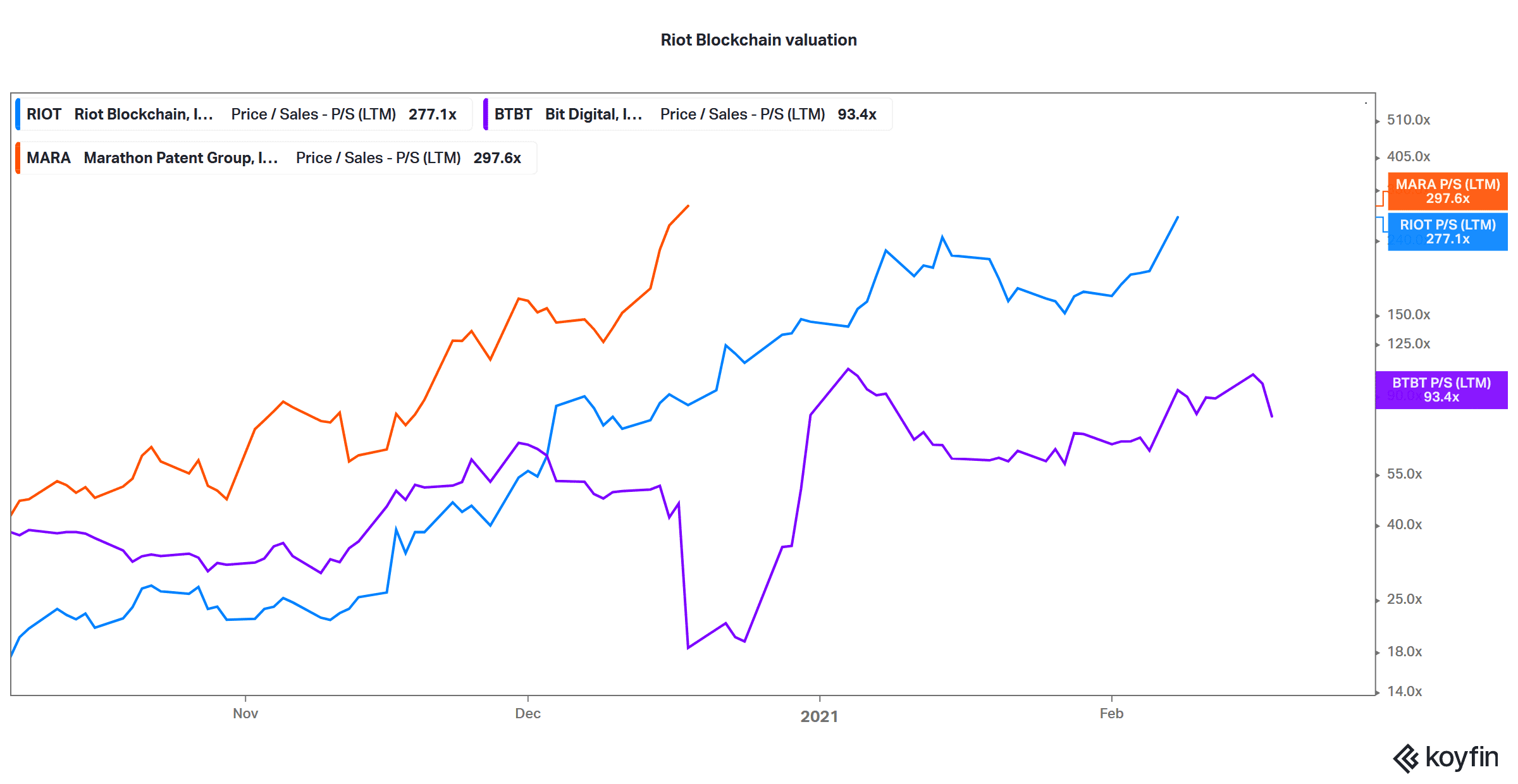 Riot Blockchain's valuation
After the sharp rally in crypto mining currency, all of them are trading at exorbitant valuations, at least based on the current earnings. Riot Blockchain trades at an LTM (last-12 months) price to sales multiple of 277x. In comparison, Marathon Patent and BT Digital trade at an LTM price to sales multiple of 93x and 297x respectively. Marathon Patent's higher multiple could also be due to its investment in bitcoins.
Crypto mining companies have seen a rerating
Meanwhile, it would not be prudent to value crypto mining companies based on their current earnings. Over the last year, the sector has seen a rerating. There has been a similar rerating of many companies in the green economy. Fuel cell stocks, electric vehicle stocks, as well as electric vehicle charging infrastructure companies are trading at very high valuations if we look at the current earnings.
Investors see a once in a lifetime opportunity in the green economy as the world transitions from fossil fuels towards greener sources of energy. Joe Biden's election as the US president has helped green energy shares move higher.
Tesla bets on bitcoins
Coming back to crypto mining companies, it could also be a good long-term opportunity looking at the increasing adoption of digital currencies. This year, several positive developments have taken place when it comes to the adoption of bitcoin. The most prominent was the announcement by Tesla to invest $1.5 billion in bitcoins.
Bitcoin adoption is rising which is positive for Riot Blockchain
The news drove Tesla stock as well as bitcoin prices to a record high. Crypto mining companies like Riot Blockchain also followed bitcoin higher. Bank of New York Mellon has said that it would hold cryptocurrencies like bitcoin for its asset management clients. Mastercard also intends to support bitcoin on its platform.
As the adoption of bitcoins increase and more investors embrace digital currencies, it would lead to higher demand for crypto mining companies like Riot Blockchain. However, investors should understand that bitcoins are a very volatile asset and crypto mining shares tend to be very volatile. Investors who are comfortable with the higher risk should only consider buying the shares of crypto mining companies like Riot Blockchain.
Looking to buy or trade Riot Blockchain shares now? Invest at eToro with 0% commission!
75% of retail investor accounts lose money when trading CFDs with this provider