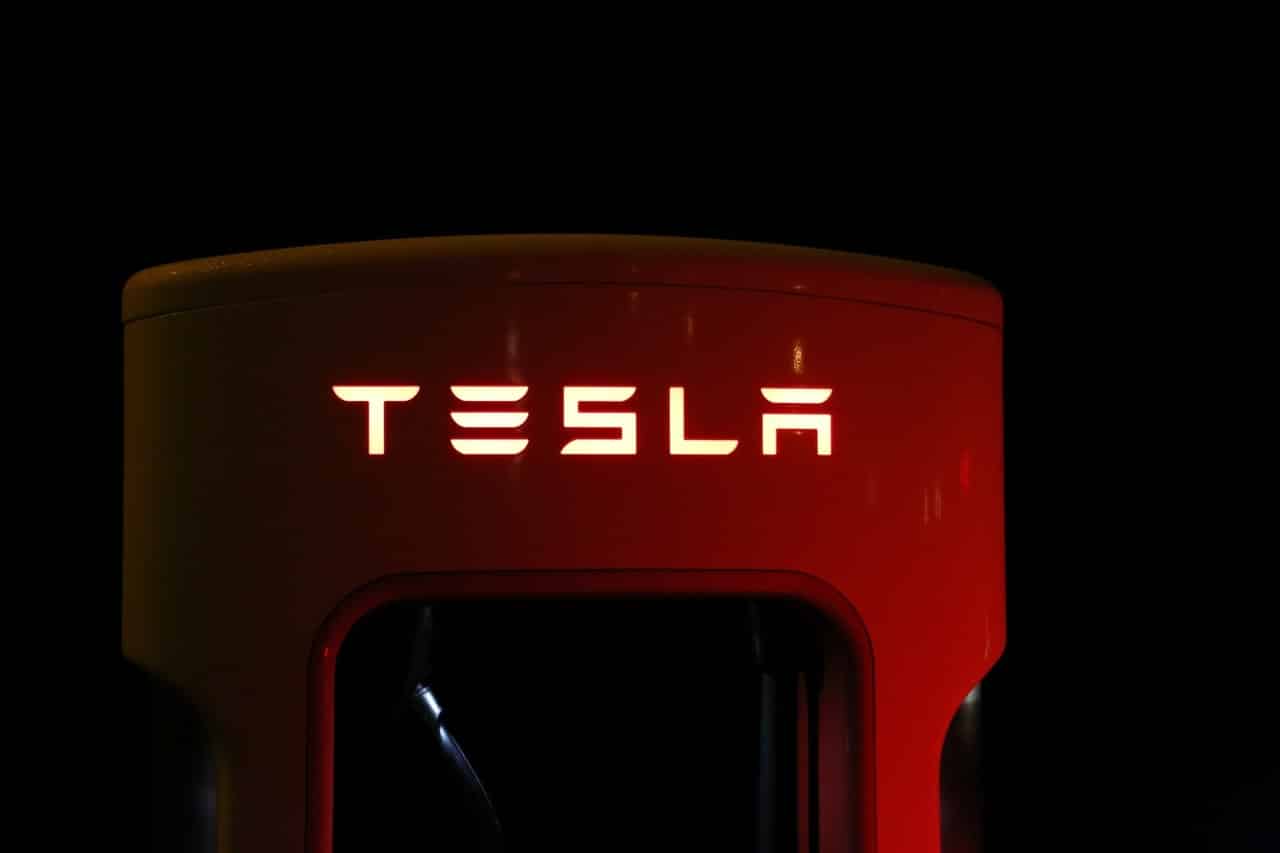 EV (electric vehicle) shares are looking weak in 2022 and Tesla has lost almost a quarter of its market cap in the year. The shares are now down 36% from their all-time highs last year.
The fall in Tesla shares is much lower when compared with other EV shares. Rivian, which is backed by Amazon and Ford, and went public last year, is down 63% so far in 2022. The shares trade well below the IPO price now.
Lucid Motors shares are down 40% in 2022 while NIO has lost half of its market cap this year. Tesla outperformed its EV peers in 2021 and gained 50% even as most of the EV shares closed in the red despite a 27% rise in the S&P 500. Valuations of EV shares had started to look bloated and markets are now repricing the shares. Rivian commanded a market cap in excess of $150 billion at its peak, which wasn't justified by any means.
Meanwhile, while EV shares now trading well below their all-time highs, should you consider Tesla shares now?
Tesla has been outperforming
Tesla has been outperforming the EV space for quite some time. It gained 740% in 2020, in what was an incredible year for all the green energy plays. While green energy companies were weak in 2021, Tesla yet again outperformed with 50% gains. Notably, while most pure-play companies are either in the early days of production or in the pre-revenue stage, Tesla has achieved critical mass.
Tesla delivered 308,600 cars in the fourth quarter of 2021 which took its 2021 deliveries to 936,172, a YoY rise of 87%. That's a spectacular milestone for Tesla and its deliveries in the quarter were way ahead of analysts' estimates as well as the company's own guidance. While the company hasn't provided quantitative guidance, it had said that it expects deliveries to rise at a CAGR in excess of 50% for the next few years.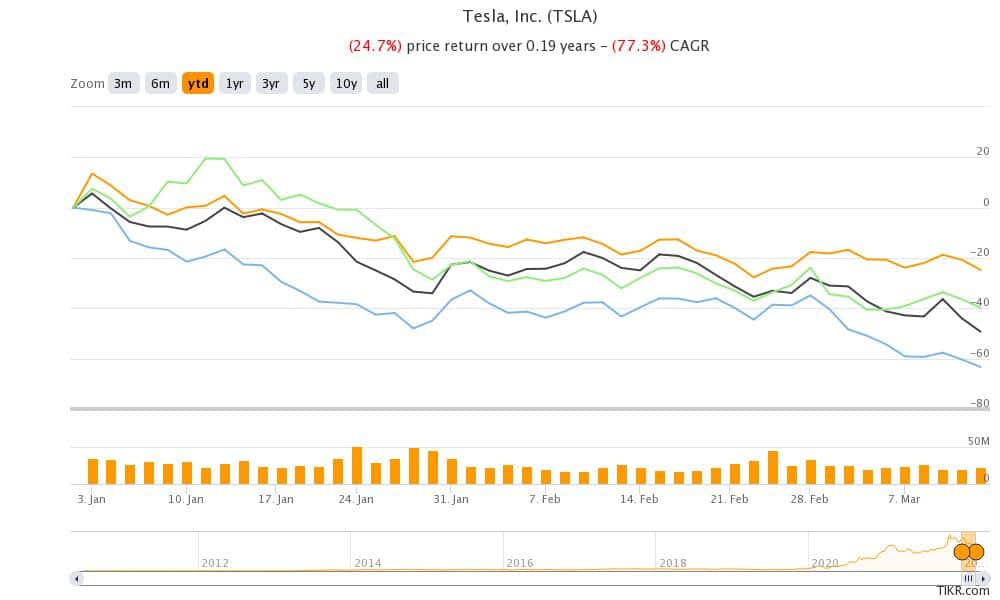 2022 deliveries
The chip shortage situation has hit Tesla also. However, while other automakers are witnessing a fall in production, Tesla has managed to increase its deliveries. Even in 2022, the company should continue to witness strong growth. However, it is also not fully immune from the ship shortage situation and delayed the launch of new models, including the Cybertruck to 2023. The all-electric pick-up market would see increased competition now. Rivian has already started delivering its electric pickup while Ford's F-150 Lightning would begin deliveries in spring.
Wall Street analysts have always been divided on Tesla. Of the 28 analysts covering TSLA 15 have rated it as a buy while six have a sell rating. The remaining seven analysts have a hold rating on the shares. It has an average target price of $1068.40 which is a premium of 34.2% over current prices. The lowest and highest target price for the share is $313 and $1,580 respectively. We usually don't see such divergence in analyst target prices for any company. But this being TSLA, analysts have quite a strong view, both bullish as well as bearish.
Tesla analyst ratings
Last week, Piper Sandler reiterated Tesla share as overweight but expressed concern over rising US-China tensions and the steep rise in nickel prices. The brokerage said, "Nickel prices are garnering particular attention, given their importance in battery manufacturing, but in our view, deteriorating U.S.-China relations are potentially more consequential in the long-term. Tesla's China exposure is a major positive, but we must admit: If American companies are eventually used as pawns in a wider geopolitical conflict, then Tesla shareholders would likely suffer."
Meanwhile, Bernstein, which is among the notable Tesla bears, reiterated its underperform rating while raising the target price from $300 to $450. It said, "That said, we note that (1) despite the recent pullback, tech stock valuations are still elevated vs. history, and (2) Tesla's growth comparables typically have much higher margins and are arguably less cyclical than automotive companies."
Tesla long term forecast
TSLA has been trying to increase its revenues from the high-margin software business and earlier this year bumped up the FSD (full self-driving) price from $10,000 to $12,000. The company has gradually been raising the prices for its FSD. Here it is worth noting that the nomenclature could be misleading as it is not level 4 autonomous driving and even Tesla advised drivers to keep their hands on the steering all the time even when it is on the Autopilot. There have been multiple instances of crashes involving Autopilot and the US NHTSA is investigating the company.
Over the long term, TSLA is a play on the renewable energy transition. Tesla's energy business would also add value over the long term and Musk expects it to be as big as the core automotive business. Markets have believed in Musk's execution capabilities and the company has delivered on multiple fronts including on sustainable profitability.
If Tesla can continue to execute on the business plans, the shares can continue their upwards momentum in the long term as well.
Almost every startup EV company, including Lucid Motors, Rivian, and Lordstown Motors are struggling with their production plans. Even Tesla bears have been impressed with the company's strong execution. Tesla has been a futuristic company and backed electric cars when legacy automakers looked the other way. Now, every legacy automaker is investing in electric cars. Tesla also plans to launch a humanoid and said that the prototype should be ready this year. Tesla has a good product proposition and is an aspirational product for many people.
While growth shares could remain under pressure in the short term, Tesla is one of the names which look attractive after the steep fall.
Disclaimer
All trading carries risk. Views expressed are those of the writers only. Past performance is no guarantee of future results. The opinions expressed in this Site do not constitute investment advice and independent financial advice should be sought where appropriate. This website is free for you to use but we may receive commission from the companies we feature on this site.