If you have £1 million sitting in your bank account, it's time to put it to work. That amount of money could be generating significant returns for you if you invest it in the market.
Even if you're not a millionaire, approaching your investments as if you have large sums to put into the market can be informative. Thinking about this amount of money requires you to think about diversifying your portfolio between short-term and long-term investments and between low-risk and high-risk assets.
Whether you have £1 million to invest or just want to prepare for your future fortune, this guide can help. We'll show you how to invest 1 million pounds in the UK and highlight the 10 best investments you can use to build a portfolio.
Top £1 million Investments 2021
Amazon – eCommerce Leader for Years to Come – Invest Now
Vanguard Information Technology ETF – Ride the Tech Wave – Invest Now
Invesco China Technology ETF – Invest in China's Growing Market – Invest Now
Bitcoin – Bet on the Future of Currency
iShares US Real Estate ETF – Real Estate Pays Dividends
FTSE 100 Index – Invest in the UK's Leading Companies
Global X Lithium & Battery Tech ETF – Spread Your Battery Bets
Gold – The World's Most In-demand Commodity
PIMCO Active Bond ETF – Track the US Bond Market
High-yield Savings Account – Save for the Next Big Opportunity
Best Ways to Invest 1 Million Pounds UK
There is an infinite number of assets you could invest £1 million in. You could split up your money across hundreds of individual stocks, or put it all in a single fund that tracks the global stock market. Alternatively, you could use a portion of your investment to buy real estate or start a business.
Here, we'll highlight 10 top ideas for where to invest £1 million.
We focus on assets like ETFs that cover a broad range of assets since this gives you the most diversified exposure to global markets. Of course, we've also included a few individual stocks, commodities, and cryptocurrencies that we think are worth investing in on their own.
1. Amazon – eCommerce Leader for Years to Come
Amazon is the only individual stock we've chosen for your £1 million investment. We just think that highly of it.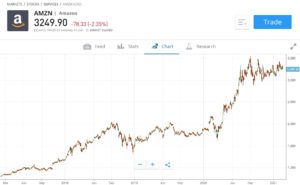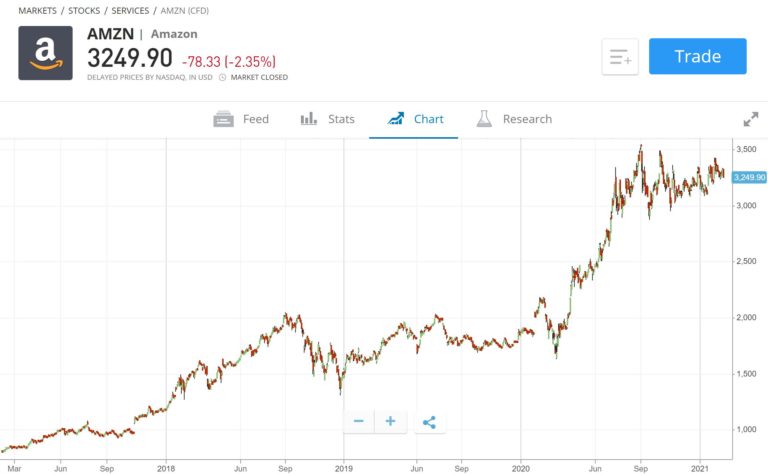 There are a few reasons we think that Amazon should make up a significant chunk of your portfolio.
First, this company is absolutely dominant in eCommerce, which in turn is growing at a rapid clip around the world. It's been less than 20 years since we started buying things online – just think about what our purchasing habits might be like in another 20. Amazon will be at the center of that shift.
Second, Amazon also dominates cloud computing. Amazon Web Services has an over 30% market share in cloud infrastructure, and the second-place competitor, Microsoft, isn't even close behind. Cloud computing will drive trillions of pounds in value in the coming decades – and once again, Amazon will be at the center of this trend.
Finally, Amazon is expanding into verticals that are ripe for disruption. The company is leveraging Whole Foods and Amazon Fresh to push into the grocery market, for example. The company also made a foray into healthcare that could upend this stodgy, but lucrative, industry.
Your capital is at risk.
2. Vanguard Information Technology ETF – Ride the Tech Wave
Amazon isn't the only tech company changing the world. While you could invest in dozens of top technology stocks individually, a simpler alternative is to invest in a fund like the Information Technology ETF from Vanguard.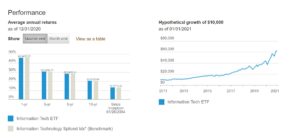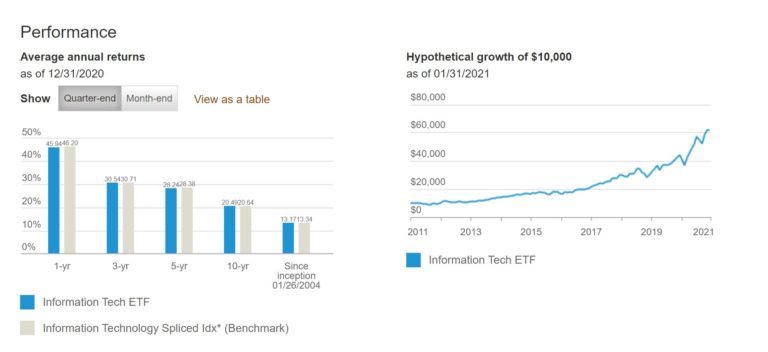 This ETF invests your money in 345 stocks, among them shares like Apple, Microsoft, Intel, Adobe, PayPal, and NVIDIA. It returned nearly 40% last year.
The fund managers charge a fee of just 0.10% of your investment per year, making it one of the cheapest ETFs around.
The only thing we don't love about this Vanguard ETF is that it leaves out some of the biggest names in the tech world. For example, if you want to invest in Tesla shares, you'll need to go purchase those separately.
Your capital is at risk.
3. Invesco China Technology ETF – Invest in China's Growing Market
China has over 1 billion people and it's economy is the second-largest in the world. Yet China stocks are often left out of US-based funds and traditional market indices.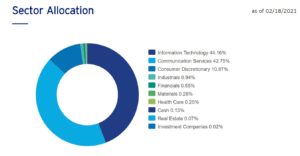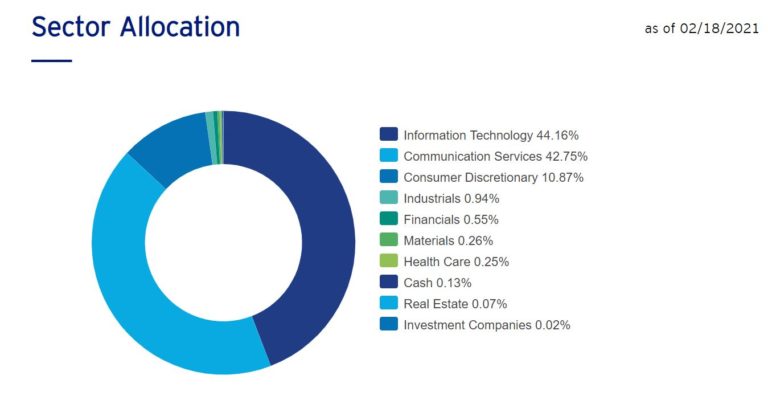 Unless you're an expert on Chinese stocks, we wouldn't recommend buying shares from the Shanghai Stock Exchange individually. There are simply too many promising-sounding companies and too many foreign exchange barriers to buy Chinese stocks directly.
However, with the Invesco China Technology ETF, you can invest in more than 100 Chinese tech stocks with a single transaction. This fund includes companies you've probably heard of, like Baidu and Tencent, as well as dozens that fly below the radar of most Western investors.
This ETF returned an incredible 75% in 2020, and it's already up more than 11% so far in 2021. The expense ratio of 0.70% is a little bit pricey, but it's hard to argue with a performance as this fund has demonstrated.
Your capital is at risk.
4. Bitcoin – Bet on the Future of Currency
Bitcoin recently passed the $50,000 milestone, and the number of people who doubt that this cryptocurrency will play a major role in the future of commerce continues to dwindle.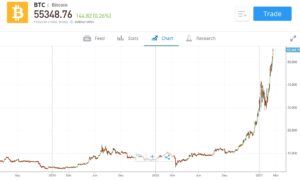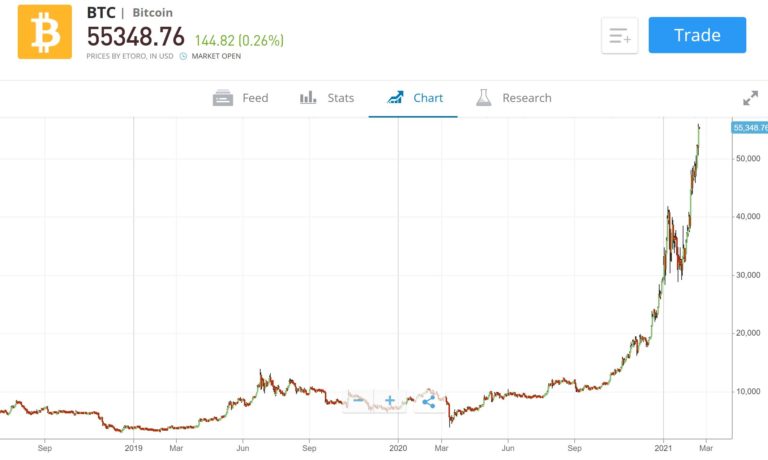 Whether or not Bitcoin is overvalued right now is hard to say. But as a long term investment, we think Bitcoin has plenty of room to run.
That's thanks to two factors. First, more and more people are adopting digital currencies in general, and Bitcoin in particular. Major financial institutions are finally finding ways to allow users to buy, sell, and hold Bitcoin, and crypto exchanges are more accessible than ever before. The more people who demand Bitcoin, the higher the price will rise.
The second thing that works in favor of Bitcoin investors is that the supply of this currency is limited. Bitcoin is becoming harder to mine year after year, and experts think that the final Bitcoin will be mined around 2040. As we approach that point, expect the value of Bitcoin to skyrocket whenever demand spikes.
Your capital is at risk.
You could use your £1 million investment to buy a home or a rental property. But that takes a lot of work – you need to maintain the property and make renovations to boost its value.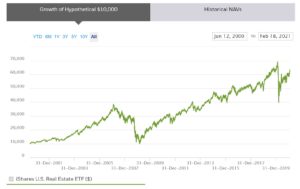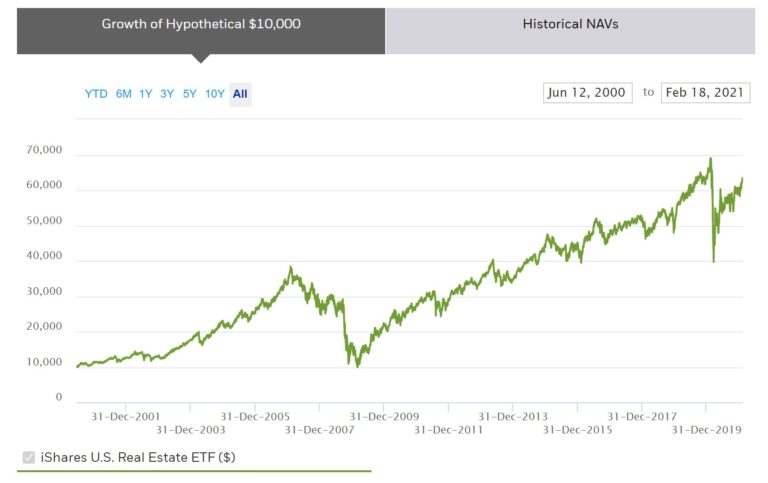 Alternatively, you can invest in a REIT – a real estate investment trust – that buys properties and manages them for a profit. REITs are among the highest dividend-paying funds on the market, too, which makes them ideal for generating cash flow.
The iShares US Real Estate ETF is a fund that invests in a variety of different REITs. So, you get exposure to REITs that collect interest from mortgage payments, REITs that build and lease out commercial buildings, and REITs that purchase and rent out homes. Having this mix of real estate investments is nice because you're hedged against events like a downturn in home values or a shift from office buildings to a work from home culture.
Over the past three years, this ETF has returned more than 16%. That's a modest gain compared to what you might have gotten from investing in the stock market, but you can expect much more consistency from real estate compared to stocks over the long run. The iShares US Real Estate ETF has an expense ratio of 0.42%.
Your capital is at risk.
6. FTSE 100 Index – Invest in the UK's Leading Companies
The FTSE 100 index is the UK's premiere stock market index. It includes the 100 largest companies in the UK, such as HSBC, Unilever, BP, Royal Dutch Shell, and British American Tobacco.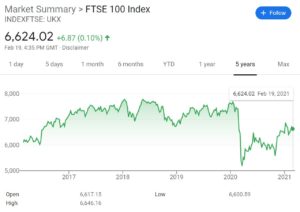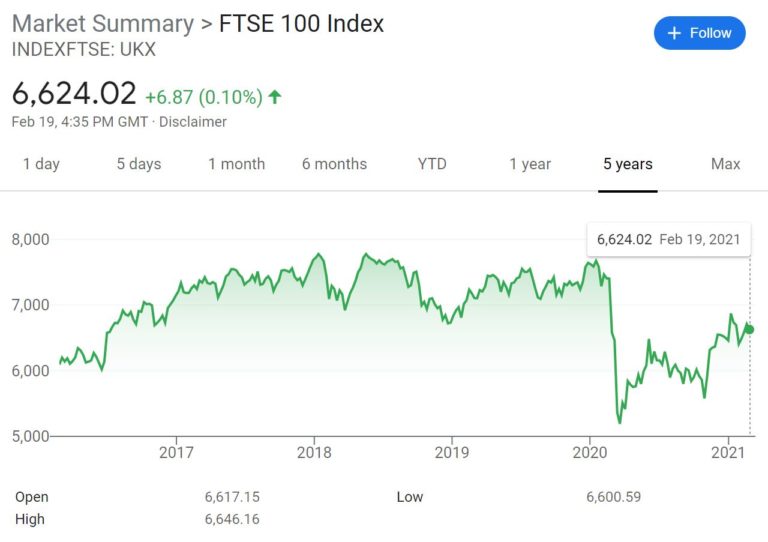 The FTSE 100 has underperformed comparable US indices like the S&P 500 over the past few years. But that doesn't mean you should turn your back on the UK market. Brexit has played a large role in holding back UK multinational companies, and we expect to see these companies take off now that a Brexit deal has been reached.
The UK's exit from the EU could also pave the way for significant business growth. The country has expressed its desire to make itself more business-friendly and to invest in emerging sectors within the tech industry. London also remains a financial hub for Europe, even if the UK isn't officially part of Europe anymore.
You can invest in FTSE 100 companies through an ETF, but you'll be charged a maintenance fee for the privilege. Instead, consider using index CFDs to get exposure to the value of the index itself.
Your capital is at risk.
7. Global X Lithium & Battery Tech ETF – Spread Your Battery Bets
Batteries are at the heart of the technologies that are most likely to change the world in the coming decades. Renewable energy and electric vehicles both rely on fast-charging, high-capacity batteries.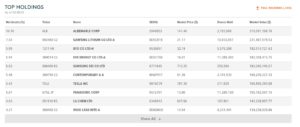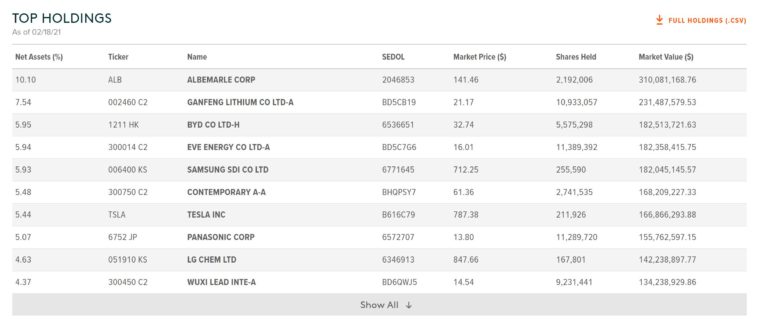 Companies that build batteries and develop new battery technologies aren't the only ones that stand to benefit. Mining companies that produce lithium, the raw material used in current battery tech, could also see a boost from renewable energy and electric cars.
This is a sector where the more you can spread your bets around, the more likely you are to bet on a handful of winners. That's why we recommend the Global X Lithium & Battery Tech ETF, the best lithium ETF around.
This fund currently has 40 stocks and returned a whopping 126% last year. The 0.75% management fee can be pricey, but we think this ETF is one of the best forward-looking investments you can make.
Your capital is at risk.
8. Gold – The World's Most In-demand Commodity
Gold is considered one of the most reliable commodities in the world. Although it's no longer used to back most currencies, gold does an excellent job of holding its value over time. In fact, gold is one of the best investments to hedge against currency inflation.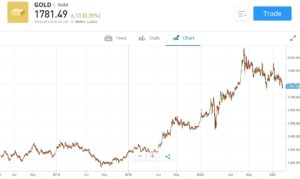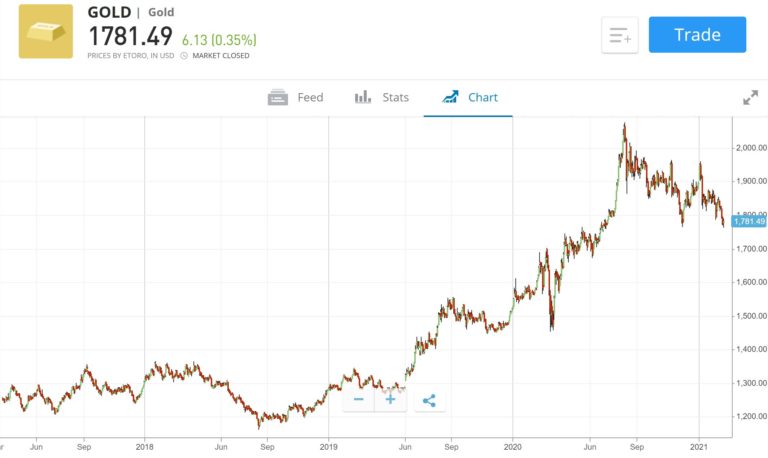 Another advantage to gold is that its value increases when the stock and currency markets drop – so you're hedged against a downturn in global markets.
We also like gold right now because gold-backed cryptocurrencies are becoming more popular by the day. As these digital currencies are increasingly adopted for everyday use, demand for gold to back them will increase accordingly.
You can purchase physical gold, but that involves transportation, security, and other costs. Alternatively, consider investing in gold by purchasing CFD contracts that track the price of this commodity.
Your capital is at risk.
9. PIMCO Active Bond ETF – Track the US Bond Market
Investing in bonds is an excellent way to diversify your portfolio. Bond prices typically rise when stocks fall, which helps to hedge against stock market downturns. On top of that, bond yields offer steady payouts that you can reinvest or use as operating cash for your expenses.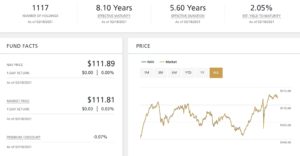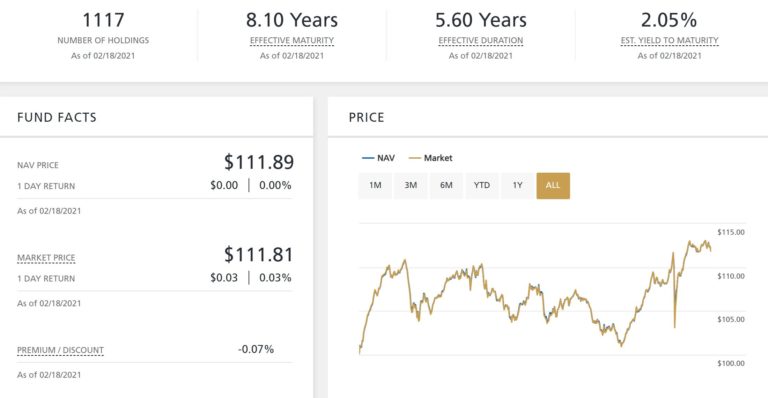 The easiest way to invest in bonds is not to pick individual bonds, but rather to invest in a fund like the PIMCO Active Bond ETF that spreads your money across hundreds of bonds. That way, you're exposed to a mix of government and corporate bonds, all with different credit ratings, yields, and maturation dates.
This ETF distributes payouts of 2.26% to investors each year while experiencing very little price volatility. It's a low-risk investment with a relatively small payout right now, but you'll be glad you have it during the next recession.
Your capital is at risk.
10. High-yield Savings Account – Save for the Next Big Opportunity
Putting money away in a high-yield savings account or Cash ISA is far from the most exciting thing you can do with it. Savings account interest rates in the UK are only around 0.5% to 0.9% – a paltry return on investment.
However, you can think of a bank account or Cash ISA as a place to park your money temporarily. The next time the market drops, you can invest this money to buy up undervalued stocks or funds. This hedges your risk against a downturn, and you'll look like a genius when you have a huge pot of money ready to invest right at the moment the market hits bottom.
How to Choose Smart 1 Million Pound Investments
Figuring out where to invest 1 million pounds involves two things.
First, you have to find the right things to invest in. Think about both short term investments and long term investments. Over the short term, what market sectors or companies are best poised to grow in the wake of the COVID-19 pandemic? Over the long term, what sectors, asset classes, or countries will define the economy in the mid-21st century?
Second, you have to build a diversified portfolio. Diversification happens in a couple of different ways.
For example, you need to diversify the time horizon of your portfolio. You can have investments with a 6-month horizon, which turn over twice a year. You can also have 5-year investments, which you re-evaluate much less frequently. Finally, you can have 20-year or longer investments that you might not sell until retirement.
You also need to think about volatility and risk. High-performing assets are often very volatile – that is, they experience big price changes over time. This can be great for your investment return, but keep in mind that volatile assets can also lose value. If all of your investments lose a lot of value at the same time, you could be forced to liquidate positions at an inopportune moment.
Finally, consider diversifying your portfolio by spreading your investment across different asset classes. Healthcare and tech stocks might be very different, but they're all likely to lose value if the stock market crashes. So, you can hedge against this type of risk by investing some of your money in assets like bonds, real estate, or commodities.
Each of these asset classes responds to different market forces, and some go up when others go down. So, even if one market collapses without warning, your overall portfolio will be protected from losses by your other asset holdings.
There's a lot to think about when deciding where to invest 1 million pounds. Don't be afraid to talk to a financial advisor to find out more about your options.
Best Brokers to Invest 1 Million Pounds UK
Now that you know the best ways to invest 1 million pounds, how do you actually go about doing it?
Given that you want to build a portfolio that spans multiple asset classes and markets from around the world, you need a UK broker with a huge range of offerings. You also want a broker that won't eat up your investment with unnecessary commissions and fees.
With that in mind, let's take a look at two of the best brokers that you can use to invest £1 million.
1. eToro – Explore Hundreds of Markets with 0% Commission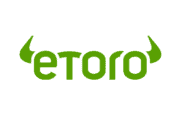 eToro is one of the most capable UK stock and CFD brokers in the UK if you have £1 million to invest. This platform offers trading on more than 2,000 shares and hundreds of ETFs, including all of the funds that we highlighted for your portfolio. eToro also offers trading on 15 top cryptocurrencies, more than 2 dozen commodities, and hundreds of individual bonds.
What's especially great about eToro is that share dealing and CFD trading are 100% commission-free. The broker also doesn't charge any monthly account fees. Just watch out for the inactivity fee, which kicks in if you haven't bought or sold an asset in over a year.
eToro offers tools for both short term trading and long term investing alike. We particularly like that the platform makes it easy to discover new assets to trade using the built-in social trading network. You can join discussions about how new stocks and funds, or see what assets professional traders are buying and selling.
Even better, eToro supports copy portfolios. That means you can dedicate a portion of your £1 million portfolios to track another trader's moves. So, you can easily commit money to active trading without doing all the research and trading yourself. You can also invest in pre-made portfolios around themes like renewable energy.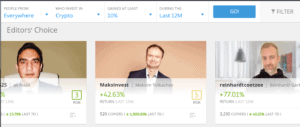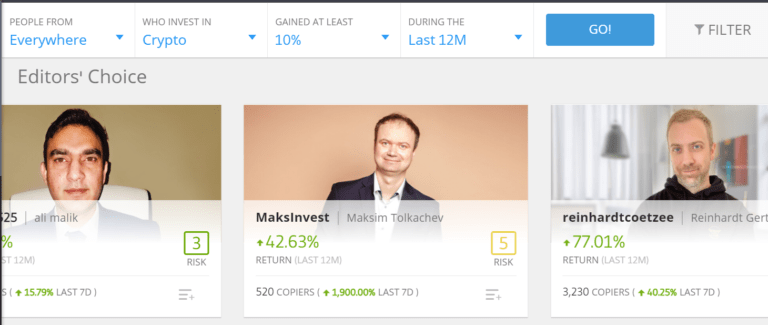 67% of retail investors lose money when trading CFDs with this provider.
Importantly, eToro also offers some basic portfolio management tools. You can easily see what you're invested in and how your different assets are performing. There are no tools for checking whether your assets are correlated, though, so it's up to you to make sure your portfolio is as diversified as possible.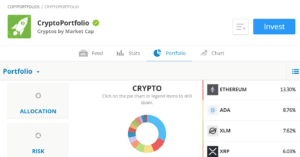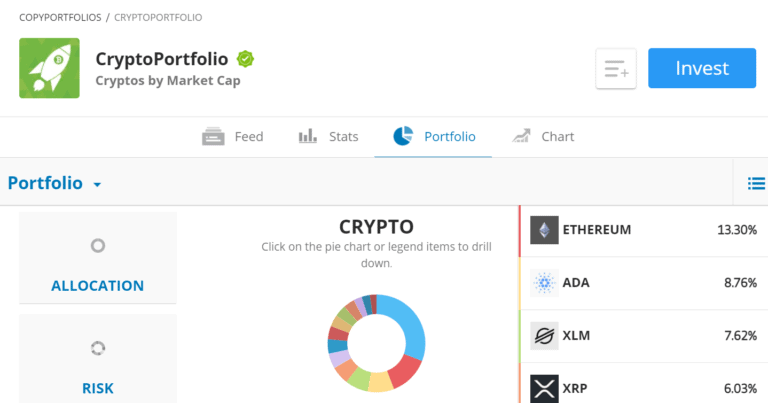 eToro is regulated by the UK's Financial Conduct Authority and is considered highly trustworthy. The platform also offers 24/5 customer support by phone and live chat in case you have a question about your account.
Pros
Extremely wide range of assets
0% commission trading
Copy professional traders' portfolios
Built-in social trading network
24/5 customer support
Cons
Inactivity fee charged after 1 year
No portfolio correlation analysis
67% of retail investors lose money when trading CFDs with this provider.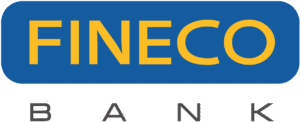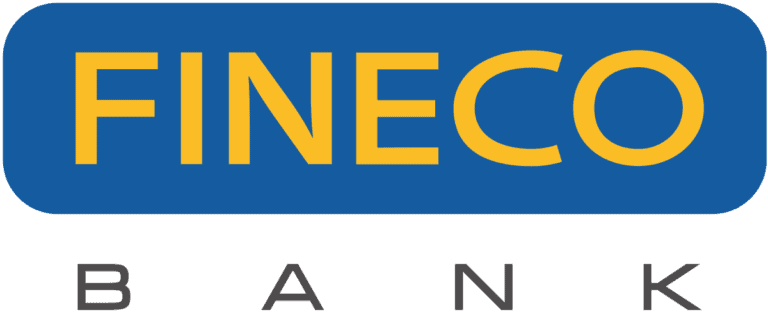 Fineco Bank is an Italian broker that's extremely well suited for building a diversified portfolio. This broker offers trading on thousands of shares from the US, UK, and Europe and has one of the widest selections of ETFs of any UK broker. In addition, Fineco Bank offers trading on commodities, forex, bonds, and indices.
Fineco Bank charges 0% commission for share CFD trades, but there is a $3.95 charge for share dealing. However, the broker offers a specialised investing account that might be cheaper if you plan to trade often. This account charges a 0.25% annual fee on your first £250,000 million invested, and 0.15% on additional funds up to £1 million. You pay no fees when buying and selling ETFs.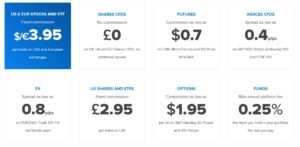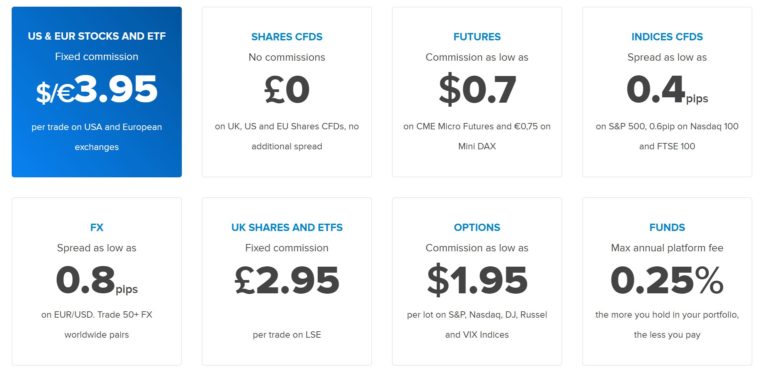 Another benefit to Fineco Bank is that this broker offers a Stocks and Shares ISA. You won't be able to deposit all £1 million at once based on UK investing rules, but this is a good option if you want to invest tax-free.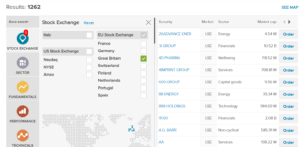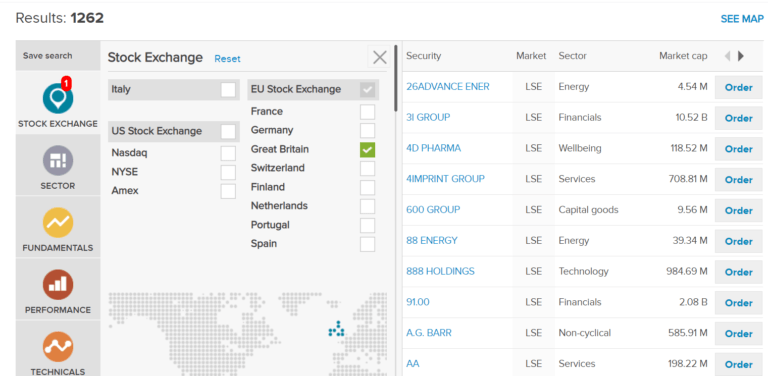 Fineco Bank offers a few tools to help you invest your money. One of our favorite features is the stock screener, which helps you find promising stocks from around the globe. Fineco also offers a powerful technical charting platform, called PowerDesk, for traders who want to actively trade the markets.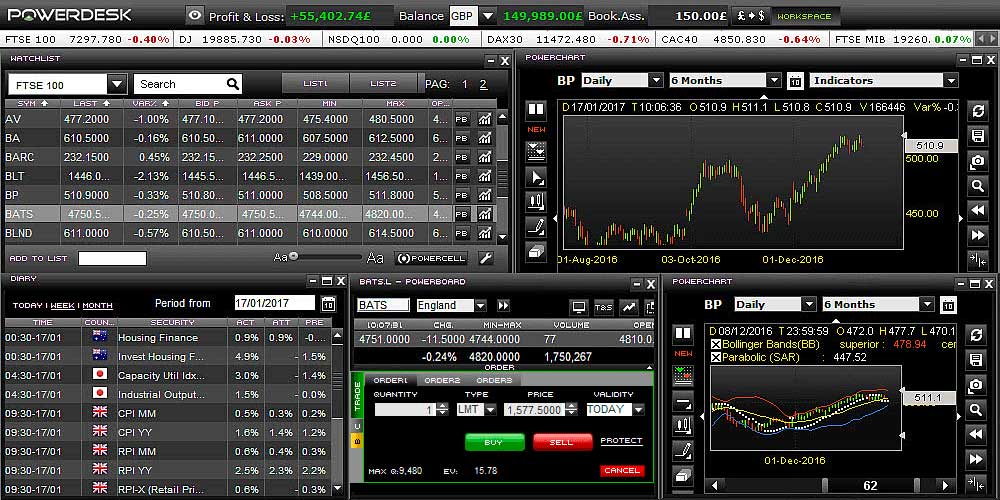 Fineco Bank is regulated by the Bank of Italy and, as a commercial bank, is extremely trustworthy. The company is also publicly traded on the Milan Stock Exchange, so you can take a deep dive into the bank's financials. Fineco Bank offers customer support by phone from 8 am to 9 pm, Monday to Friday.
Pros
0% commission for CFD trades
Offers ISA accounts
Global stock screener
PowerDesk trading and charting platform
Customer support 5 days a week
Cons
Commissions for share dealing
Investing account management fee
Your capital is at risk.
Conclusion
Figuring out how to invest 1 million dollars can seem overwhelming at first. After all, that's a lot of money!
Establishing a clear strategy is key to diversifying your portfolio and generating consistent returns when investing large sums of money. The 10 assets we highlighted are a great place to start your investing journey.
Ready to start building a £1 million portfolio? Click the link below to open an eToro account today!
eToro – Best Broker to Invest 1 Million Pounds
67% of retail investors lose money when trading CFDs with this provider.
FAQs
How do I minimize taxes when investing 1 million pounds?
How can I get advice about how to invest 1 million pounds?
Can I invest 1 million pounds with a robo-advisor?
What investment offers the highest return?
What is the Financial Services Compensation Scheme?