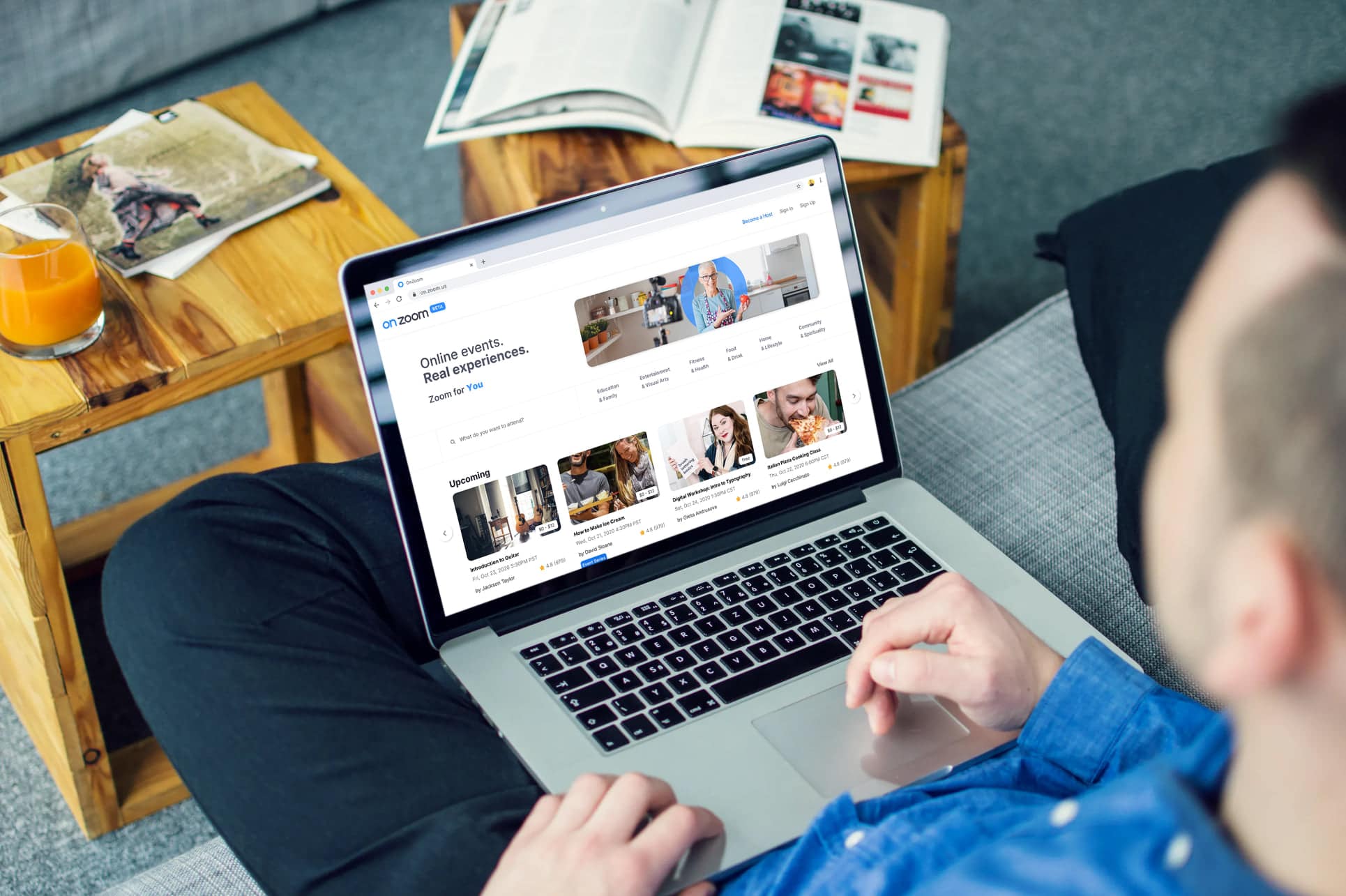 With a gain of almost 400%, Zoom Video Communication was among the best-performing shares of 2020. However, it has been under pressure over the last few months. What's the prediction for Zoom shares as the company readies to report its earnings today?
Zoom shares have gained 10.8% so far in 2021 but are down over 36% from their 52-week highs. To be sure, since the third quarter of 2020, most of the so-called "stay-at-home" stocks have lost momentum.
Stay-at-home stocks
Netflix, Amazon, and Peloton are respectively down 12.9% 9.3%, and 30% from their 52-week highs. It is not tough to explain the fall in stay-at-home shares like Zoom that was loved by markets in 2020. COVID-19 vaccination has begun globally and it is widely expected that by the end of 2021, near-normal business activity would resume globally.
Last year, these stay-at-home stocks benefited from the changes in consumer behaviour. The pace of digitisation gathered steam in 2020 as was admitted by Microsoft also. However, the opinion is somewhat divided on whether the shift was secular or a one-off event.
In all probabilities, some of the digitisation that we saw in 2020 looks here to stay. For instance, many consumers who shifted to online shopping in 2020 could continue to shop online given the ease and better pricing.
Jim Cramer on Zoom shares
Earlier this year, Jim Cramer, the host of Mad Money show on CNBC sounded positive on Zoom shares and said that it might have bottomed out. However, last week, Rosenblatt lowered its target price on Zoom shares from $435 to $350 while reiterating its neutral rating.
According to the estimates compiled by MarketBeat, Zoom shares have an average price target of $431.30, which represents potential upside of 15.4%forecasts over current prices. Zoom's lowest price target is $215 while $611 is its highest price target.
Of the 25 analysts covering the shares, 13 have rated it as a buy or some equivalent while two rate it as a sell. The remaining 11 analysts rate the shares as a hold.
What's the outlook for Zoom shares?
Zoom was among the prime beneficiaries as consumer habits changed during the lockdown. The company reported strong growth in the first nine months of fiscal 2021 with revenues growing by over 350% each in the second and third quarters of the fiscal year 2021. That said, the company expects its revenue growth in the fourth quarter of fiscal 2021 than ended on 31 January to slow down to 329% at the midpoint of its guidance.
Incidentally, Zoom shares had fallen after its fiscal third quarter 2021 earnings release as the guidance masked the earnings beat.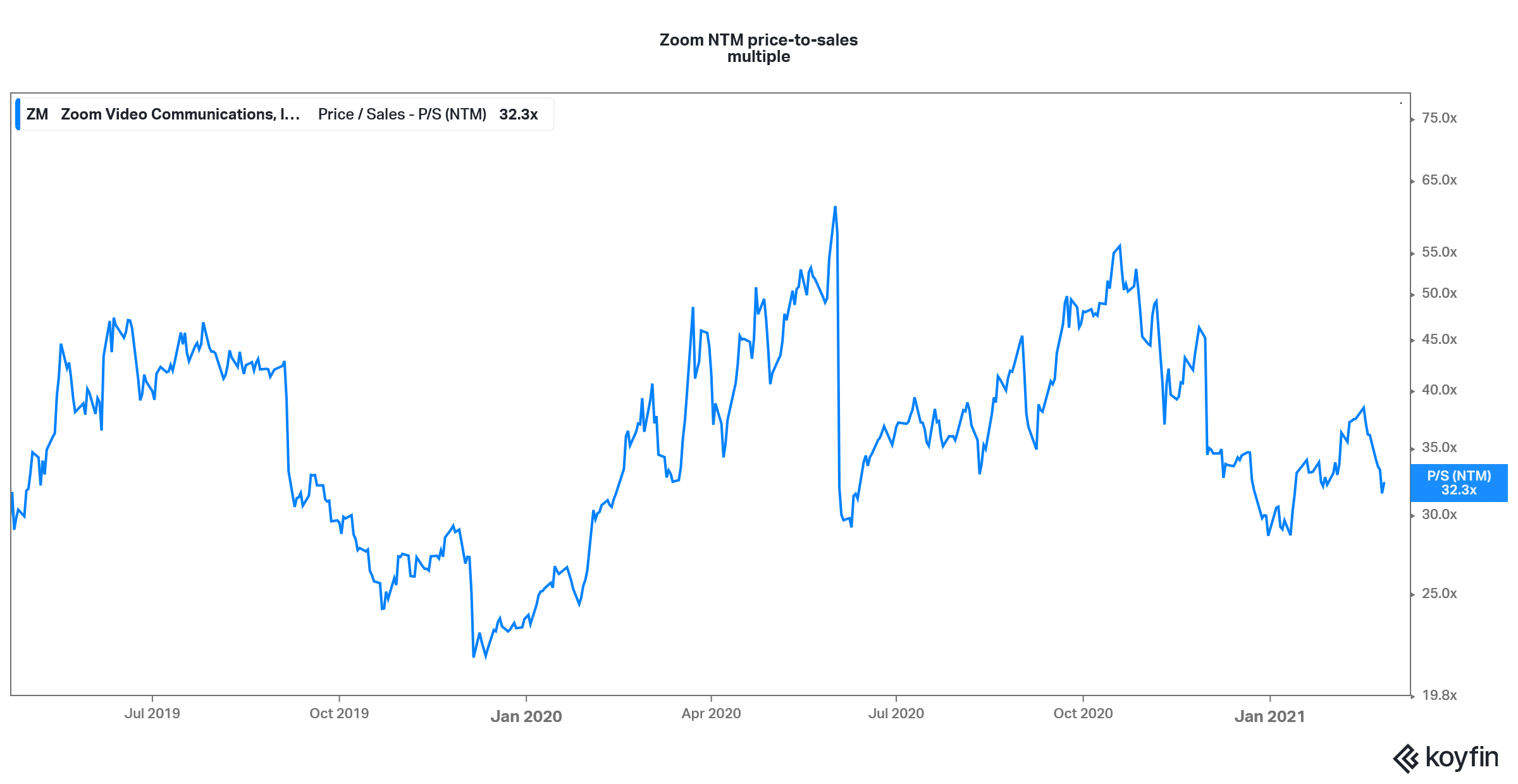 What to expect from Zoom's fiscal fourth quarter earnings?
Analysts expect Zoom's revenues to rise 330% in the fourth quarter which is in line with the company's guidance. Its adjusted EPS is expected to jump 420% to $0.78 in the quarter. Looking at the full-year numbers, the company's revenues are expected to rise 313% in the fiscal year 2021 while its adjusted EPS is expected to climb 730% over the period to $2.96.
While Zoom reported stellar numbers over the last couple of quarters, analysts don't see the supernormal growth continuing into the fiscal year 2022. According to the estimates compiled by TIKR, analysts expect Zoom's revenues to rise only about 36% in the fiscal year 2022.
Competition is rising for Zoom
Meanwhile, Zoom is also facing competition from Slack and Microsoft Teams. Salesforce has announced the acquisition of Slack and the merger is expected to be complete later this year. The user numbers for Microsoft Teams have been expanding rapidly.
Meanwhile, Zoom's valuation multiples have come down sharply over the last few months. It now trades at an NTM (next-12 months) price to revenue multiple of 32.3x which is roughly half of what it traded in the middle of 2020.
Valuation
The shares now trade at an NTM PE multiple of 126x which is way lower than what it traded in 2020. That said, in 2020, the entire tech sector got rerated amid the pandemic. Now, as the pace of vaccination gains pace globally, and consumer behaviour reverts to what we had prior to the pandemic, companies like Zoom would have a hard time repeating the strong growth that they reported in 2020.
Also, as investors shift their portfolios from growth and tech shares towards beaten-down cyclical shares, we could see further multiple contractions for the US tech shares. Notably, this year, legacy automakers like Ford and General Motors are outperforming electric vehicle shares including NIO and Tesla as investors reposition their portfolios.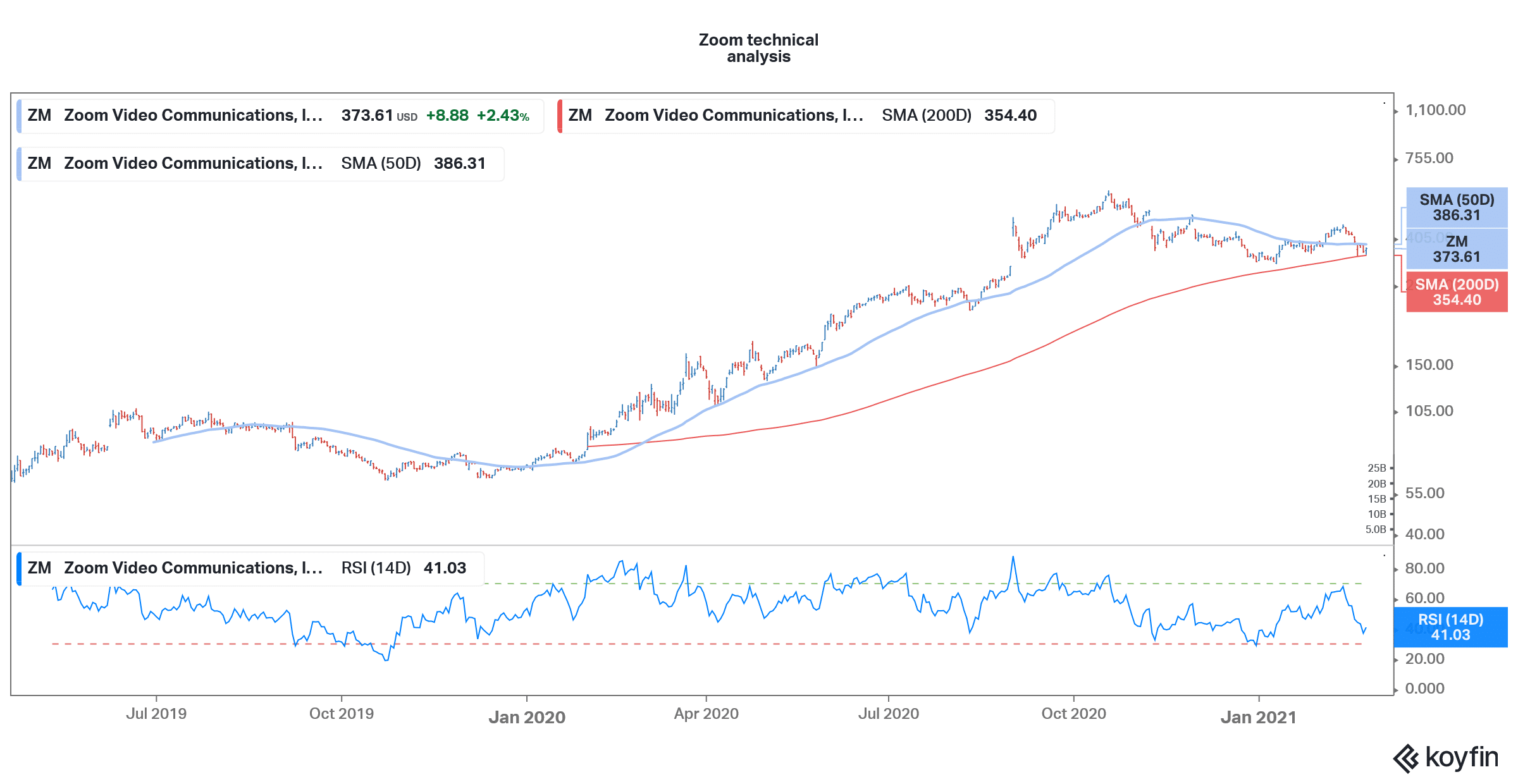 Zoom shares: technical analysis
Looking at the technical indicators, Zoom shares are trading between their 50-day SMA (simple moving average) of $386.31 and 200-day SMA of $354.40. While the 50-day SMA has been strong resistance for the shares, they have found support near the 200-day SMA.
Meanwhile, the shares look getting near the oversold territory based on its 14-day RSI (relative strength index) of 41x. RSI values below 30 are seen as oversold while RSI values above 70 signal overbought positions.
Zoom shares gained 2.4% in regular trading on Friday and were up 3% in US premarket trading today.
Looking to buy or trade Zoom Video Communications shares now? Invest at eToro with 0% commission!
75% of retail investor accounts lose money when trading CFDs with this provider