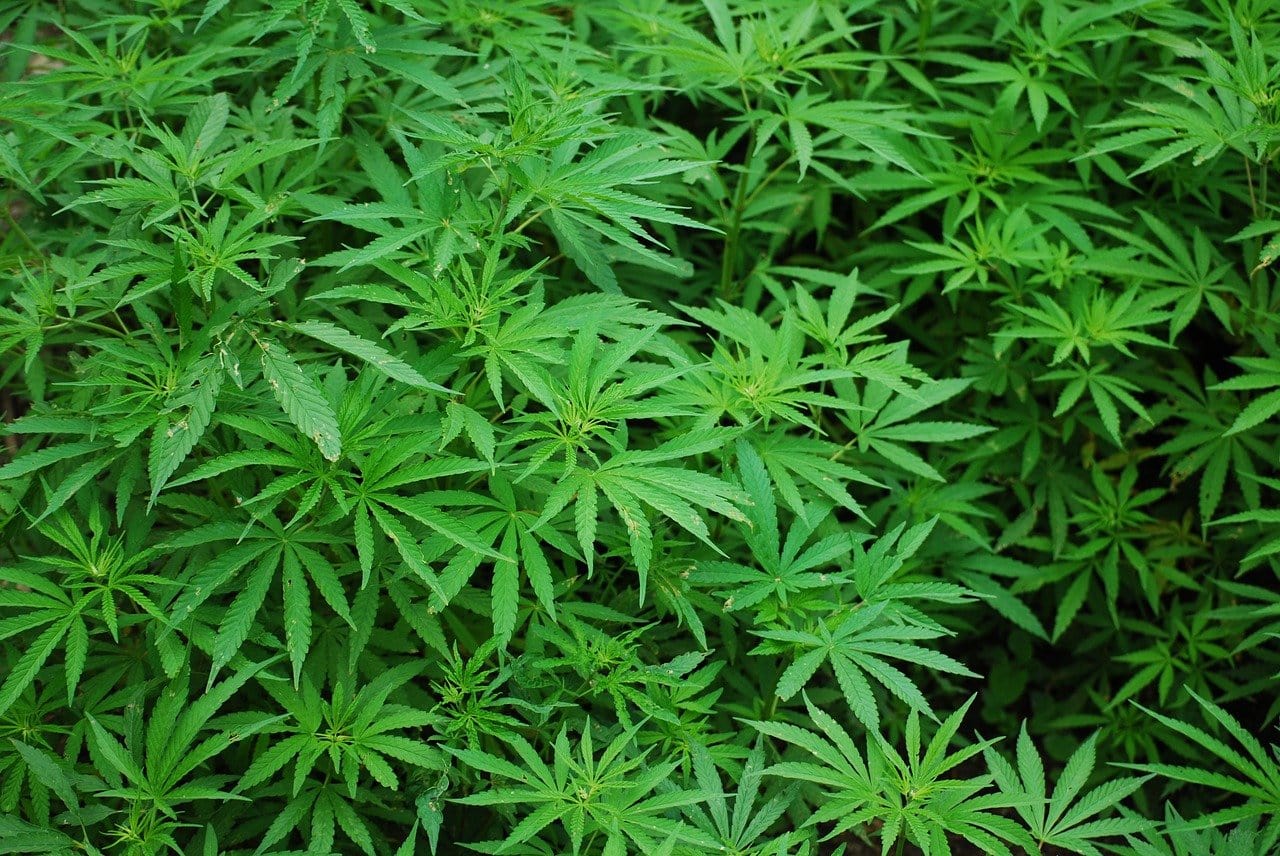 Tilray shares have been on fire this year. The cannabis stock rose over 50% yesterday and hit a 52-week high of $67 before closing the day at $63.91. What's the forecast for Tilray shares in 2021 and is it time for investors to take some profits?
Tilray shares have soared 673% so far in 2021. Aphria, which is set to merge with Tilray in the second quarter of 2021 subject to regulatory approvals, has also surged 280%. Looking at other cannabis companies, Aurora Cannabis, Cronos Group, and Canopy Growth have respectively gained 127%, 125%, and 111% year to date.
Why are cannabis shares like Tilray rising?
There are some fundamental reasons why cannabis shares like Tilray have been rising over the last four months. Firstly, Joe Biden's election to the US presidency in November 2020 fuelled hopes of federal legalisation of marijuana at the federal level. Four US states – South Dakota, Montana, Arizona, and New Jersey – have voted to legalise recreational marijuana in the wake of the presidential elections.
Earlier this week, Virginia also legalised adult-use of marijuana, taking the total number of states that have legalised recreational marijuana to 16. Legalisation has been the biggest story for cannabis companies and they have been rising on this positive news flows.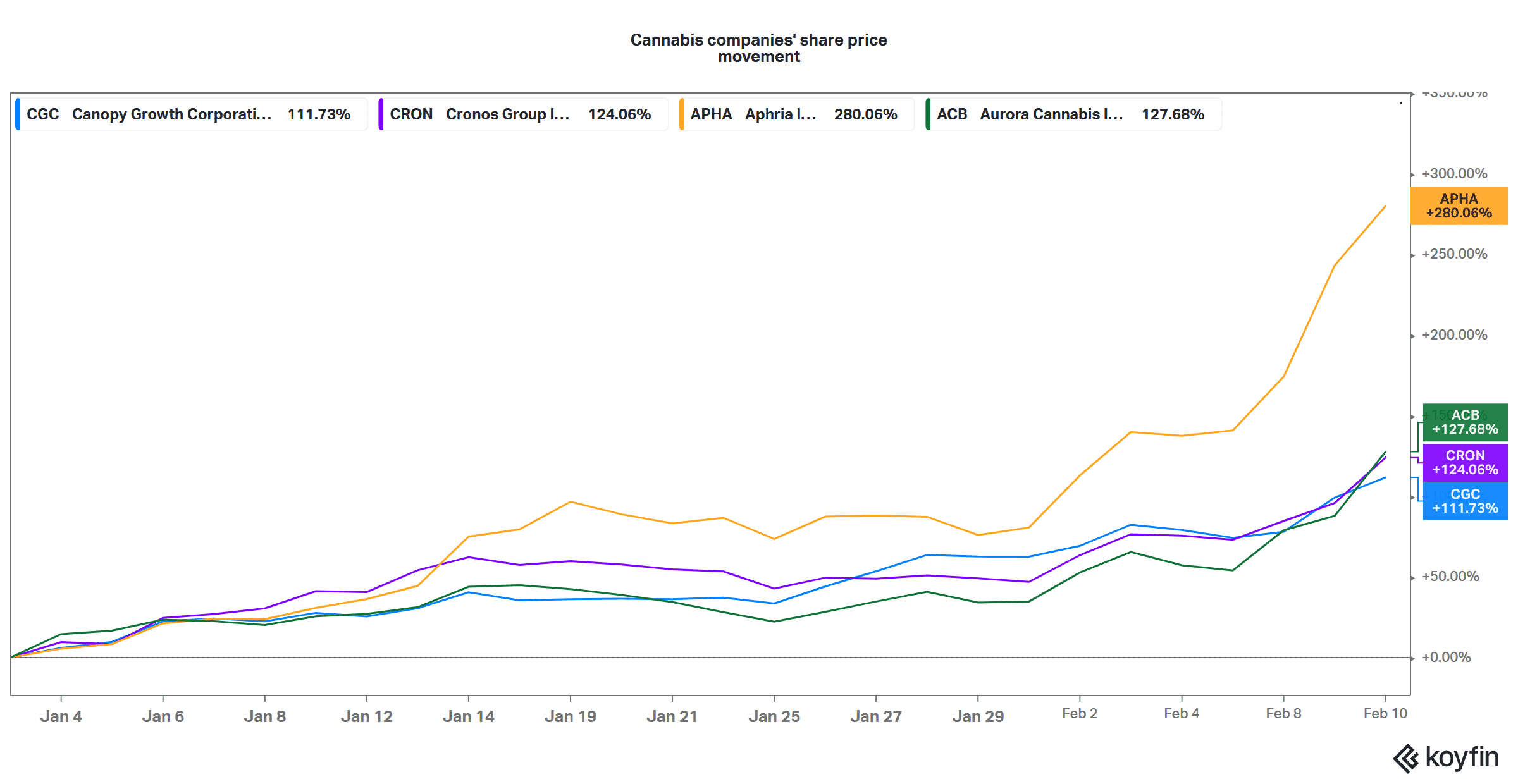 Marijuana legalisation
The US House of Representatives passed the MORE (Marijuana Opportunity Reinvestment and Expungement) Act in December decriminalising marijuana at the federal level. However, there were concerns that the bill might not be passed in the Senate, which at that time was  controlled by the Republicans, who in general have not been supportive of cannabis legalisation.
However, hopes of federal legalisation of marijuana in the US ignited after the Democrats took control of the Senate in January. There was a sharp rally in all cannabis shares, including Tilray, after the Georgia runoff.
Earnings have been good
Canopy Growth reported better-than-expected earnings and also sounded positive on the outlook. The company expects its revenues to rise between 40-50% annually. The positive outlook led to a spike in all cannabis stocks including Tilray.
Canopy also said that it expects to post positive EBITDA (earnings before interest, tax, depreciation, and amortisation) in the second half of 2021. The company also expects to realise cost savings of $150-$200 million over the next 12-18 months.
Also, Jazz Pharma announced that it would acquire GW Pharmaceuticals for $220 per American Depository Shares. The payment would include $200 in cash and another $20 as Jazz shares. GW Pharmaceuticals' lead product is Epidiolex (cannabidiol). The deal is another indication of growing interest towards companies in the cannabis industry.
Tilray's reached an agreement with Grow Pharma
Earlier this week, Tilray announced an agreement with UK-based cannabis distributor Grow Pharma under which Grow Pharma would import and distribute Tilray's medical cannabis products in the UK.
"This partnership with Grow Pharma provides patients in need access to a sustained supply of GMP-certified, high-quality medical cannabis and is an important step in improving access in the UK. Tilray will continue to advocate for reasonable patient access to medical cannabis in Europe and countries around the world,' said Brendan Kennedy, Tilray's Chief Executive Officer.
The agreement would help Tilray increase its sales. The company anyways has good exposure to the medical cannabis market in Europe. This month only, it has received an approval to supply medical cannabis products in Portugal, becoming the first cannabis company to do so. Tilray has also been selected to supply GMP-certified cannabis products in France. Also, this month it exported its first batch of medical cannabis to Spain.
Then came the short squeeze in Tilray shares
As Tilray shares started to rally, they triggered a short squeeze, which has become quite famous this year. Retail investors led by the Reddit group WallStreetBets helped trigger a massive short squeeze in stocks such as GameStop and AMC Theatres; and buying by the same day traders is thought to have helped to fuel the current run-up in cannabis stocks.
But then, as is generally the case with short squeezes, they quickly fade away as markets start focusing on the fundamentals. We've seen sharp falls in GameStop and AMC Theatres shares after the spike. Could it be the same with Tilray?
Tilray share price forecast
Let's begin by looking at the forecast for Tilray shares. The shares have a median price target of $10.50 according to the estimates compiled by CNN. This represents a downside of 83% over the next 12 months. Tilray's lowest price target is $8.50. Even its highest price target of $24.20 is a discount of 62% over current prices.
How are analysts rating Tilray shares?
Of the 14 analysts covering the shares, only two have rated it as a buy while one has rated Tilray shares as a hold. The remaining 11 analysts have a hold or equivalent rating on the shares. Notably, the price targets of analysts that have a buy rating on Tilray shares are below the current price, due to the sharp rally in the company's shares which means the analysts' price targets have not kept pace.
Tilray's valuation
Tilray shares trade at an NTM (next-12 months) price-to-sales multiple of 13.3x which is much higher than where it traded before the US presidential elections. However, its valuation multiples are still way below what we saw in 2019.
Another aspect to consider is the merger between Tilray and Aphria, in which Aphria shares will be converted into 0.8381 Tilray shares. One would expect the merger ratio to more or less hold at the current share prices. Ideally, Aphria shares would trade at 0.8381 of what Tilray trades at. However, Aphria shares currently trade at less than half the merger ratio, representing a good merger opportunity for Aphria shareholders.
If you are looking at buying Tilray shares, you might be better off buying Aphria. The two shares would settle near their merger ratios, which would mean either Tilray shares lose over half of their value or Aphria shares double in value. Looking at the elevated valuations, the possibility of Tilray shares falling looks like the more probable scenario.
Looking to buy or trade Tilray shares now? Invest at eToro with 0% commission!
75% of retail investor accounts lose money when trading CFDs with this provider