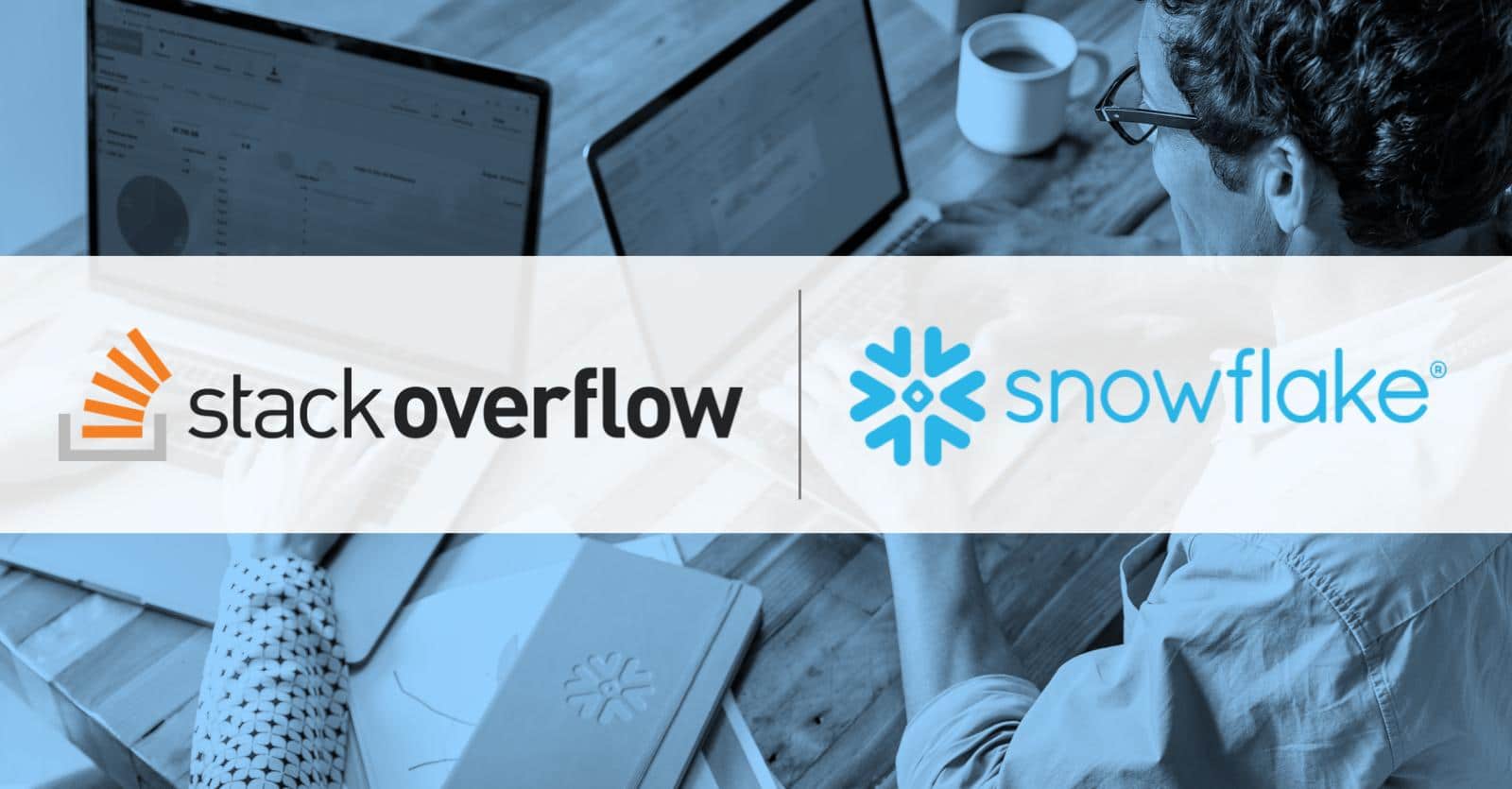 Cloud company Snowflake (SNOW) is set to release its earnings today after the close of markets. What's the forecast for Snowflake shares in 2021?
Snowflake listed in 2020 and was the biggest software IPO ever. The stock doubled on the day it went public despite having increased its IPO price from the initial price range of $75-$85 to $120. The shares touched $300 on its debut trading day.
Snowflake shares have fallen from the peaks
Snowflake continued to rally and hit an all-time high of $429. However, the shares have been under pressure since then and are down over 37% from their highs. To be sure, there has been a broad-based sell-off in all growth stocks, including Peloton, Palantir, and Zoom Video Communications.
Three reasons have been fuelling the sell-off in US tech and growth stocks. Firstly, there has been a notable shift from the "new economy" tech shares towards the "old economy" cyclical shares. So, we've seen both Ford and General Motors outperform electric vehicle stocks like Tesla in 2021.
Growth stocks have fallen
Secondly, some of the growth stocks, especially Snowflake and Zoom Video Communication were trading at exorbitant valuation at their peaks last year. For instance, Snowflake was trading at an NTM (next-12 months) price-to-sales multiple of almost 120x in 2020. The multiples have since come down to 81.2x. Zoom's valuation multiples have also halved from the 2020 highs.
Finally, and perhaps the most important, the spike in sales that some of the growth companies have reported in 2020 is expected to slow down, For instance, Zoom expects a sales growth of 42% at the midpoint of its guidance in the fiscal year 2022 that would end on 31 January 2022.
Snowflake's earnings guidance
Back with Snowflake, the company reported revenue growth of 115% in the fiscal third quarter of 2021 which was lower than the 121% growth that it had reported in the previous quarter. During their fiscal third quarter 2021 earnings call, Snowflake said that it expects its product revenues to be between $162-$167 million in the fiscal fourth quarter, which was barely in line with analysts' estimate of $166 million.
Snowflake growth is coming down
The revenue guidance implies growth of between 97%-103% which is lower than what the company reported in the previous two quarters. Analysts expect the company's revenue growth rate to fall to 89% in the fiscal year 2022 down from the expected growth of 119% in the fiscal year 2021.
Meanwhile, Snowflake is expected to post losses in the fiscal year 2022 also. Analysts expect it to post an EBITDA (earnings before interest, tax, depreciation, and amortisation) loss of $257 million in the fiscal year 2022. The losses are only expected to widen as compared to the fiscal year 2021.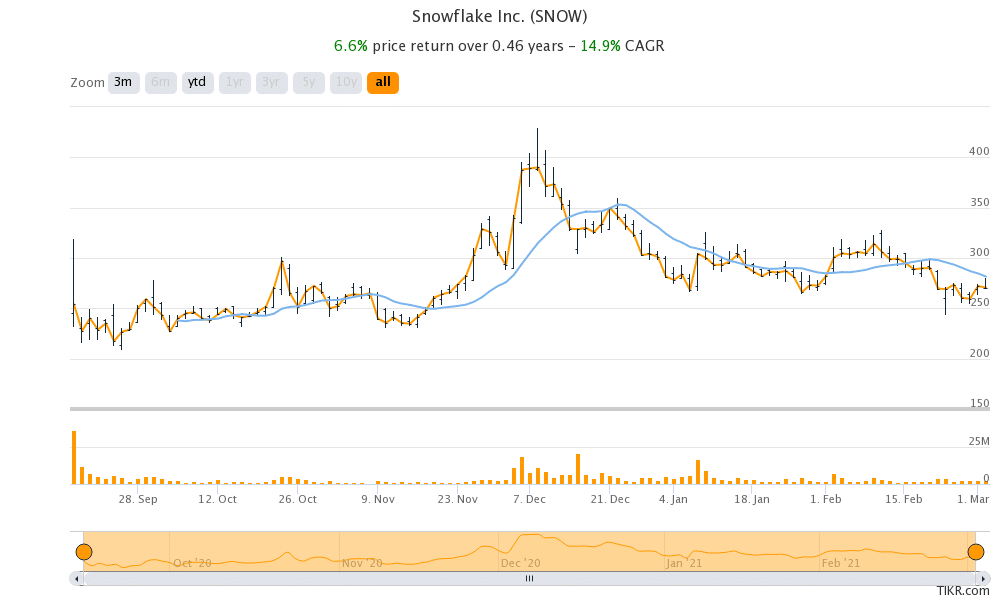 Snowflake share price forecast
According to the estimates forecasts compiled by MarketBeat, Snowflake's average price target is $290.13, which is a premium of 7.2% over current prices. Its highest price target of $350 is a premium of 30% over current prices, while its lowest price target of $175 is a 35% discount to the current share price.
Of the 24 analysts covering Snowflake, only seven have rated it as a buy while two rate it as a sell. The remaining 15 analysts have rated it as a hold or some equivalent. In January, Goldman Sachs and Rosenblatt Securities had initiated coverage on Snowflake with a neutral rating and a price target of $310 and $285 respectively. However, Citi, Credit Suisse, and Smith Barney had boosted their target price to $325, $310, and $325 respectively.
Berkshire Hathaway is also an investor in Snowflake
Berkshire Hathaway, whose chairman Warren Buffett hasn't been a fan of tech companies or IPOs, co-invested in the IPO along with Salesforce. However, in all probability, it wasn't Buffett but one of the other investment managers at the company who made that investment decision. Apple is among the largest investment that Buffett has made. However, the Oracle of Omaha does not see it as a tech company but a consumer company.
What's the outlook for Snowflake shares?
The outlook for cloud companies like Snowflake looks positive looking at the strong growth that the sector is witnessing. Snowflake has been expanding its customer base and in the third quarter of fiscal 2021, it had eight of the Fortune 10 companies as customers. In that quarter, it added 12 news Fortune 500 companies to its client list. These include Fiserv and Berkshire Hathaway's insurance subsidiary GEICO.
Meanwhile, growth has never been a concern for Snowflake. It's the slowing growth and the exorbitant valuations that look concerning. During the company's fiscal fourth quarter 2021 earnings call, it would be crucial to watch the growth outlook that it provides for the fiscal year 2022.
Incidentally, Snowflake shares had tumbled after the company had reported its fiscal third quarter 2021 earnings, its first as a publicly-traded company. If the company's guidance fails to impress markets there could be another sell-off after the fiscal fourth-quarter earnings release.
Snowflake shares were trading over 1% higher in US premarket trading today. They lost 0.6% in regular trading yesterday and are down 3.8% so far in 2021.
Looking to buy or trade Snowflake shares now? Invest at eToro with 0% commission!
75% of retail investor accounts lose money when trading CFDs with this provider