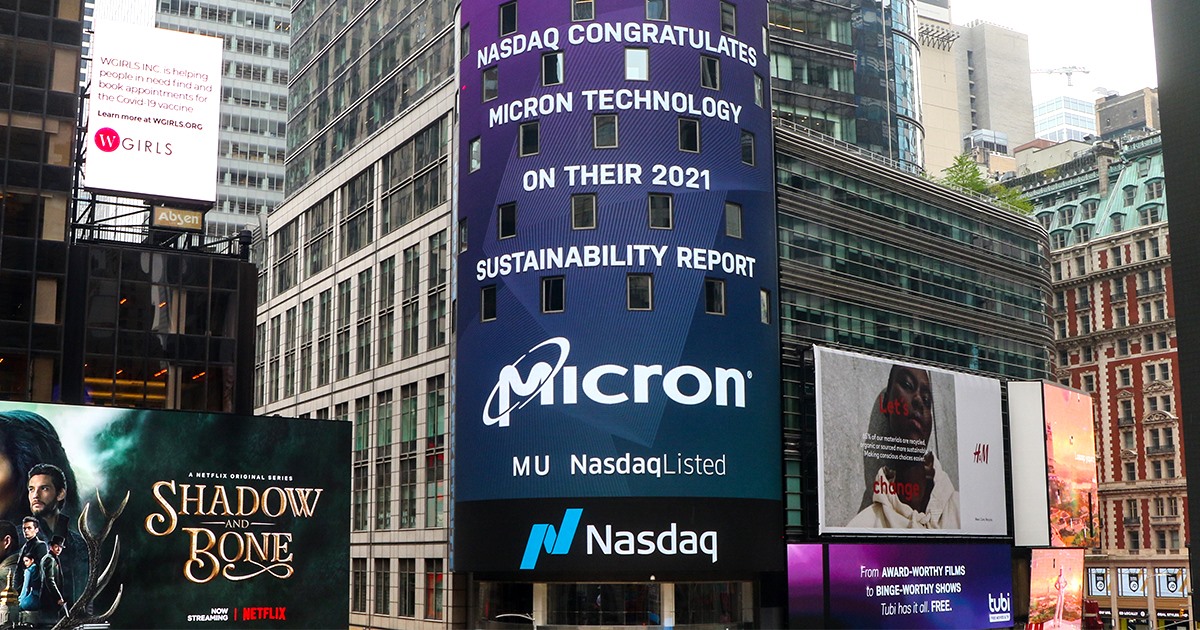 Micron is set to release its fiscal fourth-quarter 2021 earnings on Tuesday after the close of US markets. What are analysts expecting from the chipmaker in the quarter and what's the forecast for Micron shares in 2021?
Micron shares have whipsawed this year. The shares hit a 52-week high of $96.96 in April but have since fallen 23.6% from those levels. Micron shares are currently in a bear market territory having fallen over 20% from the peaks. The shares have now pared their 2021 gains and are trading flat for the year. Concerns over DRAM pricing have been taking a toll on Micron shares.
Several analysts have been turning bearish on Micron shares. Last week, JPMorgan analyst Harlan Sur lowered Micron's target price from $140 to $100 while maintaining the overweight rating. The analyst expects Micron's earning to be in line with its guidance and as DRAM and NAND pricing/demand trends remained strong as expected through the quarter.
"Supply-constrained PC shipment weakness (driving softer DRAM pricing) offsets strength in [servers] and smartphones, which should drive a conservative tone for MU's November-quarter outlook," said Sur. The analyst expects DRMA pricing weakness to continue into the first half of next year on weaker seasonality. While Micron produces both NAND and DRAM, the latter accounts for the bulk of its revenues.
Mizuho also lowered its target price on Micron shares by $10 to $97 while maintaining the buy rating. Goldman Sachs also reiterated the shares as a buy even as it said that it expects the company to provide a tepid outlook during the upcoming earnings call.
"We believe near-term weakness, particularly in the PC end market, combined with the company's possible decision to re-build inventory on its balance sheet (thus limiting bit shipments to customers) and its tendency to guide conservatively could lead to a muted FY1Q outlook relative to current Street expectations," said Goldman Sachs analysts in their note.
Overall, analysts are bullish on Micron shares and according to the estimate forecasts compiled by CNN Business, Micron has a median price target of $110, which is a premium of 48.6% over current prices. Its highest price target of $165 is a premium of 123% over current prices, while its lowest price target of $75 is a 9.7% premium over the current share price. The shares even trade below the street low target price which shows the current pessimism towards the company.
Of the 32 analysts covering the shares, 28 have rated it as a buy while four rates it as a hold or some equivalent.  None of the analysts has a sell rating on the shares.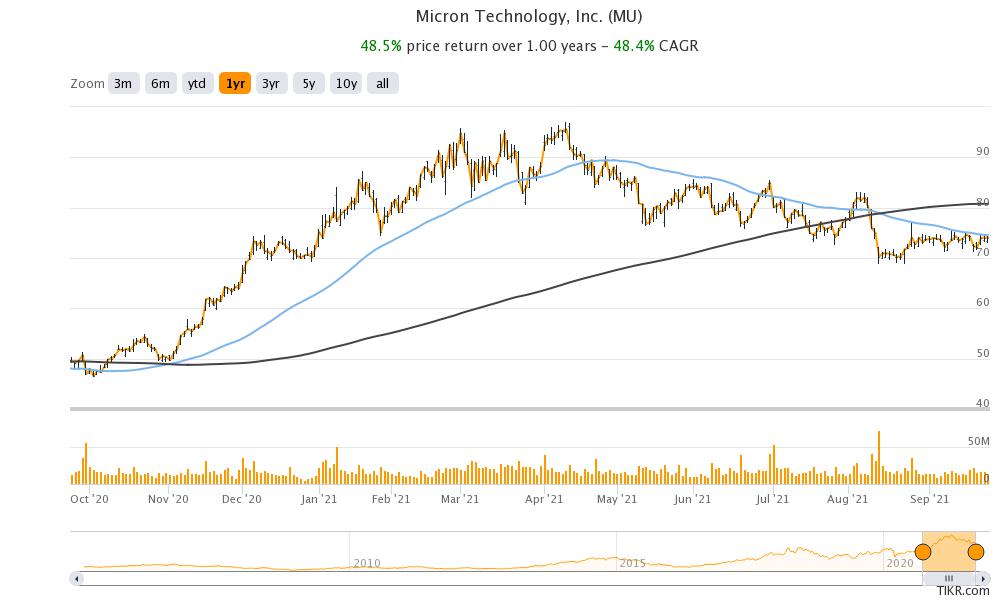 Earnings estimates
Analysts polled by TIKR expect Micron to post revenues of $8.21 billion in the fiscal fourth quarter ended in August, a year-over-year rise of 35.6%. During the previous earnings call, the company had given a guidance of $8-$8.4 billion in revenues for the fiscal fourth quarter. It forecasted an adjusted EPS between $2.2-$2.4. Analysts are expecting the adjusted EPS at $2.34 which is within the range provided by the company.
Notably, in the previous quarter, Micron shares had tumbled despite posting earnings beat. The company has also initiated a dividend even if it is a paltry 10 cents. "Initiating a common stock dividend reflects our confidence in Micron's future and our commitment to creating compelling value for shareholders," said Micron CEO Sanjay Mehrotra. Under Mehrotra, Micron is working on a business transformation and is also investing to increase its capacity. In the previous quarter, it said that it is increasing the annual capex budget to $9.5 billion.
Technical analysis
Micron shares look weak technically. The shares are facing a strong resistance at the 50-day SMA (simple moving average) which is currently at $74.52. The price level would be key as the company's earnings approach. If the shares cross above the 50-day SMA it would indicate technical bullishness.
Last month, there was a death cross formation in Micron shares after its 50-day SMA fell below the 200-day SMA. While the death cross is a lagging indicator, it often indicates a long-term bear market. The shares also trade below the 100-day SMA. However, they trade above the short-term SMAs including the 10-day, 20-day, and 30-day SMA. The MACD (moving average convergence divergence) also gives a buy signal while the 14-day RSI (relative strength index) is a neutral indicator.
To be sure, there are valid concerns over the weakness in DRAM prices. Also, there are fears that the semiconductor market would soon enter into an oversupplied zone considering the billions of dollars that companies are investing in new capacity. However, at current prices, Micron shares look quite attractive.
Micron shares currently trade at an NTM (next-12 months) PE multiple of only about 7.3x which looks reasonable. The risk-reward ratio for the shares looks attractive at these prices. If the company can come up with a better-than-expected outlook during the upcoming earnings release, it could help buoy sentiments.
Micron shares were trading slightly higher in US premarket price action today. The shares have a 52-week trading range of $46.50-$96.96.
Looking to buy or trade Micron shares now? Invest at eToro with 0% commission!
67% of retail investor accounts lose money when trading CFDs with this provider
Read next