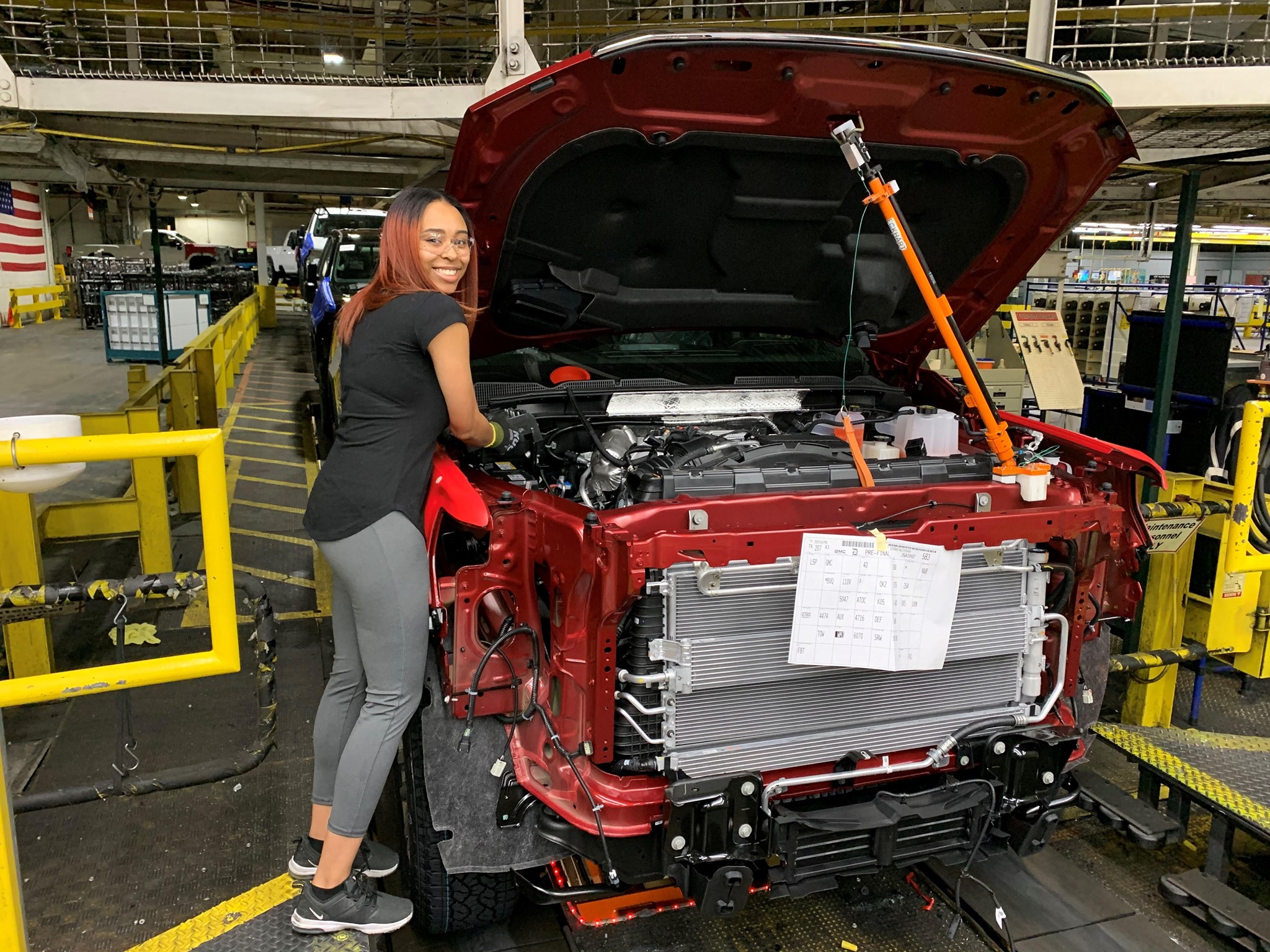 General Motors (GM) is set to release its first-quarter earnings today before the US markets open. What are analysts expecting from the earnings of America's largest carmaker and what's the forecast for the shares in 2021?
General Motors, along with other legacy automakers like Ford and Volkswagen, GM has seen a rerating this year. General Motors and Ford are, respectively, up 37% and 32% so far in 2021 even as pure-play electric vehicle makers like NIO, Fisker, and XPeng have sagged. Tesla has outperformed fellow electric carmakers in 2021 and is down only about 3% for the year.
Legacy automakers giving a tough fight to electric car companies
There is a growing perception among investors that pure-play electric vehicle makers won't have a cakewalk in the electric vehicle industry. Legacy automakers have outlined aggressive plans to launch a flurry of electric vehicles. General Motors has gone a step ahead and said that by 2035 it would sell only zero-emission vehicles, becoming the first Detroit automaker to put a strict timeline for ICE (internal combustion engine) car sales.
Automakers are also borrowing from Tesla's playbook and Volkswagen, which has praised Tesla's software and battery capabilities in the past, held a "Power Day" which sounded similar to Tesla's "Battery Day." Notably, the battery is among the key components of an electric car. It not only impacts a car's price but also determines its range and charging time.
Microsoft invested in General Motors' Cruise
Along with the battery, the "software" is another distinguishing factor in electric cars. Tesla has its Autopilot whose FSD (full self-driving) option currently costs $10,000 but CEO Elon Musk expects it to rise to $100,000 over the long term.
General Motors has its own self-driving subsidiary called Cruise. Earlier this year, Microsoft also invested in the company. Notably, pure-play autonomous driving companies like TuSimple Holdings attract high valuation multiples.
Tesla
According to Musk, most of Tesla's worth also comes from the software part of the business. However, autonomous driving businesses of legacy automakers are often overlooked by the markets. Ford's CEO Jim Farley talked about the aspect in the company's fourth-quarter 2020 earnings call even as he took a swipe at exorbitant valuations of startup companies.
What to expect from General Motors first-quarter earnings?
General Motors' first-quarter revenues are expected to rise 0.7% year over year to $32.9 billion. The automakers' EPS is expected to rise 60% over the period to $1.05. Looking at the full-year numbers, analysts polled by TIKR expect the company's 2021 revenues to fall 1.1% as compared to 2020.
That said, the company's 2021 sales would depend on how the global chip supply situation shapes up. Rival automaker Ford said last week that it expects to lose 50% of its second-quarter production due to chip shortage. It had lost 17% of the first quarter production due to chip shortage in the first quarter but expects to lose only 10% of the production in the back half of the year.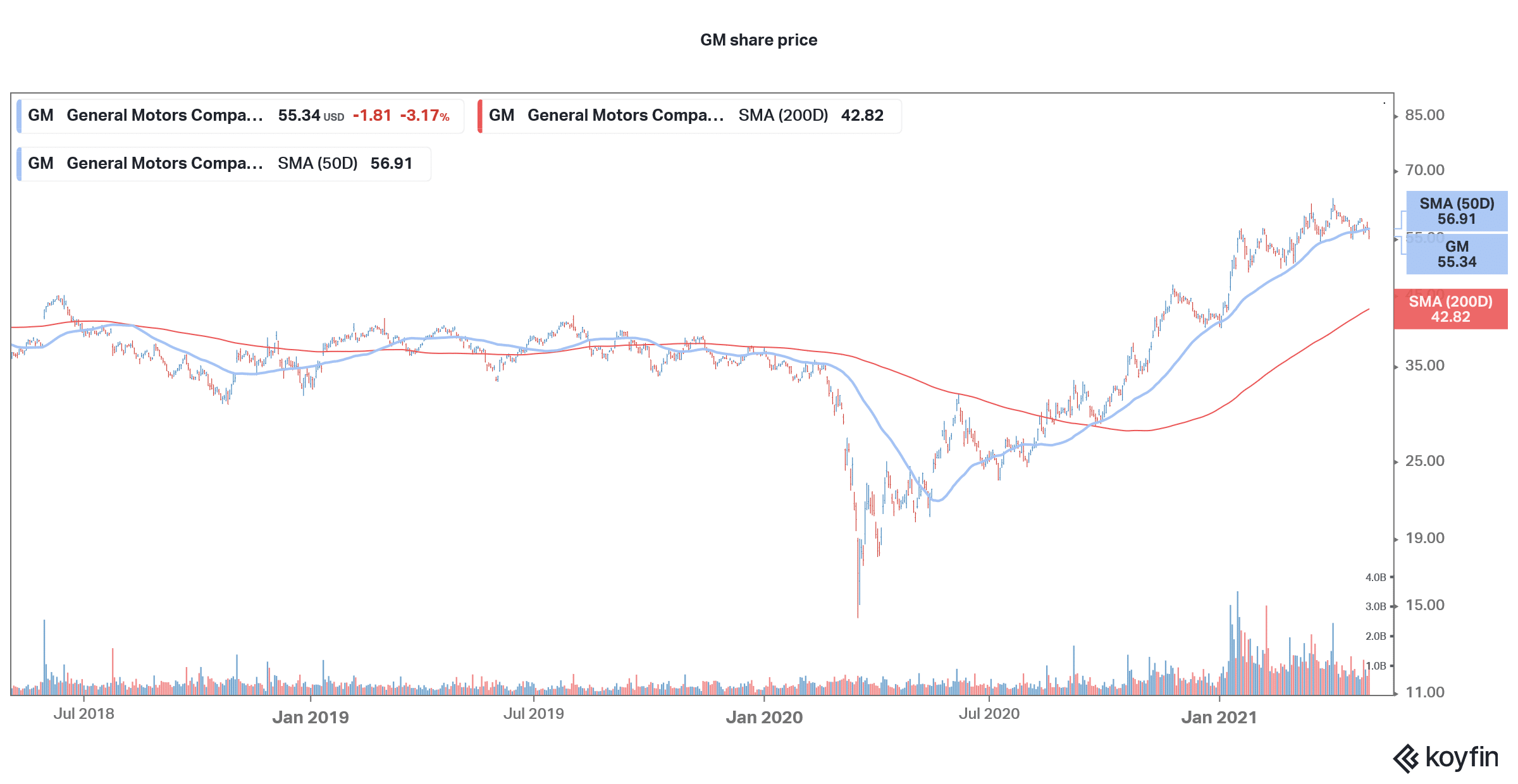 Electric cars use more chips
To be sure, legacy car companies like Ford and General Motors carry weeks of inventories that can help them blunt the impact of the chip shortage. However, they might face difficulties in ramping up production of newly launched electric models which generally use more chips than ICE cars.
Consulting firm AlixPartners is forecasting that the global automotive industry would potentially lose $60.6 billion in revenues this year due to the chip shortage situation
General Motors dividend was suspended in 2020
During General Motors' first-quarter earnings call, the impact of global chip shortage could dominate the discussion, just like it did in Ford's earnings call. Also, markets would watch the income from its joint venture operations in China where sales had soared in the first quarter, albeit from a low base.
The company might also offer insights into dividend restoration. The company had suspended its dividend in 2020 along with Ford. Ford hasn't yet taken a decision on the dividend restoration. During the first-quarter earnings call, General Motors might offer insights into its capital allocation priorities considering the higher capex towards electric cars and the cash flow impact from chip shortage.
General Motors share price forecast
According to the forecast estimates compiled by CNN Business, General Motors has a median price target of $67, which is a premium of over 21% over current prices. Its highest price target of $85 is a premium of almost 54% over current prices, while its lowest price target of $61 is a 10% premium to the current share price.
Of the 20 analysts covering the shares, 18 have rated the shares as a buy or some equivalent while two analysts have a hold rating. None of the analysts has a sell rating on the shares.
Jim Cramer is also bullish on General Motors
Jim Cramer is among those who are bullish on legacy automakers like Ford and General Motors. Wall Street analysts have also been getting bullish on GM shares. In April, Evercore ISI boosted General Motors' target price from $62 to $65 while Wells Fargo initiated coverage with an overweight rating and $67 price target.
Wall Street analysts might take a fresh view of General Motors shares after the first-quarter earnings release. How the company is impacted by the global chip shortage could influence analysts forecast for the Detroit automaker.
Meanwhile, with an NTM (next-12 months) PE multiple of 10.5x, General Motors shares look attractively priced and a good way to play the electric vehicle story.
Looking to buy or trade General Motors shares now? Invest at eToro with 0% commission!
75% of retail investor accounts lose money when trading CFDs with this provider