GameStop will release its fiscal first-quarter 2021 earnings on Wednesday after the close of US markets. What are analysts expecting from the gaming retailer's earnings and what's the forecast for the shares in 2021?
2021 has been a very volatile year for GameStop. It went as high as $483 amid the Reddit-driven short squeeze. Celebrities including Tesla's CEO Elon Musk, "king of SPACs" Chamath Palihapitiya, and billionaire fund manager Mark Cuban also threw in their hat amid the frenzied rally in GameStop shares.
GameStop shares have fallen from their peaks
However, the share fell sharply from its 52-week high and went below $40 at one point in time. But the shares have since rebounded sharply and in recent days have seen buying interest amid the rise in meme shares. AMC Entertainment has become the rare meme share to scale a new peak even as all other meme names are trading below their first-quarter highs.
Meanwhile, all meme shares have followed the same pitchbook which is to use the spike in their shares to issue new shares. In April, GameStop also completed its at-the-money offering where it sold 3.5 million shares and raised around $551 million. The company had raised cash by selling shares in 2020 also.
Share sale
Meanwhile, GameStop shares had fallen after it had announced the share sale in April. The company had then said that it needs the cash "primarily to fund the acceleration of our future transformation initiatives and general working capital needs." Last week, AMC shares had also fallen after it announced a share sale which it completed in a day even as it was meant to be a staggered issue.
GameStop has redeemed high-cost notes
GameStop is using these funds to repay some of its outstanding debt. Earlier this month, it announced the early voluntary redemption of its senior notes which were due in 2023. The notes had a principal amount of $216.4 million and carried a coupon of 10%. The early redemption of these high-cost notes will help GameStop reduce its interest burden.
Also, it would help it lower the cost of capital. While short squeezes tend to have only a short-term impact on share prices, over the last six months, we've seen rules of finance being rewritten as a lot of struggling companies went overboard with selling shares.
Meme shares
We now have examples like Sundial Growers which was at best a struggling cannabis company in 2020. However, it now has more cash than Tilray, the largest cannabis company. The company is investing this cash in other cannabis companies. Zomedica and Naked Brands are among the other meme shares that have raised more cash than their needs.
GameStop earnings
In May, GameStop provided the business update for the calendar first quarter. It said that in the nine weeks ended 3 April 2021, the total sales increased 11% as compared to the corresponding period in 2020. GameStop's sales increased 5.3% in February and a healthy 18% in March. However, it is worth noting that the increase in March sales is coming from a lower base effect. In March 2020, its business was "negatively impacted due to temporary store closures and other government mandated restrictions that resulted in limited operations."
Meanwhile, analysts polled by TIKR expect GameStop's revenues in the fiscal first quarter 2021 that ended on 30 April, to increase 13.6% as compared to the corresponding period last year. The company's sales had fallen on a year-over-year basis in the last nine quarters.
That said, there were some green shoots visible in the company's fiscal fourth-quarter 2020 earnings release even as it was a bizarre earnings call that was ended midway without taking analysts' questions.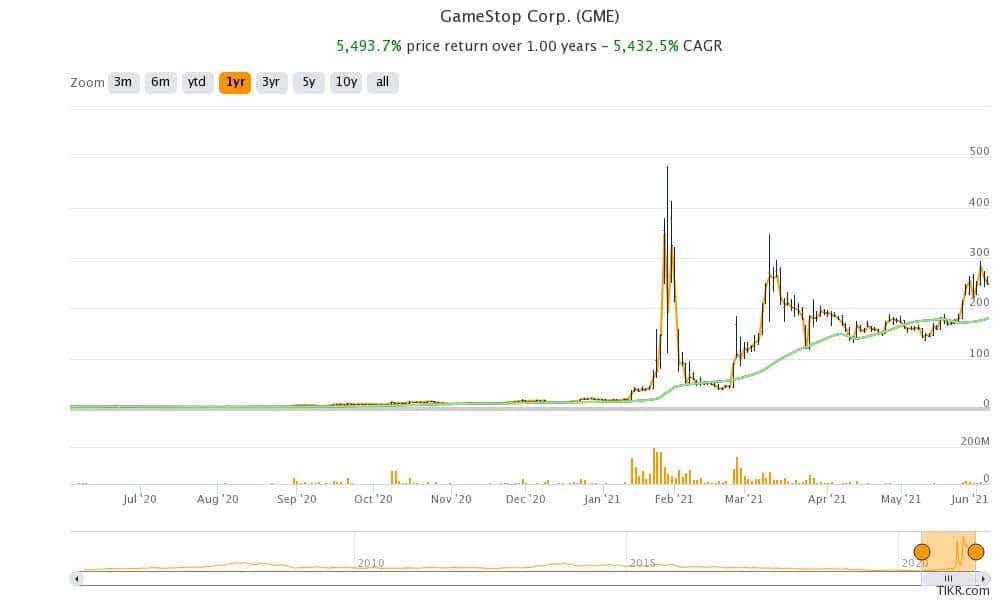 GameStop posted higher comp sales in the previous quarter
GameStop posted higher comp sales in the fiscal fourth quarter after the last many quarters of decline. The company also said that it is expanding its target market. "We are continuing the work to expand our addressable market by growing GameStop's product catalog. This includes growing our product offerings across PC gaming, computers, monitors, game tables, mobile gaming and gaming TVs, to name only a few," said GameStop in its earnings call.
Meanwhile, analysts expect GameStop to post an adjusted loss per share of $0.71 in the quarter after posting a profit in the previous quarter. The company had missed both topline and bottomline estimates in the previous quarter. This coupled with reports of a share sale triggered a sell-off in the shares.
What to watch on the first-quarter earnings call?
During their fiscal first quarter 2021 earnings call, GameStop management might offer insights into the capital raise plans. Like AMC, GameStop might also look at capitalising on the recent rally to issue more shares. Also, the management might comment on the frenzied rally, something it had avoided in the previous earnings call.
On that note, AMC Entertainment's CEO Adam Aron was all praise for retail shareholders during the earnings call, The company has also started providing shareholder's special benefits at the cinemas including free popcorn.
GameStop share price forecast
Like all meme shares, Wall Street has a bearish forecast for GameStop shares. Of the 6 analysts polled by TipRanks, two rate it as a hold while the remaining four rate it as a sell. GameStop's average target price of $55.80 is a 77% discount over current prices.
Wall Street analysts and their valuation models might not be able to justify the surge in meme shares. However, retail investors have been bullish on these names and have triggered costly short squeezes for Wall Street hedge funds.
During their fiscal first quarter 2021 earnings call, GameStop management might provide more updates on its long-term business plans. Looking at the current gaming retail business, it is not possible to justify the $17.5 billion market capitalisation for the company.
GameStop shares were up 1.3% in US premarket trading today and are up a whopping 1,218% so far in 2021.
Looking to buy or trade GameStop shares now? Invest at eToro with 0% commission!
75% of retail investor accounts lose money when trading CFDs with this provider