Coinbase (COIN) would release its third-quarter earnings this week. What're analysts expecting from the earnings of the cryptocurrency exchange and what's the forecast for the shares in the fourth quarter of 2021?
While the earnings season is past its peak, this week we've earnings from several companies. Within the fintech space only , PayPal and Lemonade would release its earnings this week.
Talking of Coinbase, the shares have whipsawed since the company listed through a direct listing. The reference price for its direct listing was $250 per share. It went as high as $429.54 but soon plunged to $208. However, the shares have been on an uptrend and have gained 35% over the last month.
Several factors have contributed to the rise in Coinbase shares. Firstly, cryptocurrencies have been incredibly strong over the last couple of months and have shed the pessimism from China's crackdown. Cryptocurrency adoption received another boost when NYC mayor-elect Eric Adams said that he would take his first two paychecks in bitcoins. While theoretically he can't do so as the city can only pay in the greenback, he would convert the paycheck to bitcoin through a crypto exchange.
Bitcoin hits new highs
Bitcoin recently rose to a new record high after the launch of the bitcoin ETF. Also, Coinbase last month announced plans for NFT. "Creating an NFT should be as simple as tapping a few buttons. Anything more complicated is a barrier to creativity. Coinbase NFT will be a peer-to-peer marketplace that empowers the imagination. With an intuitive design built on top of a decentralized marketplace, Coinbase NFT puts the art and artist's experience at the forefront," it had said in its release.
COIN third-quarter earnings
Analysts polled by TIKR expect Coinbase to report revenues of $1.58 billion in the quarter as compared to $2.22 billion in the second quarter. In its previous earnings release, the company had warned of slowing growth. Coinbase is expected to post an adjusted EBITDA of $679 million in the quarter which would mean an adjusted EBITDA margin of 43%.
Meanwhile, markets would watch the commentary on trading volumes and MTUs (monthly transacting users). During the second quarter, it gave annual guidance of 7 million MTUs as the midpoint. While proving the guidance it cautioned "It is important for investors to remember that our business is inherently unpredictable. MTUs, Trading Volume, and therefore transaction revenue can fluctuate, potentially materially, with crypto asset prices and crypto asset volatility. As a result, revenue is difficult to forecast."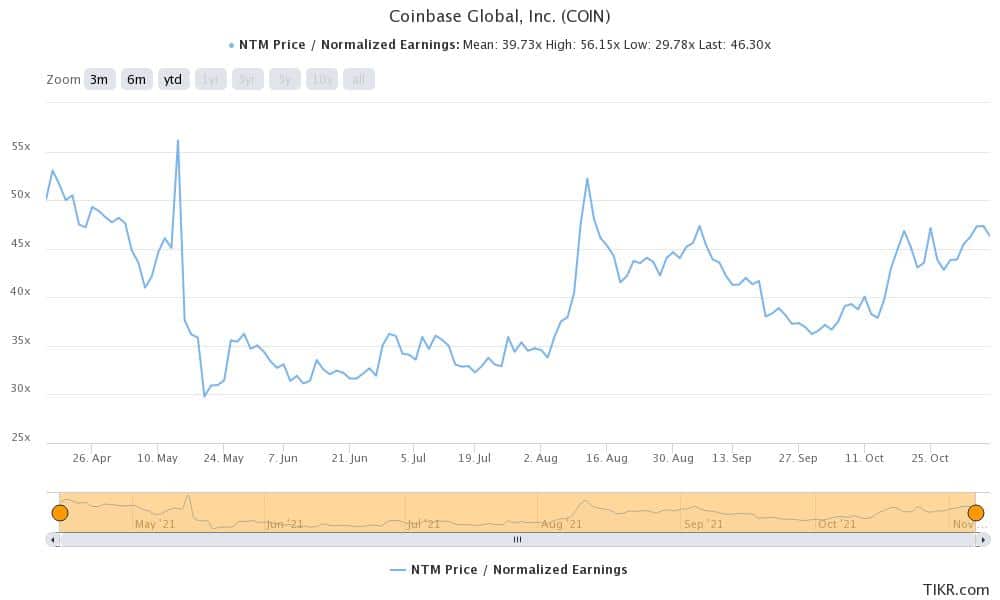 Meanwhile, Wall Street analysts are in general bullish on Coinbase shares. According to the estimate forecasts compiled by CNN Business, Coinbase has a median price target of $364, which a premium of 8% over current prices. Its highest price target of $600 is a premium of 78% over current prices, while its lowest price target of $250 is a 25.9% discount over the current share price. Of the 26 analysts covering the shares, 19 have rated it as a buy while five rates it as a hold or some equivalent. Two analysts have a sell rating on the shares.
Last month, Piper Sandler reiterated Coinbase shares as overweight after the launch of the bitcoin ETF. "First U.S. Bitcoin Futures ETF set to begin trading today. The ProShares Bitcoin Strategy ETF is set to begin trading today after being tacitly approved by the SEC last week. It will be the first bitcoin-related ETF in the United States, and there are ~5 additional bitcoin futures ETFs on a similar path that could begin trading in the next few weeks," it said in its note.
In September, Atlantic Equities had also reiterated the shares as overweight expressing optimism over the company's institutional revenues.
Coinbase shares are a play on the cryptocurrency market. Buying a crypto exchange is like a proxy play on the growing adoption and trading in cryptoassets. Coinbase continues to add new crypto assets on its platform which will help support the volumes in the medium to long term.
Unlike many recently listed companies which are posting losses, Coinbase is posting healthy profits. The shares trade at an NTM (next-12 months) PE multiple of 46.3x which looks reasonable. While there are concerns over a contraction in margins as competition rises in the crypto exchange ecosystem, Coinbase nonetheless looks like a good buying opportunity. The company's upcoming third-quarter earnings would help support the rally in shares.
Needham is also bullish on the shares. "We view Coinbase as an attractive way to play the growing crypto asset universe, which includes overlap in the high growth areas of stablecoins, decentralized finance (DeFi), non-fungible tokens (NFTs), borrow/lend applications, and 'yield farming," it said while affirming its buy rating on the cryptocurrency exchange.
Coinbase shares were trading % higher in US premarket price action today.
Looking to buy or trade Coinbase shares now? Invest at eToro with 0% commission!
68% of retail investor accounts lose money when trading CFDs with this provider
Read next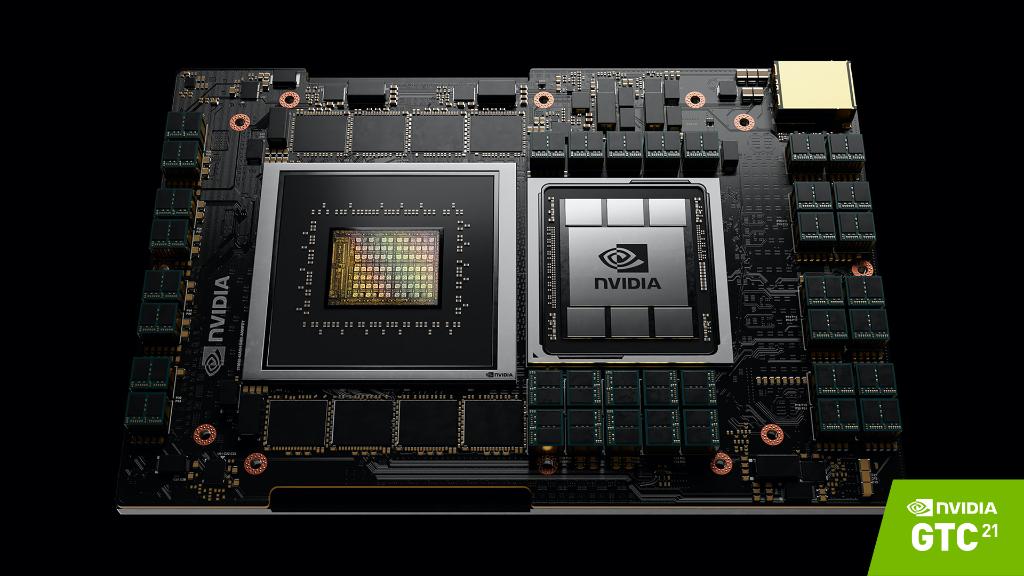 Nvidia share price forecast Q4 2021
Coinbase (COIN) would release its third-quarter earnings this week. What're analysts expecting from the earnings of the cryptocurrency exchange and what's the forecast for the...