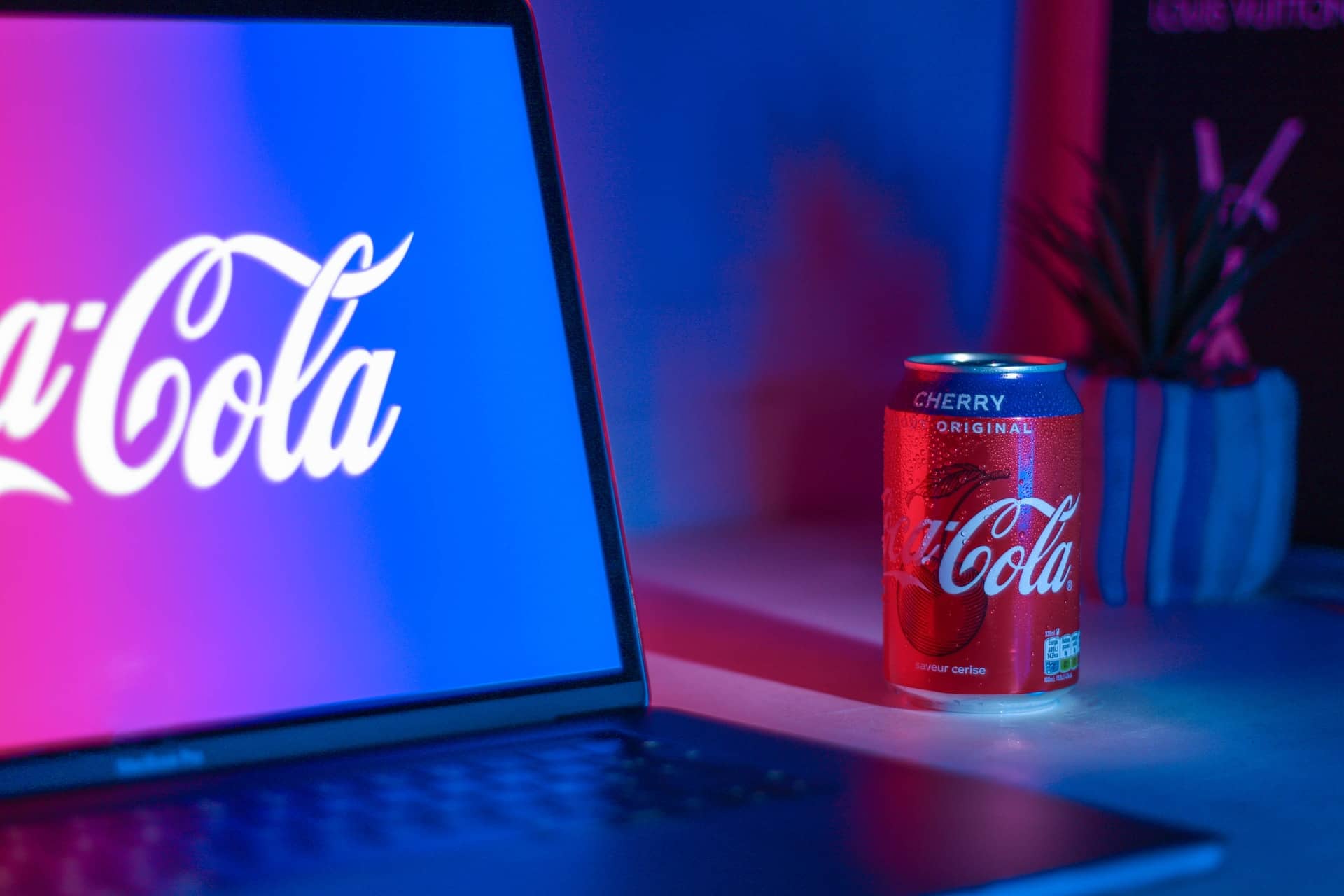 Coca-Cola is set to release its first-quarter earnings today before the US markets open. What are analysts expecting from the beverage company's earnings and what's the forecast for the shares in 2021?
Coca-Cola is expected to report revenues of $8.63 billion in the first quarter of 2021 – a year over year rise of 0.7%. The company's revenues had tumbled 5.3%, 9% and 28.5% year-over-year, respectively, in the previous three quarters.
Coca-Cola expected to return to growth
Meanwhile, analysts expect the company to return to a growth path from the first quarter of 2021. Revenues are expected to rise 28.2% and 13.3% respectively in the second and third quarter of 2021. However, the sharp rise in revenues should be seen in the context of the massive fall that Coca-Cola reported in the corresponding quarters in 2020 amid the COVID-19 related restrictions.
Here we need to understand that there are two moving parts in Coca-Cola's business. The first is stay-at-home consumption, which was strong last year as people stocked up on beverages and snacks amid the lockdown. However, the outdoor demand, which is from avenues like cinemas and sporting events, was subdued in 2020 as outdoor activities were either barred or only allowed with crippling restrictions.
During their fourth-quarter 2020 earnings call, the company said: "The rise in restrictions impacted our recovery in many markets resulting in a modest deceleration in volume in December which has continued year to date with volume currently down mid-single digits." It added, "Speaking generally, trends are still tied to our exposure to away-from-home, coupled with the level of lockdown."
Coca-Cola's profits
Analysts expect Coca-Cola to report an adjusted EPS of $0.50 in the quarter, which is 1.5% lower than posted in the corresponding quarter in 2020. The company expects its 2021 earnings to be either similar to or higher than 2019, which was the full year before the pandemic struck the global economy.
The company admitted to providing a wide range of guidance but clarified that by stating "we've provided a wider range than usual to account for lingering uncertainty in the near term, as well as the potential for the acceleration to be asynchronous in nature."
Reopening
Meanwhile, when considering the reopening trade, we usually think of cinema chains, cruise companies, the aviation sector and travel and tourism-related shares. However, Coca-Cola is also a proxy play on the reopening story. Last month, AMC Entertainment reopened nearly all of its cinemas in the US while Disney will reopen its California Parks later this month.
As more and more US citizens get vaccinated against the COVID-19, outdoor activities will resume to pre-pandemic levels soon. Going by the strong box office receipt for 'Godzilla vs. Kong' which garnered $48.5 million in the US and Canada during the five-day extended Easter Weekend, there is strong pent-up demand for outdoor activities, which bodes well for companies like Coca-Cola. While the stock is not strictly a "reopening story" it will nonetheless benefit from the reopening of cinemas and other outdoor activities as outdoor beverage consumption would rise with reopenings.
Coca-Cola shares are still below pre-pandemic highs
We should also remember that there has been a tectonic shift from growth and speculative names to beaten-down value shares. Coca-Cola fits perfectly into the definition of an all-weather value share and it is among the core holdings of Berkshire Hathaway, whose chairman Warren Buffett is among the best value investors of all times.
While US stock markets are trading significantly above their pre-pandemic peak, Coca-Cola shares are still down from their pre-pandemic highs even as the shares trade near their 52-week highs.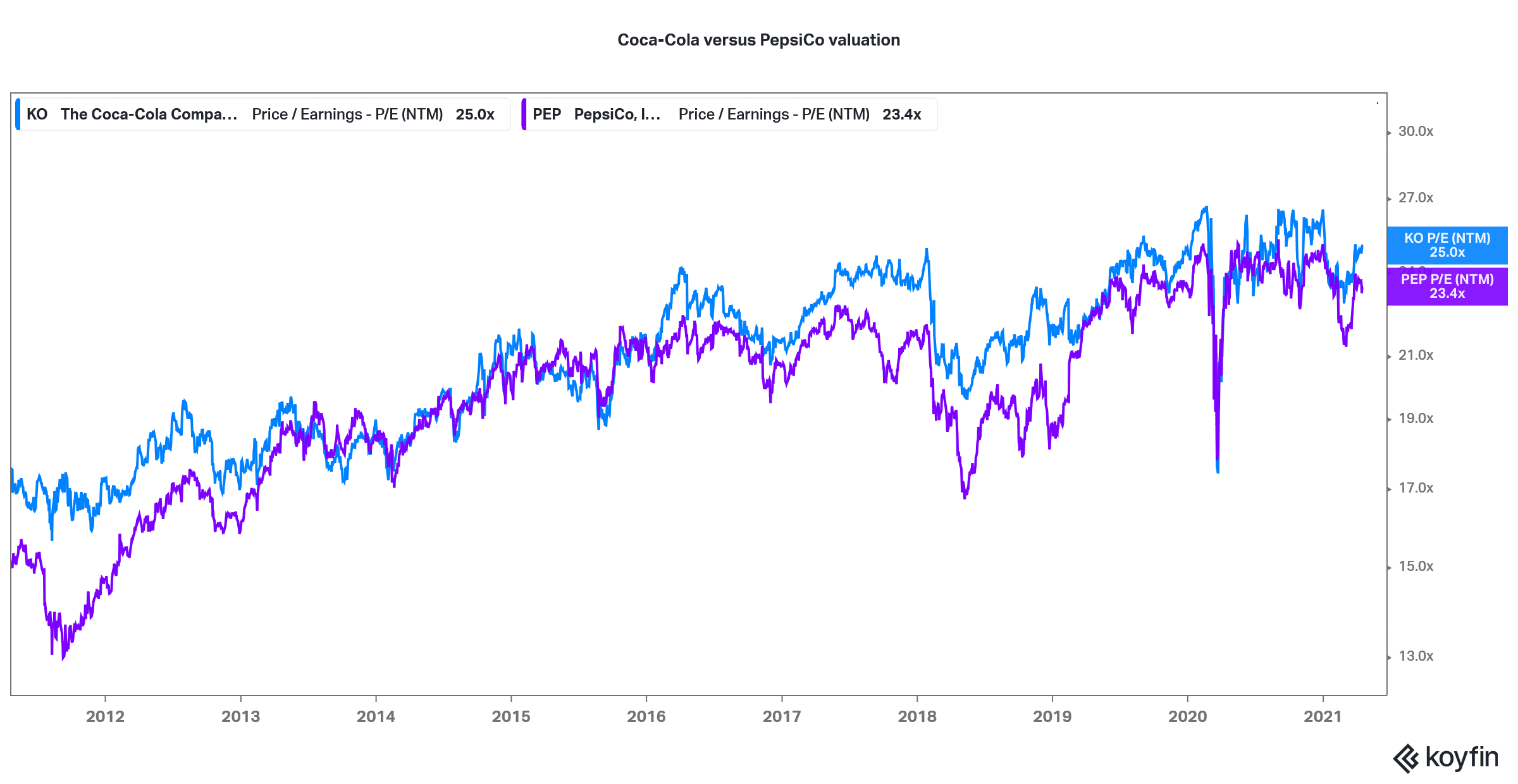 Valuation
Coca-Cola shares trade at an NTM (next-12 months) price-to-earnings multiple of 25x, which is higher than its historical multiples. However, the company has been working on a transformation and has been rejigging its business. The multiples, while high by historical standards, are reflective of the rerating of the shares and the fund flow from growth to value shares. Value shares have been a perennial underperformer over the last decade and the tables seem to be turning now.
Coca-Cola has a healthy dividend yield of 3.13% as compared to PepsiCo's 2.8% dividend yield. PepsiCo's NTM price-to-earnings multiple of 23.4x is also at a slight discount to that of Coca-Cola. That said, PepsiCo has historically traded at a discount to Coca-Cola.
Coca-Cola share price forecast
According to the forecast estimates compiled by CNN Business, Coca-Cola has a median price target of $57, which is a premium of 6.2% over current prices. Its highest price target of $67 is a premium of almost 25% over current prices, while its lowest price target of $50 is a 7% discount to the current share price.
Of the 26 analysts covering Coca-Cola, 18 have rated the shares as a buy or higher, while the remaining eight analysts have a hold or equivalent rating on the shares. None of the analysts have a sell rating.
Looking at recent analyst action, last week Wolfe Research initiated coverage on Coca-Cola shares with a peer perform rating. Also, last month Royal Bank of Canada upgraded the shares from sector perform to outperform and raised the target price from $55 to $60.
Overall, Coca-Cola shares could be a core part of an investor's portfolio, just as it is for Warren Buffett. If you are an investor craving quality dividend shares, Coca-Cola would fit the bill too.
The shares were down 0.23% in US premarket trading today as futures point to a lower opening for the markets today. The shares are down 2.1% year to date but are up 12.7% over the last year.
Looking to buy or trade Coca-Cola shares now? Invest at eToro with 0% commission!
75% of retail investor accounts lose money when trading CFDs with this provider