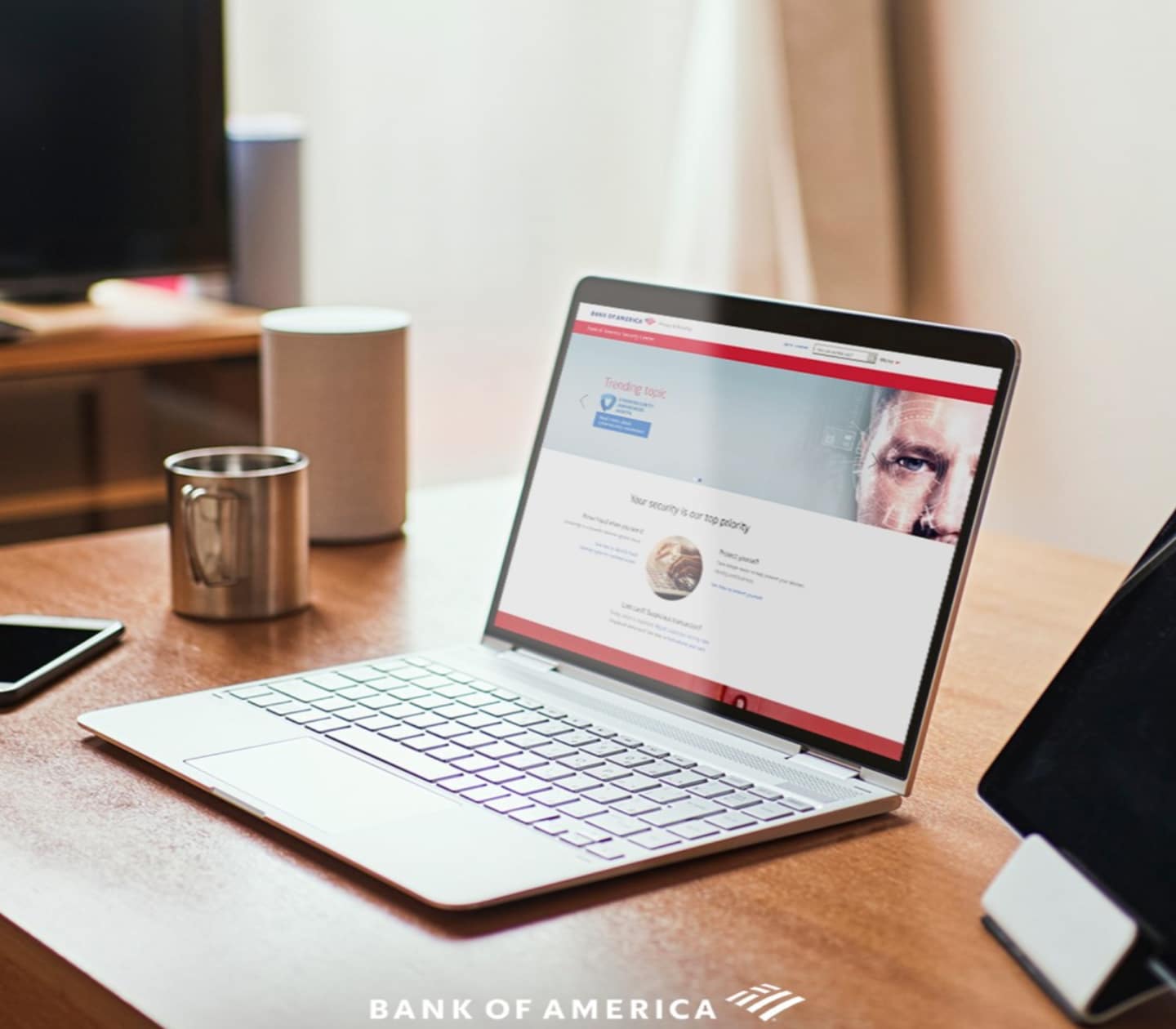 The first quarter 2021 earnings season has begun and Bank of America will report its earnings on 15 April before the markets open. What are analysts expecting from the company's first-quarter earnings and what's the forecast for the shares in 2021?
2020 was a bad year for banking stocks and the financial subsector of the S&P 500 index fell 4.1%, even as the S&P 500 index saw double-digit gains, closing near record highs.
Banking shares have rebounded in 2021
The financial sector is highly cyclical in nature and its fortunes are closely tied to the economy. Although the US economy was shattered by the COVID-19 pandemic, the trillions of dollars in government stimulus blunted the worst of the impact. Banks see higher bad loans in a cyclical downturn and US banks including Bank of America had to aside billions of dollars every quarter in 2020 towards bad loans. However, as the economy recovers cyclical stocks such as banks, that are highly sensitive to the contractions and expansions of the economy, should benefit.
Also, the yields on US government bonds plunged in 2020. Banks tend to underperform in a falling interest rates environment as it squeezes their profit margins, which is the differential between what they pay on deposits and what they earn on advances. Bank of America shares lost 15% in 2020 amid the sell-off in financial companies.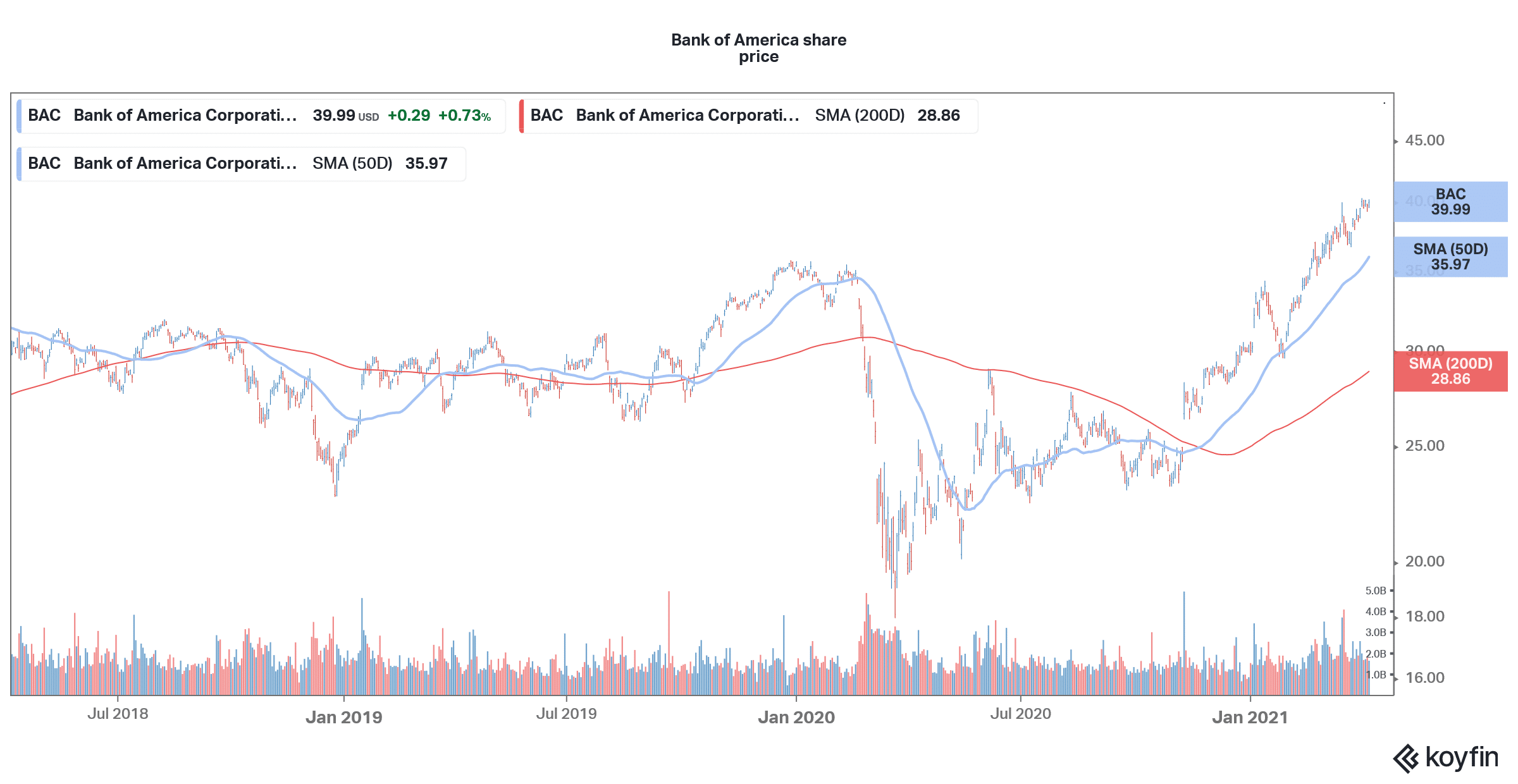 Bank of America shares are outperforming the S&P 500
In contrast to last year 2021 has been a different ballgame for all US banks including Bank of America, which is up almost 32% in the year and is outperforming the S&P 500.
The outperformance of US banks in 2021 is not hard to explain. Firstly, the rising pace of vaccinations has raised hopes that the economic activity would rebound sharply.
Secondly, the yields on long-term bonds have spiked, which benefits banks because they tend to borrow on the short end of the curve and lend on the long end. The steepening of the yield curve is positive for the earnings of banks even as they may report losses on their bond portfolios.
Bank of America first quarter earnings estimates
Coming back to Bank of America, analysts polled by TIKR expect its revenues to fall 4.8% year over year to $21.8 billion in the first quarter of 2021. However, the revenues are expected to rise 8.1% as compared to the fourth quarter of 2020.
Meanwhile, the company is expected to post an adjusted EPS of $0.64 in the first quarter—61% higher than the corresponding quarter in 2020.
Warren Buffett is bullish on the company
Notably, Berkshire Hathaway chairman and legendary value investor Warren Buffett was bearish on banking stocks in 2020. The conglomerate fully exited its stake in JP Morgan Chase, Goldman Sachs, M&T Bank, and PNC Financial Services in 2020. It also trimmed its stake in Wells Fargo and held only about a 1.3% stake in the bank. At its peak, Berkshire Hathaway's stake in Wells Fargo was near 10% and Buffett had to sell some shares in order to keep the stake below 10%. Having a stake of over 10% in banks attracts higher regulatory scrutiny and Buffett has generally been wary of increasing the stakes in banks above 10%.
Buffett added more Bank of America shares in 2020
Meanwhile, while Buffett was selling stakes in other bank shares, he added more Bank of America shares in 2020 and now holds a stake of around 12% in the bank. The holdings are based on the fourth quarter 2020 13F (the 13F form is the quarterly filing required by the SEC of all institutional investment managers) and we'll get the first quarter update when Berkshire files the 13F in May.
Bank of America is the second-largest holding in Berkshire Hathaway's portfolio behind Apple. Meanwhile, while Buffett placing faith in Bank of America shares shows his commitment to the company and the management, we also need to look at the valuations.
Bank of America share valuation
Bank of America shares trade at an NTM (next-12 months) PE multiple of 15.5x, which is higher than its historical trading multiples. But for banks it is also prudent to look at the price-to-book valuation also. The shares trade at an LTM (last 12-months) price-to-book value of 1.4x. The general rule of thumb is that a price-to-book value multiple below 1x is cheap.
Referencing the company's other financial metrics, Bank of America has a return on assets multiple of 0.7x, while its return on equity multiple was 6.7%. The bank's nonperforming loans as a percentage of total advances were 0.6% at the end of 2020, which looks quite healthy.
US banks could increase dividends
Bank of America has a dividend yield of 1.9% – is in line with the S&P 500's dividend yield. However, last year, the Federal Reserve barred US banks from increasing dividends and pursuing share buybacks. Now, the Fed has permitted banks to increase dividends in the second half of the year and in all likelihood Bank of America shareholders can expect to be rewarded with a dividend hike.
Treasury Secretary Janet Yellen has also been supportive of banks increasing shareholder payout. "I have been opposed earlier when we were very concerned about the situation the banks would face about stock buybacks," said Yellen. She added: "But financial institutions look healthier now, and I believe they should have some of the liberty provided by the rules to make returns to shareholders."
Bank of America share price forecast
According to the forecast estimates compiled by CNN Business, Bank of America has a median price target of $41, which is a premium of 2.4% over current prices. Its highest price target of $50 is a premium of 24.8% over current prices, while its lowest price target of $30 is a 25% discount to the current share price.
Of the 28 analysts covering Bank of America, 16 have rated the shares as a buy while two have rated it as a sell. The remaining eight analysts have a hold or equivalent rating on the shares.
Meanwhile, Wall Street analysts have become incrementally more positive on Bank of America shares. In April, Jefferies, Barclays, and Deutsche boosted their target price to $41, $45, and $44 respectively. Deutsche has also upgraded its rating from positive to buy, with the brokerage raising its target price on Bank of America shares by $9. In March, Baird and Morgan Stanley also lifted their target prices on Bank of America.
Should you buy or sell Bank of America shares
Assessing  the current valuations, Bank of America shares look reasonably priced. However, taking into account  the bank's strong financial position and the possibility of a dividend raise later this year, investors with a long-term view can consider buying the shares.
Looking to buy or trade Bank of America shares now? Invest at eToro with 0% commission!
75% of retail investor accounts lose money when trading CFDs with this provider