Diversified mining company Anglo American is set to release its 2020 financial performance tomorrow. What are analysts forecasting for the company and what should investors watch out for in the earnings call?
Anglo American's earnings are coming towards the end of the earnings season, with competitor mining companies, Rio Tinto, BHP Billiton, and Glencore having already released their earnings. While Rio Tinto and BHP Billiton increased their dividends, Glencore reinstated its dividends that was suspended last year. Antofagasta will release its 2020 earnings next month.
Anglo American to release its 2020 earnings
Like its mining peers, Anglo American also releases quarterly production results and half-yearly financial performance. To get a sense of the company's 2020 performance, it is prudent to look at its production numbers. For mining companies like Anglo American, the earnings are a function of production, unit cash costs, and commodity prices.
2020 production report
Anglo American's diamond production fell 14% in the fourth quarter of 2020 and 18% in full-year 2020. The production for PGM (platinum group metals) also fell 7% in the fourth quarter and 14% in 2020. Its iron ore, metallurgical coal, and thermal coal production also fell 7%, 26%, and 22% respectively in 2020. Anglo American's manganese production was up 4% in the fourth quarter but was flat on a yearly basis.
Anglo American's copper production increased in 2020
Of all the commodities in Anglo American's portfolio, only nickel and copper production increased on a yearly basis in 2020. Notably, both nickel and copper are widely used in electric vehicles.
The average copper intensity in an ICE (internal combustion engine) car is about 23 kilograms, while it's 83 kilograms for a battery-electric vehicle, according to a study from the International Copper Association. Copper intensity is higher in renewable energy generation also. No wonder copper prices are trading near multi-year highs amid optimism over green energy and electric vehicles.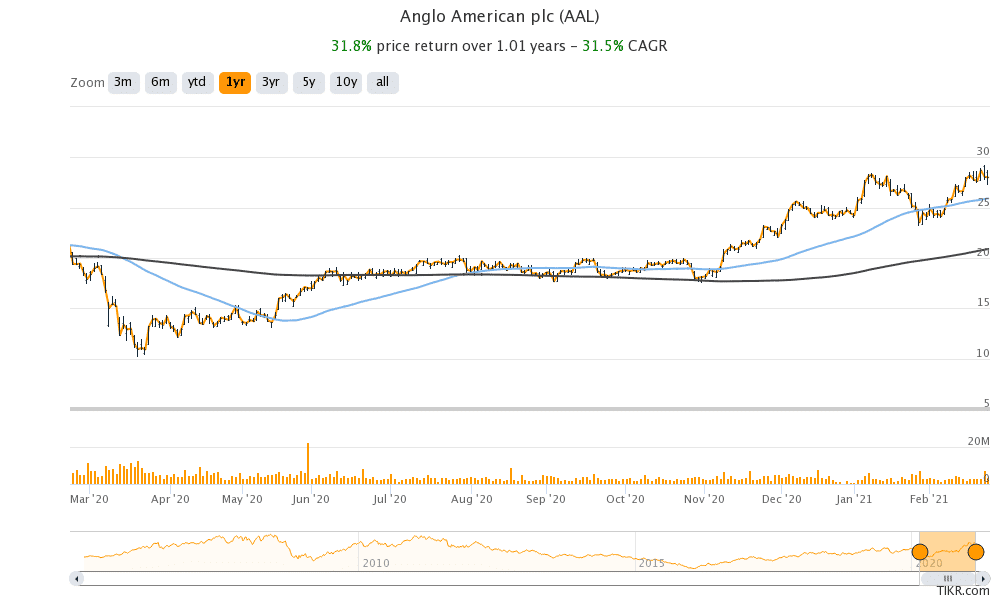 Anglo American 2020 earnings estimates
Analysts expect Anglo American's revenues to rise 6.2% year over year in the second half of 2020 to $16 billion. The company's revenues had fallen 15.6% in the first half of the year amid weak commodity prices and production disruption due to the COVID-19 pandemic.
The expected increase in Anglo American's second half revenues is largely due to the strong commodity prices. Prices for iron ore and copper were strong in the second half of 2020 which would reflect in the company's performance. Analysts expect the company's EBITDA in the second half of 2020 to rise 25% year over year to $5.7 billion. The company's EBITDA had tumbled 38.5% in the first half of the year.
2021 forecast
Looking at the full-year forecast, analysts expect Anglo American's 2020 revenues and EBITDA to fall 3.4% and 8.6% respectively. However, analysts see better days ahead for the mining company and are forecasting that its revenues would increase by 23.6% to $35.6 billion in 2021.
Anglo American's EBITDA is expected to rise 60% year over year to $14.6 billion in 2021. This would transform into an EBITDA margin of 41%. The company is working to improve its margins and expects them to rise to 45-50% by 2023.
Anglo American's guidance
Last year, Anglo American provided its 2020 guidance. The company expects capital expenditure of $4 billion in the year. Out of which $2.7 billion is sustaining capital expenditure, which is similar to the expected depreciation of $2.7 billion in the year.
Anglo American also expects growth capital expenditure of $1.4 billion in 202, with the majority of that at the Quellaveco copper mine in Peru. The company forecasts a cash interest expense of nearly $400 million in the year while it expects the tax rate at close to 32%.
What should you watch in Anglo American's earnings call?
Anglo American has a dividend payout policy of 40% of underlying earnings. During the company's 2020 earnings call, markets would watch the management's commentary on capital allocation especially given the recent uptrend in commodity prices. Also, the company would provide guidance for its 2021 production. The company might also provide an update on the progress at its Quellaveco mine.
Is Anglo American a copper play?
In the first half of 2020, copper accounted for over half of Anglo American's EBITDA. The contribution from copper would increase once the Quellaveco mine starts production in 2022. Also, given the uptrend in copper prices, Anglo American looks well placed with its portfolio of copper mines.
Anglo American shares were up 1.7% at 2849.50p at 10:30 AM London time today. The shares have gained 31.8% over the last year. The stock trades at an NTM enterprise value to EBITDA (earnings before interest tax, depreciation, and amortisation multiple) of 5.84x which looks reasonable looking at the current commodity price environment.
Looking to buy or trade Anglo American shares now? Invest at eToro with 0% commission!
75% of retail investor accounts lose money when trading CFDs with this provider
Disclaimer
All trading carries risk. Views expressed are those of the writers only. Past performance is no guarantee of future results. The opinions expressed in this Site do not constitute investment advice and independent financial advice should be sought where appropriate. This website is free for you to use but we may receive commission from the companies we feature on this site.