If you're based in the UK and looking for a way to trade cryptocurrencies without lifting a finger – you might be considering a crypto trading platform. One such provider that appears to be growing in popularity is that of Bitcoin Trader. Are Bitcoin Trader and its claims of huge financial returns too good to be true? That's what we intend in finding out in this Bitcoin Trader Review UK.
---
Bitcoin Trader at a Glance
| | |
| --- | --- |
| Type | Crypto Trading Platform |
| Minimum Deposit | $250 |
| Win Rate | 60% |
| Withdrawal Duration | 24 hours |
| Mobile App | Yes |
| Supported Cryptocurrencies | Bitcoin |
What is Bitcoin Trader?

Bitcoin Trader offers a cryptocurrency trading service. That is to say, by depositing funds into the platform, it will buy, sell, and trade cryptocurrency assets on your behalf.
In this sense, Bitcoin Trader offers a way to buy Bitcoin and exposure to the digital currency scene.
In turn, the technology will scan the Bitcoin markets 24/7 – constantly looking for profit-making opportunities. When it does, the robot will place the respective trade. If the trade is therefore successful, you will make a profit. If not, you make a loss.
It is hoped that over the course of time, the Bitcoin Trader robot will make consistent gains. In fact, the provider claims that it generates daily returns of 60% – which is huge. Whether or not this is true remains to be seen. After there, there are both good and bad Bitcoin Trader reviews in the online space, so always tread with caution.
Bitcoin Trader Services
Bitcoin Trader is only involved in one service – automated cryptocurrency trading. As noted above, everything is passive, so you don't need to have any knowledge of how digital currencies work, nor do you need to understand the fundamentals of trading.
How Does Bitcoin Trader Work?
Bitcoin Trader is suitable for investors of all shapes and sizes – especially newbies. As such, the end-to-end Bitcoin investment process is not only simple – but it takes just minutes to get started.
Below you will find a step-by-step outline of how Bitcoin Trader works in practice.
Step 1: Register With Bitcoin Trader
The get the process started, you need to register with Bitcoin Trader. You can do this by heading over to the prover's website and filling out the signup form at the top of the page.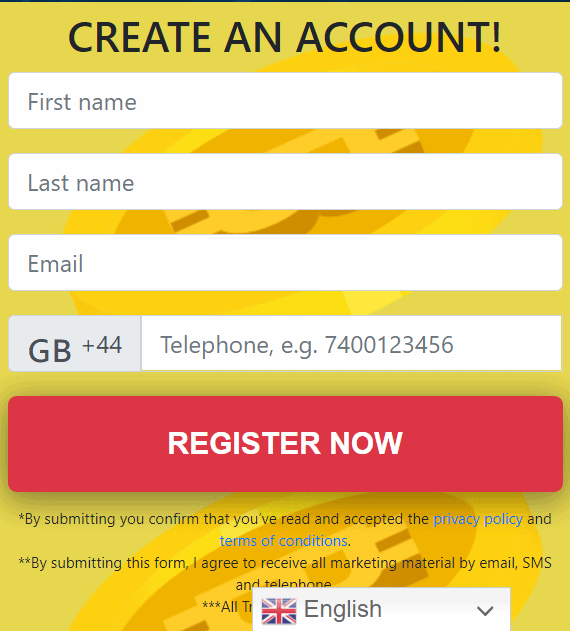 Cryptoassets are highly volatile unregulated investment products. No EU investor protection.
Here, you will need to enter your first and last name, email address, and mobile phone number. It is a wise move to first read the terms and conditions by clicking on the respective link below the registration form.
Step 2: Open an Account at Partnered Broker
Once you fill in the registration form, Bitcoin Trader will redirect you to one of its partnered brokerage sites. This is the Bitcoin trading platform that you will be trading with. Bitcoin Trader doesn't give the name of the brokers it deals with.
But, they are likely to be trustworthy entities for two key reasons:
Firstly, Bitcoin Trader notes that you will need to supply government-issued ID at the broker, which means it complies with anti-money laundering regulations.
Secondly, its partnered brokers accept debit/credit cards and e-wallets. In order for trading sites to accept these methods, they need to be licensed.
The specific broker that you are redirected to will be dependent on your country of location.  However, you need to check this for yourself before moving on to the next step.
Step 3: Provide KYC Documents
As noted above, Bitcoin Trader explains that all of its partnered brokers will ask you to submit verification documents.
In the vast majority of cases, this will consist of the following:
Passport or driver's license
Proof of address, which can be a bank account statement, utility bill, or tax statement
Some online trading platforms are able to verify documents instantly, while others can take 1-2 working days.
Step 4: Deposit Funds
At this stage of the step-by-step process, you should have registered with Bitcoin Trader and have a fully verified account with the respective online broker. Next, it's time to make a deposit.
Bitcoin Trader notes that you need to deposit at least $250 (about £185) to gain access to its robot. In most cases, the broker will accept a debit/credit card payment or a bank account transfer.
Our Bitcoin Trader Review UK found that some of its partnered brokers also accept e-wallets like Paypal.
Step 5: Active Bitcoin Trader
You are now ready to use the Bitcoin Trader platform. If you want to test the robot out before risking the funds you deposited into the brokerage site, this is an option worth taking.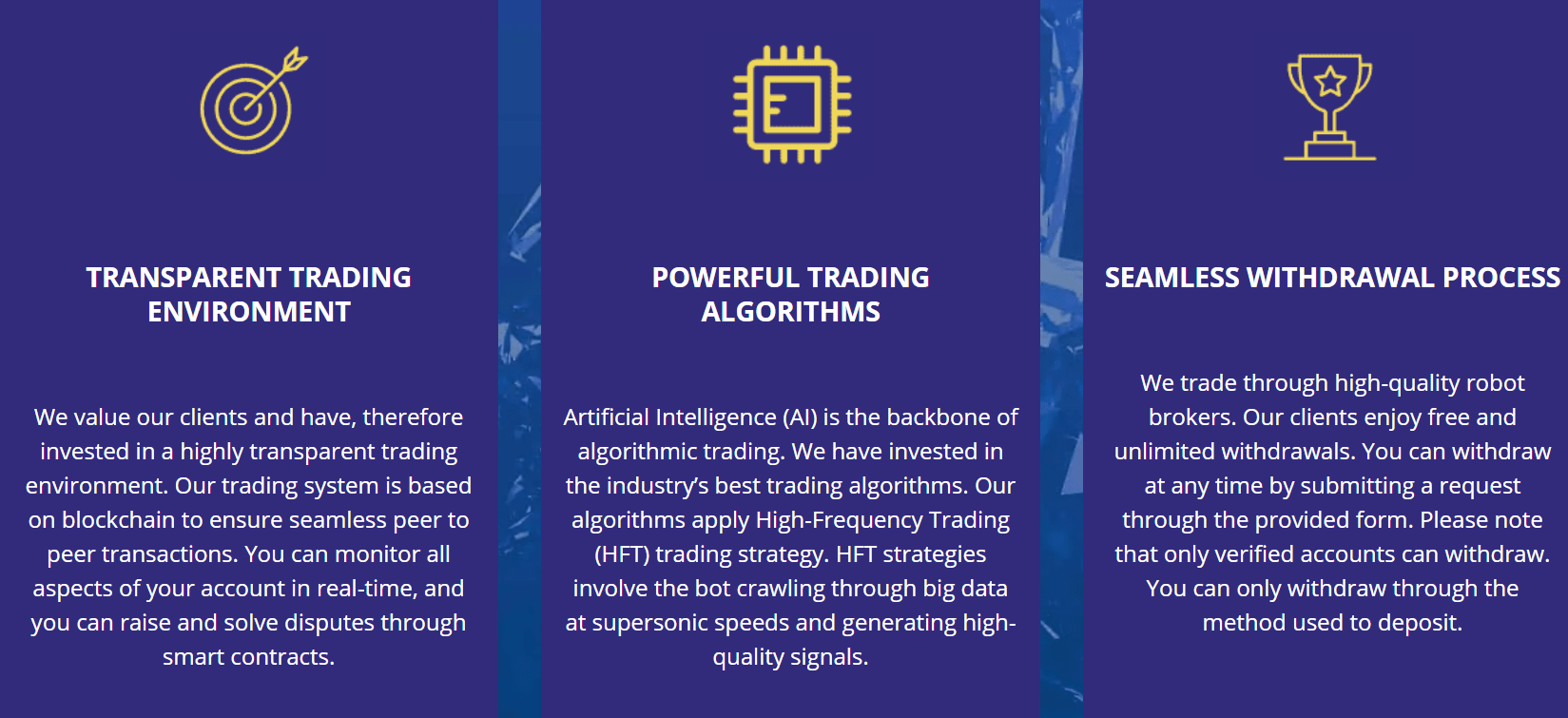 Cryptoassets are highly volatile unregulated investment products. No EU investor protection.
This allows you to view how the robot is performing before risking your own capital. After all, Bitcoin Trader doesn't charge anything for its services, so at this point, you haven't spent any money apart from the brokerage deposit.
Bitcoin Trader Claimed Success Rates
It goes without saying that like most automated trading systems – Bitcoin Trader makes some bold claims. It's always difficult to know whether or not these claims are actually true – especially in the case of Bitcoin Trader. This is because the online domain is packed with reviews that are both positive and negative.
Nevertheless, let's explore some of the claimed success rates published on the Bitcoin Trader website. Another Bitcoin robot that we recommend is Bitcoin Motion as it allows you to buy and sell BTC passively so you can make the most of unique opportunities when they arise.
60% Claims Daily Returns
So, the main financial claim that Bitcoin Trader makes is that of a 60% daily return. This claim relates to the gains that its robot makes, in percentage terms. As such, your realizable financial profit would need to multiply by your average stake.
Now, it must be noted that daily returns of this magnitude are significant. As such, there is no guarantee that the claims are valid. On the contrary, there is every chance that they might be false.
This is why it's always a good idea to [A] start off with small amounts and [B] test it out via the demo account first.
Client Testimonials
In addition to its claimed daily returns of 60%, Bitcoin Trader has also published some client testimonials on its website.
This includes Fiona from Sydney, who claims have grown a $250 deposit into profits of $13,146. Then you have Brian from Johannesburg, who claims to have grown his capital to $73,456 from a deposit of $250.

Once again, there is no sure-fire of knowing whether or not these client testimonials are valid, so ensure that you perform lots of research before taking the financial plunge.
Bitcoin Trader Fees
First and foremost, Bitcoin Trader does not charge any fee to trade. Instead, you simply need to register, complete the signup process with one of its partnered brokers, and then meet a $250 minimum deposit.
With that said, Bitcoin Trader is in the business of making money. As such, it operates on a commission-based structure that ensures you only part with your money when the robot makes a profit. This stands at a commission of 2%, and this is simply deducted from your realizable account balance.
Cryptoassets are highly volatile unregulated investment products. No EU investor protection.
Is Bitcoin Trader a Scam?
It is wise to be skeptical of any online trading system – especially one that operates in a high-risk and volatile industry like cryptocurrencies. This skepticism should be further amplified when you consider the huge claims of 60% daily returns.  So that begs the question – Is Bitcoin Trader a scam or a legitimate robot system?
Well, as always, it is difficult to say with any certainty. At one fo end of the spectrum, there is no way to verify the legitimacy of its claimed financial returns. Additionally, there are no contact details posted on its website, albeit, Bitcoin Trader notes that this is supplied when you sign up.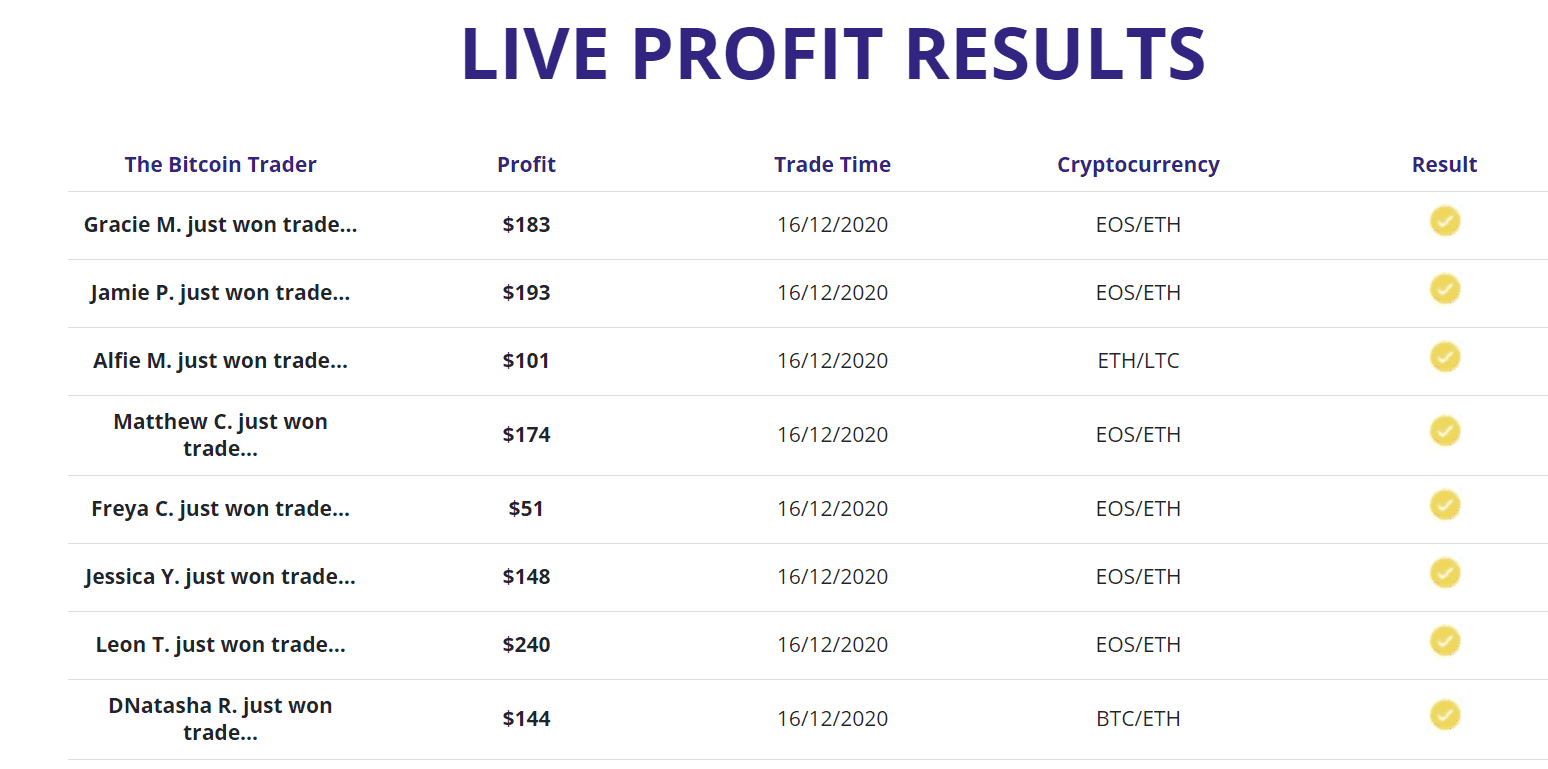 On the other hand, Bitcoin Trader has been active in the online space for several years now. While there are, of course, negative reviews to speak of, there are glowing reviews, too. With this in mind, it makes perfect sense to keep your stakes to an absolute minimum. Furthermore, and perhaps most importantly, you should make full use of the Bitcoin Trader demo account. In doing so, if it turns out that the robot isn't as successful as Bitcoin Trader makes out, you are only risking paper trading funds.
Bitcoin Trader App & Desktop Platform
Once you have registered with Bitcoin Trader you can continue to use the platform via your web browser. As such, there is no requirement to download any software to your device.
Once you are logged into your account, you can view statistics related to the robot – such as which trades have been places and whether or not they were successful. You can also switch between the demo and live account via the dashboard.

Cryptoassets are highly volatile unregulated investment products. No EU investor protection.
With that said, Bitcoin Trader also offers a mobile app – which is available on both iOS and Android devices. However, Bitcoin Trader notes that it will send you details of how to obtain the app once you have completed the registration process.
As such, it is crucial that you do not attempt to find the app yourself via Google Play or Apple Store, as there is every chance that you might be downloading a fake version.
Bitcoin Trader Payments & Withdrawal 
When it comes to payments, Bitcoin Trader explains that this is processed by the broker that you are partnered with. It does, however, explain that each and every partnered platformer supports debit/credit cards and bank transfers. If you want to benefit from an instant deposit, it's best to opt for the former.
Our Bitcoin Trader review also found that the robot provider has partnered with several brokers that support e-wallets. The like of Paypal and Skrill offer a safe and instant way of funding your account.
In terms of deposit fees, this will ultimately depend on the broker in question. However, in most cases, online trading sites allow you to fund your account fee-free.
In the case of withdrawals, Bitcoin Trader explains that you can request a cash out at any given time via your account dashboard. It will only accept withdrawals from verified accounts and the payment must be sent back to the same method used to deposit.
With that said, if you have access to the brokerage account that you are asked to sign up to, you should be able to request a withdrawal directly with the provider. Once again, we cannot verify this either way – so do proceed with caution.
Bitcoin Trader Minimum Deposit
The minimum deposit at Bitcoin Trader is $250 – which amounts to about £185.
Bitcoin Trader Customer Support
Upon landing on the Bitcoin Trader website, you will struggle to find a contact button of any sort. This means that you won't be able to speak with a Bitcoin Trader advisor to ask questions about its service. The platform does, however, note that you will receive information on how to make contact once you register.
How to Use Bitcoin Trader
Below you will find a quickfire 6-step guide on how to get started with Bitcoin Trader right now.
Register by entering your name and email address
Open an account with the broker you are redirected to
Upload a copy of your passport or driver's license
Meet a $250 minimum deposit with a debit/credit card, e-wallet, or bank wire
Begin trading
For a more detailed explainer, scroll up to the section on "How Does Bitcoin Trader Work?".
Bitcoin Trader Review – Conclusion
If you like the sound of Bitcoin Trader, you can easily get started today by clicking the link below.
As always, just make sure that you consider the risks and that you perform lots of research before taking the plunge. Proceed at your own risk.

Cryptoassets are highly volatile unregulated investment products. No EU investor protection.
Frequently Asked Questions about Bitcoin Trader
Have celebrities endorsed Bitcoin Trader?
Is Bitcoin Trader regulated?
What is the Bitcoin Trader minimum?
How much does Bitcoin Trader cost?
What payment methods does Bitcoin Trader support?
Is there a Bitcoin Trader app?