As the price of Bitcoin soars, most people in the UK are simply watching from the sidelines. After all, actively trading Bitcoin for a profit can seem complicated and risky, especially if you don't have experience with cryptocurrencies.
In our Bitcoin Profit review UK, we'll take a closer look at this cryptocurrency trading platform to help you decide whether it's legit and right for you.
Bitcoin Profit at a Glance
| | |
| --- | --- |
| Type | Automated Crypto Trading Robot |
| Minimum Deposit | $250 |
| Leveraged Trading | Yes |
| Withdrawal Duration | Bitcoin |
| Mobile App | No |
| Supported Cryptocurrencies | BTC, ETH, XRP and LTC |
What is Bitcoin Profit?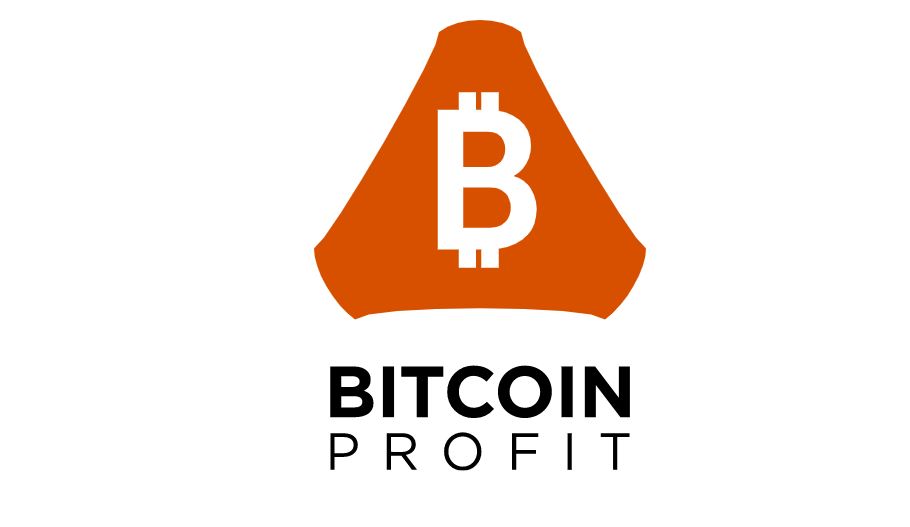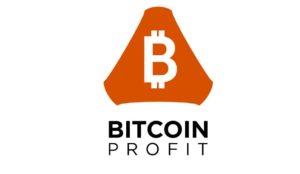 Bitcoin Profit is a Bitcoin trading platform. This platform buys and sells cryptocurrencies like Bitcoin, Ethereum, Ripple, and Litecoin on your behalf and then trades them for a profit. In the remainder of our Bitcoin Profit review, we'll assess whether this cryptocurrency trading platform is worth your trust.
Bitcoin Profit Services
Bitcoin Profit is a cryptocurrency trading platform. It only offers robo-trading for Bitcoin, Ethereum, Ripple, and Litecoin. You can turn the service on or off at any time or switch to paper trading mode.
Notably, Bitcoin Profit does not serve as a full-fledged Bitcoin exchange. For example, you cannot choose individual cryptocurrencies to buy and sell. It also isn't a broker. Instead, your money is held at a third-party partner broker and Bitcoin Profit acts as a custodian to trade funds on your behalf.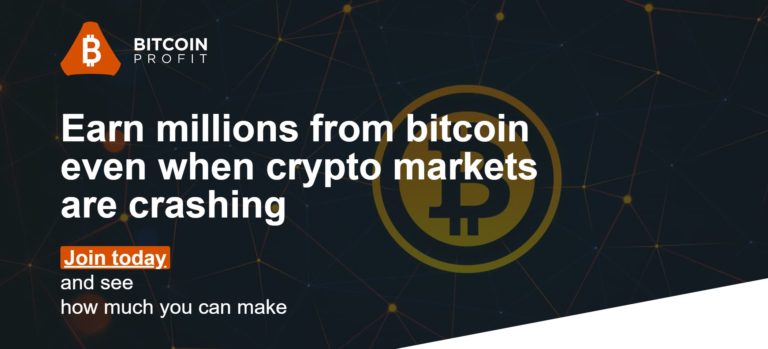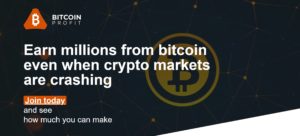 How Does Bitcoin Profit Work?
Let's take a closer look at how you can sign up for a Bitcoin Profit account and start trading in just 5 steps:
1. Register with Bitcoin Profit
The first step towards using Bitcoin Profit is to sign up for a free account. Head to the website and enter your name, email, and phone number in the form near the top of the homepage. Then click 'Register Now' to continue the registration process.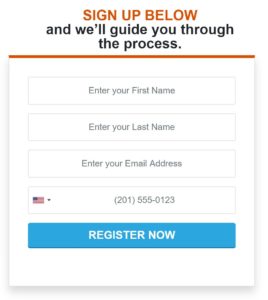 2. Open an Account at a Partner Broker
As we noted, Bitcoin Profit isn't a broker and doesn't hold your funds itself. Instead, it partners with third-party brokers who hold your funds in a dedicated account. Bitcoin Profit has custodial access to this account, allowing the platform to trade on your behalf (but not to withdraw funds).
Bitcoin Profit automatically matches you with one of its partner brokers. You're not given the name of the broker you're signing up with, which is somewhat unnerving since there's no way to get in touch with the broker or to check whether it is licensed and regulated.
However, all of Bitcoin Profit's partner brokers require you to verify your identity, which is a good indicator that they are regulated by government entities. They all also accept debit and credit cards, which means the brokers are in good standing with major financial firms.
3. Verify Your Identity
To finish setting up your brokerage account, you must verify your identity. This requires uploading a copy of the photo page of your passport or a copy of your driver's license. You'll also need to upload a recent bill, utility statement, or financial statement that shows your current address. Most of Bitcoin Profit's partner brokers can verify your documents online within minutes.
4. Deposit Funds
Now you're ready to deposit funds. Bitcoin Profit requires a minimum deposit of $250 (around £185), which you can withdraw at any time if you're not happy with the platform.
The payment methods that are accepted may vary slightly depending on your partner broker. However, most of Bitcoin Profit's partners accept Visa and Mastercard debit and credit cards, UK bank transfers, and e-wallets like PayPal.
5. Start Trading with Bitcoin Profit
With funds in your account, you're ready to activate Bitcoin Profit. The platform offers some guidance on the best way to do this.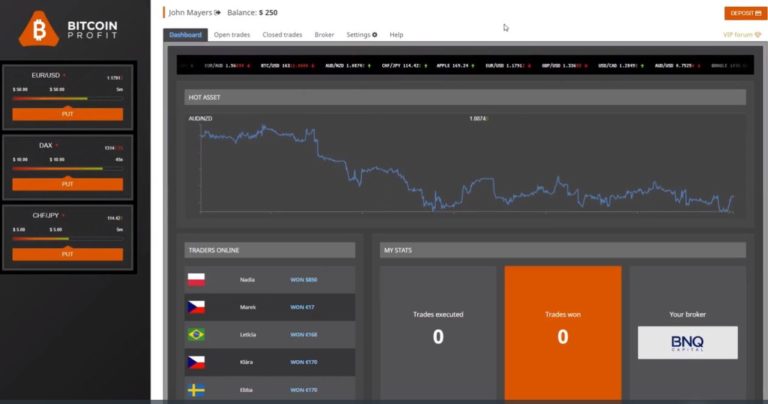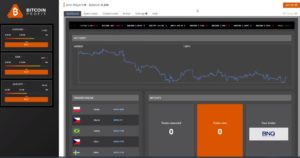 We recommend starting out with paper trading so you can evaluate the platform's performance and adjust parameters before risking real money. Once you're happy with Bitcoin Profit, you can turn on live trading from your account dashboard.
Client Testimonials
Bitcoin Profit offers several video testimonials from real investors. These individuals don't specify how much they made while using Bitcoin Profit, but they're very enthusiastic about the platform and appear genuine.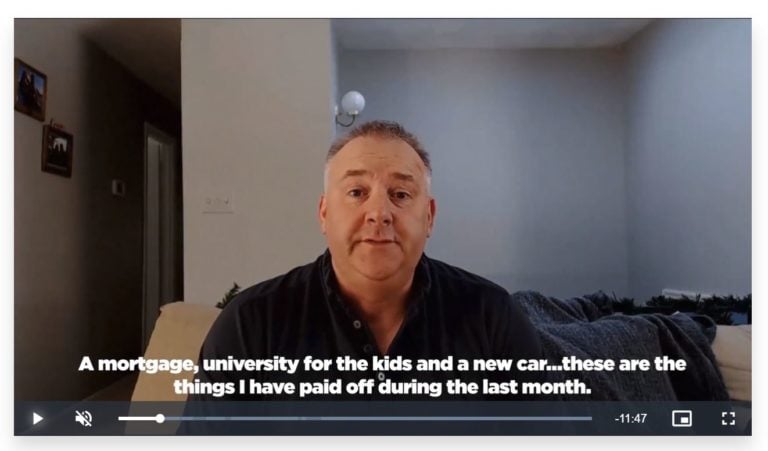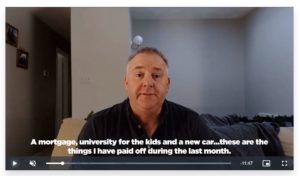 Of course, keep in mind that Bitcoin Profit is incentivised to show only the testimonials that reflect well on the company. In addition, there is no way to verify that the individuals shown are real traders and not paid actors.
Bitcoin Profit Fees
Bitcoin Profit has a unique fee structure that we think greatly benefits traders. The platform doesn't charge a monthly account fee and there are no hidden costs to use Bitcoin Profit.
Instead, Bitcoin Profit takes a 1% cut of your trading profits. This means that if you make $436 per day in profits, Bitcoin takes $4.36 – leaving you with over $430 to keep.
What's really nice about this fee structure is that if you lose money on a trade, Bitcoin Profit doesn't get paid. Moreover, that loss is deducted from your overall profits when the platform calculates its commission. So, Bitcoin Profit has every incentive to ensure that its trading algorithm is performing well and that you're making money.
Notably, the 1% fee is also lower than the commission charged by other competing Bitcoin robots like Bitcoin Digital and Bitcoin Trader.
Bitcoin Profit doesn't charge any deposit or withdrawal fees, but some of its partner brokers do. Unfortunately, there's no way to check whether your broker charges these fees when you're signing up for an account. They are typically not more than a few pounds per transaction.
Is Bitcoin Profit a Scam?
Any trading platform that promises profits of thousands of pounds per day with almost no work and no risk seems too good to be true. However, in our review of Bitcoin Profit, we didn't find any evidence that this platform is a scam.
Based on the testimonials offered on Bitcoin Profit's website and by third-party sources, there are plenty of people who have found this cryptocurrency trading platform to be legit. At the same time, we have seen negative reviews claiming that Bitcoin Profit didn't live up to expectations. It's impossible to verify any of the positive testimonials around Bitcoin Profit, but we also don't have reason to believe that they're fake.
One especially comforting thing about this platform is that Bitcoin Profit never has access to your funds since they're stored with an account at a third-party broker. So, if you decide to try out the service and it doesn't perform as well as advertised, you can withdraw your money at any time. We also like that there's a paper trading account so you can fully evaluate Bitcoin Profit before risking real money.
Overall, we recommend that you remain wary of Bitcoin Profit. We think this platform is legit based on our analysis, but it's worth keeping your guard up if you give it a try.
Bitcoin Profit App & Desktop Platform
Bitcoin Profit's platform is relatively streamlined and simply gives an overview of your account. Most of the trading setups determined by the AI-driven trading robot are not shown to individual traders, which makes sense since the platform needs to protect its algorithm.
The dashboard gives a quick view of the current open positions in your account, the number of trades executed and won, and your total account balance. Another nice touch is that you can see what other traders from around the world are currently online with Bitcoin Profit, which offers a sense of community among people who use this trading platform.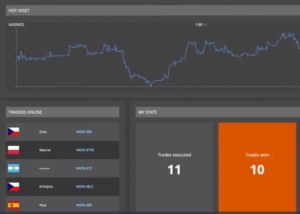 The interface also includes a settings menu, where you can adjust the algorithm parameters and switch between demo and live trading.
Bitcoin Profit is only available as a web interface, with no desktop or mobile apps at this time. That said, the interface is mobile-responsive, so you can easily access your account dashboard on the go from your smartphone's browser.
Bitcoin Profit Payments & Withdrawal
Payments at Bitcoin Profit are handled by the broker where you register an account. Bitcoin Profit only ever has custodial access to your brokerage account to trade funds and cannot withdraw funds from your account without your approval.
Most of Bitcoin Profit's partner brokers offer a range of payment and withdrawal methods, including debit and credit cards and UK bank transfers. The majority of brokers that Bitcoin Profit works with also support PayPal and, in some cases, Neteller and Skrill.
Fees for deposits and withdrawals vary by partner broker, but are typically a few pounds or less. At many brokers, deposits are free but there is a small charge for withdrawals.
You can request to withdraw money from your brokerage account at any time through your Bitcoin Profit account dashboard. If your balance falls below $250 at any time, Bitcoin Profit will initiate a withdrawal for your remaining funds and close your trading account.
Bitcoin Profit Minimum Deposit
The minimum deposit at Bitcoin Profit is $250, which is around £185.
Bitcoin Profit Customer Support
Unfortunately, Bitcoin Profit doesn't offer any way to get in touch before you sign up for the platform. There is no email or phone number given on the website, nor a contact form where you can submit questions. That makes it difficult to get more information about Bitcoin Profit without simply registering an account and depositing funds.
That said, Bitcoin Profit does claim to offer support for registered users. It's not clear what the support hours are, how you get in touch, or what level of support is provided.
Bitcoin Profit Review – Conclusion
Our Bitcoin Profit review UK found that this automated platform offers a promising way to break into cryptocurrency trading.
We do wish that Bitcoin Profit was a little more transparent about its process. The fact that you don't know the identity of the broker holding your funds, for example, is concerning. We also would like access to customer support before registering an account.
That said, these details aren't as critical as the things that Bitcoin Profit does well. The 1% commission on profits only ensures that the platform's interests are aligned with your own. Plus, we love that you can use the built-in demo trading mode to evaluate Bitcoin Profit's performance and withdraw your money at any time. That greatly reduces the risk of giving Bitcoin Profit a try to see if it's right for you.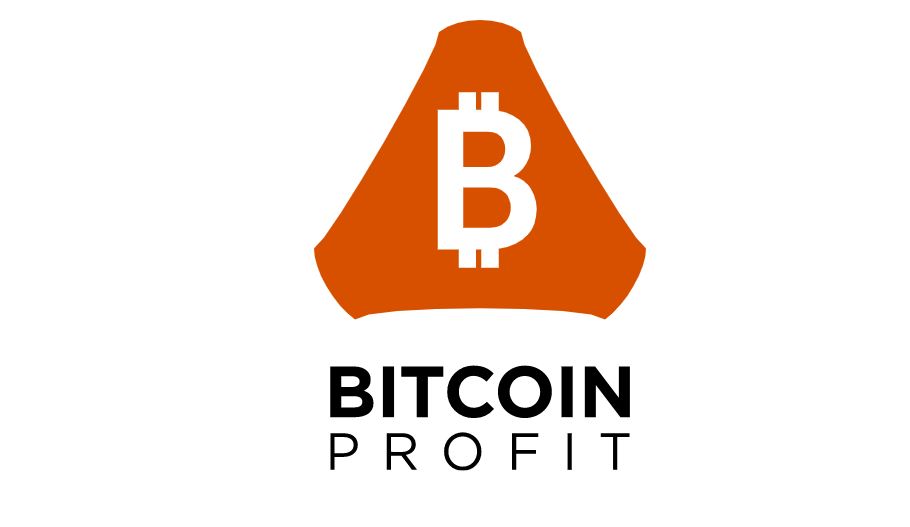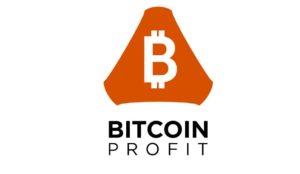 Cryptoassets are highly volatile unregulated investment products. No EU investor protection.
Frequently Asked Questions about Bitcoin Profit
What is the minimum deposit for Bitcoin Profit?
Can I withdraw funds from Bitcoin Profit at any time?
Can I manually place trades with Bitcoin Profit?
What is Bitcoin Profit's success rate?
Are there any hidden fees for using Bitcoin Profit?
Is Bitcoin Profit regulated?