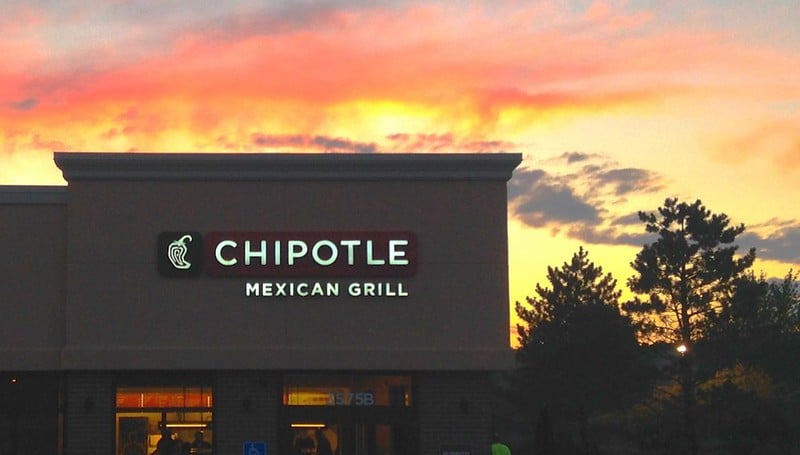 Chipotle shares have gone down two days in a row following a remarkable rally that pushed the stock from $1,334 per share to as much as $1,619 for a 21% gain in a little bit more than a month.
Meanwhile, the company is scheduled to report its earnings covering the second quarter of 2021 tomorrow and this latest weakness in the share price could accelerate if the firm's results land below analysts' estimates or if the management discloses that it expects that certain macro factors such as the severity of the spread of the Delta variant in the United States or supply chain-related issues could affect the company's performance in the near future.
Following a failed break of a long-dated trend line and considering this upcoming important even for the stock, could Chipotle be doomed to shed a portion of the gains it has seen during the past 30 days or so?
Join me in the following Chipotle share price forecast to outline potential scenarios for the stock ahead of tomorrow's announcement.
What are analysts expecting from Chipotle's Q2 2021?
The past few years have been particularly good for Chipotle, as the company managed to keep growing its sales during 2020 despite the pandemic headwind, with top-line results landing at $6 billion or 7% higher compared to 2019.
Meanwhile, during the first quarter of 2021, the company reported a 23.4% jump in revenues as a result of a surge in digital sales, which more than doubled during the period while they now account for 50% of the firm's top-line.
Due to the uncertainty related to the COVID-19 situation, the firm abstained from providing guidance for the year but analysts' consensus for Chipotle's revenues is standing at $1.88 billion for this second quarter, resulting in a 37.7% jump compared to the same period a year ago.
Meanwhile, sales during the last twelve months have already surpassed last year's results, with analysts expecting to see top-line results landing 23.5% higher this year at $7.4 billion amid Chipotle's seemingly successful pivot to a more digital-focused strategy to cushion the impact of store closures during lockdowns.
Moreover, the company's gross profit margins have been improving lately, even though bottom-line profitability suffered a bit during the pandemic amid higher COVID-related expenditures.
During the last quarter, restaurant-level operating margins landed at 22.3% which results in a 17.6% improvement compared to the same period during 2020, while net margins improved to 7.3% – up from the 5.4% the company reported during the first quarter of last year.
For this quarter, analysts are expecting to see Chipotle's GAAP earnings per share landing at $6.37 as per data compiled by Koyfin, which is around 20 times what the company brought in a year ago amid a severely depressed comparative baseline resulting from the impact of the pandemic in Chipotle's bottom-line results back in the second quarter of 2020.
Meanwhile, this number would also be 43% higher than last quarter's profits and would result in net earnings of around $181 million at a forecasted net margin of 9.6%
Chipotle share price forecast
By the end of the first quarter of 2021, Chipotle had $3 billion in long-term debt on assets of $6.15 billion including $695 million in cash and equivalents. Free cash flows have been fairly stable lately as well as the company has managed to generate over $300 million in the past three years.
Based on the company's forecasted GAAP earnings of $23.6 per share for 2021, Chipotle is being valued at 66 times this year's EPS. Even though this multiple seems rather high, market participants are expecting to see Chipotle's earnings jumping as much as 37% next year and 23% the year after.
These optimistic estimates point to Chipotle as being a fairly valued company based on its conservatively financed balance sheet, robust profit margins, and remarkable growth prospects on the back of its successful digital channel.
That said, from a technical standpoint, Chipotle's share price appears to have rejected the upper trend line shown in the chart above, which could result in a sharp correction for the stock in the coming days.
The RSI has already declined significantly after surging to its highest level since September last year while the MACD has just sent a sell signal. Volumes, however, were below average during these past two down days.
Based on this morning's overly bearish broad-market price action, chances are that the stock could experience a return to the mean, with a first target set at $1,400, which is Chipotle's 200-day moving average, for a 10% downside risk.
Looking to buy or trade Chipotle (CMG) shares now? Invest at eToro with 0% commission!
75% of retail investor accounts lose money when trading CFDs with this provider